Brewers stun Tigers with 3-homer 3rd inning
DETROIT -- What began as a pitching duel between Anibal Sanchez and Jimmy Nelson became a Brewers runaway with three consecutive home runs in a nine-pitch span off Sanchez, sending Milwaukee to a second straight win over the Tigers with an 8-1 victory Tuesday night at Comerica Park.
Sanchez retired six of the Brewers' first seven hitters, the lone exception a Gerardo Parra walk, before he began to wobble. Martin Maldonado's third-inning drive died at the warning track in center field, but Carlos Gomez's two-out bunt single and another Parra walk extended the inning for the middle of Milwaukee's order to pounce. Ryan Braun drove a three-run homer off the right-field foul pole, Adam Lind sent a solo homer into the right-field seats, then Aramis Ramirez did the same to left for his second home run in as many nights.
"I think when he got out of the stretch, the ball started creeping up in the zone," Tigers manager Brad Ausmus said. "He just had trouble getting it down, and they took advantage of it."
Gomez's RBI double next time up chased Sanchez with seven runs on seven hits over 3 2/3 innings, his second fourth-inning exit in nine starts this season.
Nelson never gave Detroit a chance to recover, holding the Tigers to three hits over eight innings of one-run ball to clinch Milwaukee's second road series win this season. Nelson (2-4) won for the first time since his season debut.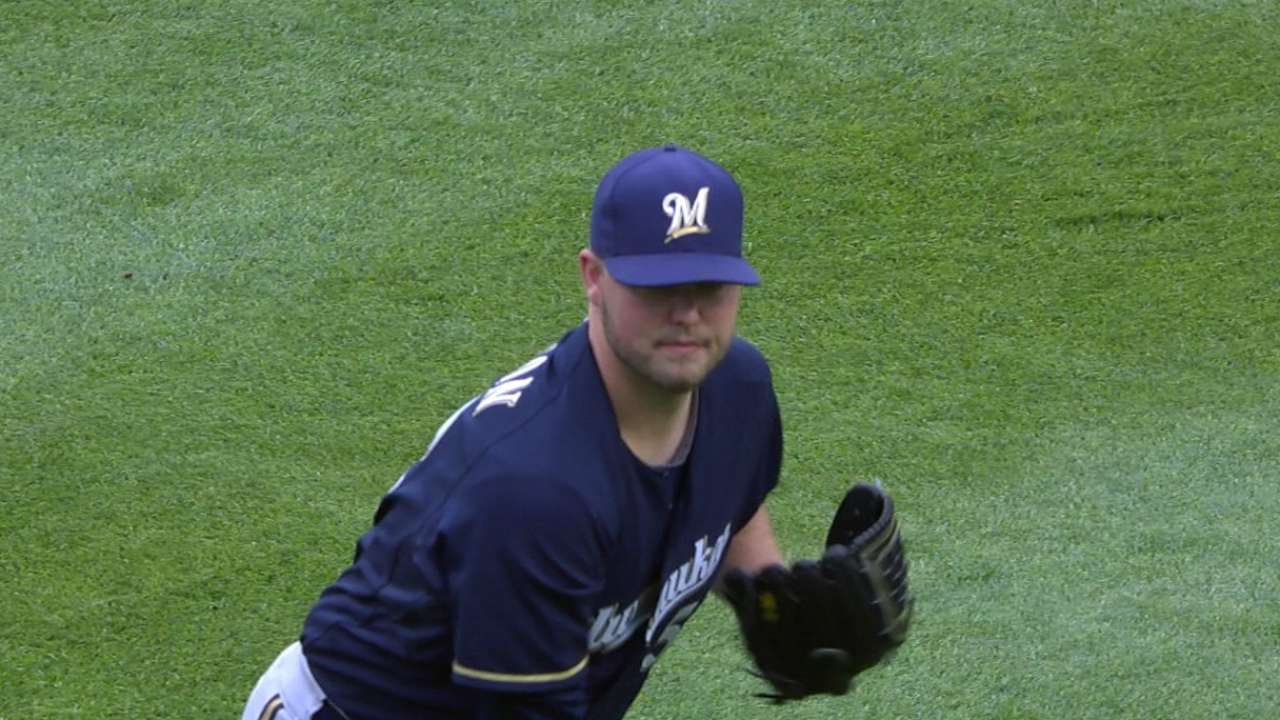 "He dominated a great hitting team tonight, and that's not an easy thing to do in their ballpark," said Braun, who finished with four RBIs. "That's an exciting thing for us moving forward, knowing you have a guy like that who's going to be somewhere near the top of our rotation for a lot of years to come. It was a great sign of what he's capable of." More >
MOMENTS THAT MATTERED
Squeeze me: The back-to-back-to-back homers blew the game open, but the Brewers' scoring began with a bunt. With two outs and Hector Gomez at third base, Carlos Gomez surprised the Tigers by squaring to bunt in a 1-0 count, and dribbled the baseball perfectly along the third-base line. Hector Gomez scored easily, and when Parra followed by working a walk, the Brewers' big inning was on.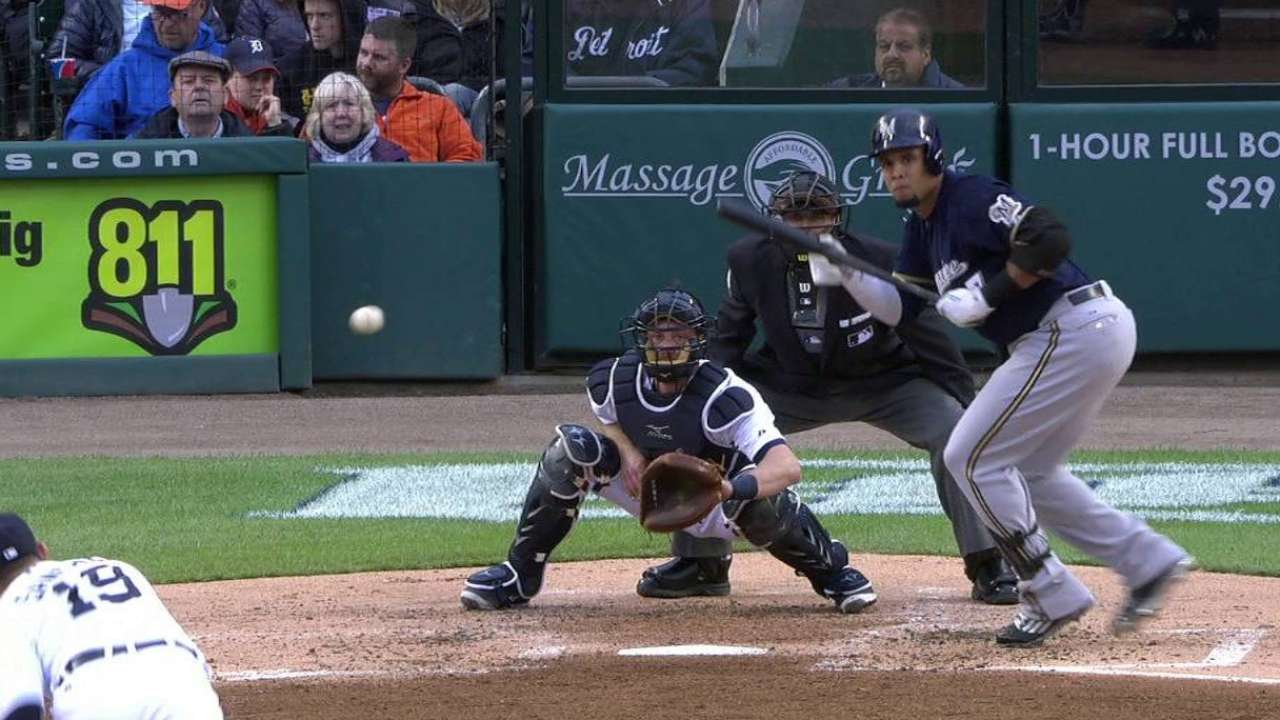 Sanchez's homer woes continue: The trend of home run struggles for Sanchez, which began in Spring Training but seemed to wane his last few starts, resurfaced with a vengeance. He has now allowed as many home runs this season (nine) as he did in his entire 2013 campaign, when he won the American League ERA title.
"The long ball wasn't an issue last year, but this year has been a little bit of a different story," Ausmus said. "Now, we've also seen some outstanding starts from [Sanchez], but when he doesn't have his command down in the zone, his offspeed pitches especially, that's when they hit him." More >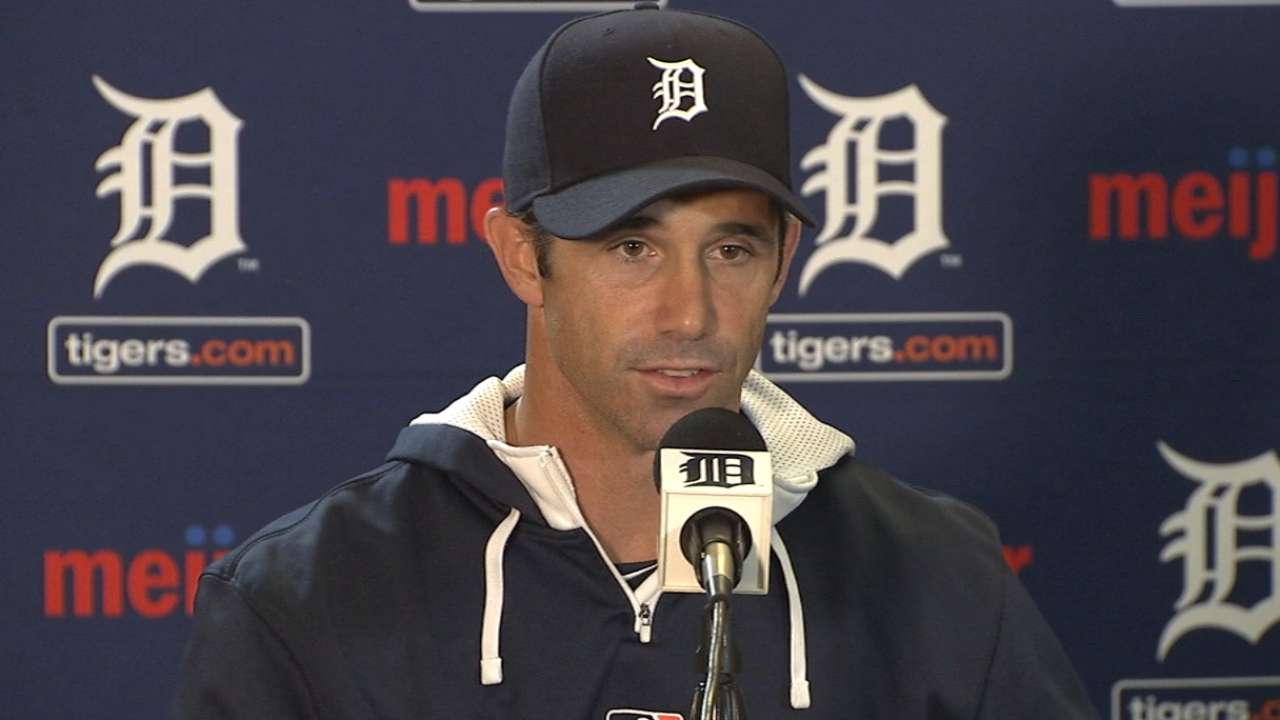 Alley-oop: Nelson won by keeping the ball down in the strike zone, resulting in no home runs -- Nelson had surrendered five homers over his previous two starts -- and a parade of ground balls. The most notable came in the bottom of the third inning off the bat of J.D. Martinez, whose sharp grounder caromed off third baseman Ramirez's glove to shortstop Luis Sardinas, who fired to first base for an out. It became a scoreless inning for Nelson, who didn't allow a fly ball to the outfield after the third inning.
"I thought Sardinas had an excellent night. I thought he made some plays that open your eyes a bit," Brewers manager Craig Counsell said. "What's exciting to me is that I feel like he's gotten better since Spring Training. ... He plays almost older than he is. He's been impressive with how he's carried himself."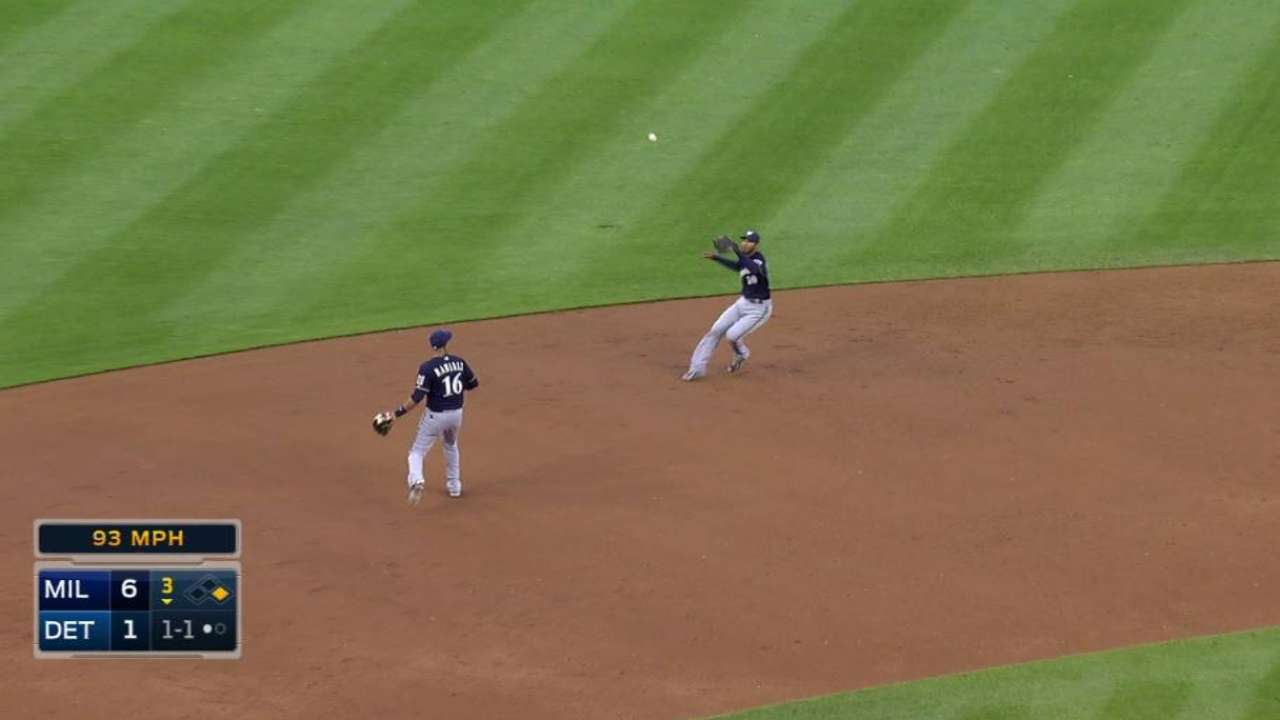 Missed chances: Hard to remember, but the Tigers had the first lead in this game thanks to Martinez's first-inning RBI single. They had chances for more, but Nelson struck out Yoenis Cespedes to end the first-inning threat, then stranded two baserunners by fanning Anthony Gose in the second. Detroit didn't get another hit until Miguel Cabrera's two-out single in the eighth.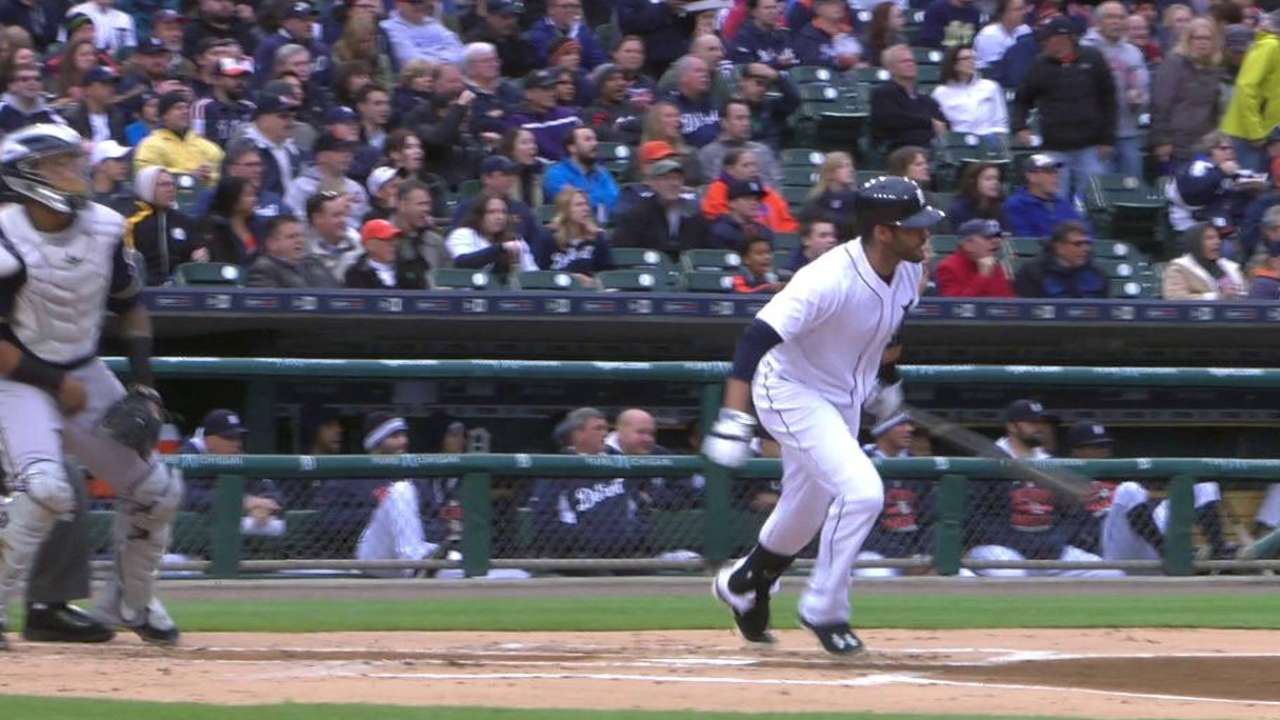 "He made pitches and we made outs," Anthony Gose summarized. "That's how the game goes." More >
QUOTABLE
"I think everybody has passion for the game, [but] there's players it comes out in more. His passion really is at the surface, it's bubbling over. And it's fun to see. It puts a smile on your face." -- Counsell on Gomez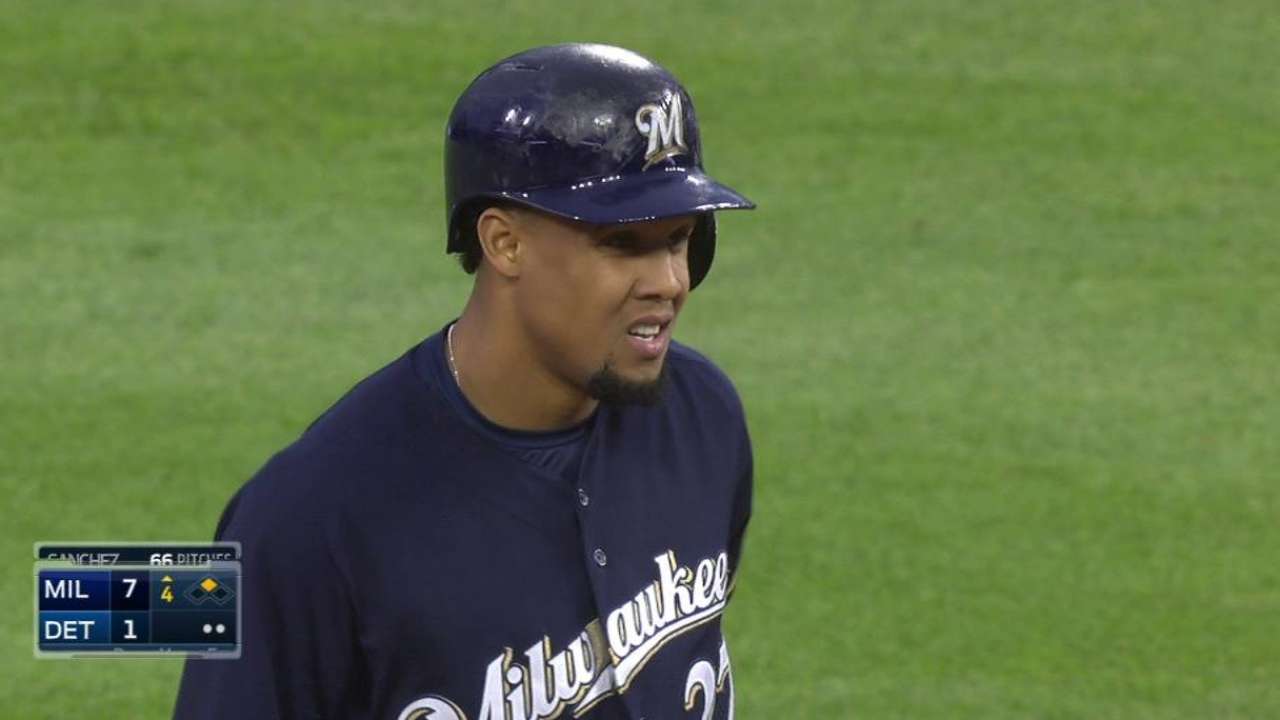 NEW TEAM, OLD HOME
Reliever Corey Knebel made his Brewers debut in the ninth inning on Tuesday, but found himself in familiar surroundings. He made eight appearances for the Tigers last season, including three at Comerica Park, before a trade to Texas. Knebel was traded again in January to Milwaukee in the Yovani Gallardo deal.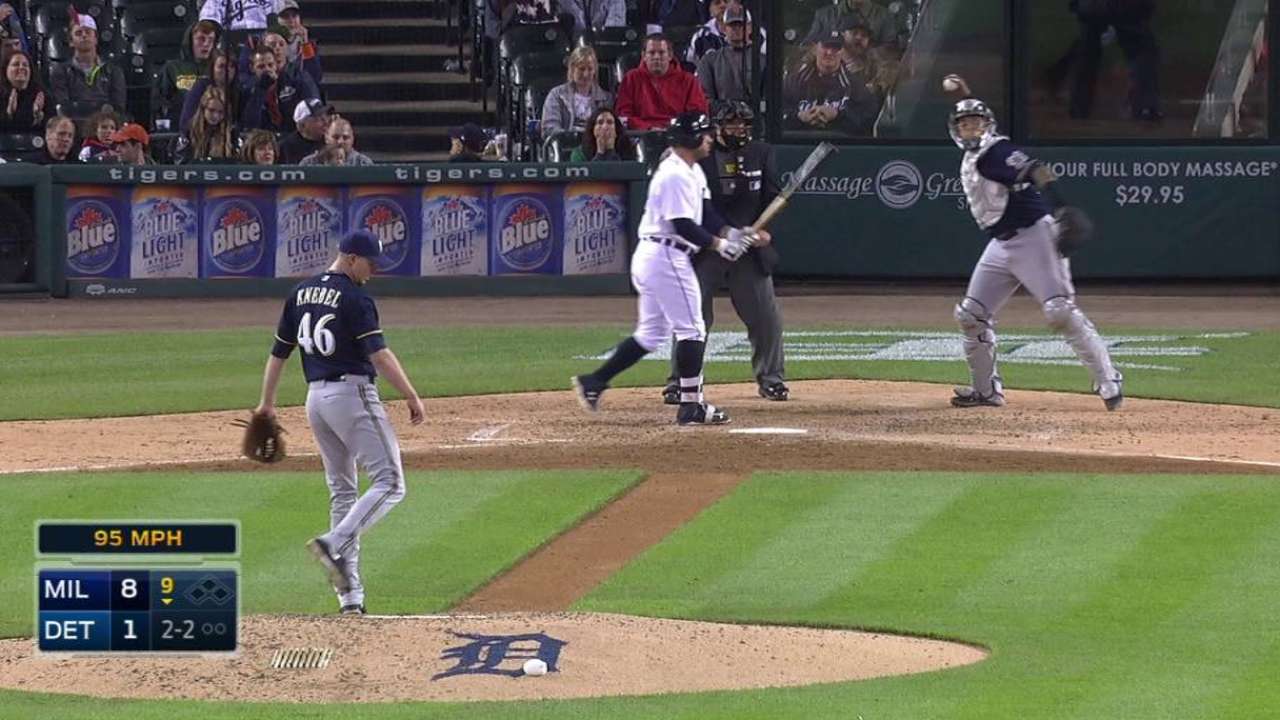 WHAT'S NEXT
Brewers: With their third series victory of the season locked up, the Brewers will aim for their first series sweep in Wednesday night's 7:08 ET/6:08 CT finale. They'll have Opening Day starter Kyle Lohse on the mound seeking to build on his finest start, a scoreless, eight-inning, two-hit, eight-strikeout gem against the Mets. He owns a 5.66 ERA against the Tigers, but most of that damage was done when Lohse was a young Twins pitcher.
Tigers: Shane Greene, who left his last start with ulnar neuritis in his right arm, will get back on the mound Wednesday night trying to end the Tigers' three-game losing streak. Greene has tossed 13 innings of one-run ball over his past two starts.
Watch every out-of-market regular-season game live on MLB.TV.
Jason Beck is a reporter for MLB.com. Read Beck's Blog, follow him on Twitter @beckjason and listen to his podcast. Adam McCalvy is a reporter for MLB.com. Follow him on Twitter @AdamMcCalvy, like him on Facebook and listen to his podcast. This story was not subject to the approval of Major League Baseball or its clubs.