CarGo 'getting the feel back' at the plate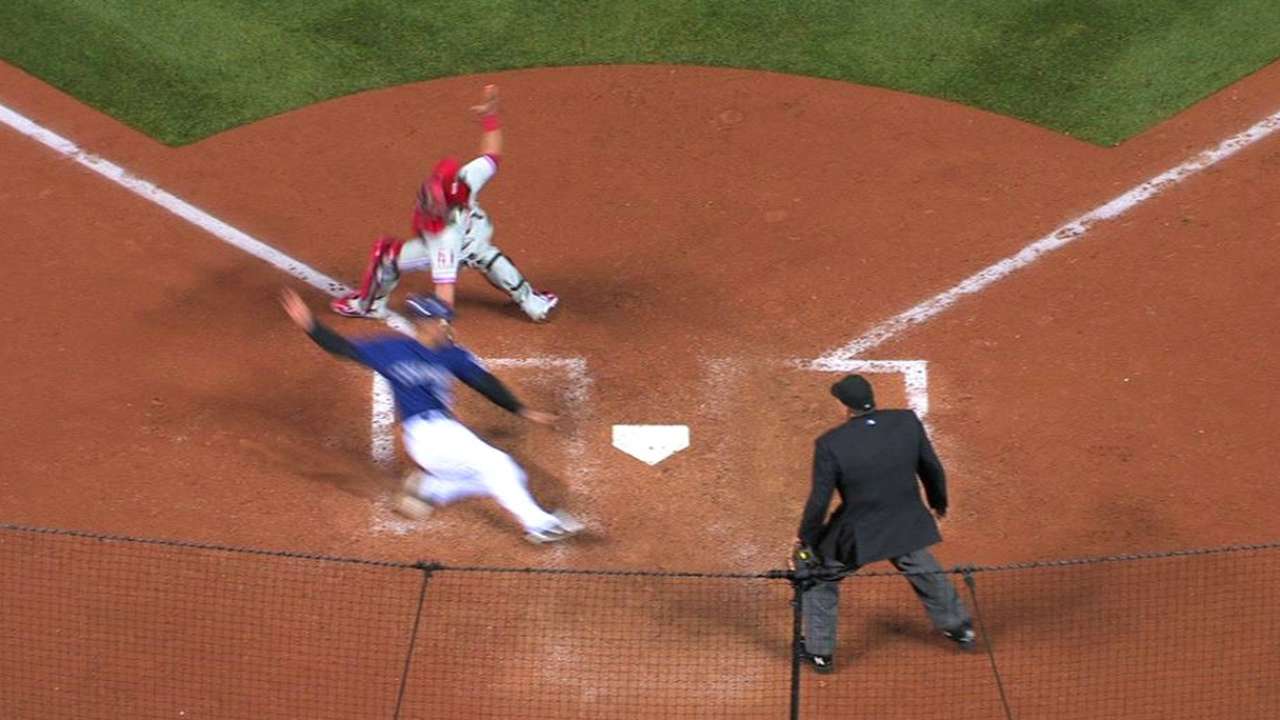 DENVER -- Rockies outfielder Carlos Gonzalez has been delicious fodder for data crunchers and chart readers. But the analytics revolution has yet to reach Gonzalez in the batter's box.
"I try to make this game simple," Gonzalez said. "It's already too hard. Hitting is the hardest thing in baseball. You can't get caught up with, 'I'm swinging at this pitch.' That just happens. I know I can hit any pitch. Fastball, breaking ball, it doesn't matter. If it's in the strike zone, I'm going to be able to drive it."
Gonzalez entered Tuesday night's game against the Phillies with a .207 batting average, four home runs and 11 RBIs -- far below his capability. But two of the homers and five of the RBIs came in the six games leading to Tuesday, during which he was 7-for-25.
So if Gonzalez didn't get all mathematical and analytical about his hitting, how is he finding his stroke? It's a hard-to-calculate feel, which on some level leads to the pitch recognition and strike zone coverage that the numbers measure. Essentially, Gonzalez is recognizing the pitch and location.
Gonzalez says his pitch recognition is based on putting his body in the proper position.
"Hitting for me is putting myself in position to hit with my leg kick," he said. "My body has to be in the right spot when the ball is coming. If my body doesn't work, my hands aren't going to work. When I put myself in position to hit, I can see the pitch better.
"I can see the ball coming out of the pitcher's hand. I can recognize if it's a ball or a strike. When you see me chasing a lot, it's because my body is not working."
Sparing the mathematic details, Gonzalez has been missing pitches in the strike zone, most likely because he's swinging without being sure of the pitch or its aimed location.
"If was missing strikes because my body wasn't doing what it was supposed to be doing, and I wasn't seeing the ball," he said. "Now that I'm getting there, I see the ball coming out of the hand, and I can see it better. That's why I was missing. When my body is late, my head moves, a lot of things move."
Gonzalez was affected by various finger injuries, one that required surgery, and a left knee problem that required season-ending surgery last August. He has been healthy since the winter, and entered the regular season after hitting .310 in 42 get-in-shape at-bats during Spring Training.
"Spring Training doesn't mean anything -- you get two at-bats and you get your rest the next day," Gonzalez said. "Your body is not used to seeing four or five at-bats each and every day. Then your body gets tired. You don't get results. Then you start doing bad things.
"But I'm getting the feel back."
Thomas Harding is a reporter for MLB.com. Read his blog, Hardball in the Rockies, and follow him on Twitter @harding_at_mlb. This story was not subject to the approval of Major League Baseball or its clubs.