Rays beat Braves, move into tie for 1st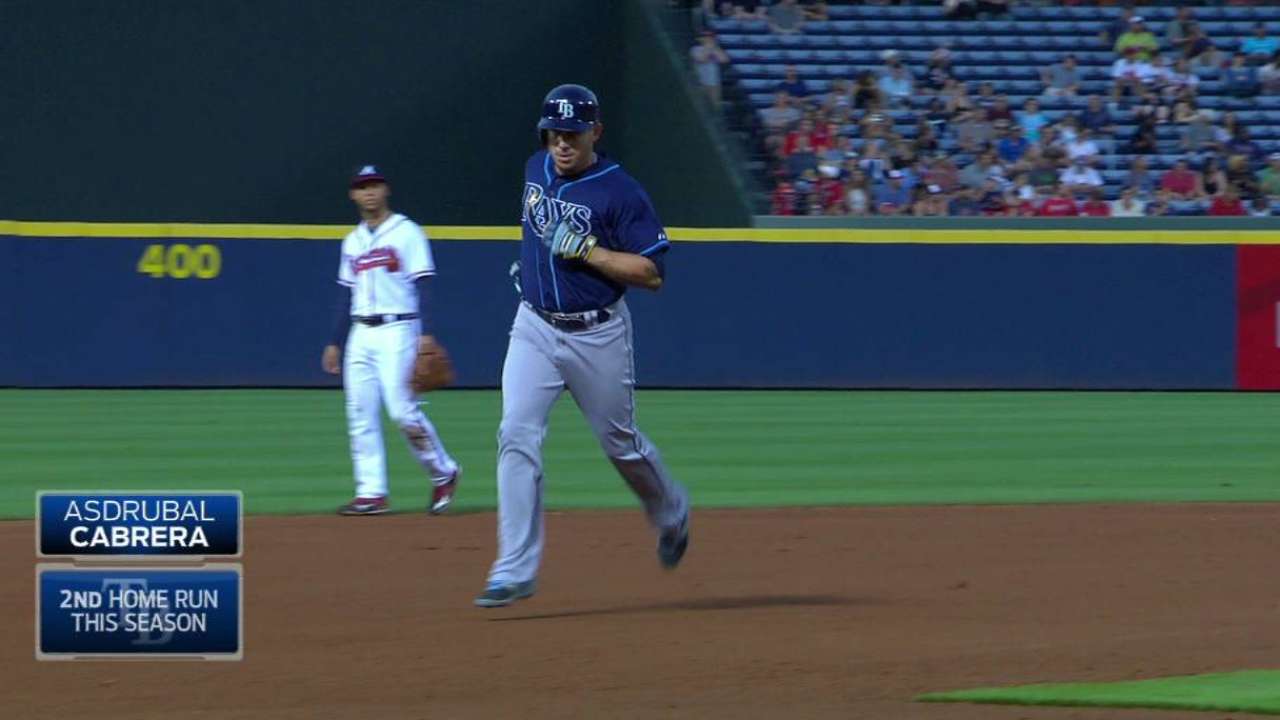 ATLANTA -- Erasmo Ramirez held steady after a rough second inning and benefited from the two-run fifth inning the Rays produced against rookie right-hander Mike Foltynewicz during Tuesday night's 5-3 win over the Braves at Turner Field.
Ramirez surrendered three runs during a 30-pitch second inning, but allowed the Braves to produce just one other baserunner during the other four innings he completed. The right-hander was rewarded in the fifth inning, when the Rays produced a decisive two-out, two-run rally that included Logan Forsythe's go-ahead single and David DeJesus' RBI double.
With the Yankees' loss to the Nationals, the Rays are tied atop the AL East.
"Today was a perfect example of [Foltynewicz] going through some growing pains," Braves manager Fredi Gonzalez said. "It's a 3-3 game in the fifth inning and he strikes out the first two [batters], and then he loses his concentration or focus."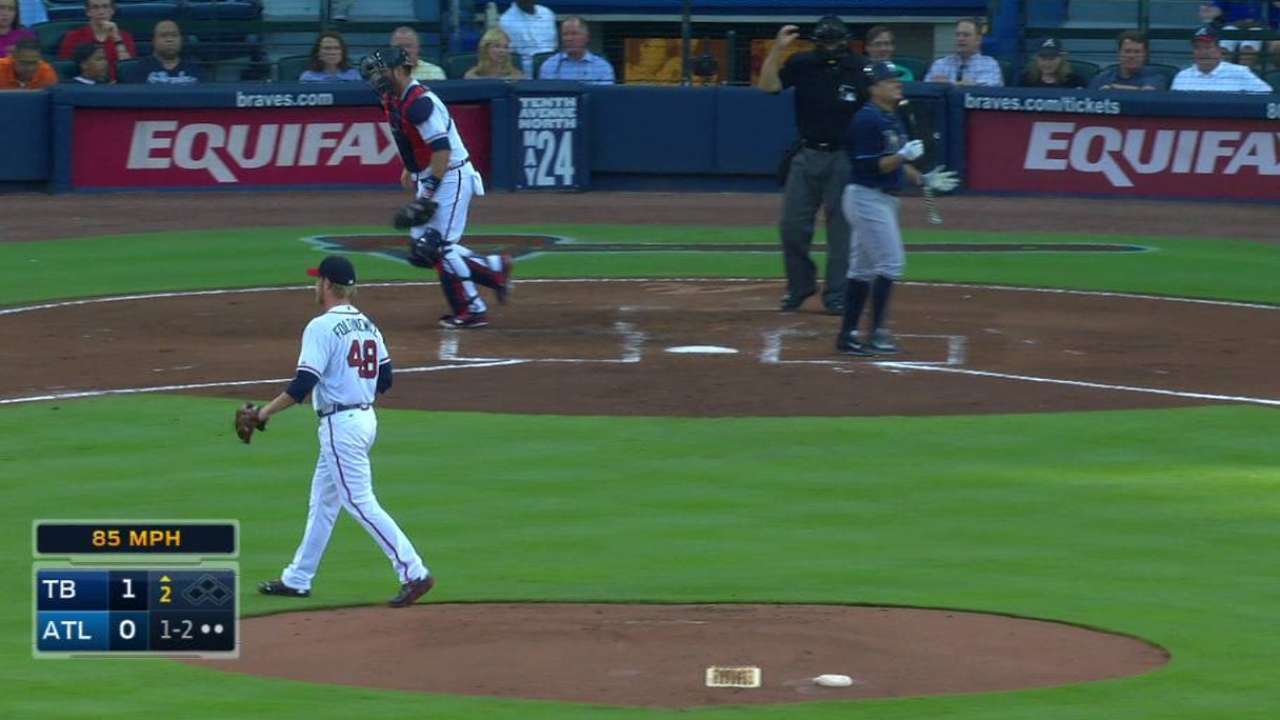 Coming off this past weekend's sweep of the Marlins, the Braves seemed to be in good position when they took advantage of two walks and a hit batter during the second inning. But Ramirez quickly regained the successful form he had displayed when he returned to the Rays' rotation last week.
The Rays' bullpen worked four scoreless innings behind Ramirez before Brad Boxberger pitched the ninth for his 11th save.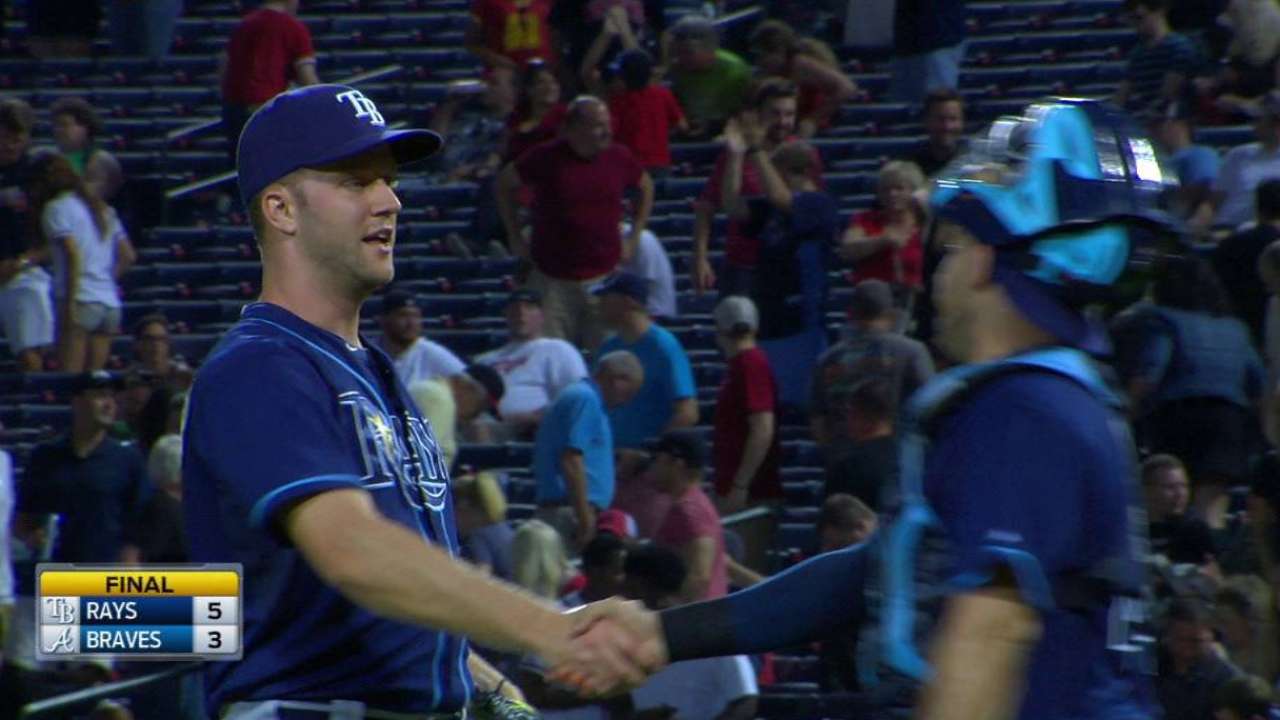 "Big win coming off an off-day," said Rays manager Kevin Cash after his team secured its seventh win in 11 games. "Got some early hits early on. That was nice to see."
MOMENTS THAT MATTERED
Setting the tone: Kevin Kiermaier led off for the Rays on Tuesday night and got his team rolling when he blooped what appeared to be a single into right field. Instead, the hustling Kiermaier turned on the burners and by the time his legs quit churning he stood on third base with a triple. Steven Souza Jr. followed with a single to left to put the Rays up 1-0. More >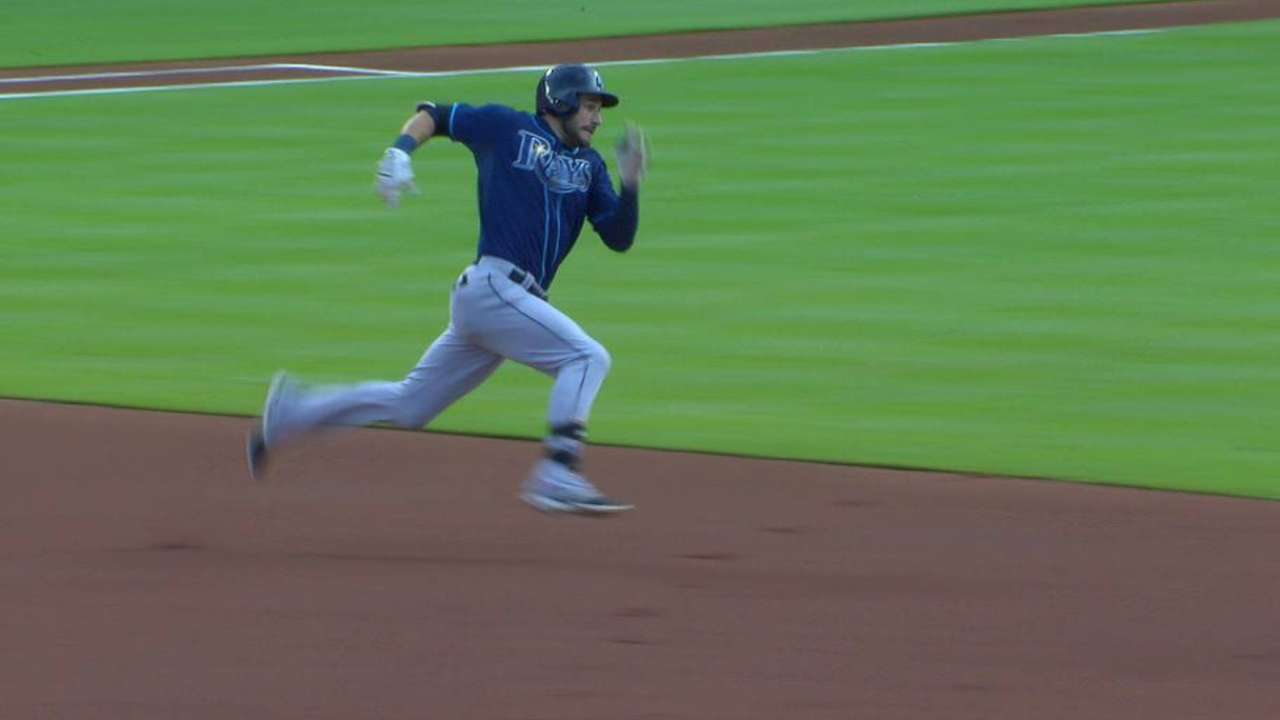 Folty's learning curve: As Foltynewicz surrendered five runs and eight hits over five innings, he provided some reminders that he was making just his fourth career start. He hung a 0-2 curveball to Kiermaier to begin the game and allowed Asdrubal Cabrera to hit a game-tying solo homer in the third on a belt-high, 2-2 fastball. But his most costly mistake came when he began the fifth with consecutive strikeouts and then issued his only walk of the night to James Loney, who advanced to second base on a wild pitch and scored on Forsythe's single. More >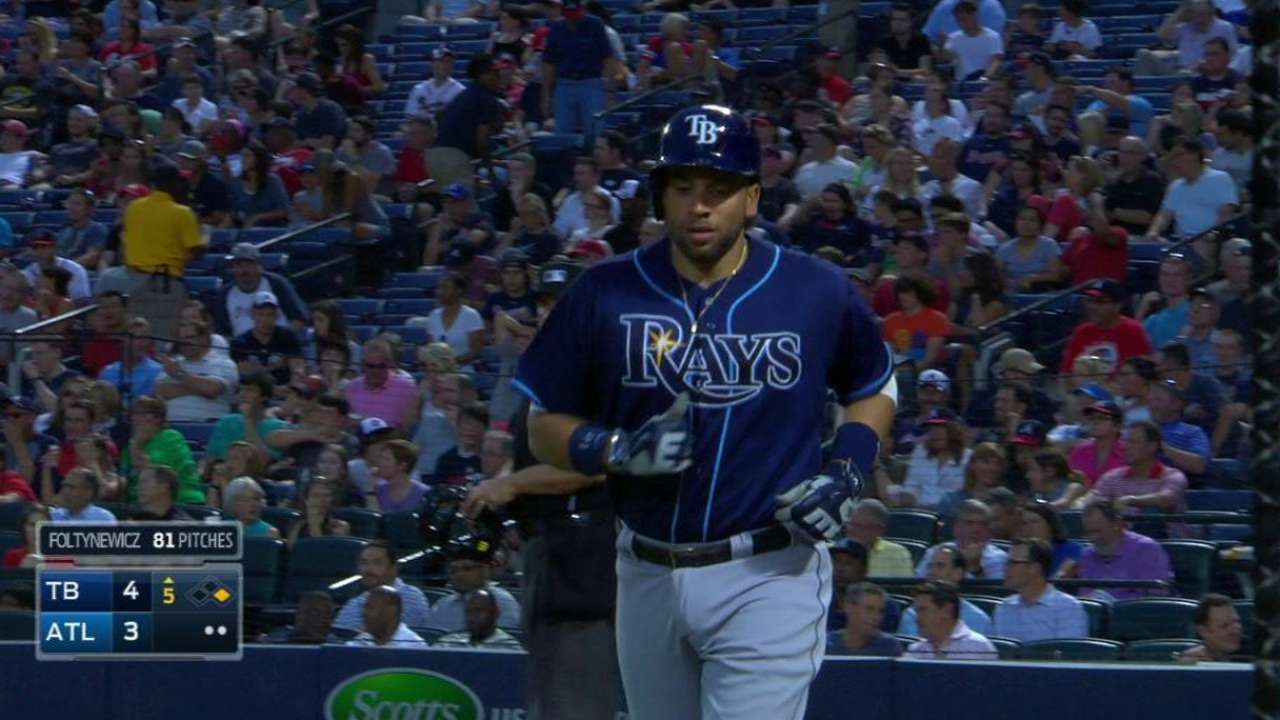 Damage control: Ramirez appeared headed for a big inning when he allowed the Braves to load the bases in the second. He then walked Andrelton Simmons to drive home the Braves' first run and Cameron Maybin singled home another. The bases were still loaded with no outs when Ramirez struck out Foltynewicz. The Braves scored one more run on a groundout, but the three runs were all the Braves could muster against Ramirez in five innings.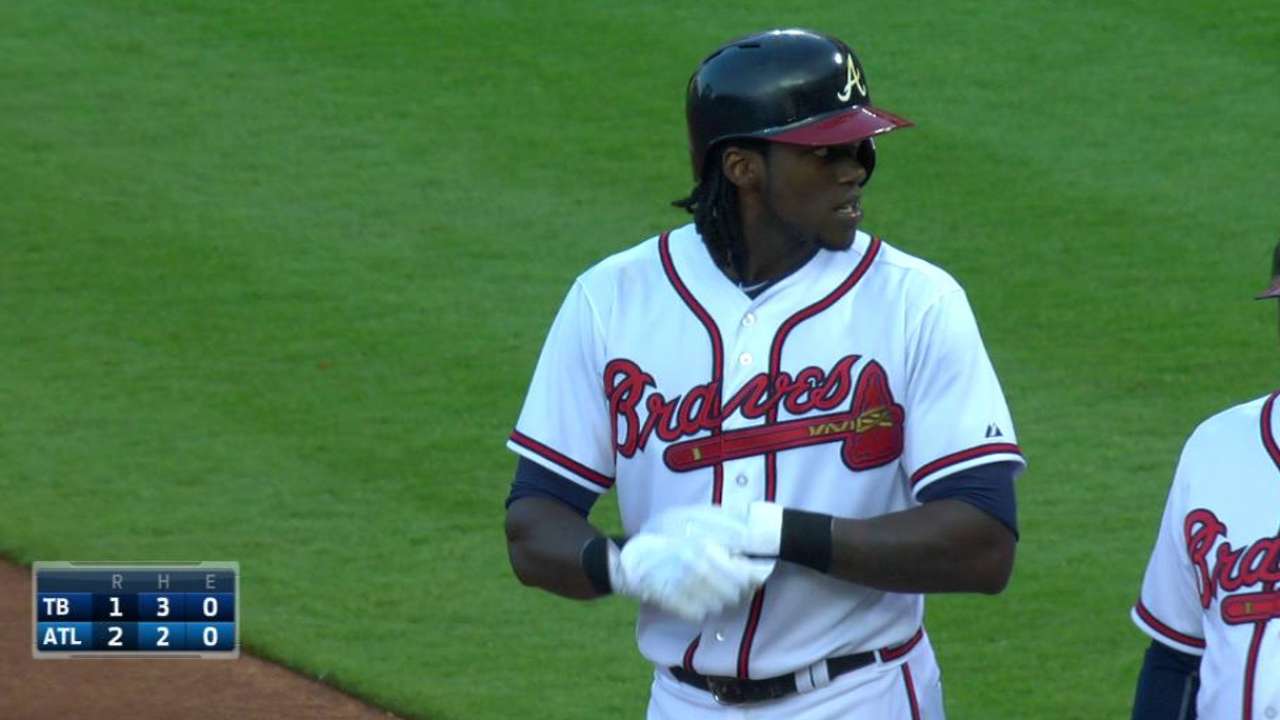 "Erasmo, what he provided was outstanding," Cash said. "He had the glitch with the three-run inning, didn't have too much contact made off him. He maybe slipped into that mode of nibbling a little bit. ... To his credit. He kept it right there. Gave us a chance to get back into the ballgame."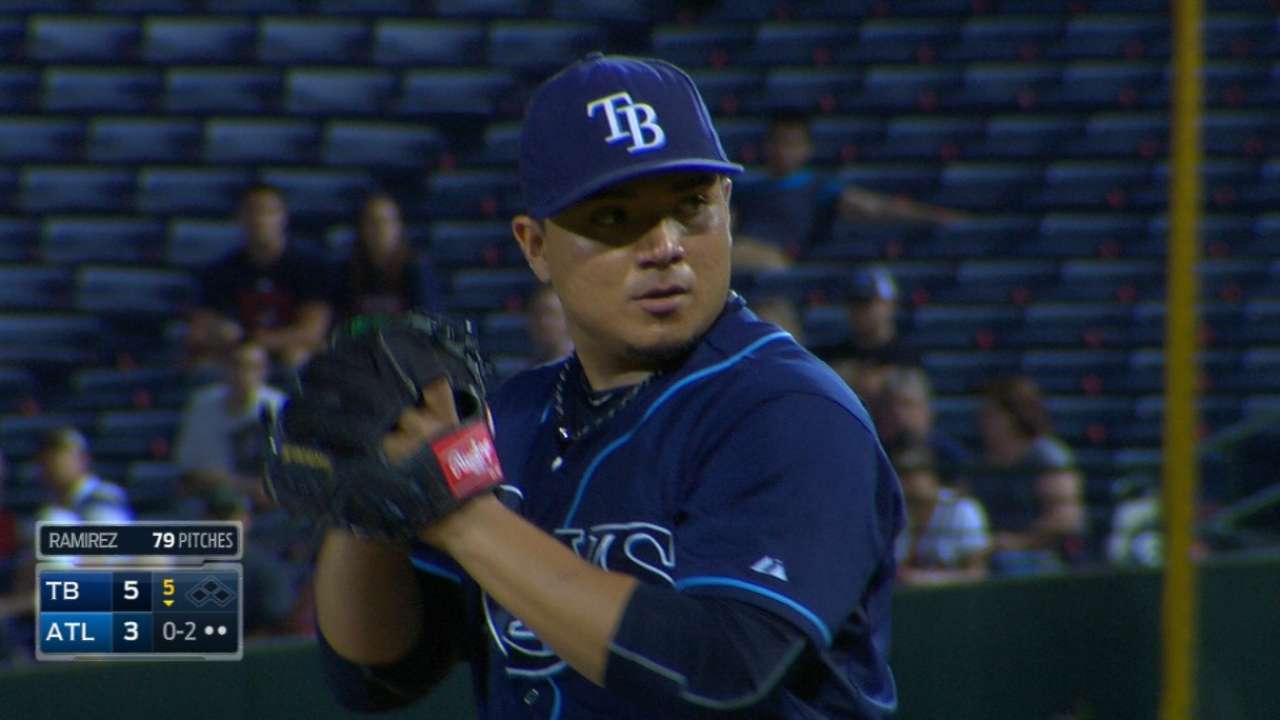 Simmons extends struggles: After fouling a pair of 3-2 pitches before drawing the bases-loaded walk in the second inning, Simmons extended his recent struggles and provided reason to wonder if he is battling a sore right thumb. The Gold Glove shortstop, who tested a thumb guard during batting practice, squandered A.J. Pierzynski's two-out double when he ended the sixth inning with a weak popout. He has recorded just three hits in his past 23 at-bats.
QUOTABLE
"It's only my fourth start and I'm just still trying to learn things. I'm trying to make my mechanics clean and all that stuff, working on the slider still. But other than that, it's just baby steps and it's coming along good now." -- Foltynewicz, after suffering the first loss of his career
REPLAY REVIEW
The Rays proved unsuccessful with the challenge issued after second-base umpire Will Little ruled Evan Longoria out on a force play in the third inning. After multiple angles provided inconclusive evidence that Longoria beat third baseman Pedro Ciriaco's throw, the play stood as called.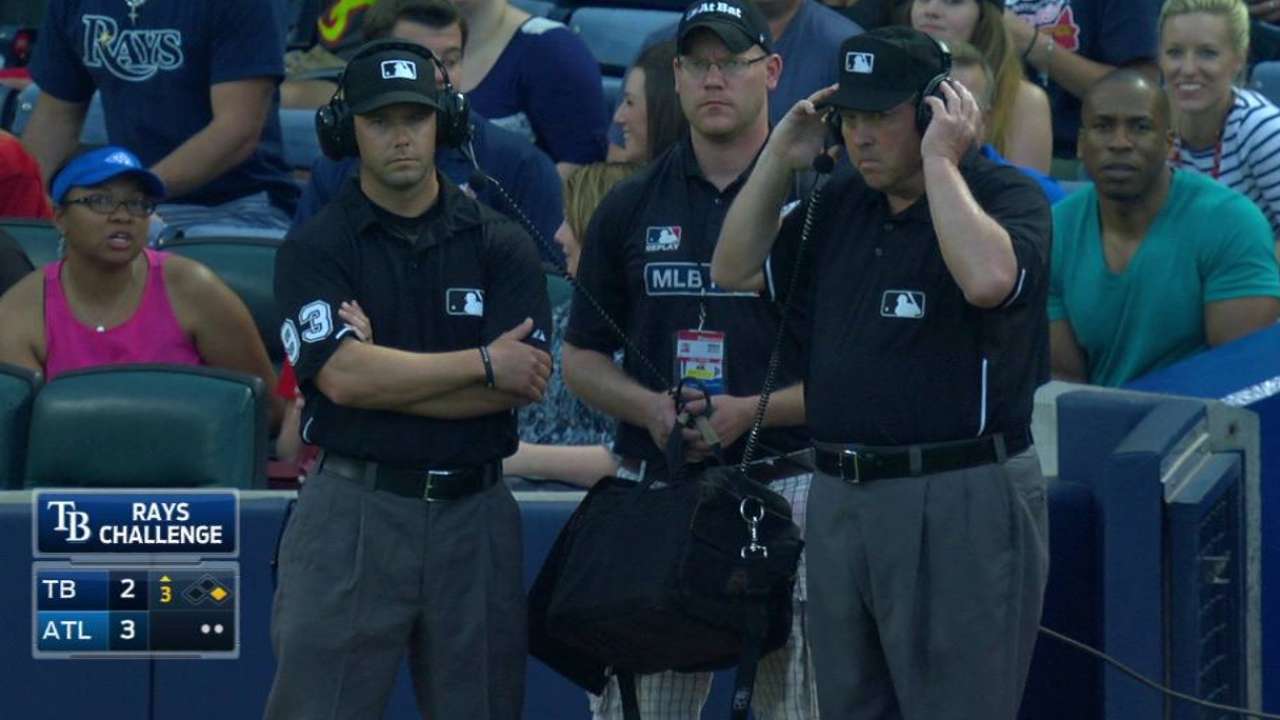 WHAT'S NEXT
Rays: Jake Odorizzi has notched seven quality starts in eight outings this season and starts Wednesday's series finale at 7:10 p.m. ET. He has not walked a batter in his last four starts, spanning 26 innings pitched. After posting a 6.32 ERA on the road in 2014, the right-hander has a 2.96 ERA in four road starts this season.
Braves: Odorizzi will be opposed by Williams Perez, who will be making his first Major League start. Perez has retired just six of the 14 batters he's faced in two relief appearances for the Braves. But he posted a 1.33 ERA in five starts for Triple-A Gwinnett this year.
Watch every out-of-market regular season game live on MLB.TV.
Mark Bowman is a reporter for MLB.com. Listen to his podcast. Bill Chastain is a reporter for MLB.com. Listen to his podcast. This story was not subject to the approval of Major League Baseball or its clubs.