Lackey, Matheny have 'productive' talk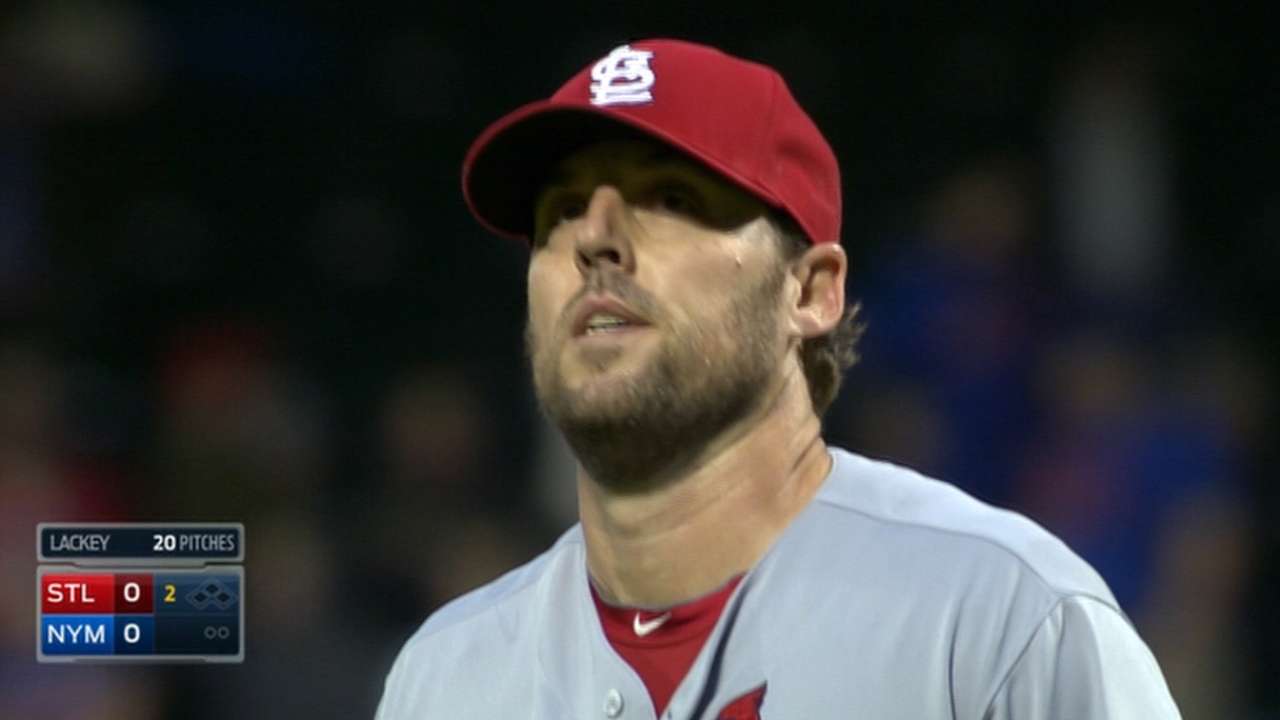 NEW YORK -- John Lackey and manager Mike Matheny had what Matheny described as a "productive conversation" on Tuesday, one day after Lackey expressed frustration at being pulled from his start after finishing seven innings on 76 pitches.
Matheny, with his club trailing, 1-0, heading into the eighth, sent pinch-hitter Peter Bourjos to lead off the inning in place of Lackey. The decision had everything to do with the Cardinals needing a run and having only six outs remaining.
Lackey acknowledged understanding the move, even if he still wasn't pleased with it.
"It is what it is in this league," said Lackey, whose arrival in the National League last season came after 12-plus years in the American League. "I've been in a few of those this year where I felt like [if I were in] the other league, I definitely would have kept pitching. ... The other guy was pitching great. I understand. But when you're feeling that good, you kind of want to keep going."
Lackey added that he was feeling "as good as I've felt in years" in the three-hit effort.
"You hate to ever insult a guy and give him the obvious [explanation that he can't hit], but it is obviously different," Matheny said. "I would say if that was an American League game that I'd be hoping he was still pitching in the 14th. But it wasn't. And we have to do what's best for everybody."
Any tension between the two seemed to dissipate with Tuesday's conversation.
"He gets where I'm coming from," Lackey said. "I get where he's coming from. Everything is fine. ... If Peter gets on base, he can steal two bags. If I get on base, what the [heck] am I going to do? Stand there?"
As it was, Bourjos did not reach base, and the Cardinals didn't score in the inning. They did, however, tie the score in the ninth.
Lackey's other lingering frustration was in regard to the defensive shift used behind him when Lucas Duda hit in the fourth. The Cardinals stationed three infielders near the grass between first and second base, leaving almost the entire left side open.
Lackey tried to pitch to the shift, but Duda found a pitch he could poke through the hole for an RBI single.
"The pitch was fine," Lackey said. "Honestly, if we're not aligned, I'm not even sure he swings at that. If we're aligned normal, I think he might take it. We kind of gave him the option to go that way."
Lackey added that he is "not a huge fan of shifting middle-of-the-lineup guys with the RBI [at stake]."
Matheny noted that he hoped the shift would lure Duda to swing at a pitch outside the zone, getting the Cardinals an out without the runner at third being able to budge.
"We communicate with everybody what we're going to do, and they all have an opportunity to tell us what they think about it ahead of time," Matheny said. "Sometimes it's going to work, and it gets shoved under the rug and nobody makes a big deal out of it. But when it doesn't, it seems to glare and stand out. That's not a good time to start questioning the system."
Jenifer Langosch is a reporter for MLB.com. Read her blog, By Gosh, It's Langosch, follow her on Twitter @LangoschMLB, like her Facebook page Jenifer Langosch for Cardinals.com and listen to her podcast. This story was not subject to the approval of Major League Baseball or its clubs.