C. Johnson could be back with Braves this week
Garcia to fill void following injury to Gosselin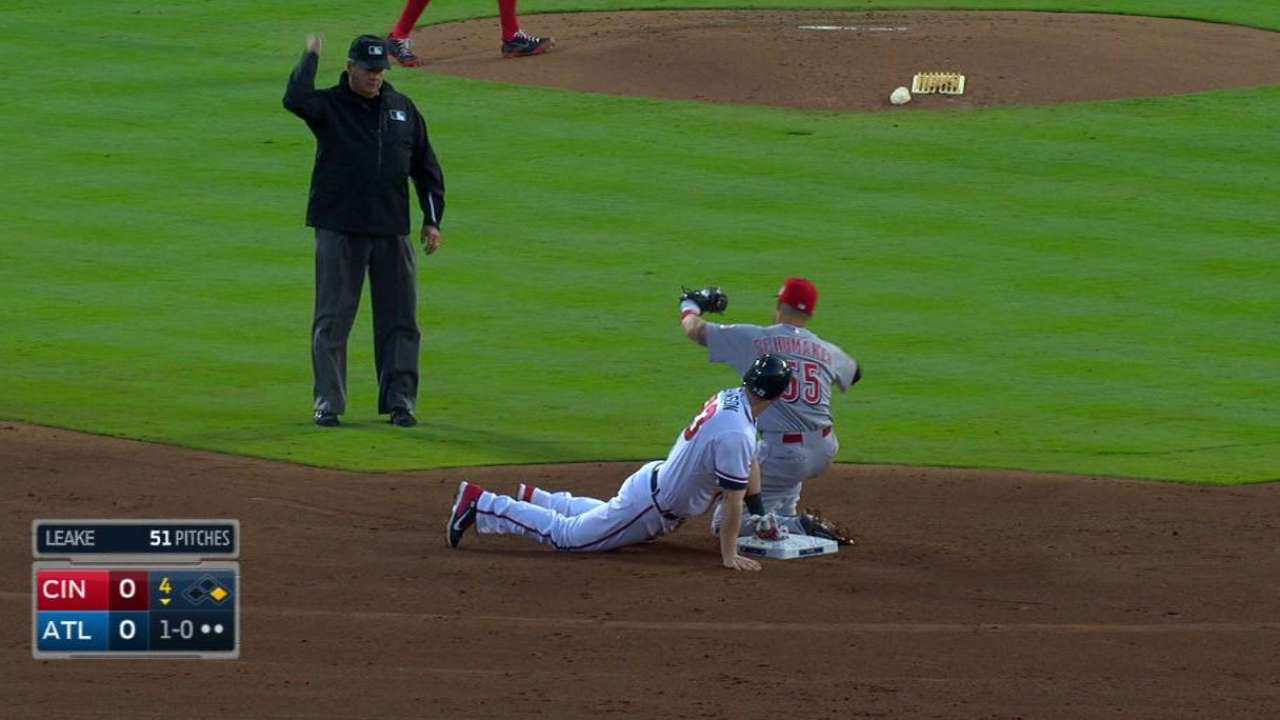 ATLANTA -- Chris Johnson could be back with the Braves within a week, according to manager Fredi Gonzalez. But in the meantime, Adonis Garcia will help fill the void created when Phil Gosselin was placed on the disabled list with a left thumb fracture.
Garcia has thrived, offensively, batting .351 with an .835 OPS through 34 games with Triple-A Gwinnett. But his defensive limitations will likely limit him to serve as a pinch-hit option at the big league level.
Pedro Ciriaco and Alberto Callaspo are expected to get most of the starts at third base over the next week.
'We're bringing up Garcia, who can help us as a bat off the bench," Gonzalez said. "I don't know how much he's going to play because we've got Ciriaco who we feel comfortable with; we've got Callaspo out there who can play third base."
Gosselin is set to undergo surgery on his thumb in the next few days and is expected to miss 6-8 weeks. Still, he said he wants to get healthy before the All-Star break, which starts July 13.
"You know, they told me 6-8 weeks, but I'm looking for the beginning of that for sure," Gosselin said. 'Hopefully I can heal up quick, try to push it as much as they let me.
"It wasn't the news I was looking for, but you just gotta move on from there.'
Johnson has been sidelined since May 2 with multiple bone bruises in his left hand and is expected to accelerate his rehab this week and if all goes right, he could travel with the team and be ready for next Monday's game at Dodger Stadium.
Before injuring his thumb on a diving play in the third inning of Atlanta's 6-0 win against the Marlins on Sunday, Gosselin was hitting .325 and just getting comfortable with the everyday role at third.
In 10 games in the month of May, Gosselin hit .429/.455/.571 with three doubles.
Callaspo hasn't played since May 13 against the Reds where he went 0-for-3 with a walk. His most recent hit came three days before that in a 1-for-4 game against the Nationals where he scored and drove in a run.
Four of Ciriaco's eight plate appearances this season have come as a pinch-hitter, but he has produced early for the team at the plate with a .429 average. Each of his three hits have gone for extra bases -- two doubles and a triple.
Garcia has never made an appearance in the Majors, spending his entire professional career in the Yankees' farm system before coming to Gwinnett in 2015. Gonzalez said that third is his best position, but he has played left field, right field and some first base.
"[It's] funny because [Triple-A Gwinnett manager Brian Snitker] and I have been talking about him for like 10 days," Gonzalez said. "He's really swinging the bat down there."
Carlos Collazo is an associate reporter for MLB.com. This story was not subject to the approval of Major League Baseball or its clubs.