Abad's struggles leaving A's in tough spot
HOUSTON -- Fernando Abad's ongoing struggles continue to hurt an A's bullpen that is without another left-hander.
In Tuesday's 6-4 loss to the first-place Astros, who hold a 12 1/2-game lead on the last-place A's, Abad faced three hitters and served up two home runs -- to the left-handed-hitting Colby Rasmus and Jason Castro.
Abad relieved Fernando Rodriguez with one on and one out in the eighth to face Rasmus, who fell behind, 0-2, before slugging a fastball into the right-field stands for a two-run home run. After retiring Chris Carter, Abad got too much of the plate with a 2-2 breaking ball that Castro sent out to left field.
"He's our only lefty. We've got to figure out how to use him," said A's manager Bob Melvin. "The last couple times, he seemed to be pretty good, like what we saw last year, and the pitch to Rasmus, it's 0-2, he's trying to go away, it looked like he missed the entire other side of the plate."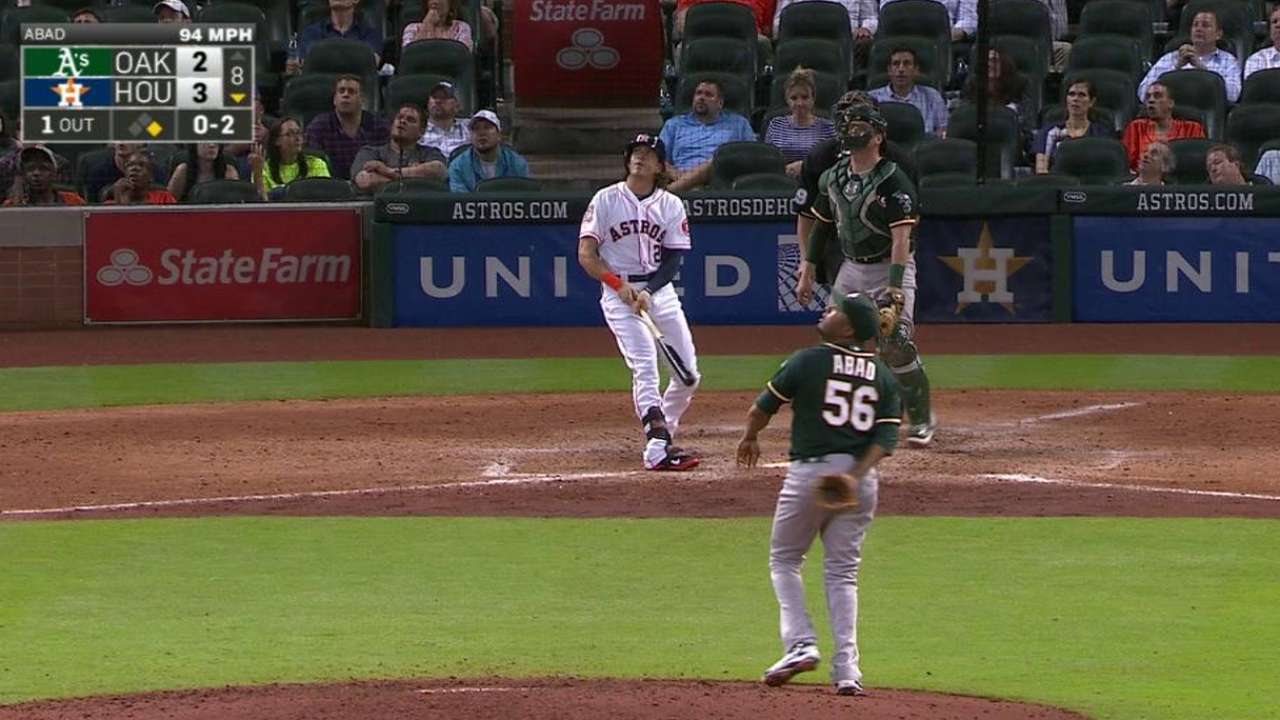 First batters faced are 7-for-18 with three home runs off Abad, who has yielded as many home runs (four) in 11 innings this season as he did in 57 1/3 innings all of last year.
"I don't know what's going to happen now," said Abad, carrying a 7.36 ERA. "I try to make a pitch, you know, a couple of pitches I missed. The [Rasmus] homer, it was going to be outside, and it came back. I couldn't do anything about it. It came back."
Abad insists his delivery is "fine" and said, "I see the video every time. The only thing I see is that I miss the pitch. I'm working on my delivery so the pitch will be down."
Left-hander Eric O'Flaherty began the season in the A's bullpen but has been sidelined by a shoulder injury for several weeks, and only two other left-handed relievers reside on the club's 40-man roster: closer Sean Doolittle -- who made his third rehab outing Tuesday evening, allowing one hit in a scoreless inning for Double-A Midland -- and Sean Nolin, who is being stretched out at Triple-A Nashville.
Nolin started for the Sounds on Tuesday, allowing one run on two hits with one walk and three strikeouts. Melvin has said before that Nolan could be considered a relief option at some point, if needed. Doolittle, meanwhile, is expected back by the end of the month but has yet to showcase his typical fastball velocity, having topped out at 90 mph.
Jane Lee is a reporter for MLB.com. This story was not subject to the approval of Major League Baseball or its clubs.