Auction winner joins Nationals' grounds crew
Fung honorary member after bidding at Winter Meetings to benefit LUNGevity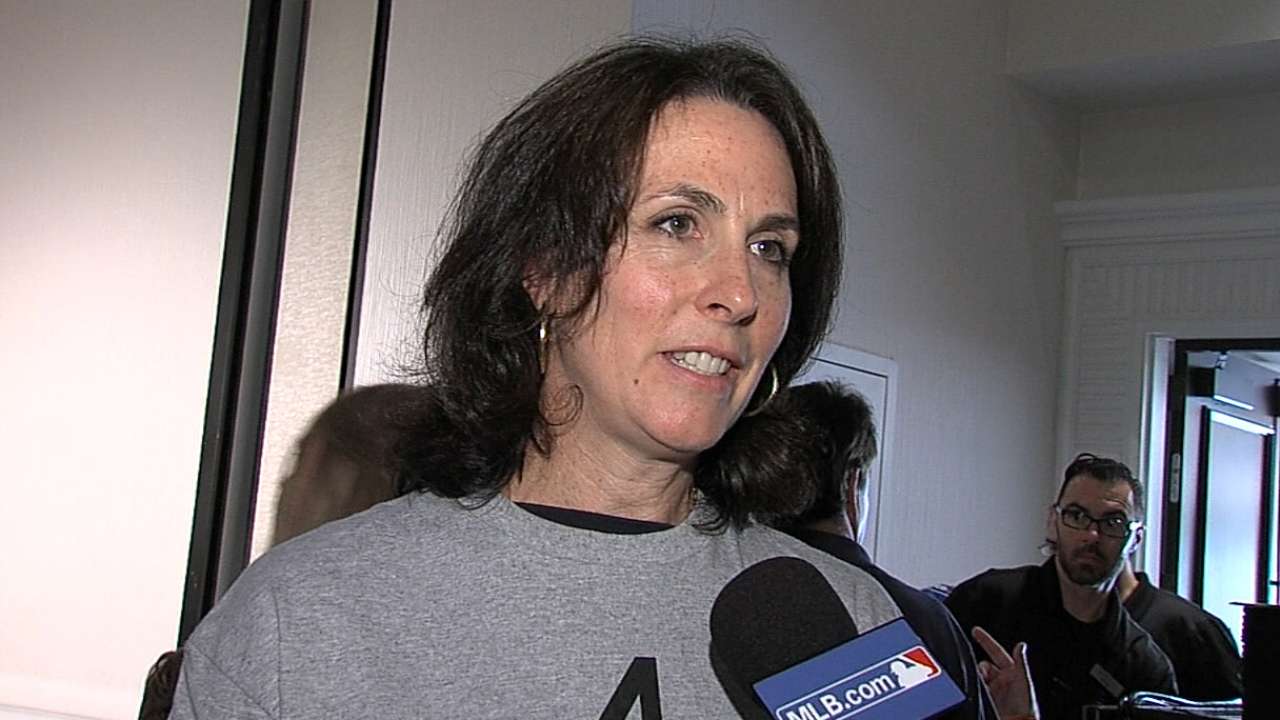 WASHINGTON -- Lawrence Fung won the big prize, so now he gets to do the chores.
Tuesday, Fung, a Brooklyn, N.Y., native, served as an honorary member of the Nationals' grounds crew, his prize for winning an auction at Major League Baseball's Winter Meetings.
"I have not been told what I'm going to be doing yet, but hopefully I'll get to pull a base out of the ground, sweep the field or maybe even dance on the infield," said Fung before the game.
The proceeds of the auction benefit the LUNGevity Foundation, the nation's leading lung cancer nonprofit organization. The foundation was chosen as a tribute to Monica Barlow, the former Baltimore Orioles' public relations director. Barlow died from lung cancer at age 36.
Fung's wife, Sarah Yuen, lost her uncle, aunt and paternal grandmother, all nonsmokers, to lung cancer, and Yuen's father has been fighting since his diagnosis four years ago.
"My father was diagnosed with lung cancer, stage four non-small cell, back in December 2011," Yuen said. "Thankfully we've had a few more years with him so far, but his health is sort of declining. And the stats are pretty abysmal compared to other cancers that have had more funding, and there is a huge stigma against long cancer."
On the road from Brooklyn to Washington, Fung and Yuen researched statistics regarding the disease, something they have done before.
Yuen's father is among the one in 15 Americans that will be diagnosed with lung cancer in their lifetime.
"LUNGevity Foundation focuses on improving survivorship," said LUNGevity representative John Ratzenberger. "Whether we fund research for lung cancer treatment or early detection, or if we invest in support programs for individuals with lung cancer and their caregivers."
Before Barlow died, she began coordinating the relationship between Major League Baseball and LUNGevity.
At the Winter Meetings, every MLB team donated items or experiences to the LUNGevity auction in hopes to increase awareness surrounding the disease.
LUNGevity's relationship with the area continues in November, when Washington hosts "Breathe Deep D.C.," a 5K walk/run that commences at the Washington Monument.
Jacob Emert is an associate reporter for MLB.com. This story was not subject to the approval of Major League Baseball or its clubs.