MLB.com Columnist
Jesse Sanchez
Panama perfect backdrop for 2015 Showcase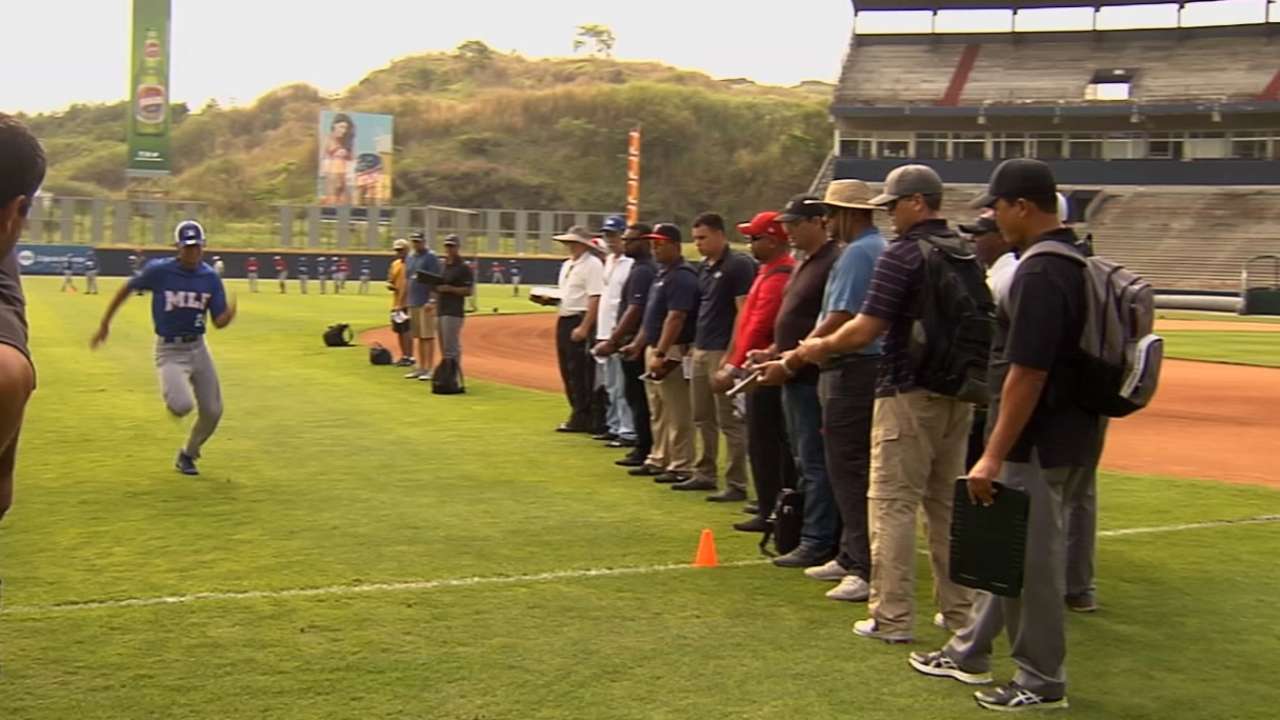 PANAMA CITY -- Rod Carew Stadium is nestled in a serene mountainous region known as Cerro Patacon, just outside of the bustling capital city of Panama. Since it opened in 1999, the park has been the perfect home to the nation's best players and baseball dreamers.
The tradition continued Tuesday, when Major League Baseball and the MLB Players Association opened the two-day International Showcase -- which is for prospects who are eligible to sign professional contracts during the international signing period -- at the country's most famous ballpark.
The first day of the showcase, which stars 17- and 18-year-old prospects from Colombia, Curacao, Nicaragua and Panama, included timed 60-yard runs, infield and outfield drills, along with batting practice in front of scouts for all 30 teams. The prospects also played against each other in a friendly but competitive game.
"Panama is a place that we have always been interested in, and it's produced great ballplayers over the years," said Joel Araujo, manager of Latin American game development for MLB. "We think this is an opportunity to have scouts see these kids who are little older and maybe need a second look in a platform and venue convenient to the scouts. It's been a good showing so far, and we just hope to give the opportunity for these players to be scouted and signed."
The future of the game was on display Tuesday, but the sport's long history here can be traced back to the Americans who built the Panama Railway along the Isthmus of Panama during the 1850s and the construction of the Panama Canal in the early 1900s. It was commerce -- the railway and the canal -- combined with a little free time that brought Panamanians and Americans together on the diamond. The industries also set the stage for one of the greatest moments in Panamanian sports history.
Carew, an 18-time All-Star and the winner of seven batting titles, is the only Panamanian in the Hall of Fame, elected in 1991. He was born in a railway car in the Panama Canal Zone in 1945, 90 years after the railroads were completed. The national stadium was renamed in 2004 after Carew, who was named after the doctor who delivered him that eventful day on the train.
Panama's professional baseball league was also created in 1945. Its champion won a Caribbean Series title in '50, but the league dissolved 19 years later. Efforts to revive the league to its former glory have fallen short.
While the professional league has struggled in Panama, youth leagues have flourished, and appearances in national and international tournaments for the young players have remained steady. A team from Panama has participated in the Little League World Series in Williamsport, Pa., five times.
Teenage catcher Miguel Amaya, the top international prospect from Panama, is ranked No. 23 on MLB.com's Top International Prospects list, and he's expected to sign a deal in July. Amaya has represented his country in international tournaments five times, and he's not the only talented teen in the country.
"I'm hoping as many players from my country sign with MLB teams as soon as possible," Amaya said in Spanish. "That's everyone's dream that is here. It doesn't matter if you sign when you are 16 or you sign when you are 17 or older, the important part is to get a chance to sign."
Overall, there have been 55 players from Panama to play in the Majors, a list that includes future Hall of Famer and all-time saves leader Mariano Rivera and left-hander Bruce Chen, who retired Monday. Both Chen and Rivera finished their careers with 82 victories, the most wins by a pitcher from Panama.
Several more Minor League players from this country are climbing the ranks, and others are already impacting big league games. On Monday, Panama City's Enrique Burgos earned his first save for the D-backs against the Marlins in extra innings. One day earlier, Arizona teammate Randall Delgado, who like Amaya is from the province of Los Santos, pitched 1 2/3 innings. Ramiro Mendoza, who pitched 10 seasons with the Yankees and Red Sox, is also from Los Santos.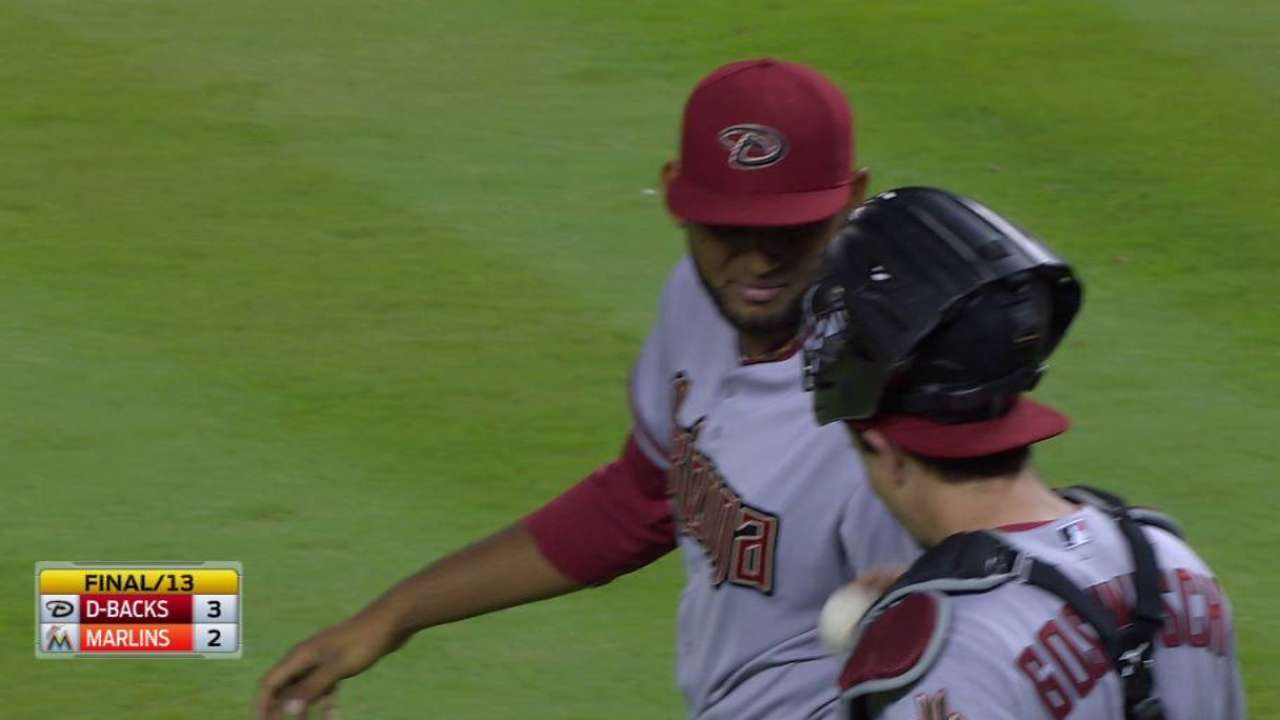 "We have had quality players from Panama do great things in baseball, and that's why MLB is showing interest in us," said former Major League infielder Olmedo Saenz, who lives 3 1/2 hours from Panama City in his hometown of Chitre, but drove up to see the prospects work out. "It's great to see these young players get the opportunity to maybe one day sign a professional contract with Major League Baseball. We have talent, and I'd like to see a presence from MLB here every day of the year."
It's certain the country will be watching on Wednesday night when the Phillies send 22-year-old Severino Gonzalez -- who is from Santiago de Veraguas, Panama -- to the mound against the Rockies. He'll once again pitch to Carlos Ruiz, 36, who grew up 3 1/2 hours away from Gonzalez in the city of San Jose de David, Panama. The pair made history by forming the first all-Panamanian battery in April.
The focus Wednesday morning will be on the 45 prospects, 16 of whom are from Panama, wrapping up their two-day showcase with two more games. Amaya, who has been linked to the Cubs, was not eligible to participate in the showcase, but he still made the four-hour trip from his hometown with his father, Maximiliano Amaya, the town's deputy mayor, to watch his peers in action.
The teenager also wants to be part of the country's baseball narrative.
The Amayas plan to sign a professional contract with a Major League team on July 2, the first day of the international signing period, in front of family and friends at Los Amigos Stadium, where Miguel played his first Little League game.
Los Santos, currently recognized across Latin America for its deep colonial traditions and rich cultural heritage, could one day be just as famous for producing Major League players.
"We have great beaches, but we also have so many old churches, buildings and a proud history of independence in Los Santos," Maximiliano Amaya said in Spanish. "Have you ever seen those beautiful 'polleras,' the traditional dresses from Panama? Those are from Los Santos, and we win international competitions with them every year. But that's not all we make in Los Santos."
Jesse Sanchez is a national reporter for MLB.com. Follow him on Twitter @JesseSanchezMLB. This story was not subject to the approval of Major League Baseball or its clubs.