Masset moves from one NL East team to another
Released by Marlins, Braves sign right-handed reliever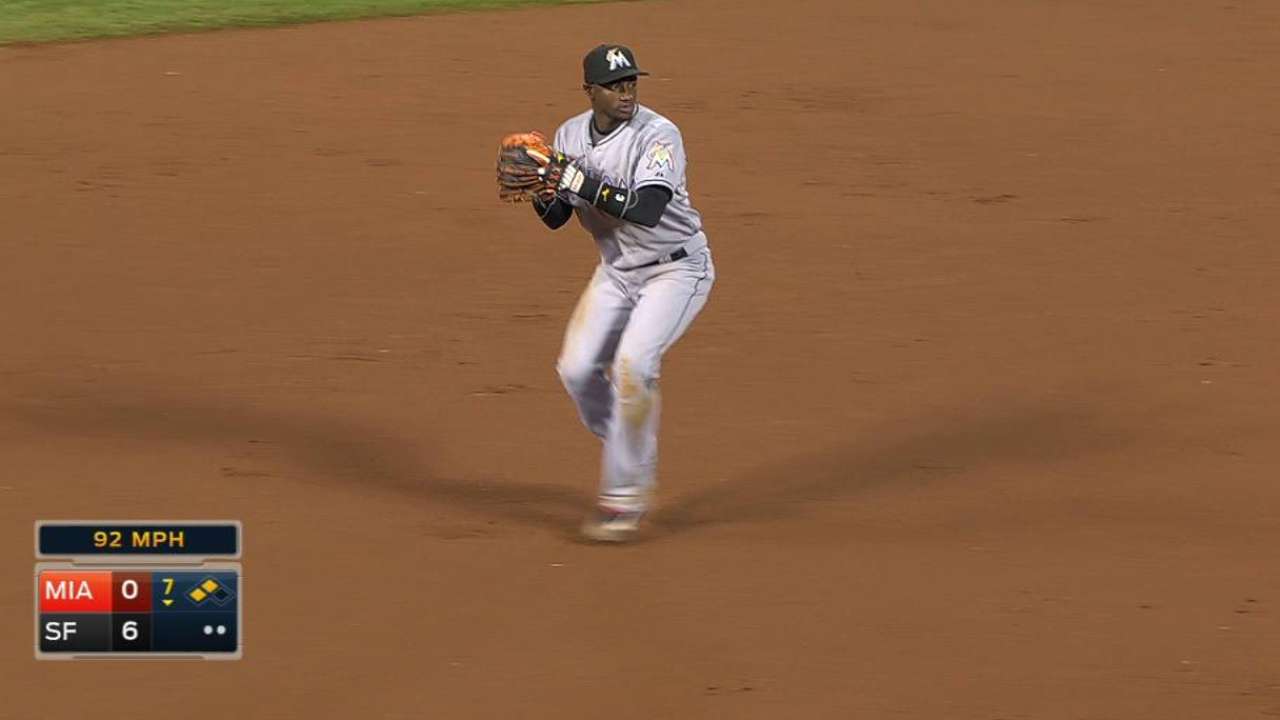 ATLANTA -- With their latest attempt to find creative ways to strengthen their bullpen, the Braves have opted to take a chance on right-handed reliever Nick Masset, who was designated for assignment by the Marlins just this past weekend.
Masset signed a one-year deal with the Braves and made his debut in Tuesday night's 5-3 loss to the Rays. The veteran right-hander, who pitched a hitless inning of relief in his first outing with the Braves, will fill the roster and bullpen spot previously occupied by Cody Martin, who was optioned to Triple-A Gwinnett.
"We did our homework and our scouts said this is a guy that could be a tick upgrade," Braves manager Fredi Gonzalez said. "The thing I like is he has seven years of Major League experience. He had some really good numbers this year. We're not bringing him in to be the closer or the eighth-inning guy, but he can help us."
Masset tossed a scoreless inning against the Braves on Saturday afternoon and then was designated to make room for Henderson Alvarez to come off the disabled list to start Sunday's game. The 33-year-old reliever posted a 1.86 ERA in 9 2/3 innings for the Marlins, but opponents compiled a .324 batting average against him.
"I was a little surprised [to be designated], I felt like I was throwing the ball really well," Masset said. "It comes down to business decisions. I didn't have a say, and it was a little disheartening, but at the end of the day we're just players and we do what we're supposed to do. To be able to be picked up by the Braves is kind of a dream come true for me."
Masset, who grew up a Braves fan, posted a 3.32 ERA over 273 appearances for the White Sox and Reds from 2008-11. He missed the 2012 and 2013 seasons due to a torn anterior capsule in his right shoulder.
After returning to the Majors last year, Masset produced a 5.80 ERA in 51 games for the Rockies. He exited June with a 3.57 ERA and then allowed 33 hits and 20 earned runs over his final 25 appearances (22 1/3 innings).
Martin earned a spot on the Opening Day roster on the final day of Spring Training and then proceeded to surrender just two runs through the first 11 2/3 innings of his career. But the rookie right-hander has allowed 11 hits and seven earned runs over his past eight innings. Three of those seven runs came courtesy of home runs hit by Bryce Harper and Giancarlo Stanton.
The Braves plan to have Martin spend at least the next couple of weeks serving as a starting pitcher -- a role he successfully handled for Gwinnett last year. But if he returns to the Majors later this year, he would likely be utilized as a reliever.
Mark Bowman is a reporter for MLB.com. Listen to his podcast. This story was not subject to the approval of Major League Baseball or its clubs.