Miley stops worrying, back to having fun on hill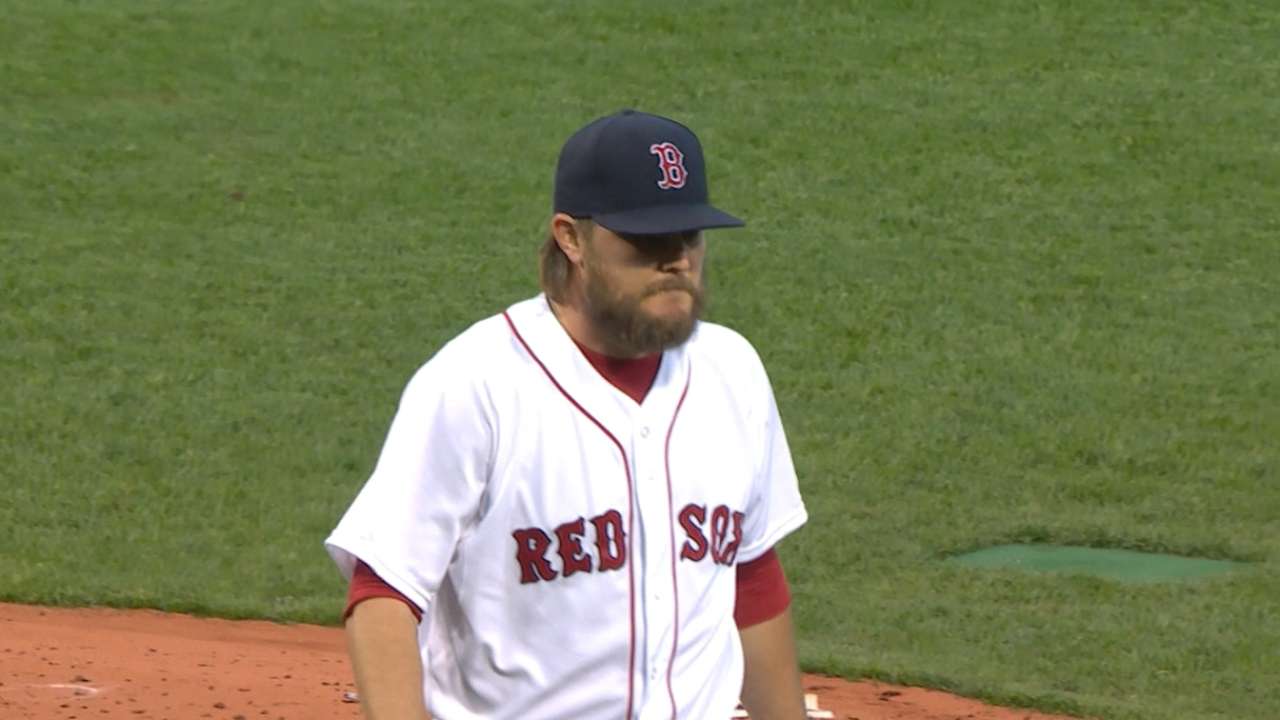 BOSTON -- After enduring more than a month of shaky starts interspersed with a few helpings of criticism and a change of pitching coaches, the Red Sox's rotation is finally starting to have a little fun. Perhaps no pitcher is more emblematic of the apparent turnaround than left-hander Wade Miley.
"We're just trying to go out there and have fun again rather than worry so much," Miley said. "Eliminate some of the pressure and just play the game."
Miley worked more magic with runners on base in Tuesday's 4-3 victory at Fenway Park, holding the Rangers to 2-for-9 with runners in scoring position while working seven innings of two-run baseball. He fanned seven batters, one shy of his season high-water mark, while issuing one walk and looked a far cry from the player whose April struggles seemed so mighty.
"Getting in more of a rhythm I guess," Miley said. "You create a little confidence, have a good one, then another good one. You try to build off of that."
Boston's starters have now posted a 2.04 ERA over the past six games, which includes Miley's last start (6 2/3 scoreless innings vs. Oakland).
The Rangers' only damage was done in the sixth inning, when Miley scattered three hits in the span of four batters, including a run-scoring single by Thomas Field that ended the shutout. Field's hit also snapped Miley's streak of 19 straight batters retired with runners in scoring position.
So the magic ran out, if only for a moment.
"He's made big pitches with men in scoring position," Red Sox manager John Farrell said. "This is probably four starts consecutively now where he's really attacked the strike zone and thrown a number of pitches in some quality areas, particularly his fastball down in the zone. And he's working at a pace that I think is comfortable for him but not too quick and is dictating the tempo from the mound."
Miley relied on his fastball for much of the outing and said he felt good working the pitch inside on the numerous right-handers in the Rangers' lineup.
And with the uptick in consistency -- Miley has now gone at least six innings and allowed four runs or fewer in his last four starts -- the pressure of pitching in a place like Boston has begun to lessen along with it.
"There's expectations here and you want to live up to it," Miley said. "We kind of got off to a bad start, but we're just going to try to to keep building off the good things."
Alec Shirkey is an associate reporter for MLB.com. This story was not subject to the approval of Major League Baseball or its clubs.