MLB.com Columnist
Bernie Pleskoff
Slow rise to bigs for KC's speedy Orlando
Outfielder had success in Minors before debuting in Majors this season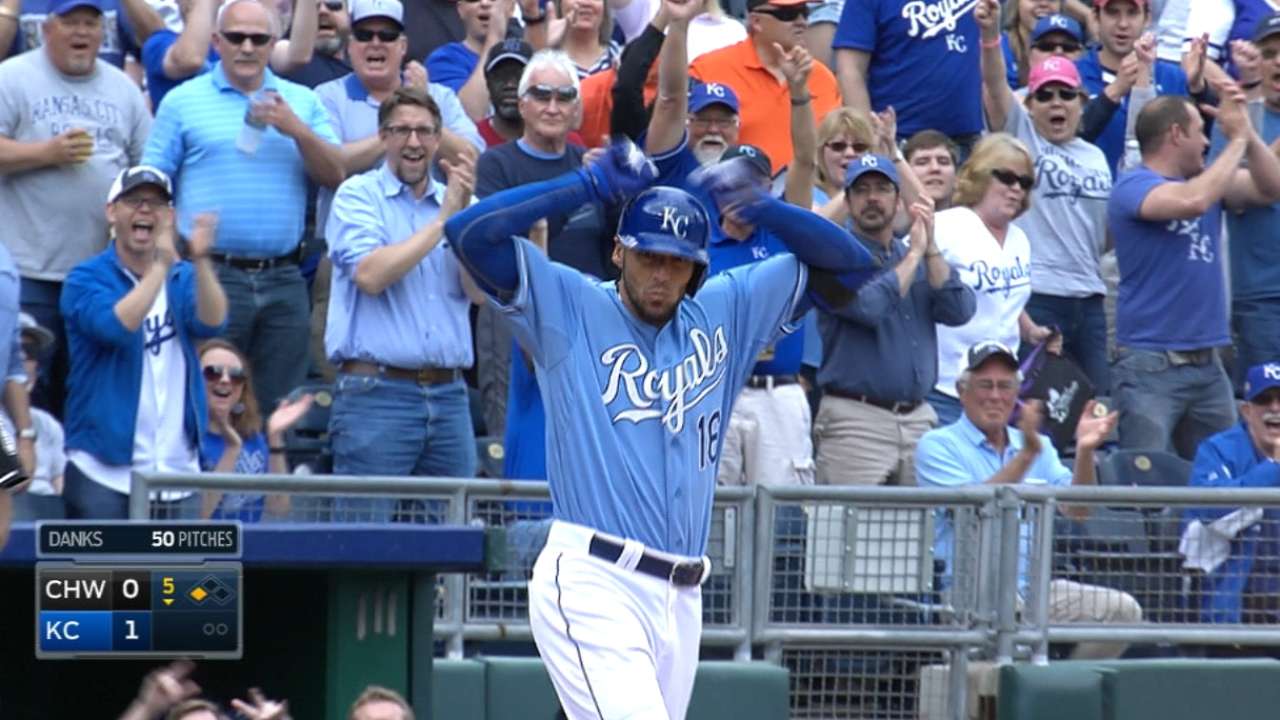 Kansas City Royals right-handed-hitting outfielder Paulo Orlando was quite an athlete growing up in Sao Paulo, Brazil. He loved to play soccer. He was active in track and field. And even though it wasn't a major sport in the country in his formative years, Orlando loved baseball, which he played on weekends.
Chicago White Sox Cuban scout Orlando Santana saw Orlando during a tournament. That helped launch Orlando on his way to a career as a big league baseball player. The scout saw Orlando as a "triples machine." The White Sox signed him as an international free agent in 2005. Knowing little about the fine points of playing baseball, Orlando refined his skills and learned the nuances of the game after he turned professional.
Orlando played for Brazil in the 2013 World Baseball Classic. He joins Indians catcher Yan Gomes and Andre Rienzo, who pitches in the Marlins' organization, as players from Brazil now in professional baseball.
Orlando's development and path to the big leagues is similar in many ways to that of former Royals outfielder Raul Ibanez. In fact, they are compared often due to their perseverance and patience. Ibanez spent a considerable amount of time in the Mariners' Minor League system, getting just a taste of the big leagues. After signing as a free agent with the Royals, Ibanez -- at age 29 -- finally stuck as a big league player. His move to Kansas City changed his career. Just like Orlando, who now happens to be 29.
In 2008 while playing for the White Sox Class A Advanced Winston-Salem club, Orlando was traded from the White Sox to the Royals for left-handed pitcher Horacio Ramirez.
Orlando lingered in the Minors for parts of nine seasons before Kansas City promoted him to the 25-man Major League roster at the beginning of this season. He had compiled a very respectable .275 career Minor League batting average that included a whopping 63 triples. Last season at Triple-A Omaha in 554 plate appearances, Orlando had 21 doubles and nine triples among his 151 hits. He finished the season with a .301 batting average. Orlando also stole 34 bases in 43 attempts. The outstanding season likely paved his way for his promotion.
As part of his overall development, Orlando has also played successfully in winter ball.
This past Spring Training, Orlando built upon his good season at Omaha by hitting .319 with three doubles, a triple and a home run in 47 at-bats.
Viewed as a fifth outfielder on the Royals' roster at the start of the season, Orlando has assumed a more prominent role while outfielder Alex Rios recovers from a fractured left hand. Orlando made his big league debut on April 9 against his former Chicago White Sox.
Perhaps Orlando's greatest baseball tool is his speed. A big man at 6-foot-2, 210 pounds, he doesn't break any records running from home to first. I have recorded times of 4.1 to 4.2 seconds for Orlando running down the first-base line -- very acceptable speeds, but nothing earth shattering. However, he does get a quick start out of the box, and he gains momentum running the bases. Orlando has long strides and he glides effortlessly. Once he throws it into overdrive, he's heading for a triple.
During his first full month with Kansas City, Orlando managed to smoke five triples, a rare and exciting feat. An even more impressive achievement came when his first two Major League hits were triples.
Using an uppercut swing, Orlando has gap power. He may not hit double-digit home runs, but he'll hit his share of balls that leave the park.
Orlando is making contact against quality Major League pitching, an area that has improved over the years. He's striking out less and showing more patience.
A good outfielder, Orlando is currently playing right field. He has the speed and arm strength to play solid defense on a consistent basis in any outfield position.
Bernie Pleskoff has served as a professional scout for the Houston Astros and Seattle Mariners. Follow @BerniePleskoff on Twitter. This story was not subject to the approval of Major League Baseball or its clubs.