Are they legit? A look at fantasy pitching leaderboards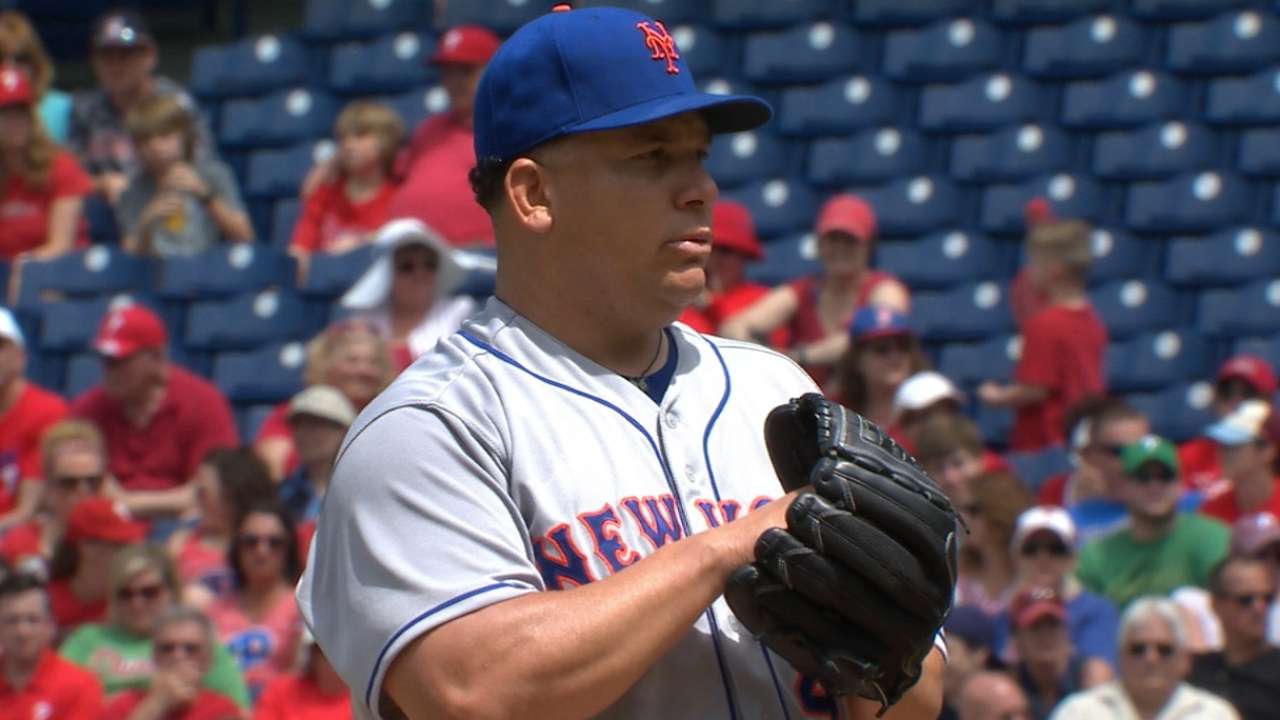 Last week, we analyzed the leaders in the five offensive categories most used in fantasy baseball in an effort to differentiate the contenders from the pretenders. Now, we will do the same for the pitching categories -- a tougher task due to the importance of team performance on win/save totals. Nevertheless, certain indicators can help portend the likelihood of these early leaders sustaining their success through September.
Wins: Felix Hernandez/Bartolo Colon, 6
Hernandez has long been one of baseball's best pitchers, and the seemingly ageless Colon ranks among the 2015 season's top storylines. However, Colon shouldn't be expected to maintain his astounding 42-to-1 strikeout-to-walk ratio, and Hernandez is being backed by a bullpen that ranks 16th in ERA and 20th in FIP. Seattle's relief corps will almost certainly blow a few wins for him, and its offense -- which ranks 26th in the Majors in runs scored -- will sometimes fail to provide him enough run support.
Pick to lead the league: Clayton Kershaw was the favorite here entering the season, but it's Kershaw's teammate who looks likeliest now. Zack Greinke has five wins under his belt to go along with a lights-out 1.52 ERA. Stats such as FIP and xFIP expect that mark to regress, but the Dodgers' bullpen has a 2.64 ERA that ranks sixth in the Majors. Additionally, that collective group of relievers leads the Majors in FIP and xFIP, and most shockingly, he has thrived without elite closer Kenley Jansen, who is now healthy. With Jansen back in the mix, the Dodgers' bullpen actually stands to improve, which will complement an offense that is scoring an NL-best 5.02 runs per game. Greinke has earned a good head start on most of his peers with his five wins, and his bullpen and run support should keep the victories flowing.
ERA: Shelby Miller, 1.33
Braves fans who lamented the offseason trade of Jason Heyward and Jordan Walden for Miller and prospect Tyrell Jenkins are likely now overjoyed with president of baseball operations John Hart's move. Miller has been outstanding, and he's looked far more like the 2013 version of himself -- which finished third in the National League Rookie of the Year voting -- than the 2014 version that struggled at times. Still, a modest 7.2 K/9 rate and unsustainable marks in BABIP (.183) and strand rate (89) -- both stats from Fangraphs.com -- portend regression. That's not to say that Miller will turn into a pumpkin. Rather, he should continue to be an above-average starter moving forward, just not the best in baseball at preventing runs.
Pick to lead the league: Max Scherzer -- a strikeout artist with a 1.75 ERA, a 10.5 K/9 and a 1.3 BB/9 -- is better positioned than anyone to post the league's best ERA. With a 2.04 FIP that trails only Michael Pineda's mark of 2.01, Scherzer has the advantage of pitching in the NL after spending 2010-14 in the Junior Circuit. Colon and Pineda may have the edge in K/BB ratio, but studies have shown that K-BB percentage is more predictive, and Scherzer trails only Cleveland's Danny Salazar in that regard. Salazar, while exceptionally talented, is homer-prone, and he has been inconsistent in his big league tenure to date.
Strikeouts: Scherzer/Kershaw, 66
The two names leading the NL in strikeouts should come as no surprise, as both Scherzer and Kershaw have for years ranked among the game's elite in terms of overall results and missing bats. They're deadlocked for total strikeouts right now, but Kershaw's K percentage trails only Salazar, and neither Salazar nor Scherzer can match Kershaw's ability to rack up innings. James Shields may give Kershaw a run for his money, but the 33-year-old Shields has never in his career missed bats as often as he has in 2015. Shields is in the midst of his first taste of the NL, so perhaps the increase is sustainable, but Kershaw has history on his side in this battle.
Pick to lead the league: Kershaw
Saves: Andrew Miller /Glen Perkins /Trevor Rosenthal /Jeurys Familia, 13
The battle to lead the league in saves is currently a four-horse race, with Huston Street and Joakim Soria both trailing by just one save. Drew Storen and Jason Grilli, each with 11 saves, are also in striking distance. So how do we sort through this logjam? The sustainability of the Twins' strong start remains to be seen, and Minnesota's bullpen pieces leading up to Perkins are questionable. As for Familia? Despite his dominance, the Mets have a pair of former closers -- Bobby Parnell and Jenrry Mejia -- set to return around midseason.
Both Miller and Rosenthal have been lights-out this year, but Miller has displayed slightly more troubling control and his setup man -- Dellin Betances -- has the skills to take over the ninth. That leaves Rosenthal, who plays for one of the NL's best teams and has posted season-to-date rates of 10.9 K/9 and 2.8 BB/9. Predicting the leader in saves -- like wins -- is tough, because team composition arguably has more to do with the stat than the talent of the individual. Still, Rosenthal is the likeliest to take home the saves title because of his skills and job security on one of baseball's top clubs.
Pick to lead the league: Rosenthal
WHIP: Miller, 0.83
As is the case with his ERA, Miller has a 2015 WHIP that is benefiting greatly from a .183 average on balls in play. And despite an improvement in his control -- he owns a good, not great, 2.7 BB/9 this year -- Miller is no stranger to bouts with bases on balls. Again, Miller is not a hurler to knock in this space, but he's not the most realistic candidate to sustain this level of excellence.
Pick to lead the league: Scherzer has posted a BABIP nearly 100 points higher than Miller's, yet his 0.92 WHIP doesn't trail Miller's by much. And though Scherzer does not appear set for assistance from his defense -- which ranks 29th in efficiency -- he can neutralize opponents' base-reaching ability on his own. Scherzer is firing strikes at the best rate of his career -- particularly early in the count -- and the improvement has helped boost his K rate. With a head start in the category and an ability to help his own cause as well as any hurler in the game, Scherzer is in prime position to sustain a dominant WHIP.
Steve Adams is a fantasy writer for MLB.com. Stats and leaders accurate entering play Monday. This story was not subject to the approval of Major League Baseball or its clubs.