MLB.com Columnist
Anthony Castrovince
Harper vs. Trout could join ranks of great debates
Linked early in careers, Nats outfielder making strides toward reigning AL MVP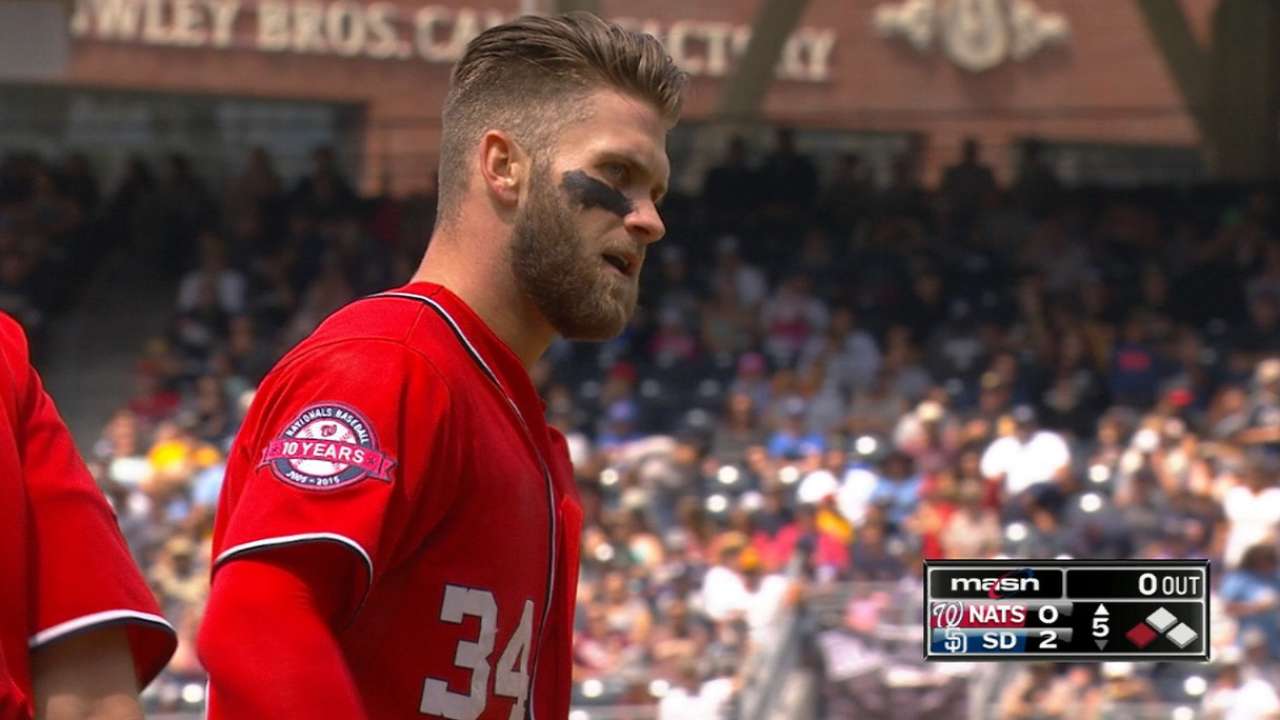 Remember when Derek Jeter vs. Nomar Garciaparra was a legitimate knock-'em-down-drag-'em-out argument?
They were two of the game's signature stars, born roughly a year apart, both immersed in a major media market and playing a premium position. The crazy thing, in retrospect, is that until Spring Training 2004, there was little statistical question (beyond World Series ring count) that "Nomah" was the superior shortstop:
Garciaparra (1996-2003): .323 AVG, .370 OBP, .555 SLG, 173 HR, 272 2B, 47 3B, 669 RBIs in 928 games
Jeter (1995-2003): .317 AVG, .389 OBP, .462 SLG, 127 HR, 239 2B, 41 3B, 615 RBIs in 1,212 games
Garciaparra made a bigger impact despite a later start to his career. Going into 2004, if you knew only one of those two former American League Rookie of the Year Award winners would be a Hall of Famer (and a likely first-ballot Hall of Famer, at that), the stats would seem to suggest Garciaparra.
Then came 2004, the trade and then the injuries. And Jeter vs. Garciaparra no longer registers as a debate at all.
It's an imperfect but interesting precursor to a discussion about Bryce Harper and Mike Trout. Remember when we actually used to argue about these two?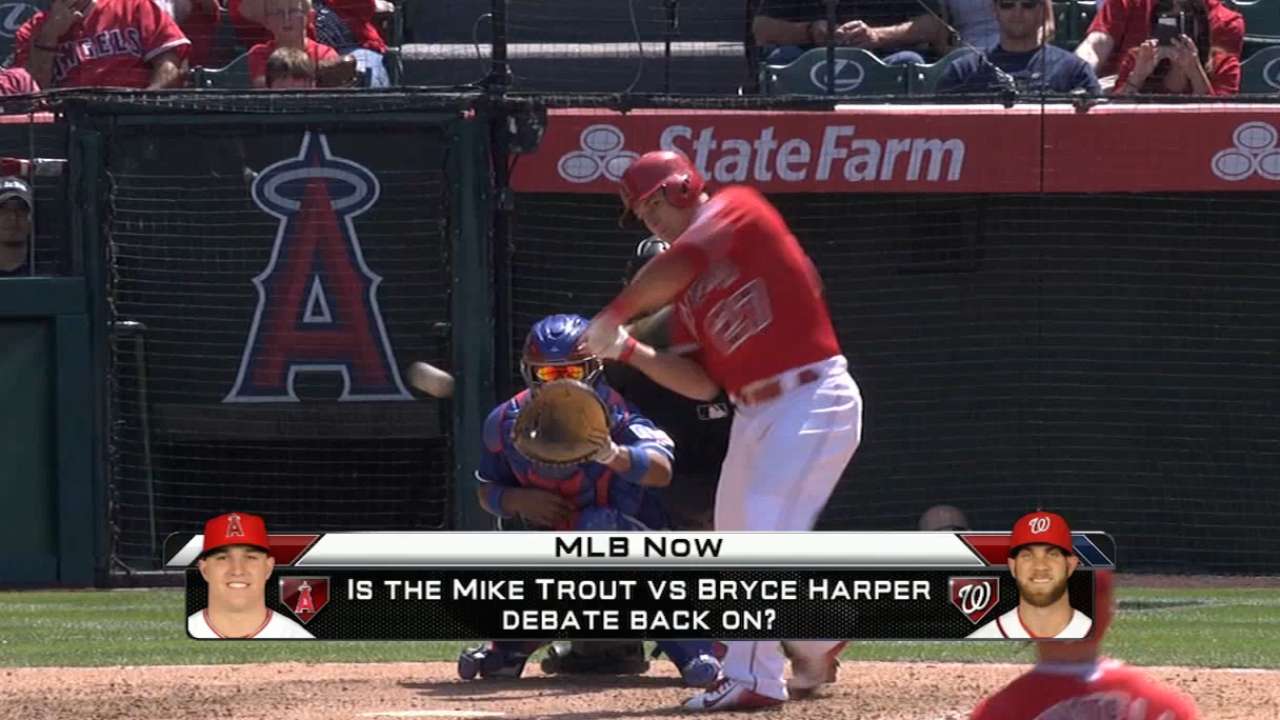 It was just three years ago last month that they both got promoted to the big leagues on the same day (Trout for the second time, Harper for the first). They were highly touted phenoms inextricably tied in our daily dialogue.
But then Trout went all would-be MVP on us, making even Harper's insane 19-year-old output look basically blah. By any responsible measure, Trout has been the best all-around player in MLB since that promotion on April 28, 2012, earning AL MVP Award honors and two second-place finishes before his 24th birthday.
That leaves Harper with an awful lot of catching up to do.
It's amazing how much Trout's astounding ascendance has made Harper appear to be some sort of statistical slouch, when in fact what he accomplished in his first three seasons, despite various injuries, puts him in some impressive company.
Check out this list of the top 10 runs created marks by players before their age-22 season:
Trout (2011-13): 307
Ted Williams (1939-40): 294
Ken Griffey Jr. (1989-91): 286
Mickey Mantle (1951-53): 257
Tony Conigliaro (1964-66): 254
Frank Robinson (1956-57): 243
Vada Pinson (1958-60): 241
Cesar Cedeno (1970-72): 241
Harper (2012-14): 222
Eddie Mathews (1952-53): 220
That's a pretty good list. And we would have been celebrating Harper's place on it if not for Trout.
Well, something interesting is happening in 2015. It's early, and one particularly plentiful month does not a clear career path make. But with Harper showing a more mature plate approach and more frequently utilizing that pulverizing power stroke, it's not totally outlandish to suggest 2015 could be the first season in which his plate performance surpasses that of Trout.
Trout, of course, has been terrific, as we've come to expect. He seems to have shored up his lone weakness -- the high-and-tight fastball -- and his offensive numbers (.281/.377/.540 with 10 homers and 21 RBIs) have been All-Star caliber.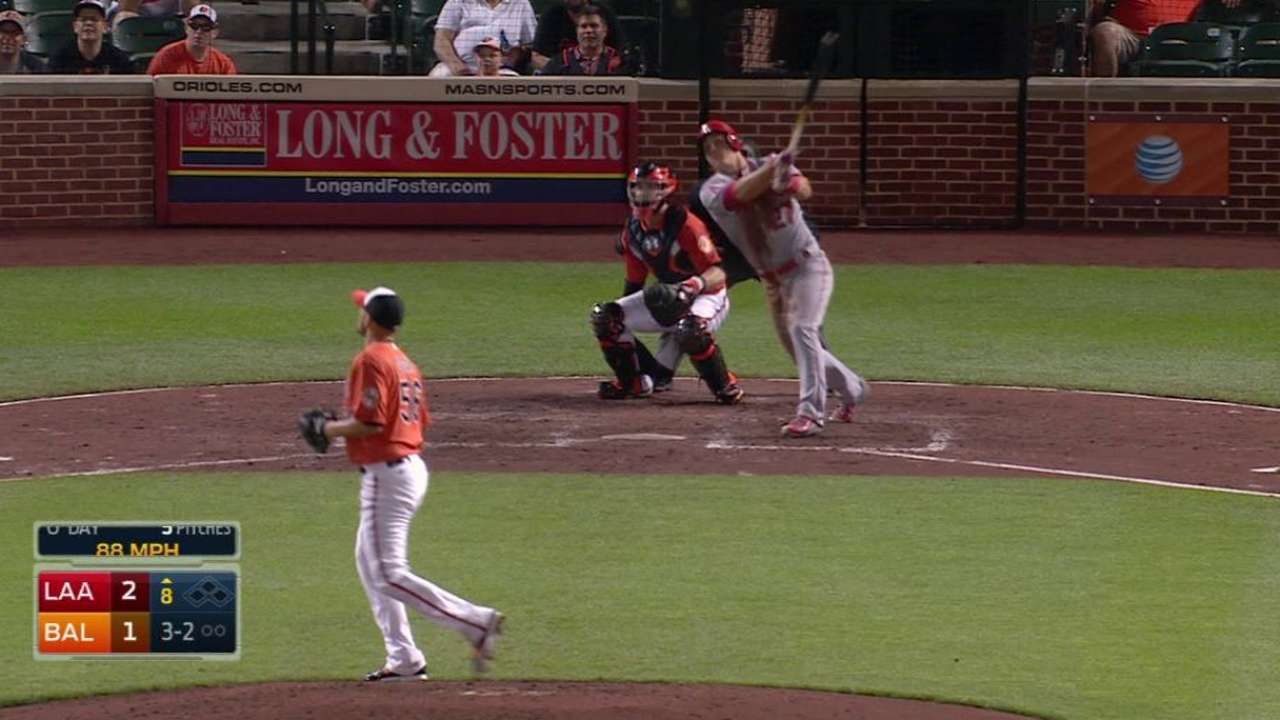 How many times in baseball history have people been able to point to a 23-year-old and say he is on a Hall of Fame path? We can do that with Trout.
Harper, though, has unequivocally been the most productive player in his league this season, which is not something we can say of Trout at the moment. Through 39 games and 170 plate appearances, Harper has a .338/.476/.729 slash line with a league-high 14 homers, 36 runs, 36 walks and 97 total bases.
This is the kind of season we've wanted to see from Harper literally since he was old enough to drive. And if it continues, Trout is actually going to have some company in the "best player in baseball" conversation.
Comparing Harper and Trout in the present tense is one thing, but I'll be particularly interested to see how a comparison of their age-22 seasons shakes out. Harper is in the midst of his, while Trout's came in 2014, when he "finally" won his first AL MVP Award despite a statistical trajectory (batting average, on-base percentage, stolen-base tally and even some advanced defensive metrics) that dipped downward.
Harper's trajectory is -- at the moment -- pointed distinctly north. And while he undoubtedly has a ton of catching up to do, this is a fine first step.
This is not a zero-sum game. Harper's statistical rise doesn't have to come at Trout's statistical expense. There is no rule to prevent these two players from being equally awesome.
Still, one of the things we love about sports is arguing about something as innocuous as Harper vs. Trout. And in this particular debate, which has long seemed settled, there is a potential lesson to be learned from the aforementioned Jeter-Nomar experience about early (or even mid-) career assumptions. It's best to let the full picture develop before considering any argument kaput.
Harper vs. Trout was a great debate that went dormant for a while. It could be rising back to the forefront in 2015.
Anthony Castrovince is a reporter for MLB.com. Read his columns and follow him on Twitter at @Castrovince. This story was not subject to the approval of Major League Baseball or its clubs.