MLB.com Columnist
Richard Justice
Pure talent not to be discounted in early going
Nats the prime example of how loaded squad need not panic during rut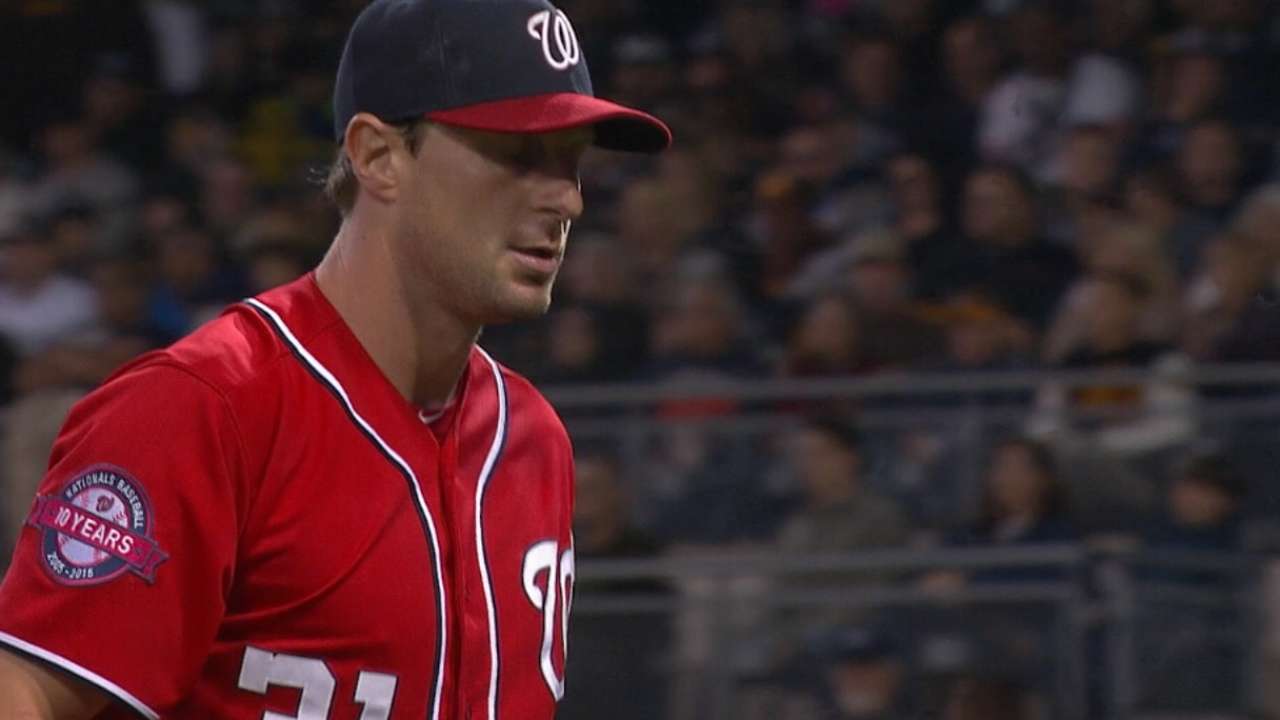 HOUSTON -- The Washington Nationals were looking for a spark. That's about as good an explanation as any. Three weeks into a season in which the Nationals were widely seen as baseball's deepest and most talented team, they found themselves with a 7-13 record.
At the time, they were dead last in the National League East, eight games behind the first-place Mets. The Nationals had struggled in almost every area, especially defensively. Their supposed great starting rotation had been nothing special.
And yet every single day the Nats showed up for work, they collectively believed, "This is the day we start rolling." That's why there had not been panic. No tantrums from manager Matt Williams. No panicked roster moves.
The Nationals simply believed. They were constructed around power arms and great clubhouse leadership, especially their two veterans, shortstop Ian Desmond and third baseman Ryan Zimmerman. Max Scherzer, Washington's $210 million starting pitcher, had also been a perfect addition. His fire was a perfect complement in a clubhouse known for its calm.
But after three weeks, it wasn't working. And on April 28, when the Nationals dug themselves a 9-1 hole against the Braves, there finally seemed a reason to wonder if maybe everyone had gotten it all wrong about those Nats.
That's when the switch went out. At their lowest point, the Nationals revealed something important about themselves. Rather than pack it in, they chipped away at that 9-1 lead. They were vocal in the dugout and determined on the field.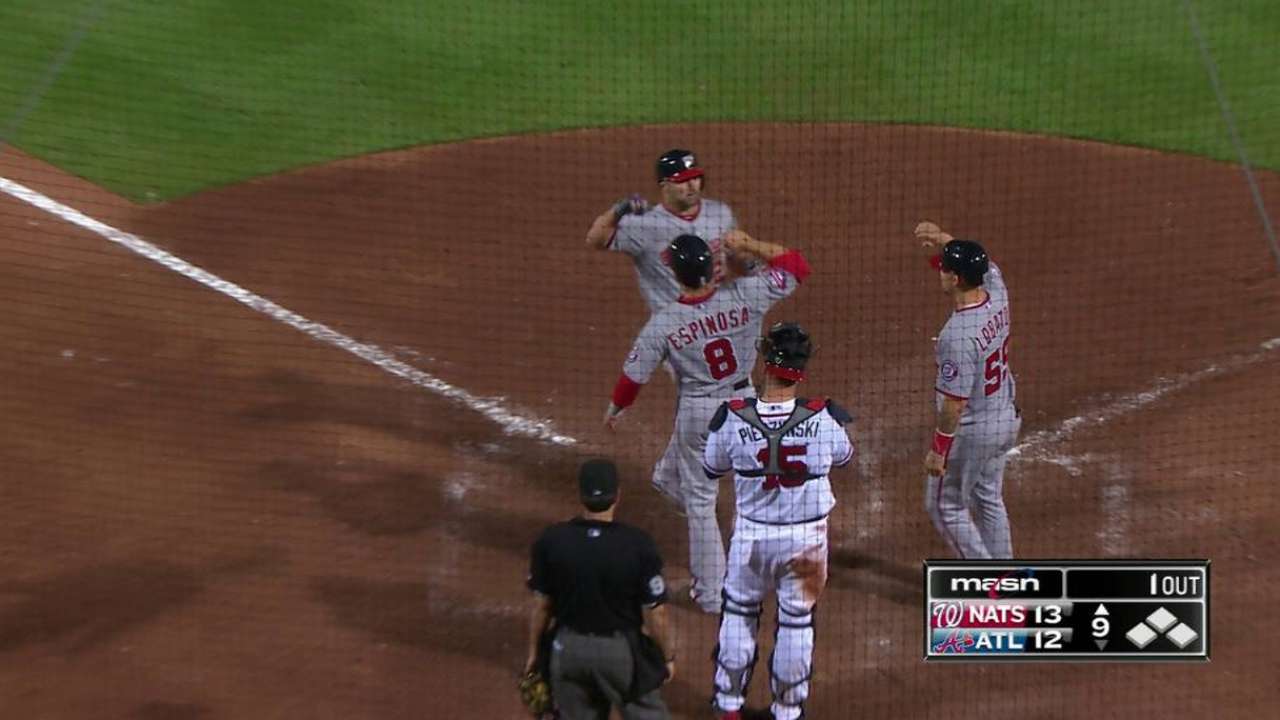 If Williams and general manager Mike Rizzo had been waiting to see the real Nationals, this was the night they saw it. In a game that was equal parts entertaining baseball and wonderful theater, the Nats clawed and scraped their way to a 13-12 victory.
Scherzer put a punctuation mark on a wild celebration by dousing hero-of-the-night Dan Uggla in chocolate syrup. After that, chocolate syrup became a signature celebration. And as strange as it sounds, out of one improbable victory and a silly ritual, the Nationals became the team they were supposed to be.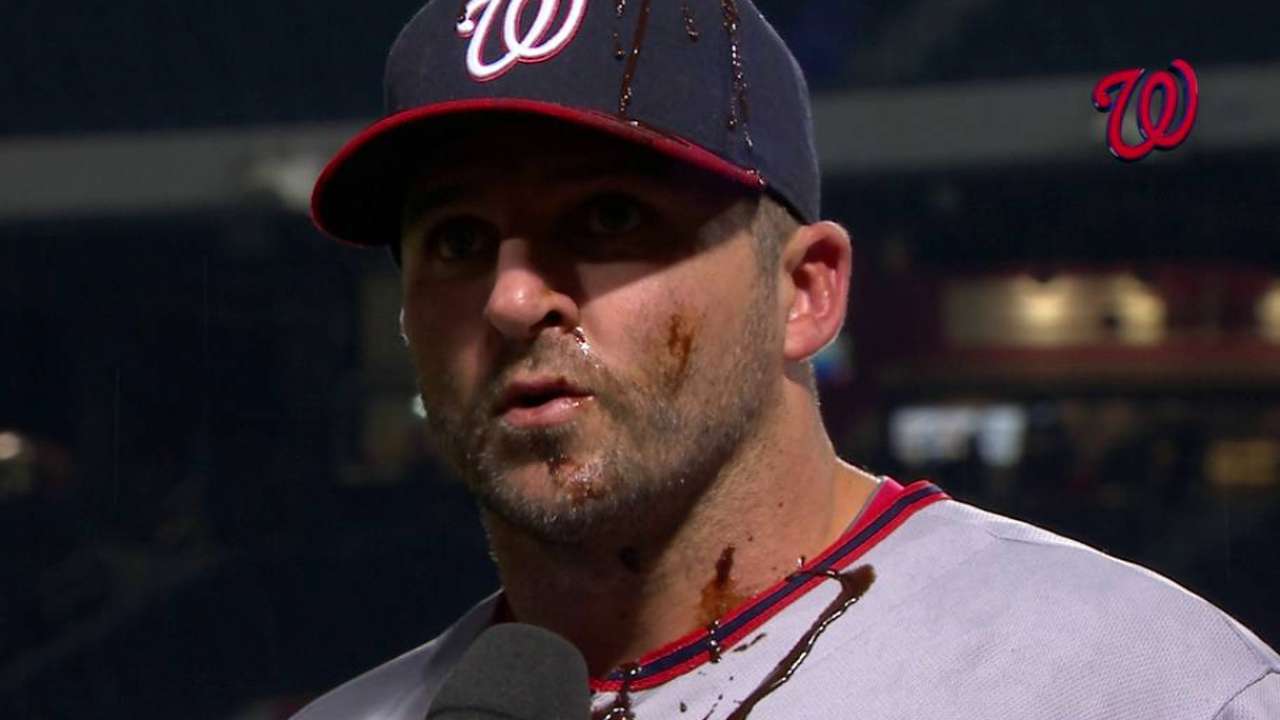 Since then, they've won 15 of 19, to rise from last place to within an eyelash of first. They're scoring runs in bunchs, almost seven a game. Bryce Harper has become baseball's best player and one of its most fiery.
The Nats still aren't perfect.
Stephen Strasburg is a huge question mark in the rotation, and Washington's best offensive player, Anthony Rendon, hasn't played a game. But the Nationals are an important reminder that talent almost always prevails. There are at least a hundred other variables, everything from managing to teamwork to, yes, luck.
In the end, though, the single biggest factor is that the Nats simply have more good players than any other team in baseball.
So you can pencil the Nationals in for their third trip to the postseason in four years. Unless they're gutted by injuries, the Nats are the safest bet in the game because of their talent advantage.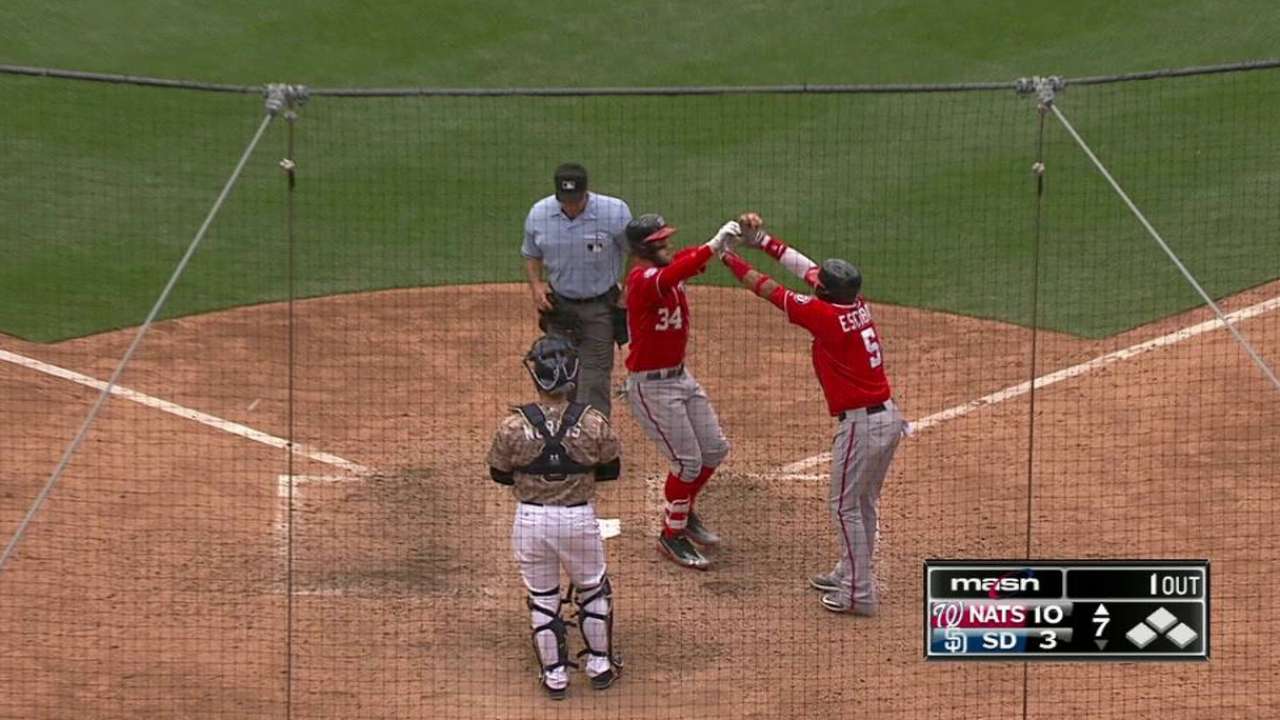 That's not just all that starting pitching, it's power arms stacked up in the Minor Leagues. It's the promise that Rendon will boost a lineup that's already solid. Go ahead and quibble about the bullpen possibly being a problem, but when all is said and done, the Nationals are going to be who they were supposed to be.
Which got us to thinking …
Who are the other teams with a pure talent edge? And what constitutes talent? Is it overall top-to-bottom talent?
If so, the Chicago Cubs could well be the team to beat, and the Minnesota Twins would be right behind them.
In this case, let's limit the discussion to talent capable of impacting the 2015 pennant race. That's Major League-ready players and Minor League depth capable of adding an impact piece for the stretch run.
Here goes:
2. Cardinals
You're right that Adam Wainwright will be missed and that there's real concern about how many innings Michael Wacha and Carlos Martinez can deliver. There are some offensive worries, too. All that said, the Cards are right there behind the Nats, that is, a team with very few weaknesses, a team with a deep farm system, a team cruising toward October.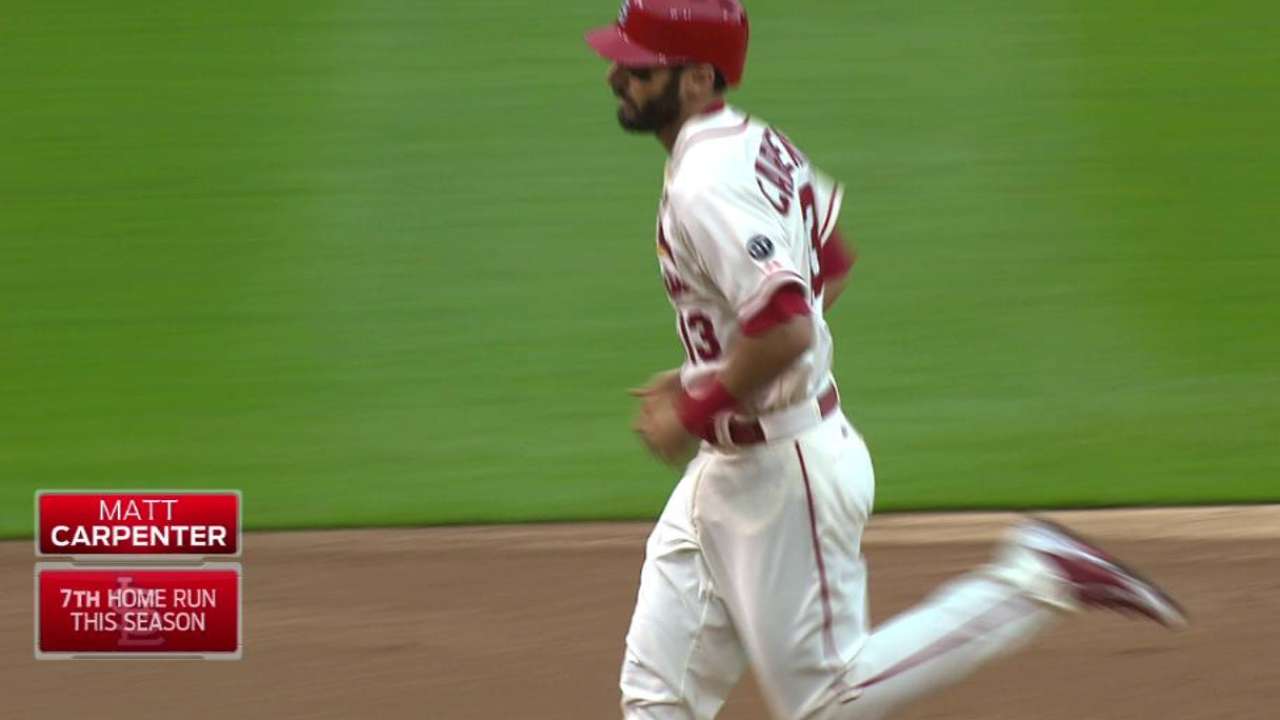 3. Dodgers
Maybe they're piecing the rotation together week by week. All that has done is show how good manager Don Mattingly is at his job. Even with Yasiel Puig and Carl Crawford on the disabled list, even with two projected members of the rotation -- Brandon McCarthy and Hyun-Jin Ryu -- out indefinitely, the Dodgers continue to roll along. They're a first-rate defensive team and an offensive juggernaut. And with Clayton Kershaw and Zack Greinke, they're as poised for success as any team in baseball.
4. Royals
Their defense is a thing of beauty. Their bullpen is airtight. Their cornerstone guys -- especially Eric Hosmer, Salvador Perez and Mike Moustakas -- are leading the way. There were questions about the rotation once James Shields departed via free agency, but those have mostly been answered.
5. Yankees/Giants
Now about those defending champs. Madison Bumgarner, Ryan Vogelsong and Tim Lincecum have solidified the rotation. Brandon Belt, Buster Posey, etc., have been tremendous in giving the offense going. And baseball's best manager, Bruce Bochy, is brilliantly working his bullpen again. As for the Yankees, they're absolutely great at the top of the lineup (Brett Gardner and Jacoby Ellsbury) and the back of the bullpen (Dellin Betances and Andrew Miller). Mark Teixeira, Alex Rodriguez and Brian McCann are doing a nice job in the middle of the lineup. Rotation? From a group that includes CC Sabathia, Michael Pineda, Ivan Nova, Nathan Eovaldi, Masahiro Tanaka and Adam Warren, the Yanks are going to have enough starting pitching. It's not ideal nor dominant. But neither is the division.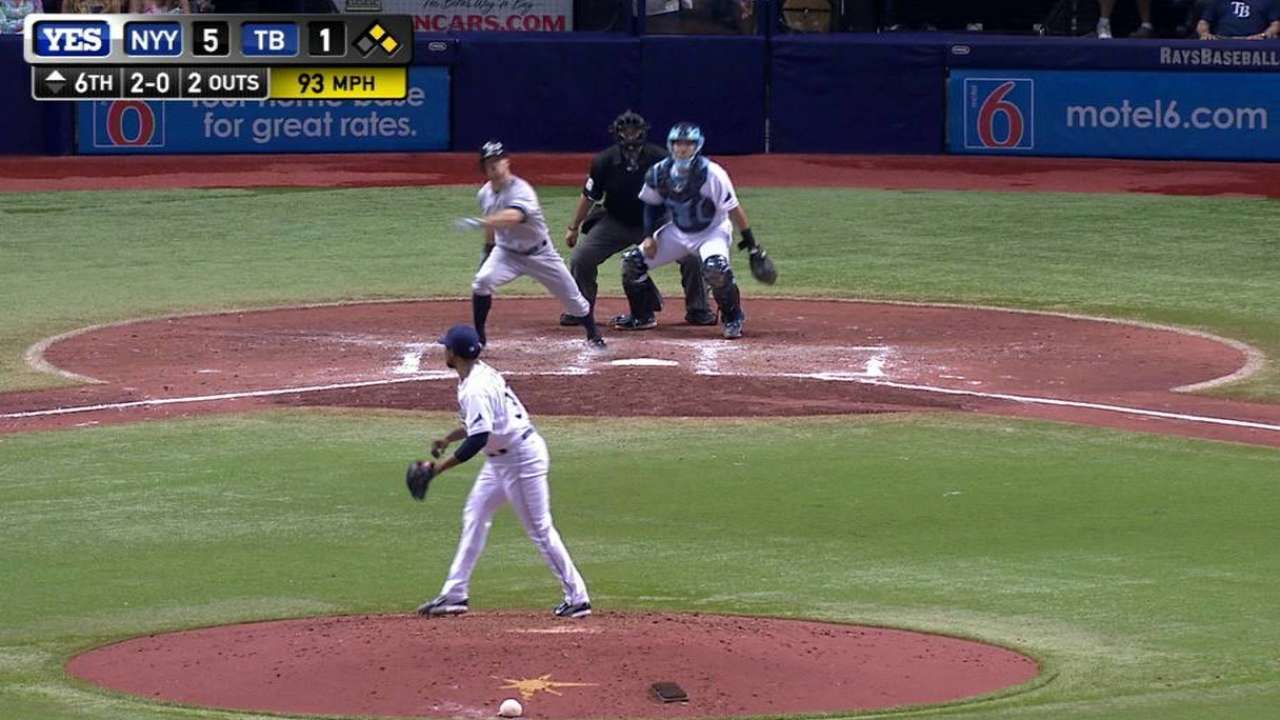 Nine more quick hits
1. Cubs: Amazing youth, amazing talent. Talent is also unpredictable. Stay tuned.
2. Astros: Young talent. Young depth. Growing confidence.
3. Rays: Great pitching. Great job by rookie manager Kevin Cash. Don't underestimate 'em.
4. Mariners: They can't be this bad. Really, they just can't.
5. Angels: They'll get on a roll at some point and could still sweep away the rest of the American League West.
6. Mets: They're so rich in pitching that their other holes don't seem significant. If they get to October, watch out.
7. Pirates: Enough high-end talent to carry them to October.
8. Padres: Another team we keep expecting to find its groove.
9. Tigers: Better than expected, and if Justin Verlander has a productive second half, they could still win the AL Central.
Richard Justice is a columnist for MLB.com. Read his blog, Justice4U. This story was not subject to the approval of Major League Baseball or its clubs.