Numbers suggest Astros' success is sustainable
Postseason a possibility for Houston despite low batting averages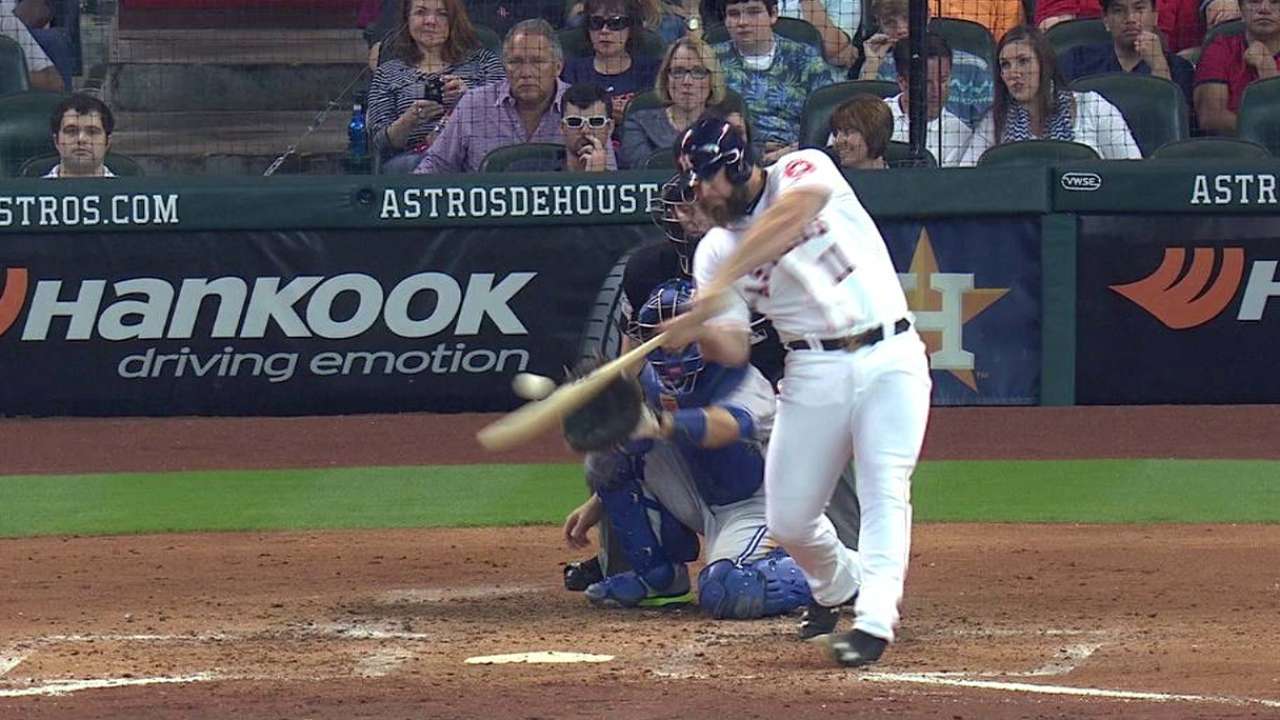 Few offenses in baseball history have been more confounding than the 2015 Houston Astros. At this point, they're a potentially historic anomaly.
As we near the quarter mark of the baseball calendar, four Astros regulars have a batting average below .210. In the divisional era, only one team -- the 1988 Tigers -- has finished a season with at least two qualified players batting below .210. The last team with four players to do so? You'd have to go all the way back to the 1905 White Sox.
And yet the Astros keep winning -- and scoring plenty of runs, too. They're coming off a four-game weekend sweep of the Blue Jays, and even with Monday night's 2-1 loss to the A's, they have equaled the franchise's best start through 39 games (25-14). With 170 runs scored, Houston's offense ranks 11th in the Majors.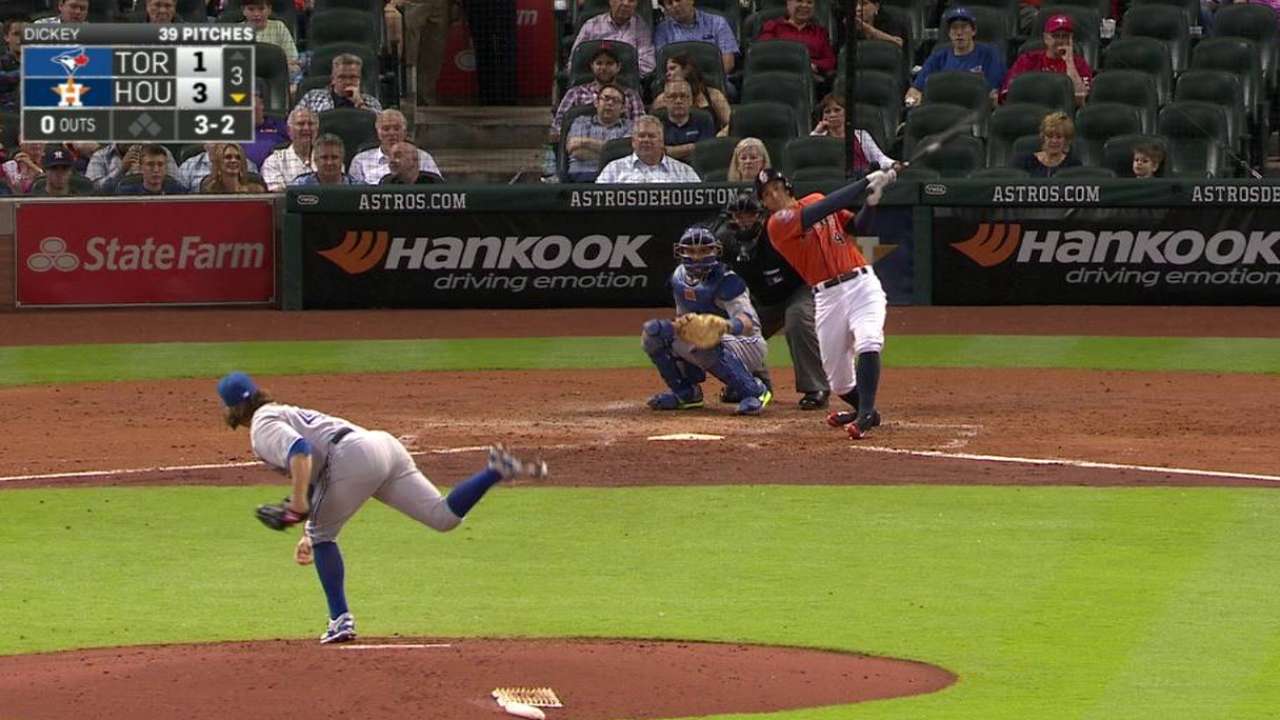 The Astros' early-season performance has many wondering: Just how sustainable is this success?
* * * * *
First, we need to diagnose Houston's struggles from the plate -- at least in terms of batting average.
Chris Carter (.160), George Springer (.188), Evan Gattis (.183) and Luis Valbuena (.206) are all hitting below .210. Here are some of their batted-ball splits:
• Springer: .222 BABIP (batting average on balls in play), 23.1 line-drive rate, 34.6 hard-hit rate
• Valbuena: .194 BABIP, 20.6 line-drive rate, 36.2 hard-hit rate
• Gattis: .195 BABIP, 18.1 line-drive rate, 34.0 hard-hit rate
• Carter: .222 BABIP, 17.4 line-drive rate, 33.3 hard-hit rate
These numbers usually offer an indication of whether a player is suffering from bad luck, and it appears that -- at least with Springer, Valbuena and Gattis -- they are.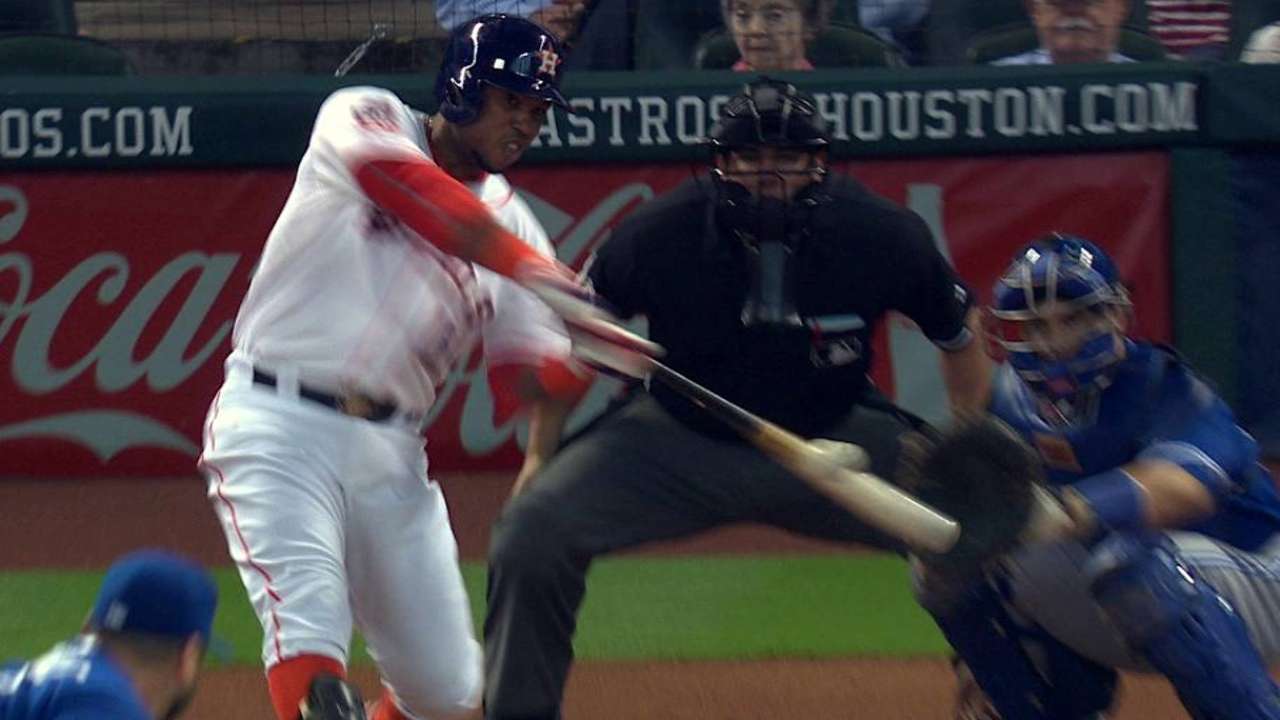 Gattis' line-drive rate is the best of his career, and Valbuena's hard-hit rate is also a career high. Springer, meanwhile, has seen his line-drive rate rise by eight percent in his sophomore season.
What does this mean? Well, because all three have posted dreadful BABIPs, despite the fact that they're hitting the ball hard, we're likely to see a regression to the mean.
Carter is a different story. While he has suffered from a bit of bad luck with his BABIP, he also isn't exactly scalding the baseball. Carter's line-drive and hard-hit rates are the lowest they've been since 2010-11.
* * * * *
No team in history has made the playoffs with an average as low as the Astros' current .226 mark.
Sure, Astros hitters aren't likely to continue posting such low marks. But as a club, Houston isn't going to set the world on fire with its average, either. That's just not the way the team was built.
Baseball Prospectus' PECOTA projections have the Astros finishing the year with a .240 average -- not good, but also not a disqualifier when it comes to postseason chances.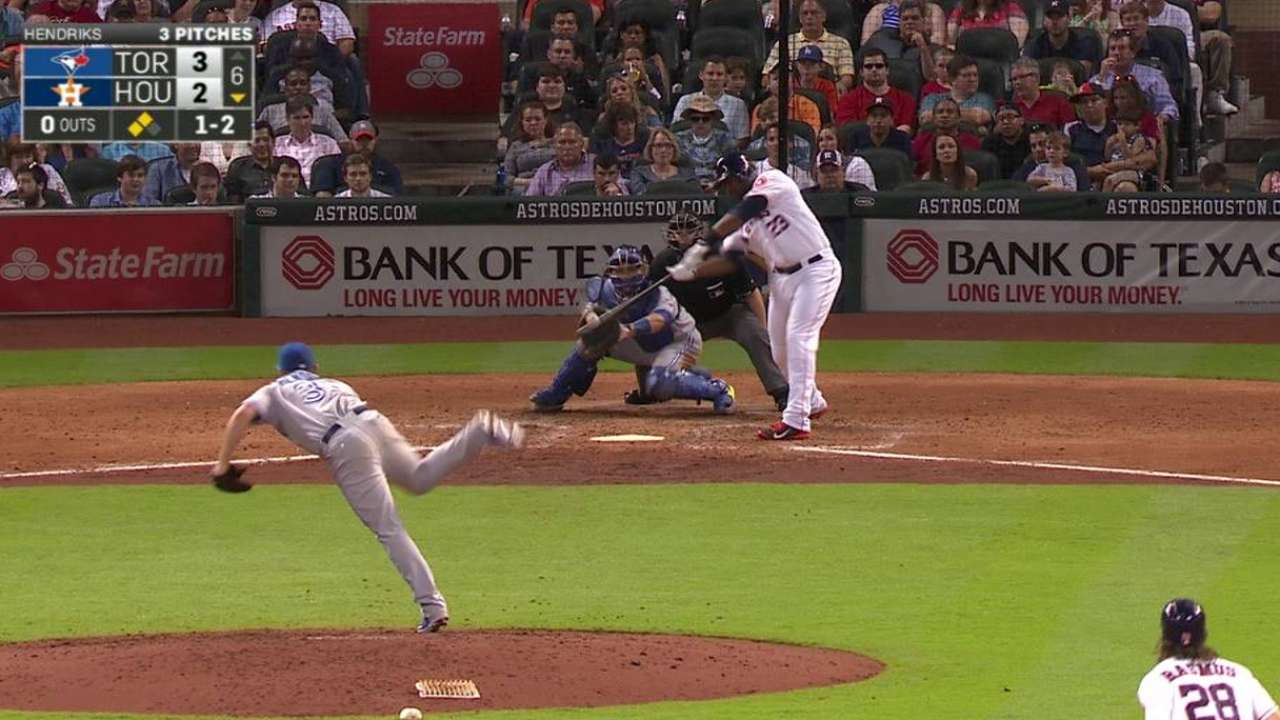 Four teams in history have made the playoffs with a worse average -- the 1968 and '72 Tigers, and the '72 and 2012 A's. Two of those ballclubs went on to win the World Series.
The late 1960s and early '70s represent a different offensive era in baseball history, but the 2012 A's could be a solid model for these Astros. Their .238 average was 28th in the Majors, but they made up for that in other ways -- namely on-base percentage, starting pitching and bullpen.
Similarly, in the past three years, the 2013 Pirates and the '12 Orioles and Tigers each made the playoffs, despite multiple qualifying players hitting below .240.
* * * * *
So the Astros' batting average is bad. But is their offense bad? Those are two separate questions, entirely.
A quick glance at the past five seasons shows us that a poor average does not necessarily preclude a team from making the postseason. Since 2010, 12 teams have reached the postseason despite ranking in the bottom half of the league.
A far better indicator of playoff likelihood would be on-base plus slugging (OPS) -- at which Houston rates slightly above the middle of the pack.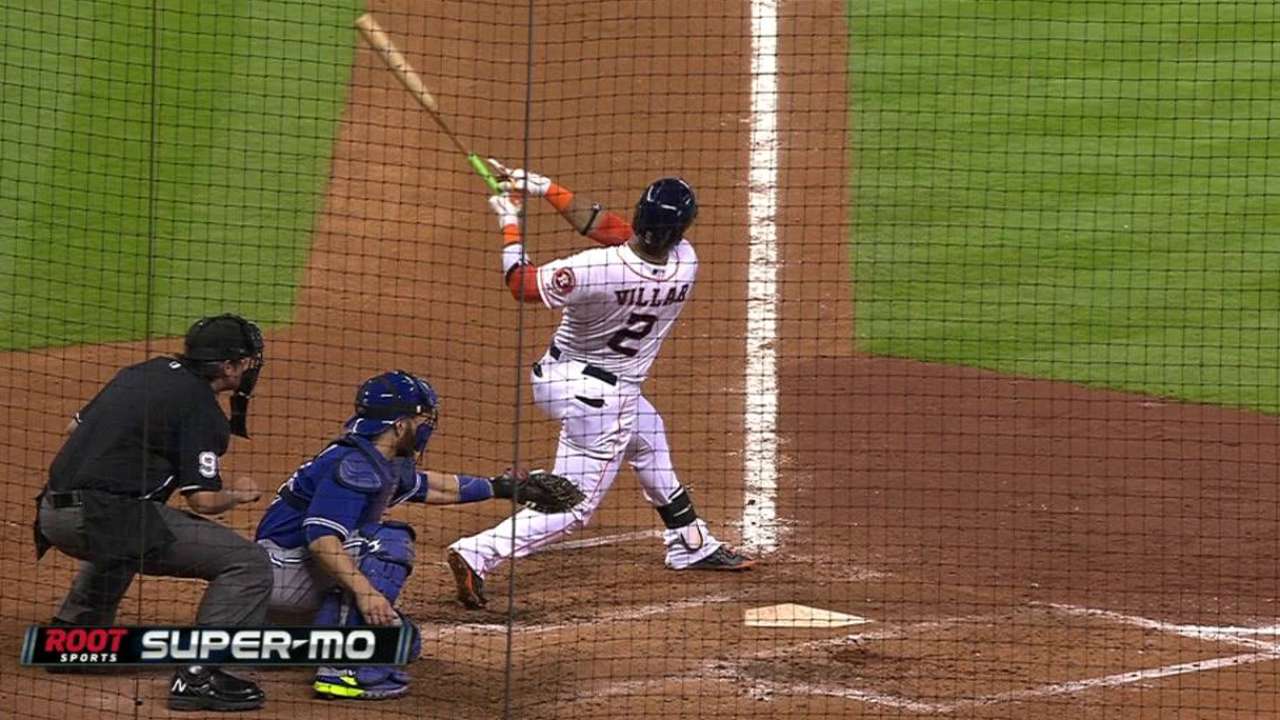 Only six playoff teams have ranked in the bottom half of the league in OPS, and only the 2012 Braves have ranked lower than 19th.
The Astros appear to be more than making up for their low batting averages with power and walks. Plus, once on base, the Astros are consistently a threat to take an extra bag, as they lead the American League with 39 steals.
Houston's .721 OPS -- ranked 13th in the Majors -- falls in the 23rd percentile among all-time playoff teams, which is on the lower end of the spectrum, but not an outlier at all.
The 2010 and '11 Rays might be an apt comparison. They finished 27th and 25th, respectively, in batting average, but 14th (both seasons) in OPS. Tampa Bay hit .245 over the course of those two seasons, but averaged 94 wins and made the playoffs twice.
* * * * *
In short, a good team average is obviously important, but it isn't the only means to an ends. The Astros own some very poor batting averages, but they're built to make up for that in other ways.
Given their makeup as a team built on power and speed, their current model for success appears sustainable -- so long as the club can slightly increase its batting average. Given the bad luck some of their hitters have endured early in the season, that's not an outlandish proposition.
AJ Cassavell is a reporter for MLB.com. Follow him on Twitter @ajcassavell. This story was not subject to the approval of Major League Baseball or its clubs.