In return from injury, Lyles spins solid outing
Right-hander grinds through six innings after hurting pitching hand last week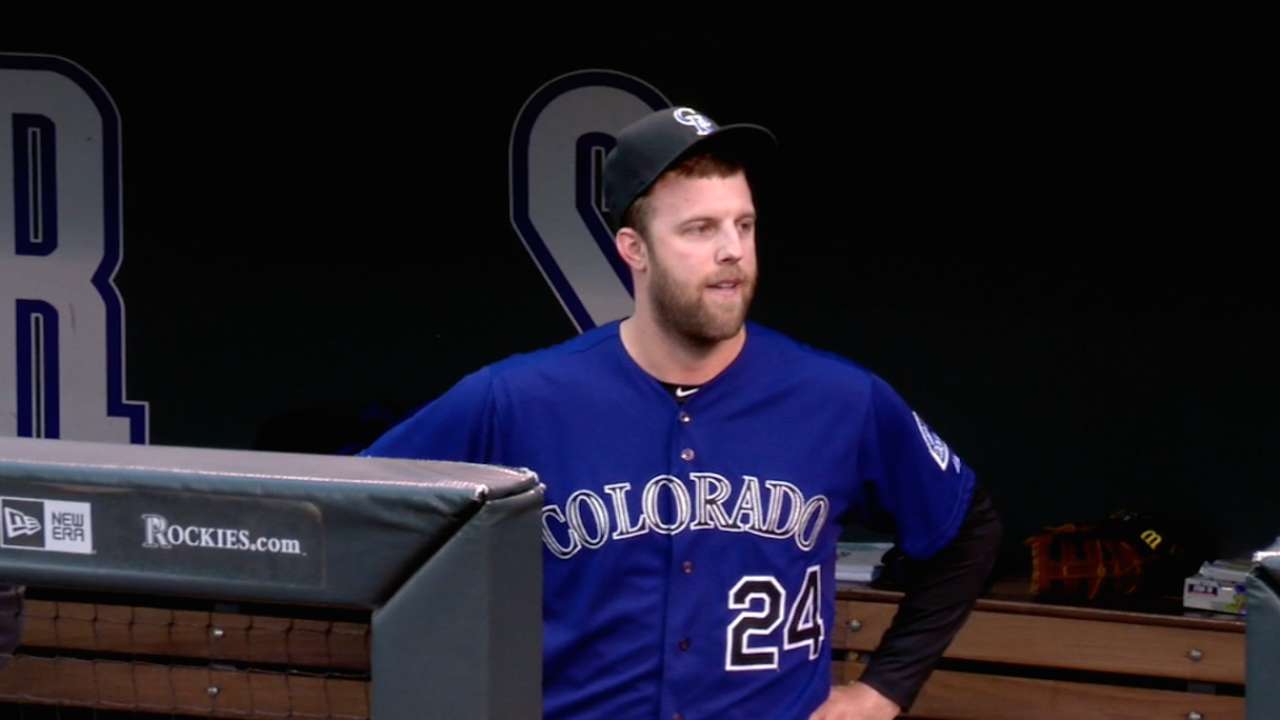 DENVER -- Jordan Lyles' right hand, which had been severely battered and bruised less than a week ago, was more than sufficient for nearly six frames.
But as the Colorado starter attempted to finish off the sixth inning on Monday night, the Phillies uncovered a gold mine of two-out magic -- enough to knock Lyles off course and propel Philadelphia to a 4-3 victory at Coors Field.
"They put together some at-bats on him -- found the barrel -- but I felt like he was still throwing the ball pretty well," Rockies manager Walt Weiss said. "He just got some pitches elevated."
After inducing a pair of harmless groundouts to open the frame, Lyles immediately located trouble in a 1-1 contest. An opposite-field single from Maikel Franco and a costly free pass to Chase Utley -- which Lyles emphasized "shouldn't happen" -- put a pair on for Odubel Herrera.
The gameplan was to pitch Herrera inside. Lyles' 93-mph fastball caught the corner.
But the Venezuelan outfielder didn't miss, rocketing a two-run double into the right-field corner. Damage done. Game untied.
"Just a good swing," Lyles said of Herrera's RBI knock, which pushed the Phillies ahead, 3-1, before Carlos Ruiz tacked on an insurance run with a bloop single.
"We wanted to go inside on [Herrera] all night, and we did," Lyles said. "He put a good swing on it."
Until that point, though, Lyles -- who lasted just one inning in his previous start after taking an Albert Pujols liner off his right hand -- had been majorly efficient. A single run in the first and an Utley double to open the second marred his early pitching line, but from there, Lyles retired 11 of the next 14 Philadelphia hitters to keep the score knotted through five.
"I'm going to be out there every fifth day, 100 percent or not," Lyles said. "I'm going to be out there with my teammates. I'm not going to step aside from anyone to do my job, and that's how I go about things."
In total, Lyles battled through six innings on 95 pitches, yielding four runs on seven hits with three strikeouts and two walks.
One frame did him in, but given Lyles' condition only a few days prior, his efforts on Monday night were more than appreciated.
"I was impressed by his toughness to go out and pitch," Rockies catcher Nick Hundley said. "He had a softball on his hand the second he got hit. To come out five days later, make a start, let alone throw the ball like that, he gave us a really good chance to win against one of the better pitchers in the league."
Dargan Southard is an associate reporter for MLB.com. This story was not subject to the approval of Major League Baseball or its clubs.