MLB.com Columnist
Marty Noble
Mets' progression, regression is natural order
Following long win streak, season is beginning to balance out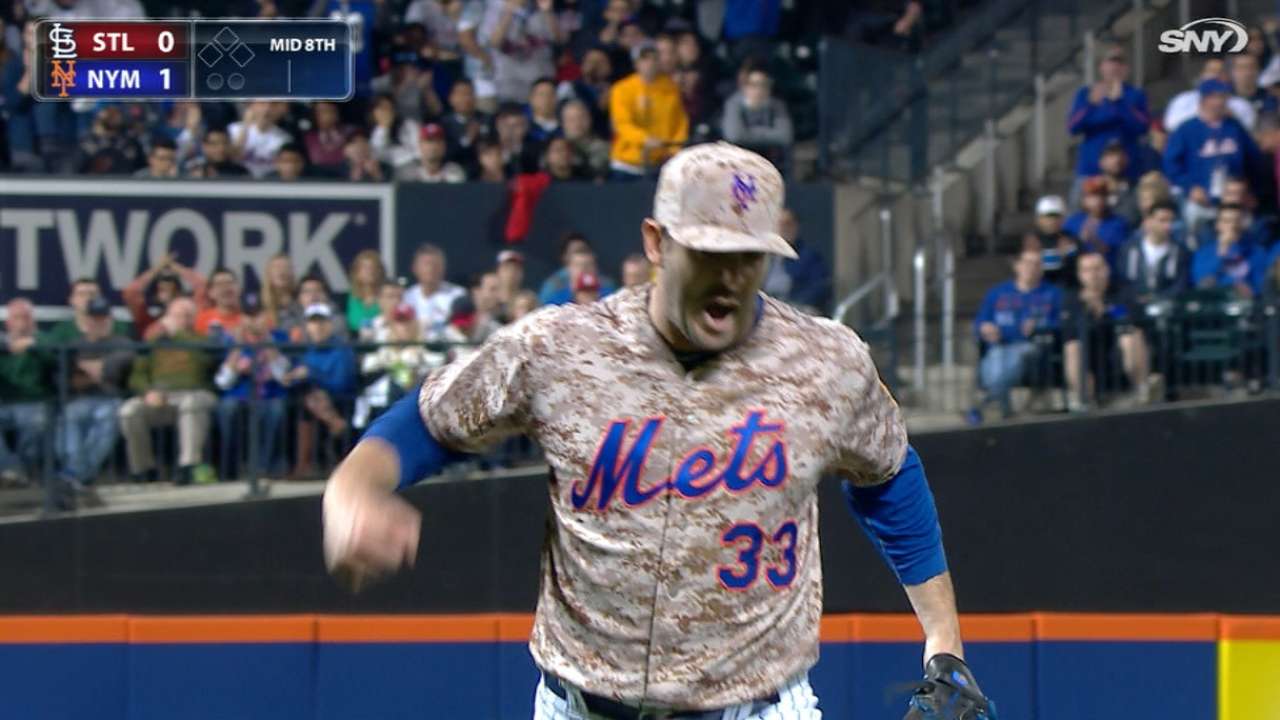 NEW YORK -- It is a mean, mean phenomenon, this progression toward the mean. Meaner than a junkyard dog (Jim Croce, 1973), meaner than Mr. Mustard (Beatles, 1969), even meaner than Joe Greene (Steel Curtain, 1975, '76, '79 and '80). It is mean and merciless, and its paternal twin, regression toward the mean, sounds a tad more ominous and is more unforgiving.
Regression toward the mean regularly undermines hope, makes impossible the best dreams and neutralizes or, in this game, offsets extended winning streaks. It plays spoiler long before the first days of September.
It clearly has been at work on the Mets since their 11-game winning streak. And it has tripped up at least one of their players and some of their opponents as well. It is an equal-opportunity party pooper.
It was in effect in the Big Citi on Friday night after putting in some OT hours in Chicago the preceding four days. Not only did it produce a fifth straight Mets defeat on Friday, it also put an unbecoming end to Bartolo Colon's run of successful starts and simultaneously told the Mets' still-infatuated fan base, "Not so fast, folks."
U-turns aren't negotiated quite so quickly in the big leagues as the Mets -- management and players -- spent the winter and spring suggesting. The phrase "pie in the sky" came to mind. Didn't it?
Seldom do teams jump from a sub .500 season -- much less six straight seasons of sub-.500 records -- all the way to contending without an in-between season that puts them on the plus side, but short of October. The Mets of 1969 and '84, and those worst-to-first teams, are the rare exceptions.
It can happen, though not with unsound middle infield defense and an offense that too often plays peek-a-boo. The Mets have too many holes -- the most conspicuous one being between the shortstop and the second baseman. But their starting pitching seems strong enough, and the National League East -- the Nationals excluded -- appears sufficiently mediocre to keep the Mets race-relevant into August, maybe even into September. October is a different month and a quite different story.
Back on course
Either progression or regression toward the mean can be identified by another term, one that sounds softer and less unpleasant -- correction. Though things went wrong for the Mets when they lost seven of 10 after their 11th straight victory, what they experienced could be called a correction. It altered their course -- made it correct -- because big league baseball doesn't allow for weeks of uninterrupted success.
They lost seven of 10 because, in a way, they were moving in the proper direction, doing something right -- correcting their course.
Think of the Mets' first 39 games; after the seven in 10, then they beat the Orioles twice in two games. That was a regression for the O's, they had been playing well before they came to New York. And then the Mets and Yankees beat up on them. The Mets won four of five, including the games against the Orioles. Then came Wrigley Field. Another correction. Colon was 6-1 before the Brewers beat him up. He wasn't going to go 20-1.
The Mets scored merely 10 runs against the Cubs, and they were shut out by the Brewers on Friday night. Ten runs in five games. A correction was likely; they scored 14 and won Saturday. Call that excessive progression beyond the mean.
And now the Mets have won three straight, one of the three coming on Monday night -- 2-1 in 14 innings against the Cardinals, who entered with a .676 winning percentage, the highest in the league. But the Cardinals had been correcting for a while before their arrival -- five losses in eight games. Manager Mike Matheny didn't see it as correcting.
Progession/regression toward the mean; it is an intriguing phenomenon. Isn't it? Eventually it may be an ally for the Mets. They have played in the postseason in the 60s, 70s, 80s, 90s and the 2000s. Wouldn't it be "correct" for them to make another appearance before 2020? If once or twice per decade is the established norm, wouldn't such a scenario constitute progression toward the mean?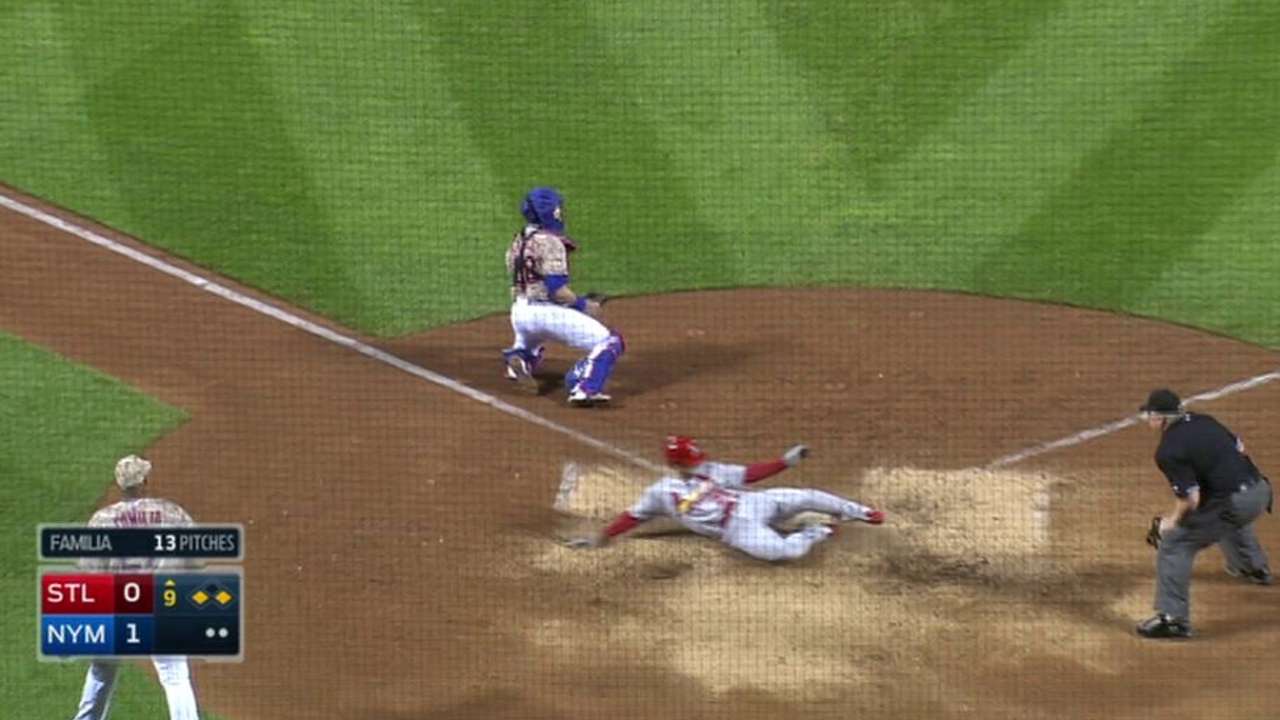 The Mets played 14 innings on Monday night. They were due; they had been the only big league team that hadn't ventured beyond the ninth. Closer Jeurys Familia squandered a save opportunity (partially because of an inadequate throw to the plate by Curtis Granderson in the ninth). The blown save was a correction as well. Familia had converted his first 13 opportunities. He wasn't going to challenge Eric Gagne's record. John Mayberry Jr.'s walk-off infield single was his first hit in seven pinch-hit at-bats this season. So he too was due.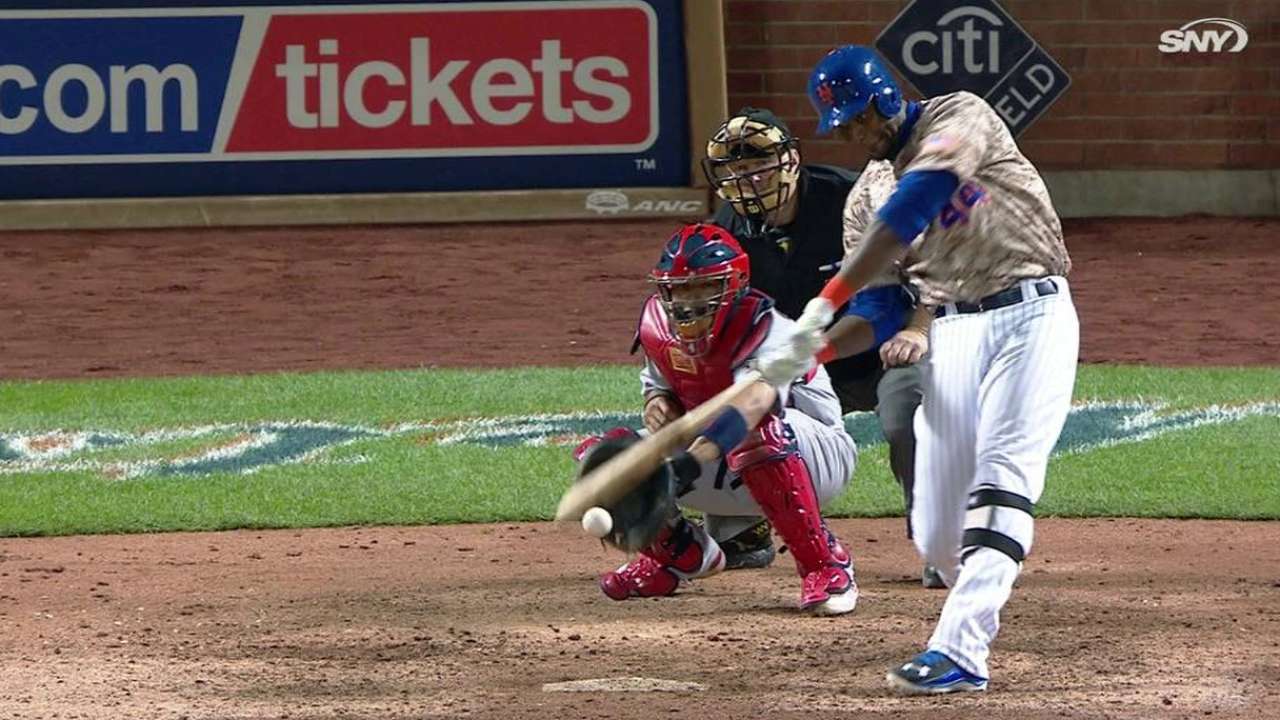 The law of averages, mathematical probability or progression/regression catches up with everyone -- the butcher, the baker, the L.A. Laker -- with the possible exception of Matt Harvey. On this dank night, Sir Dark Knight pitched quite effectively -- again. He was knocked around a bit -- not that he allowed many hits -- in the first four innings, but he provided his fourth scoreless start, eight innings of perseverance and zeros.
At times, the laws of mathematical probability seem not to apply to Harvey. But he does have one loss, and he's due for another any year now.
Marty Noble is a national columnist for MLB.com. This story was not subject to the approval of Major League Baseball or its clubs.