Win streak pumping life into Phillies' clubhouse
After tough start to the season, the Phillies are playing their best baseball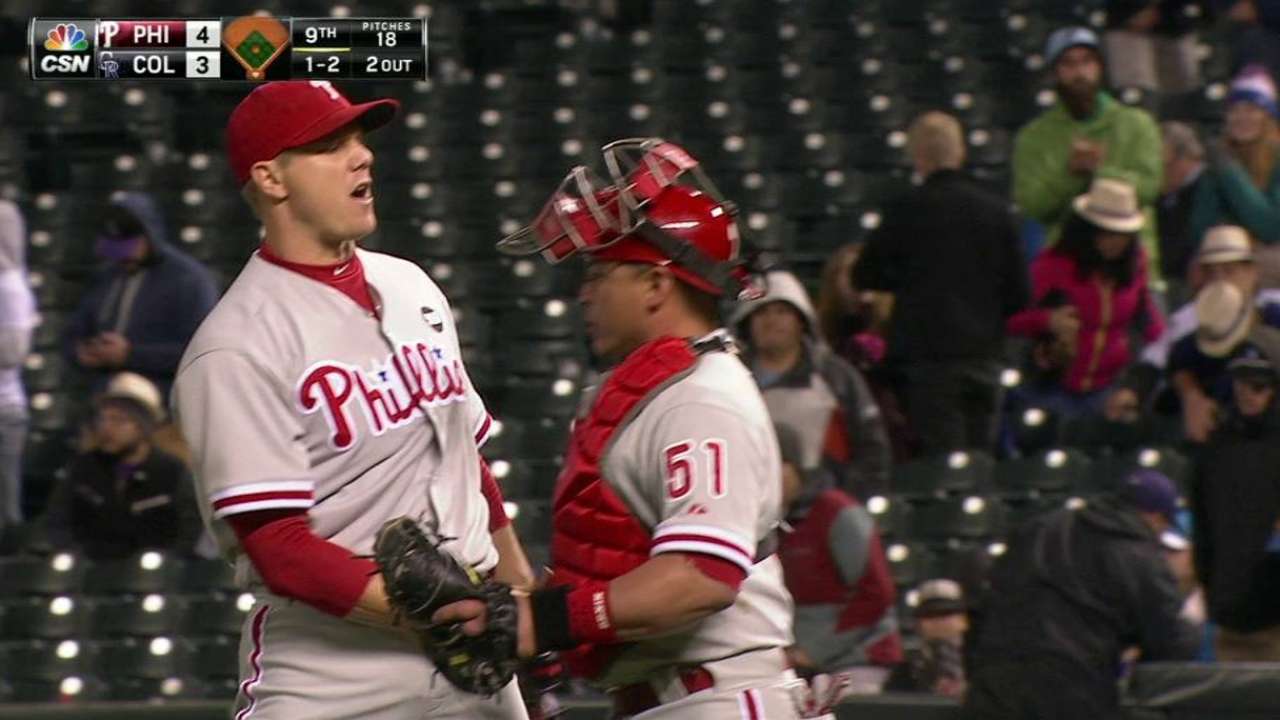 DENVER -- The Phillies' clubhouse had not been a particularly fun place to be the first six weeks of the season.
C-SPAN programming has been livelier.
Then again, the Phillies were 11-23 last Tuesday. It was their worst start since 1971 and the worst record in Major League Baseball. But things have been much different lately. The Phillies beat the Rockies on Monday night at Coors Field, 4-3, to give them a six-game winning streak.
It is their longest winning streak since they had a seven-game streak Sept. 5-12, 2012.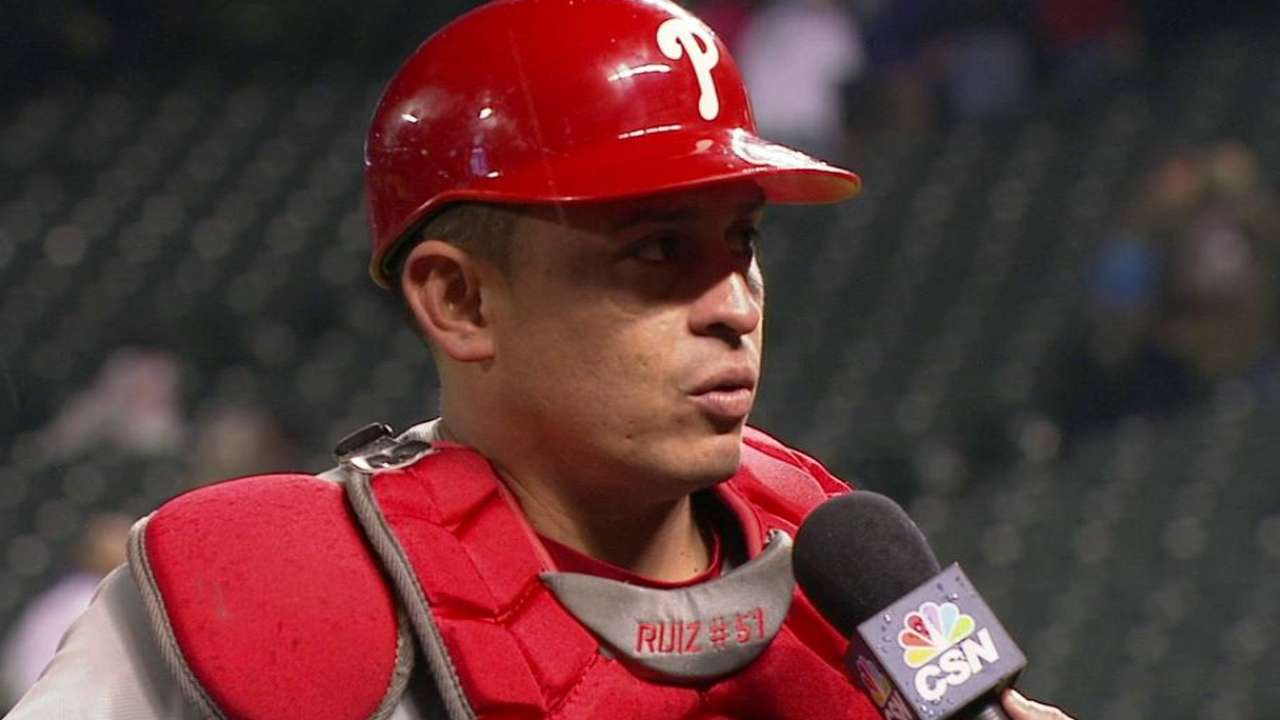 "You keep grinding and hoping things will turn around and most of the time they do," Phillies closer Jonathan Papelbon said. "And if they don't, it starts to pile on and pile on, and I'm just glad it's not piling on right now. We're climbing out from underneath the pile right now, but we still have a long way to go. We still got a lot of baseball to play and lot of things we have to learn. The biggest is learning to win. It's an acquired thing -- come to the ballpark and learn to win, put yourself in a position to win every day. A lot of these guys haven't done that up here."
It is true. Most of the players on this roster never played for a winning Phillies team, which is hard to believe considering the organization enjoyed winning seasons from 2003-11.
"We're making less mistakes," Papelbon said. "Are we playing perfect baseball? No, but we're making less mistakes and I think that's a bright spot for us and hopefully we can make less and less mistakes and learn how to play big league baseball and learn how to win.
"A lot of these guys in here don't know how to win. This is the first little taste of it."
That first little taste has pumped a little life into the clubhouse. A baseball clubhouse is a sad place after a loss. It is engrained in players to almost be miserable afterward, despite the daily nature of the game. But after a win the music blares, players laugh easily and smiles are everywhere.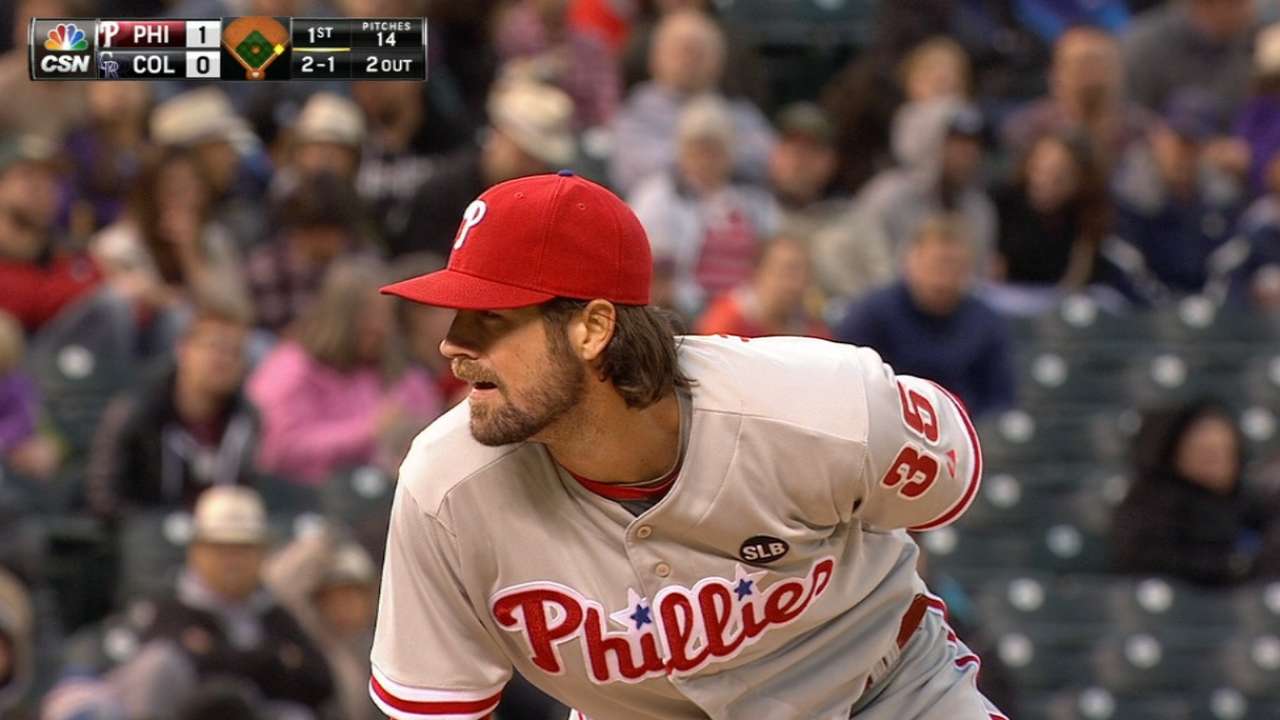 "I think everybody is really enjoying themselves," said Phillies ace Cole Hamels, who allowed one run in 7 1/3 innings. "You can see personalities a little bit more. When you win, there's that more positive environment and guys can be themselves a little bit more instead of trying to crack down and be all serious, 24-7."
What does this streak mean? It is too early to tell, but for the moment, the Phillies at least see the possibilities, a light at the end of the tunnel.
"Things turn around pretty quick here," Papelbon said. "You kind of get the monkey off your back, you know? We had that monkey on our back. That's not necessarily on our back anymore. I think, hopefully, we can just go out and continue to play the way we've been playing. We're not doing anything special right now. I think we're playing mistake-free ball. It makes a big, big difference."
Todd Zolecki is a reporter for MLB.com. Read his Phillies blog The Zo Zone, follow him on Twitter and listen to his podcast. This story was not subject to the approval of Major League Baseball or its clubs.