Oakland's Barreto among top performers in Minors Monday
Athletics No. 2 prospect hits homers in consecutive at-bats for Stockton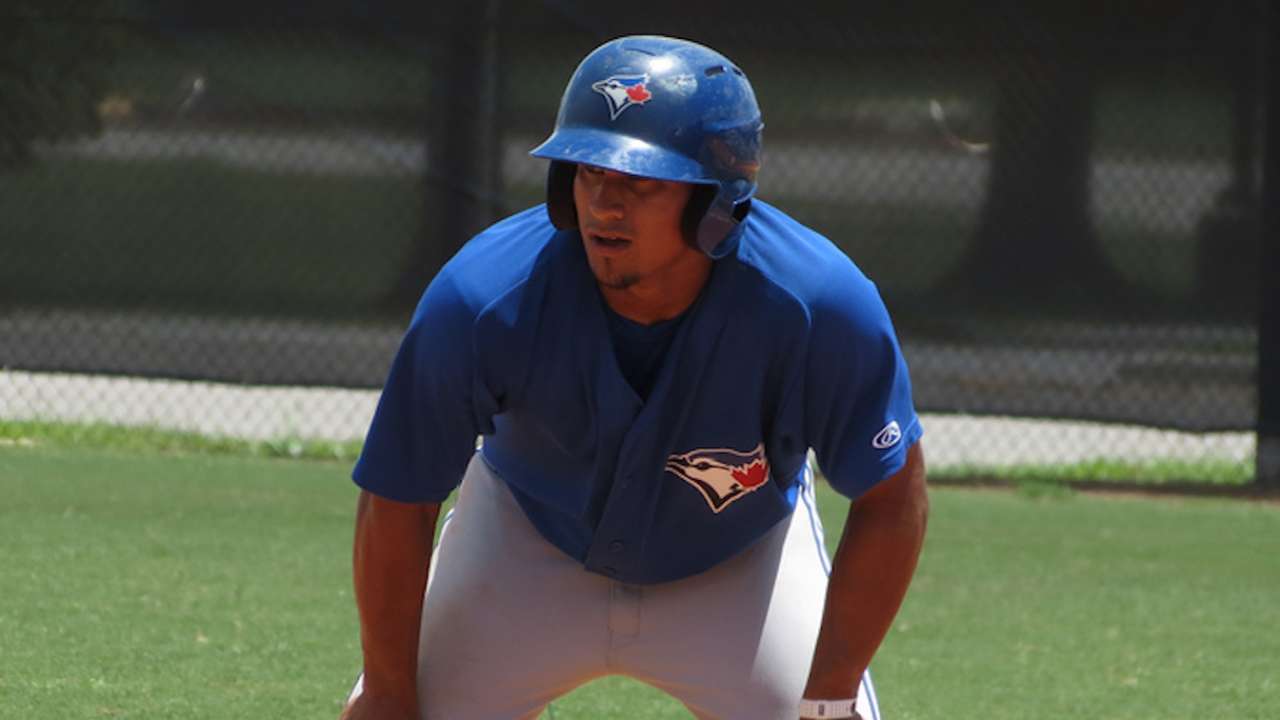 Franklin Barreto had one home run on the season entering Monday night's contest between Class A Advanced Stockton and Modesto, but that total did not stand for long.
The Athletics No. 2 prospect (No. 80 overall) blasted his second homer of the year in the fifth, and then stuck again in the sixth with a two-run shot. By the time the final out was recorded in the Ports' 11-6 win, Barreto had tripled his 2015 home run number and bumped his RBI count from 12 to 17.
Signed by Toronto in 2012 and then traded to Oakland in the Josh Donaldson deal this past winter, Barreto is a 19-year-old Venezuelan shortstop who is currently playing his first full season in the Minor Leagues. He started hot in April, notching five hits and five RBIs in his first five games, but had been struggling a bit (4-for-27 with one RBI in his past eight games) entering Monday's tilt.
It appears that the slump is behind Barreto now. In one night, he bumped his season line from .216/.258/.302 to .233/.273/.367. Barreto and his Stockton teammates will travel to Bakersfield on Tuesday for a 10:30 p.m. ET game.
More standout performances from Top 100 prospects on Monday
• Red Sox No. 1 prospect (No. 9 overall) Yoan Moncada made his Minor League debut on Monday night, scoring two runs for Class A Greenville. The 19-year-old, who signed with Boston in March, went 0-for-3 with a walk and reached on an error during a 13-11 loss to Lexington. Moncada also made an error, but showed off his athleticism with several impressive plays in the field, including a leaping catch in the third inning to rob Chase Vallot of a single that would've knocked in a run.
Other notable performances from around the Minor Leagues
• Rays No. 9 prospect Blake Snell extended his shutout streak to 49 innings, dating back to last year, in a commanding victory for Double-A Montgomery. The lefty gave up just two hits in six innings of work, striking out six and walking three in the process. On the season, Snell has not allowed a run in 46 innings of work, including 25 innings since being promoted to Double-A. Monday, he ran his record to 3-0 while easily outdueling Twins No. 4 prospect Jose Berrios, who allowed three runs in five innings.
• Marlins No. 2 prospect Jose Urena remained undefeated thanks to an impressive performance for Triple-A New Orleans. The 6-foot-3 righty gave up one run on four hits in seven innings for the Zephyrs, and is now 4-0 with a 1.21 ERA in six starts at the Triple-A level. He has yet to give up more than seven hits or two earned runs this season.
• Mets No. 28 prospect Robert Gsellman kept his loss column at zero on Monday, too. The Class A Advanced Port St. Lucie hurler gave up six hits and a run in seven innings, striking out five while walking two in the Mets' 4-1 win over Palm Beach. On the year, Gsellman now sits at 5-0 with a 1.43 ERA.
• Mariners No. 16 prospect Jordy Lara has completely turned his season around this month. The first baseman went 1-for-4 with a three-run home run on Monday, giving him a .321 average with three homers and 14 RBIs in May. All of that after a poor April start (.212 with no homers and three RBIs) during which he didn't notch his first RBI until April 22. On the season, Lara's now hitting .262 with three dingers and 17 RBIs.
• Cardinals No. 13 prospect Jacob Wilson hit a two-run homer in his Triple-A Memphis debut. The slugger was hitting .225 with seven homers and 21 RBIs for Double-A Springfield before getting promoted this weekend, and responded with a 1-for-2 night that included the dinger and a walk.
• Phillies No. 27 prospect Brandon Leibrandt posted a complete game for Class A Advanced Clearwater, tossing nine innings of five-hit, one-run ball in his fourth victory of the season. The southpaw had five strikeouts against zero walks, and now sits at 4-2 with a 2.38 ERA on the year.
• Twins No. 15 prospect Max Kepler swatted his first homer of the season for Double-A Chattanooga. The outfielder went 1-for-3 with a two-run dinger on Monday night, bumping his season line to .326/.363/.500 with eight RBIs.
• Indians No. 13 prospect Jesus Aguilar and No. 6 prospect James Ramsey hit back-to-back home runs for Triple-A Columbus, accounting for all three of the Clippers' runs in a 3-2 victory over Buffalo. Aguilar improved his season line to .236/.302/.417 with six homers and 20 RBIs after his 1-for-4 night, while Ramsey now sits at .244/.324/.405 with five homers and 15 RBIs after a 2-for-3 outing.
• Blue Jays No. 9 prospect Mitch Nay extended his hitting streak to five games with a 2-for-4 night that included a three-run homer. The Class A Advanced Dunedin third baseman is now 7-for-18 with two home runs and five RBIs over the past five games, and has collected a trio of long balls to go along with 14 RBIs on the year.
• Reds No. 25 prospect Junior Arias came through with his second walk-off hit in five games for Class A Advanced Daytona. The outfielder swatted a solo shot in the 11th inning to close out a 5-4 win over Lakeland, just days after driving home the winning run with a single in a 5-4 win over Palm Beach. Arias has been very consistent since joining the club on May 9, hitting in eight straight games while providing six RBIs during that stretch.
• Reds No. 10 prospect Yorman Rodriguez went 1-for-2 with a three-run home run and a walk for Triple-A Louisville. With the effort, the outfielder strengthened his line to .226/.267/.411 with four homers and 14 RBIs in 2015.
• Royals No. 10 prospect Chase Vallot had his first three-hit game of the season for Class A Lexington. He also added a two-run homer -- his first for the Legends -- and increased his season line from .174/.321/.217 to .259/.394/.444 in the process.
• Blue Jays No. 18 prospect D.J. Davis was perfect Monday, going 4-for-4 with a double and a stolen base -- his seventh of the year -- for Class A Lansing. The 20-year-old extended his hitting streak to seven games, and is now batting .265 with a single home run and 12 RBIs.
• Nationals Class A affiliate Hagerstown was one strike away from a team no-hitter, but couldn't quite get there in a 5-0 win over Greensboro. Starter Phillips Valdez walked two and struck out four in seven innings of no-hit work, and then reliever Justin Amlung picked up five straight outs. But with two strikes, Greensboro's Arturo Rodriguez smacked a double, and the no-no was no more.
Alex M. Smith is a reporter for MLB.com. This story was not subject to the approval of Major League Baseball or its clubs.