Pair of aces deal as Sale vs. Kluber wows
Premier matchup in Chicago doesn't disappoint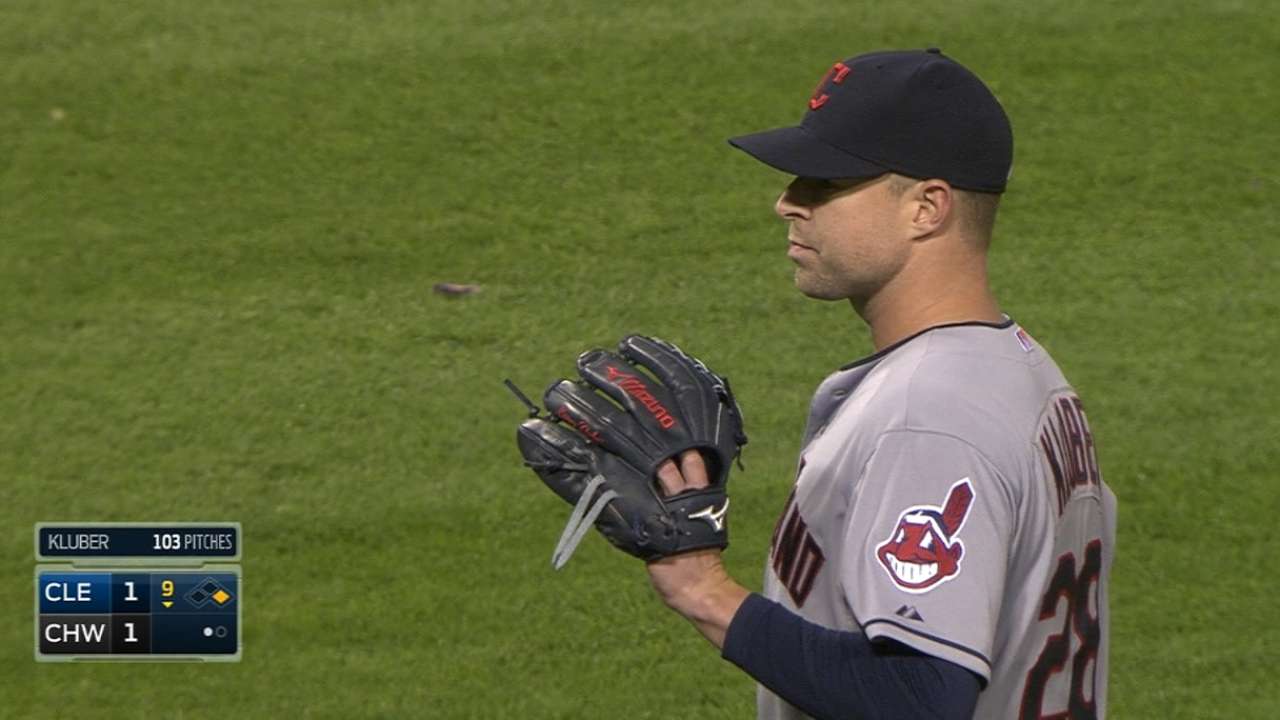 CHICAGO -- Chris Sale certainly would not be the best individual to ask about hitting.
Not with six strikeouts in eight official career at-bats. But the third-place finisher in the 2014 American League Cy Young Award race knows about pitching, and as an elite hurler himself, Sale has no idea how his teammates went about hitting Cleveland's Corey Kluber during a 2-1 White Sox victory in 10 innings at U.S. Cellular Field Monday.
"He's probably the best pitcher in the game," Sale said of the reigning AL Cy Young Award winner, who fanned 12 in nine innings Monday.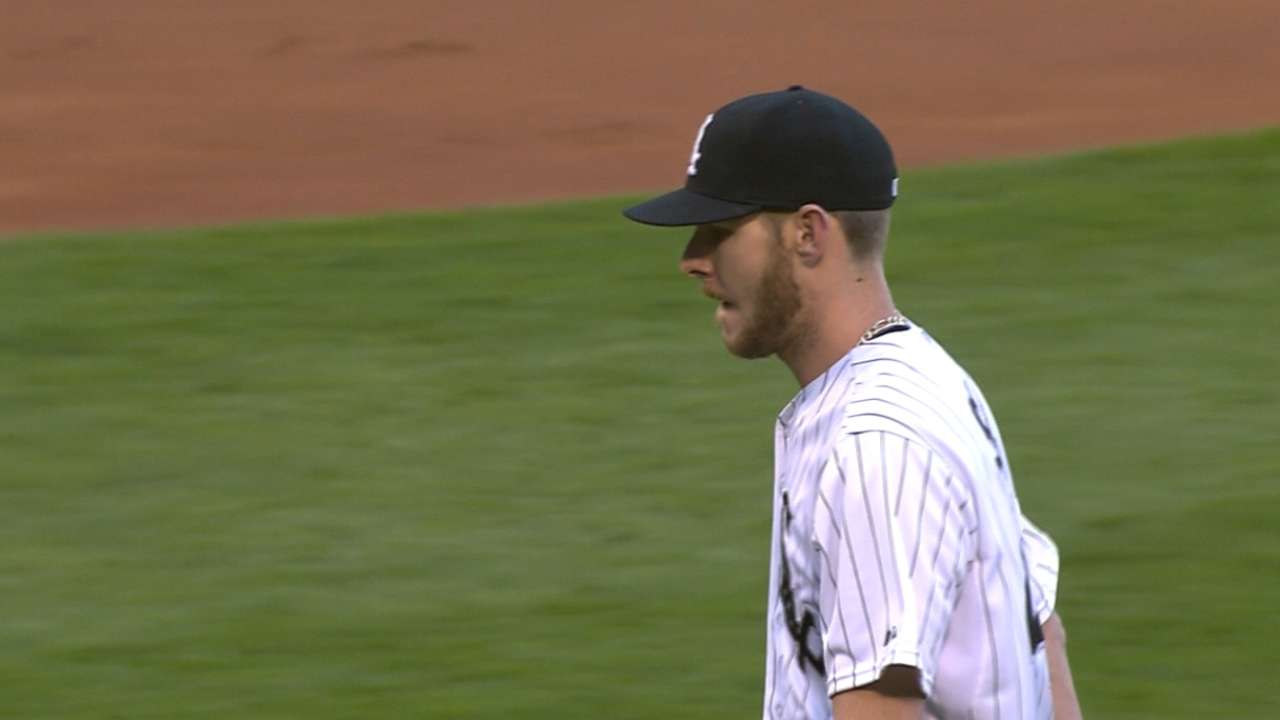 Some would attach the same description to Sale. In this opener of a four-game set, which resulted in the White Sox sixth straight win, both starters simply were brilliant.
They combined to yield just nine hits over 17 innings pitched, while striking out 19 and walking three. Each pitcher allowed only one inning where multiple hitters reached base: the fourth for both. The White Sox didn't have a baserunner until Melky Cabrera's one-out single in the fourth and looked as if they would have a tough time finding many more.
Kluber had great movement and pinpoint location on all of his pitches, making it a tough night for any White Sox player swinging a bat.
"They're a really aggressive lineup," said Kluber, who threw 80 of his 108 pitches for strikes, compared to Sale's 72 of 109. "And the key is to get ahead and take advantage of it."
"It's not a comfortable at-bat when you go up there and tell yourself, 'If I make contact here, I'm doing pretty good,'" said White Sox designated hitter Adam LaRoche with a resigned smile. "I really don't like that feeling. That's kind of what I got tonight off of Kluber. That was as about as good as I've ever seen."
LaRoche said that Kluber looked like a different pitcher compared to the one who allowed six runs on 13 hits over six innings during a 6-0 loss to the White Sox on April 22. It's not that he added a new pitch, but instead Kluber had extra life on his pitches, without missing over the heart of the plate. That extra life has produced 30 strikeouts over Kluber's last two starts.
If it's possible, Sale's eight innings of work was the undercard on Monday night. His eight innings were more than good enough to help the White Sox outlast Kluber and push across a run on Carlos Sanchez's walk-off, two-out single against Zach McAllister in the 10th.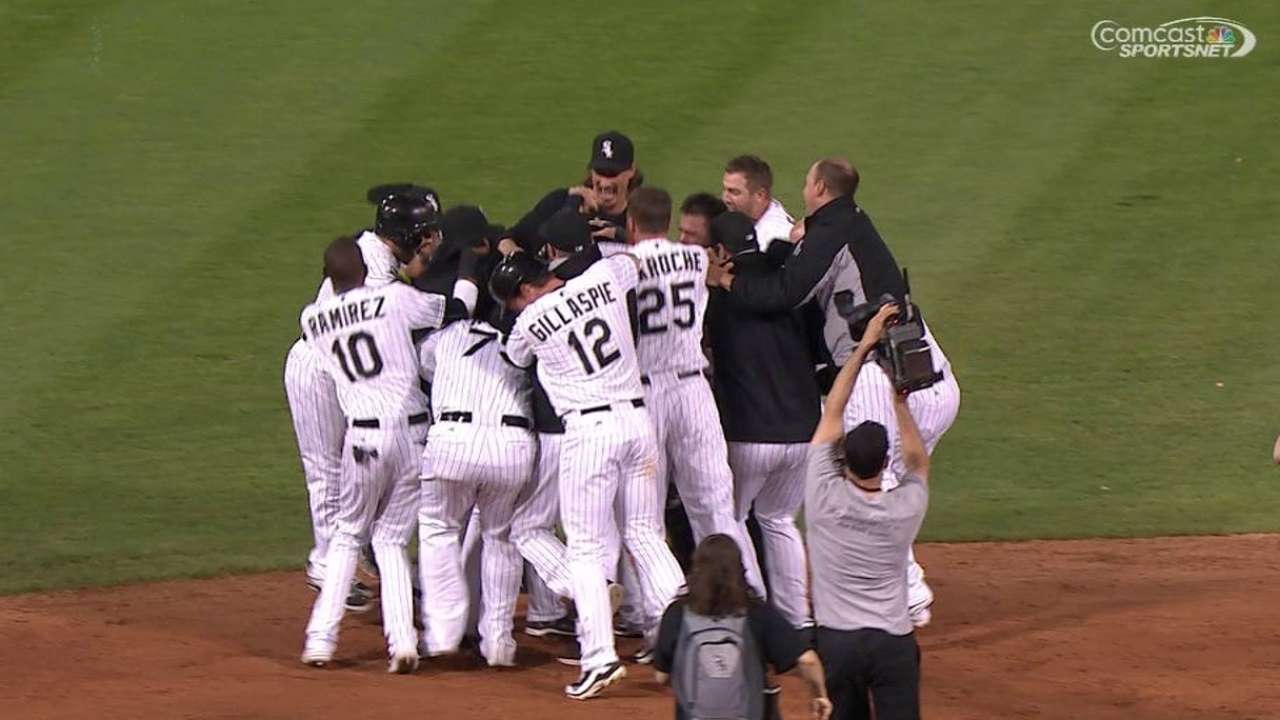 Those who favor multi-homer, offensive explosions would not have enjoyed the crisply played contest covering 2 hours, 34 minutes. Those who enjoy baseball at its purest form reveled in Sale vs. Kluber living up to its pregame expectations.
"He was so special," said Cleveland manager Terry Francona of Kluber. "He followed up that performance just with … he may have had a better breaking ball tonight."
"You absolutely stay focused. It just keeps you in the game," said Sale of the battle with Kluber. "The team is in the game right there, every pitch, every out, every inning where you're focused, locked in and do everything you can to come out on top."
Scott Merkin is a reporter for MLB.com. Read his blog, Merk's Works, and follow him on Twitter @scottmerkin. This story was not subject to the approval of Major League Baseball or its clubs.