Lobstein pitches well in defeat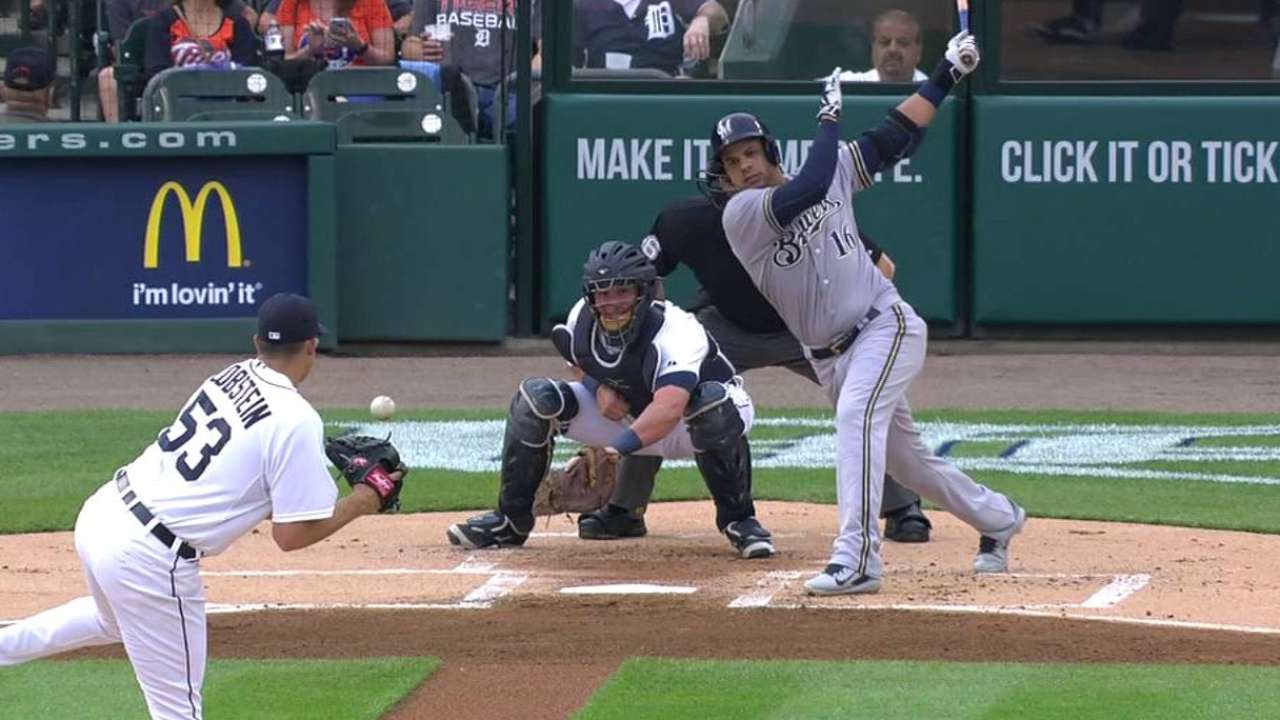 DETROIT -- Kyle Lobstein induced 14 of his 20 outs on ground balls. He needed one more groundout, or one more run of support. He got neither in the Tigers' 3-2 loss to the Brewers.
For someone who gave up twice as many home runs on Monday night -- two -- as he had given up in his first six starts this season, Lobstein kept the Tigers in their series opener against the struggling Brewers. Without much run support, however, the ground balls that kept his outing alive for 6 2/3 innings eventually doomed him in the seventh.
"Two balls hit for solo home runs that just caught too much plate," catcher James McCann said of Lobstein. "But other than that, he did a good job and gave us a chance to win."
It marked the second quality start in which Lobstein received a loss this year. It also marked the fourth time in five outings that Lobstein pitched into the seventh inning, erasing the bad taste of the 2 1/3-inning debacle he suffered to the Twins last week.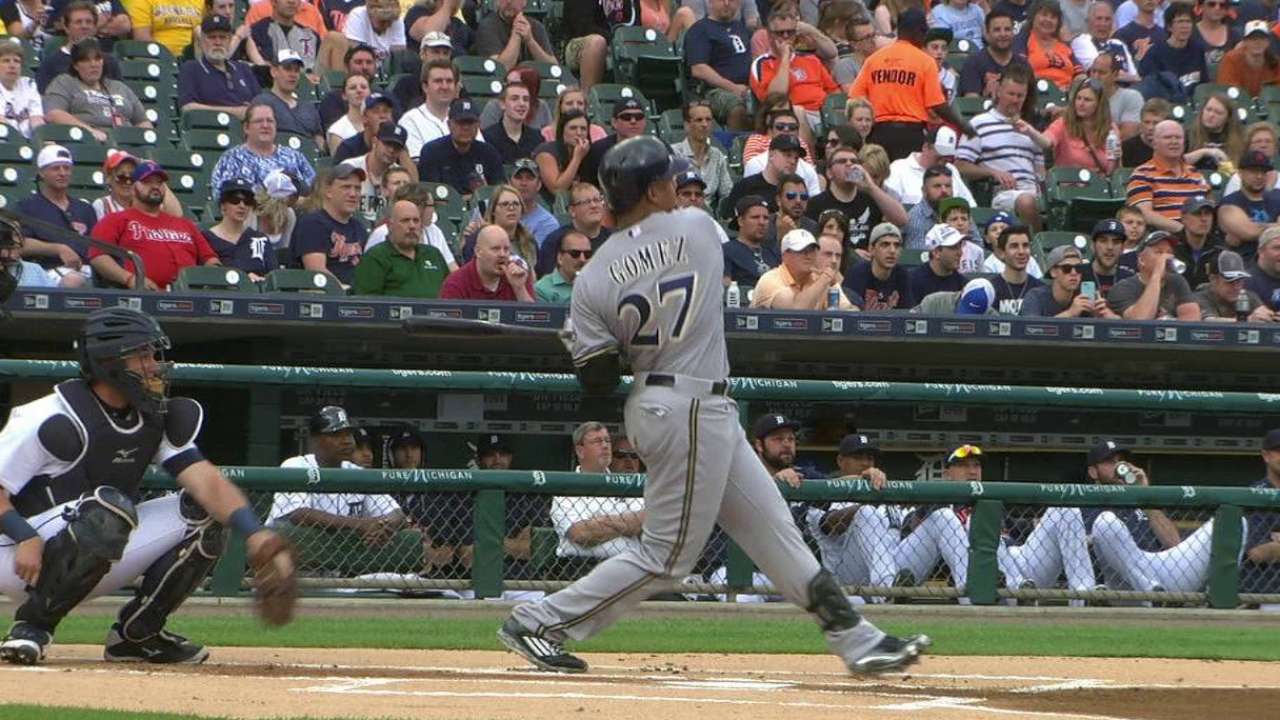 He didn't seem headed in a positive direction after the first inning. His third pitch of the night went deep to left field courtesy of Carlos Gomez, just 2-for-16 against left-handed pitching going into the game. Lobstein needed a strikeout of Jason Rogers with Ryan Braun on third base to escape further damage against a Brewers lineup batting just .195 off lefties.
Lobstein teetered a couple of times, recovering from a Hector Gomez double in the second and paying for a pitch over the plate to Aramis Ramirez with another leadoff home run in the fourth. From there, however, he retired nine out of Milwaukee's next 10 batters, including seven by groundout.
He continues to show the ability to adjust from early damage. This time, the adjustment was in stuff, changing speeds while mixing in a breaking ball that he's still trying to hone.
"The changeup played a lot tonight, which was nice to see, especially from last outing," Lobstein said. "I don't think I threw enough changeups or even breaking balls. I'm still working on the curveball, but it's definitely getting better. I'm trying to learn from some of the guys in here, like [Joakim] Soria, he's been showing me some stuff. It felt pretty good tonight. I was able to command it better tonight."
Tragic, then, that all three singles that brought the go-ahead run around came on ground balls -- Elian Herrera's up the middle to leave Ian Kinsler no plays, Martin Maldonado's two-out grounder through the left side, and then a grounder by Carlos Gomez, scoring the winning run.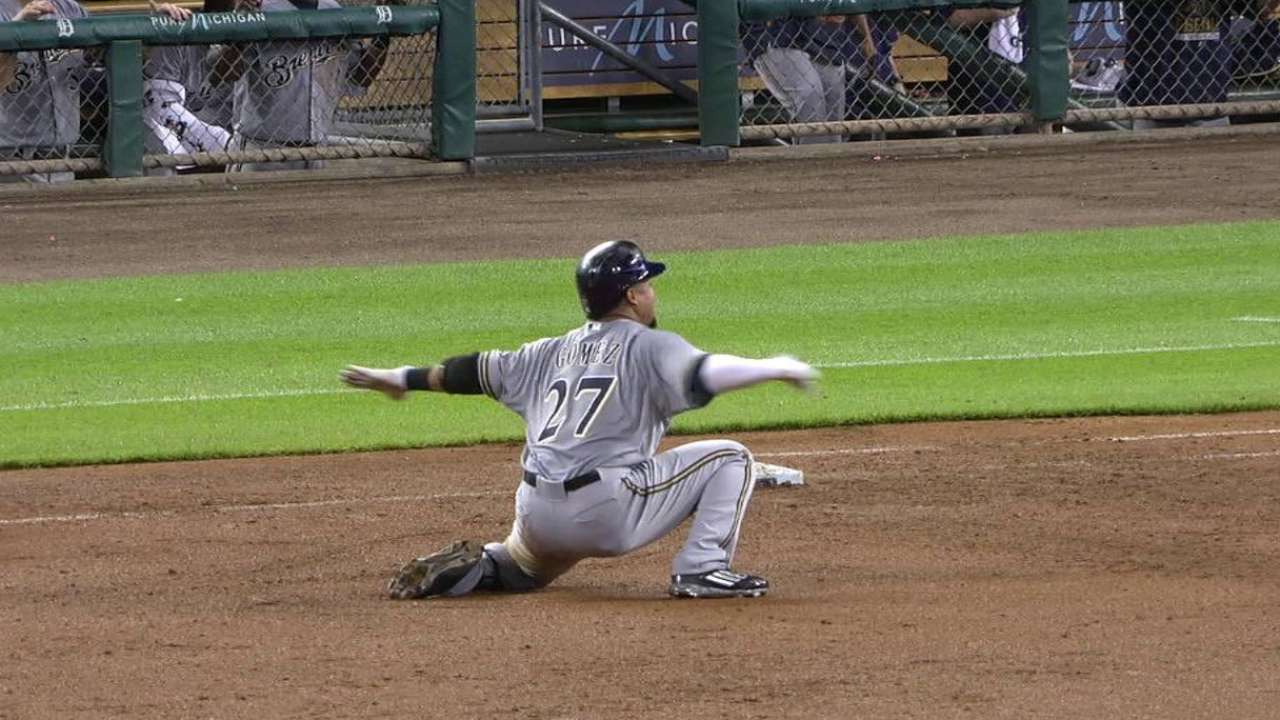 Lobstein's success, Ausmus said, earned him the chance to face the Brewers' leadoff hitter a fourth time
"Part of it was the last couple at-bats that Gomez had had against Lobstein," Ausmus said. "Other than the leadoff homer, the next two at-bats, he had handled him pretty well. He was at 100 [pitches], but 100, that's not a ceiling for a Major League pitcher."
It shows the leash Lobstein has earned over the last month. He just can't seem to earn enough wins from it.
Jason Beck is a reporter for MLB.com. Read Beck's Blog and follow him on Twitter @beckjason. This story was not subject to the approval of Major League Baseball or its clubs.