Pirates back to patient approach at the plate
Pittsburgh offense has regained 2014 form over past two weeks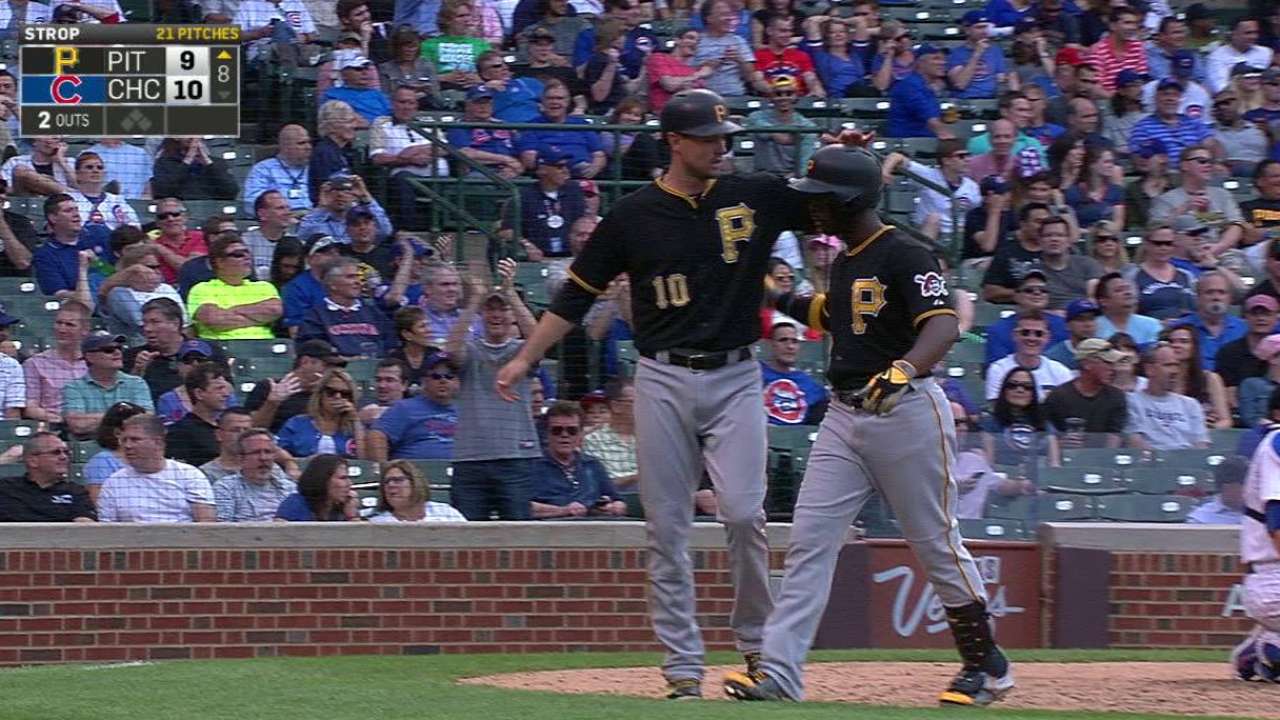 PITTSBURGH -- Before the Pirates left for Philadelphia to open a road trip last week, general manager Neal Huntington essentially boiled down the state of his club's offense to this: They had the right players doing the wrong things.
But over the past two weeks, the Pirates have occasionally performed like the offensive club they were expected to be. At the very least, they've performed more like the offensive club they were a year ago.
Consider these numbers: In 2014, the Pirates hit .259/.330/.404 as a team. They had an 8.4 percent walk rate, fifth best in the Majors, and averaged 4.21 runs per game. Over the last two weeks, they have hit .259/.334/.390 as a team and posted an 8.5 percent walk rate, averaging 4.08 runs per game.
Several other issues have come to the forefront. The back end of the rotation has struggled, the depth of their bullpen has been tested and they've found ways to fumble away games late.
The Pirates entered Monday's off-day two games under .500, tied for third in the National League Central. But one of their biggest April concerns -- their collective lack of patience at the plate -- seems to have faded, as Huntington expected.
"If we can get our guys back, and as we get our guys back to being intelligently aggressive hitters, our walk rate should return to where it is," Huntington said on May 10. "We don't want to create defensive hitters. We want to create intelligently aggressive hitters."
Huntington denied the idea that the Pirates might be feeling the effects of losing three of their most patient hitters last year: Russell Martin, Travis Snider and Ike Davis.
"We need to be careful of saying we lost a couple players, and that's why our walk rate's down," Huntington said. "Our walk rate's down because we've got guys that are expanding the zone, that are trying to do too much rather than being what they've done for five months last year, and that's intelligently aggressive hitters."
In other words, replacing Martin with Francisco Cervelli wasn't the reason the Pirates went without a walk in 11 of their first 29 games. It was more about performance than personnel.
And over the last two weeks, the performance has generally improved. It starts with the Bucs' two top hitters in 2014, who seem to have turned a corner after season-opening slumps.
Following the worst month of his career, Andrew McCutchen has hit .341/.440/.585 since May 6. Josh Harrison went 12-for-25 with five extra-base hits on the Pirates' trip through Philadelphia and Chicago, improving his average by 57 points.
"A work in progress," Harrison said in Chicago. "We all want to continue to get better. At the end of the day, barreling up balls is all you can control."
Adam Berry is a reporter for MLB.com. This story was not subject to the approval of Major League Baseball or its clubs.