Statcast: Soft contact sets Sale apart
Lefty's batted-ball exit velocity is best in baseball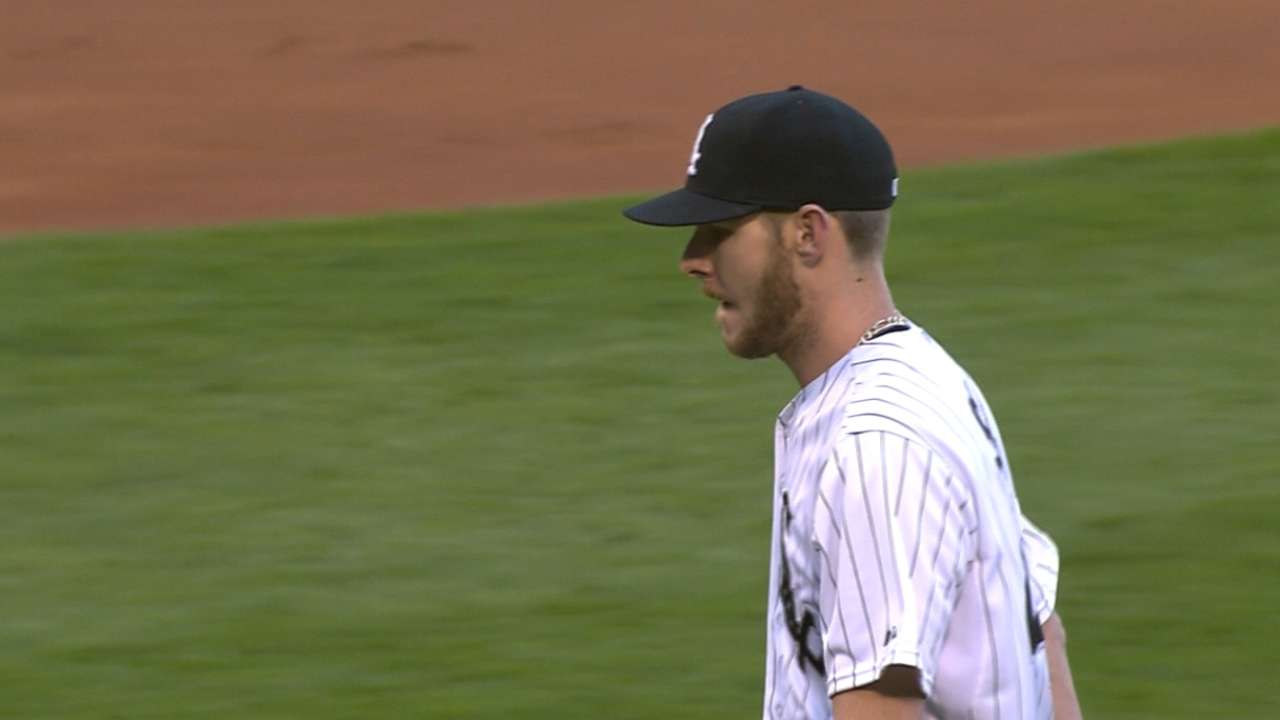 If it feels like Chris Sale keeps getting overshadowed, well, that's because he often is. Last year, all of the pitching attention went to Clayton Kershaw's historic season and the tight AL Cy Young battle between Corey Kluber and Felix Hernandez, which helped to push aside the fact that it was actually Sale who had baseball's second-lowest ERA and second-highest strikeout percentage.
On Monday night, Sale tossed eight innings of one-run ball in a 2-1 extra-innings victory over Cleveland, and it should have been the pitching story of the evening. It wasn't. In the very same game, Kluber threw nine innings of one-run ball, and in New York, Matt Harvey allowed the Cardinals exactly zero runs over eight innings of his own. Even in his own town, Sale hasn't always been the main baseball draw, as the up-and-coming Cubs and Kris Bryant (and Addison Russell, Anthony Rizzo, Jon Lester, etc.) pull most of the ink on the Chicago sports pages.
That's more than a little unfair; Sale is elite, even if his 4.36 ERA, inflated by two poor starts, doesn't exactly jump off the page. (His 3.29 FIP, or Fielding Independent Pitching, is much more in line with his true performance.) That's held true even as he's diminished usage of arguably his best pitch (his slider, with which he collected more than half of his strikeouts in 2012-13) from 29 percent in 2013 to just 10 percent in 2015 in an attempt to keep that valuable left arm healthy.
You might think that less of a pitcher's best weapon would cause some difficulty in succeeding. Not so, in Sale's case. With Statcast™, we can take a look at the starting pitchers who have allowed the lowest velocity of batted balls. You've seen all of the excitement over Giancarlo Stanton's repeated high-velocity blasts recently; this is the other side of that, the pitching side.
Softest mph exit velocity, starting pitchers, 2015
Sale 83.91
Garrett Richards 84.0
Dillon Gee 84.04
Jake Arrieta 84.39
Wei-Yin Chen 84.53
With just over a month of Statcast™ data to look at, we don't have enough evidence to say for certain what the correlation is between exit velocity and success. That's going to be something we attempt to work towards as the numbers accumulate, and there's certainly something to be said for the idea that particularly hard throwers (which doesn't apply to at least three of these names) might induce harder contact, even if they're generally successful overall.
But we can, at least, understand that if you're not missing a bat entirely, the next-best thing is to fool the hitter into doing something other than making good, hard, solid contact. On this list of five names, you have two of baseball's most elite in Sale and Kershaw. You have the underrated Keuchel, a grounder machine who has piled up 257.2 innings of 2.69 ERA (3.13 FIP) ball for Houston over the last two years. You have Chen, who has quietly been a solid back-end starter for Baltimore despite a limited ability to miss bats, and Gee, who fits the exact same description.
There's also not a perfect correlation because sometimes the ball just finds the right spot, as happened to Sale on Monday when Jose Ramirez's first-inning hit went only 81.513 mph off the bat and still turned into a hit. Baseball's funny that way. We have a lot to learn about exit velocity, and it's going to enlighten us on a lot of pitchers. You wouldn't have thought Sale could have looked more impressive. Yet here we are, showing Sale atop another leaderboard. It's just where he should be.
Mike Petriello (@mike_petriello) is an analyst for MLB.com. This story was not subject to the approval of Major League Baseball or its clubs.