MLB.com Columnist
Fred Zinkie
DraftKings picks: Smith, Davis, Harper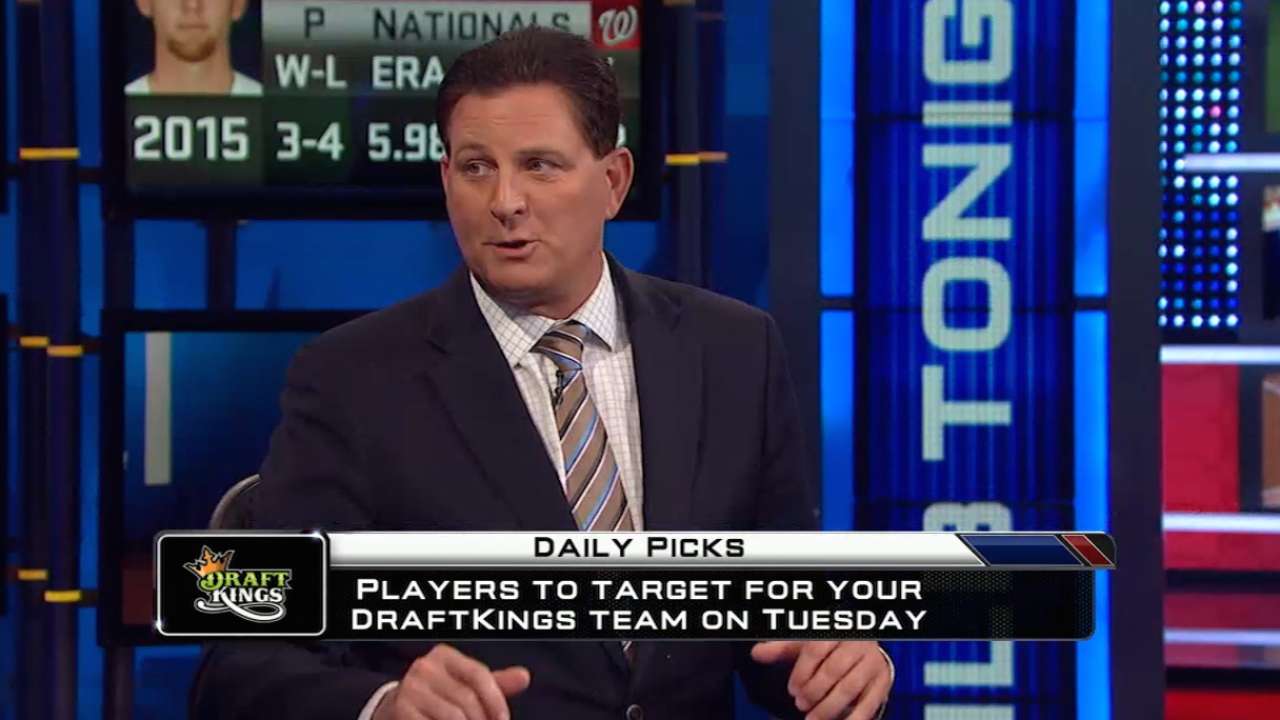 Welcome to DraftKings fantasy baseball, the Official Daily Fantasy Game of Major League Baseball.
The players listed below could provide difference-making stats for DraftKings participants today.
Seth Smith (Mariners): With a lifetime .836 OPS against right-handers (.606 vs. lefties), the outfielder could rip a roundtripper when he escapes his spacious home park to face Orioles righty Miguel Gonzalez (career 1.2 HR/9 rate) at cozy Camden Yards.
Chris Davis (Orioles): The first baseman will bring his career .845 OPS against right-handers (.732 vs. lefties) into a matchup with Mariners righty Taijuan Walker at hitter-friendly Camden Yards. Walker has compiled a 7.22 ERA and a 1.72 WHIP this season, and Davis has ripped 64 homers across 766 at-bats against righties since the outset of the 2013 campaign.
Bryce Harper (Nationals): Harper has been among the best hitters in baseball this season, with a .338 batting average, 14 homers and 37 RBIs. The outfielder will look to improve on his lifetime .908 OPS against right-handers (.730 vs. lefties) when he faces Yankees righty Nathan Eovaldi (career 1.39 WHIP).
Josh Donaldson (Blue Jays): With a lifetime .298/.378/.589 slash line against lefties, the right-handed-hitting third baseman could be poised to show off his power stroke when he faces Angels lefty Hector Santiago at homer-happy Rogers Centre. In his career, Santiago has allowed right-handed hitters to compile a .740 OPS (.612 allowed to lefty hitters).
Edwin Encarnacion (Blue Jays): Encarnacion has posted a career .272/.375/.505 slash line against southpaws, and his patient, powerful approach could lead to success against Santiago at Rogers Centre. The lefty hurler sometimes struggles with his control, which has led to a lifetime 1.35 WHIP.
Kevin Pillar (Blue Jays): Pillar will look to improve on his career .705 OPS against southpaws (.599 vs. right-handers) when he hits at his offense-inducing home park against the left-handed Santiago. The owner of six steals this season, Pillar also could swipe a base off Angels catcher Chris Iannetta, who sometimes struggles to control opposing baserunners.
Danny Valencia (Blue Jays): Valencia has produced pronounced career splits, with an .884 OPS against left-handers that exceeds his .610 mark vs. righties. DraftKings participants who wish to stack Blue Jays stars such as Donaldson and Encarnacion could include Valencia and Pillar as economical options.
Carlos Gonzalez (Rockies): Gonzalez has traditionally fared best against right-handers (career .907 OPS in those matchups) and at his hitter-friendly home park (career 1.007 OPS). The outfielder could improve on those lofty marks when he faces the Phillies' fly-ball-prone righty Aaron Harang at Coors Field.
Ryan Howard (Phillies): The first baseman could smack a homer when he brings his lifetime .952 OPS vs. right-handers (.729 vs. lefties) into homer-happy Coors Field to face righty Chad Bettis (career 6.90 ERA, 1.86 WHIP).
Josh Reddick (A's): The outfielder is off to a great start this season, as he is hitting .328 with six homers and 28 RBIs across 119 at-bats. Reddick could fare well away from his spacious home venue when he brings his lifetime .777 OPS against right-handers (.683 vs. lefties) into Minute Maid Park to face righty Roberto Hernandez (career 4.58 ERA).
Stephen Vogt (A's): Vogt has been arguably the top-hitting catcher in the Majors this season, as he has hit .327 with nine homers and 30 RBIs. And with a career .786 OPS against right-handers (.689 vs. lefties), the A's backstop could reach base often or display extra-base power vs. Hernandez (career 1.41 WHIP).
Dee Gordon (Marlins): The speedy second baseman is hitting .420 this season, and he has registered a career .717 OPS against right-handers (.617 vs. lefties). Gordon -- who has compiled 76 steals since the outset of the 2014 season -- could score multiple runs or swipe a base against D-backs righty Jeremy Hellickson, who has posted a 5.13 ERA since the beginning of the 2013 campaign.
Christian Yelich (Marlins): Yelich has produced a career .775 OPS against right-handers, in comparison to a .660 mark vs. lefties. Because the outfielder is hitting .178 in 2015, he could have a reduced DraftKings price tag when he faces Hellickson, who has posted a 5.92 ERA and a 1.68 WHIP this season.
Francisco Liriano (Pirates): Liriano has accumulated a 2.96 ERA and a 1.01 WHIP this season, and he owns a career 3.07 ERA at pitcher-friendly PNC Park. The lefty -- who has posted a career 9.2 K/9 rate -- could come away with several whiffs and a win during a home start against Ricky Nolasco and the Twins.
Jose Quintana (White Sox): By allowing six runs across his past four outings, the left-hander has shown that he is back on track after a slow start. Quintana could improve on his respectable career 3.57 ERA when he faces an Indians lineup that contains several key hitters who fare best against righties.
James Shields (Padres): Having averaged nearly seven innings per start since the outset of the 2011 season, Shields is the type of high-volume hurler who attracts attention from DraftKings participants. The right-hander, who owns an 11.9 K/9 rate this season, is seemingly positioned to rack up K's vs. a Cubs lineup that leads the Majors with 363 strikeouts.
Carlos Frias (Dodgers): Frias has posted a 2.89 ERA and a 1.18 WHIP this season, and his lifetime 3.35 FIP indicates that his impressive early career work could be sustainable. Today at pitcher-friendly AT&T Park against the Giants, the right-hander could compile quality innings and a win behind a Dodgers offense that ranks second in the National League with 186 runs scored.
All statistics are accurate through the completion of Sunday's games.
Fred Zinkie is the lead fantasy baseball writer for MLB.com. Follow him on Twitter at @FredZinkieMLB. This story was not subject to the approval of Major League Baseball or its clubs.