Kendrick looks back on time with Phillies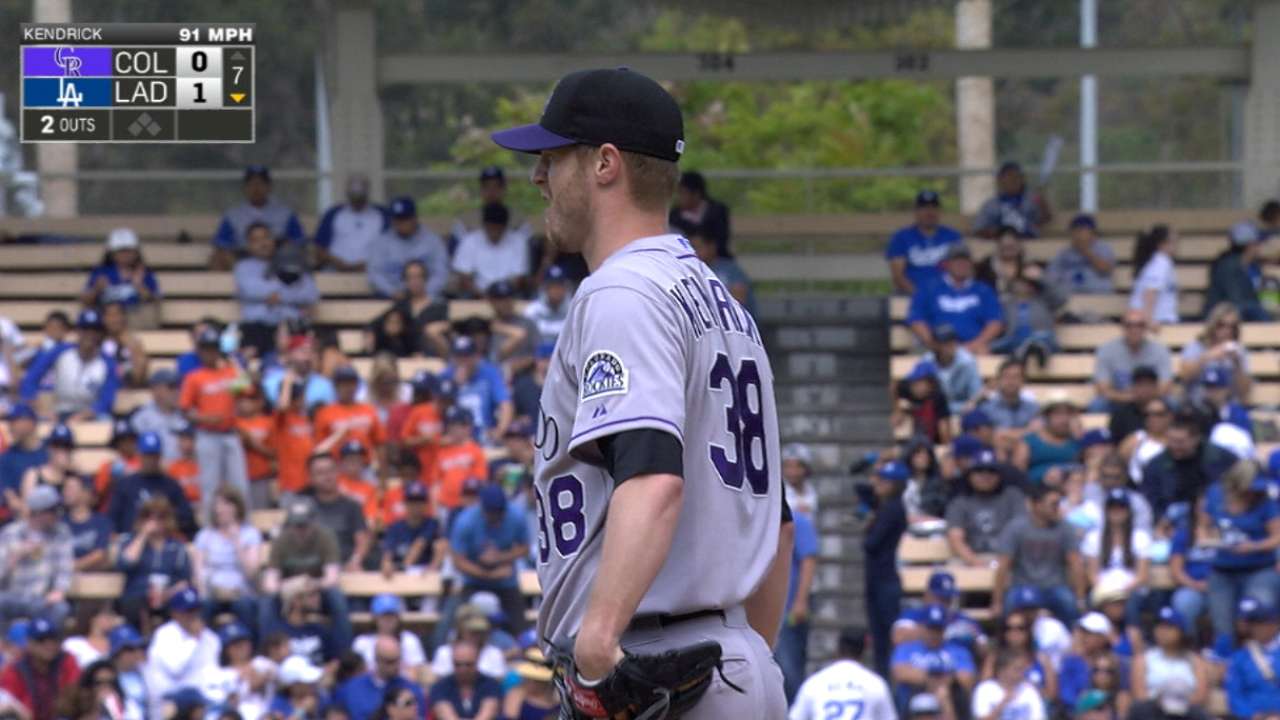 DENVER -- Kyle Kendrick had spent his entire professional baseball career with the Phillies, and he had hoped that relationship might continue beyond 2014.
But a week after last season ended, Phillies general manager Ruben Amaro Jr. told Kendrick, 30, the organization wanted to go in a different direction.
Amaro told him the Phillies wanted to get younger.
"And then he signs Aaron Harang and Jerome Williams," said an amused Kendrick on Monday afternoon at Coors Field, where the Phillies opened a four-game series with the Rockies. "So I was like, [huh]. Honestly, I think it's just part of the game and they wanted some different faces. That's the way it goes."
The Phillies selected Kendrick in the seventh round of the 2003 First-Year Player Draft, and he went 74-68 with a 4.42 ERA in 226 appearances (185 starts) for the Phillies from 2007-14. But with the Phillies out of the picture, he signed a one-year, $5.5 million contract with the Rockies.
Kendrick is 1-5 with a 6.70 ERA in eight starts with Colorado. His ERA is the highest in baseball, although he has a 1.93 ERA over his last two starts. The Rockies consider him a tremendous influence on the team's younger pitchers.
"Just trying to give them some input, do anything I can do to help," Kendrick said. "Because I've been there. I'm trying to pass on some stuff I learned from guys in Philly, from Roy [Halladay] and Cliff [Lee] and [Roy] Oswalt. I'm just trying to be the best teammate I can be."
Kendrick pitched Sunday, which means he will not face the Phillies in this series. He also is not in line to face the Phillies when the Rockies visit Philadelphia later this month.
"I wanted to pitch against these guys here and in Philly," Kendrick said. "I definitely wanted to pitch against these guys because it's the old squad.
"My time in Philly was good. I got used to Philly. I grew up there. So it was a little tough for me. It was a little tough for me for a change. I understand the business side of it. That's the way it goes. Would I have liked to come back? Yeah, why not? It's the only place I know. But I was also excited to go somewhere else. These guys were interested -- very interested. You always want to be somewhere you're wanted. That was the main thing. Philly didn't want me, and these guys wanted me. That's the way it worked out."
Todd Zolecki is a reporter for MLB.com. Read his Phillies blog The Zo Zone, follow him on Twitter and listen to his podcast. This story was not subject to the approval of Major League Baseball or its clubs.