Big sixth lifts Hamels, Phillies over Rockies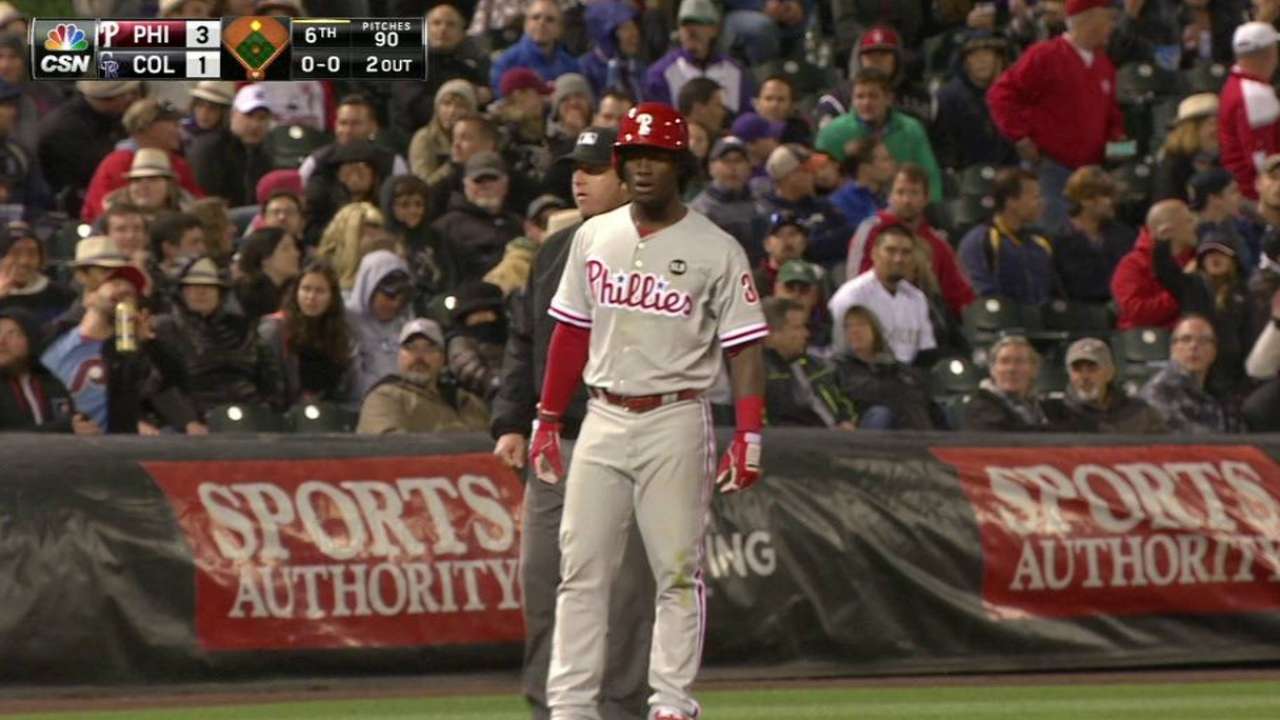 DENVER -- Cole Hamels struck out seven and limited the Rockies to six hits in 7 1/3 innings for his third straight win as the Phillies prevailed, 4-3, on Monday night at Coors Field.
Hamels (4-3) dueled with Rockies righty Jordan Lyles (2-4) until the sixth, when the Phillies scored three runs with two outs. Odubel Herrera doubled in two runs, and Carlos Ruiz added an RBI single.
"We're making less mistakes," Phillies closer Jonathan Papelbon said about the team's six-game winning streak. "Are we playing perfect baseball? No, but we're making less mistakes and I think that's a bright spot for us and hopefully we can make less and less mistakes and learn how to play big league baseball and learn how to win."
The Rockies fanned 11 times and have had double figures in strikeouts for a club-record six straight games.
"We just need to tighten up our approach with two strikes and not miss your pitch when you get it early in the count," Rockies manager Walt Weiss said.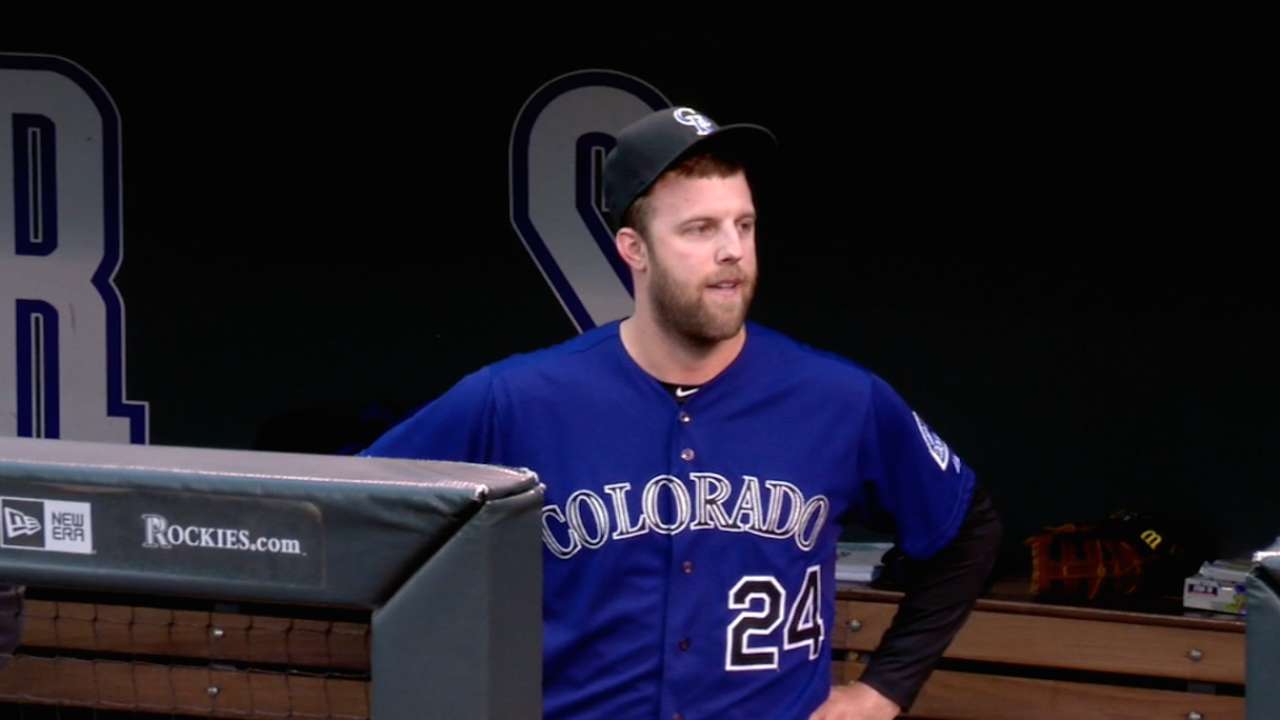 Lyles, who left his previous start against the Angels after one inning when he was hit on the throwing hand with an Albert Pujols line drive, was rolling until the sixth, when he gave up three hits and a walk with two outs.
MOMENTS THAT MATTERED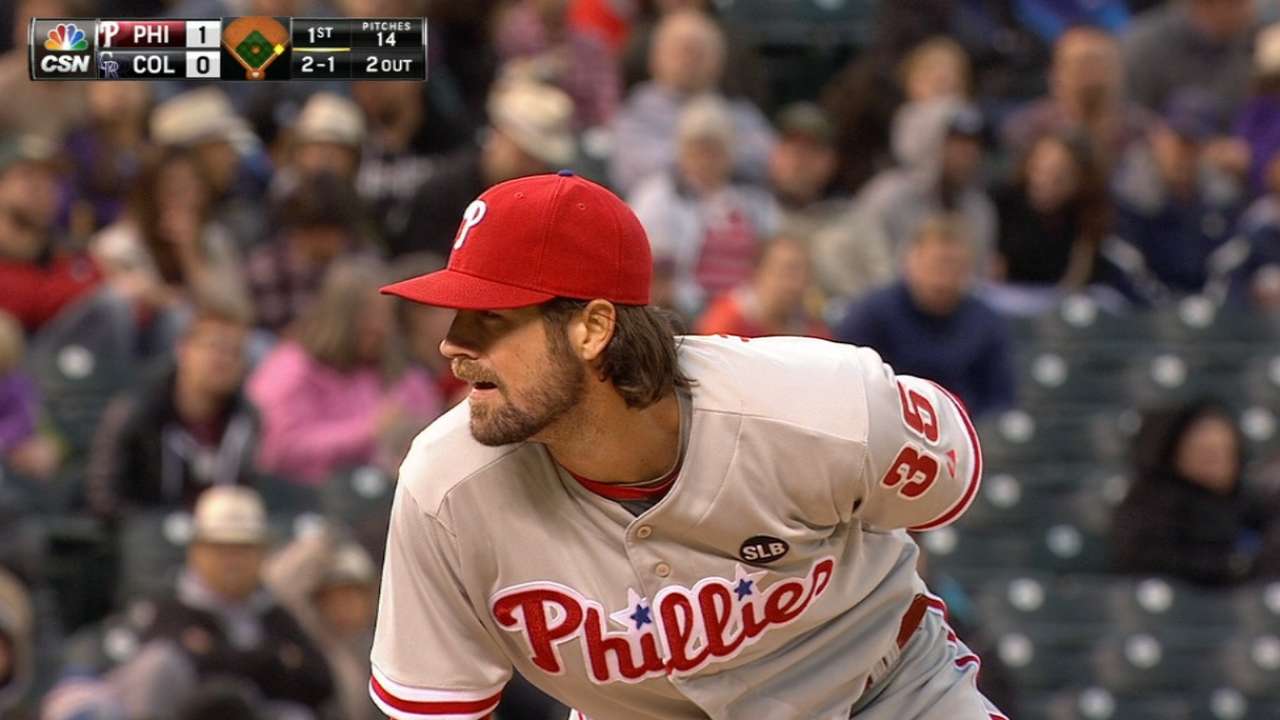 Hamels is rolling: Hamels started the season slowly, but he has pitched very well lately. He is 4-1 with a with a 2.45 ERA in his last six starts. He continued to roll against the Rockies, and is 11-0 in 17 starts since last season, when the Phillies score three or more runs for him when he is in the game. More >
Stealing was the strategy: After his second-inning leadoff single, Wilin Rosario stole second -- mostly against Hamels -- and scored on DJ LeMahieu's two-out single. LeMahieu also stole second, with Ruiz having little chance, but Lyles flied to center.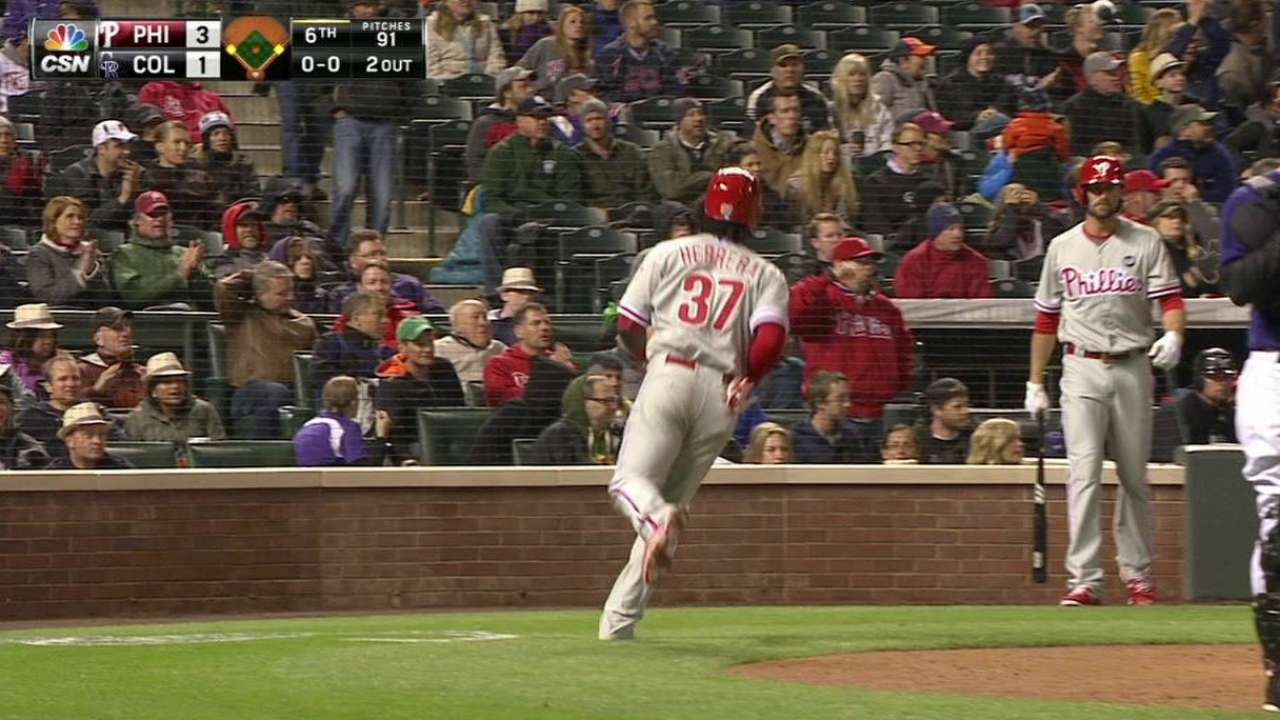 Two-out offense: Phillies third baseman Maikel Franco rolled a ball through the infield with two outs and nobody on base in the sixth to spark a three-run rally to hand the Phillies a 4-1 lead. Chase Utley walked and Herrera doubled to clear the bases. Riuz followed with a single to score Herrera.
Missed opportunity: With one out and one on in the fourth, and the game tied at 1, the Rockies' Drew Stubbs flied into center field, where Herrera had no idea where the ball was until it was too late to comfortably catch it. However, Hamels fanned LeMahieu and Lyles, and the Rockies didn't threaten him thereafter. More >
QUOTABLE
"It's been fun. I think everybody is really enjoying themselves. You can see personalities a little bit more. When you win, there's that more positive environment and guys can be themselves a little bit more instead of trying to crack down and be all serious 24-7. I think guys are starting to be a little more relaxed." -- Hamels, on the difference in the clubhouse with the team winning recently.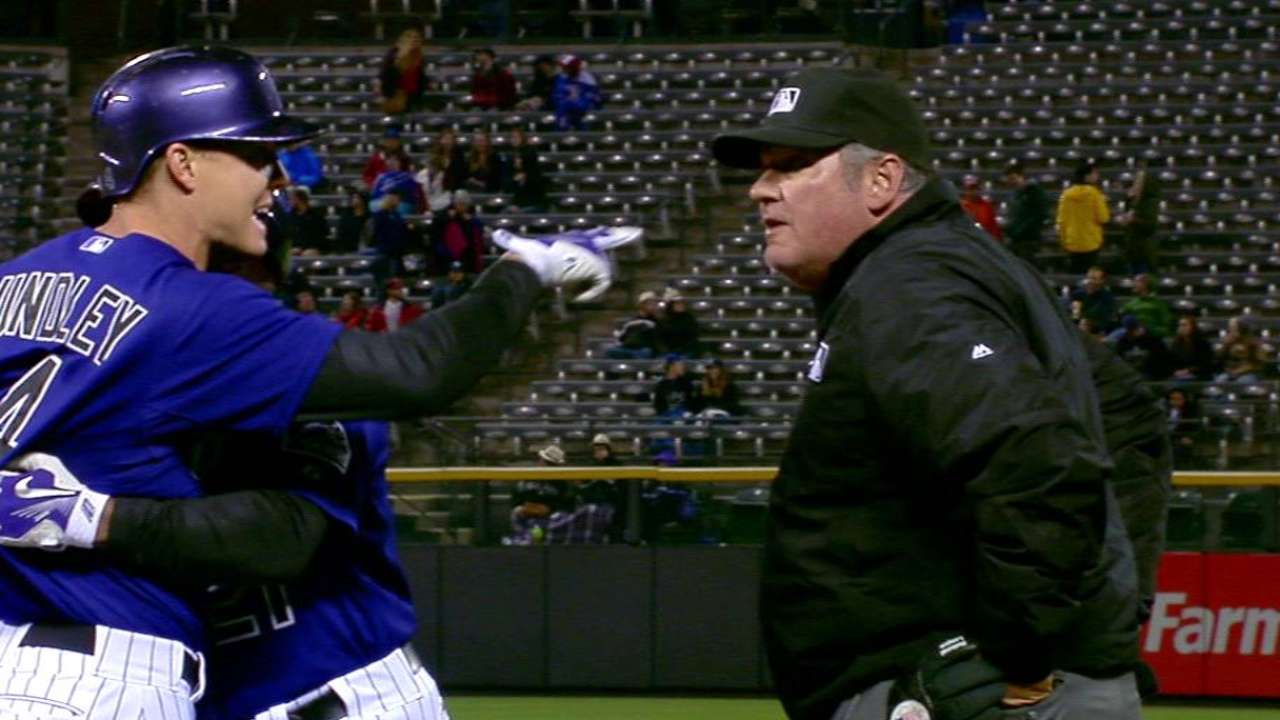 "We can't just sit here and hope it's going to get better or wish it's going to get better or just keep telling yourself it'll turn. We've got to go out and make it happen. This is a tough game, a tough league. Your hopes and wishes don't mean anything." -- Rockies catcher Nick Hundley, who was ejected in the eighth for arguing a check-swing that was ruled a strike.
SOUND SMART WITH YOUR FRIENDS
The Phillies have won six consecutive games for the first time since they had a seven-game winning streak Sept. 5-12, 2012.
REPLAY REVIEWS
The Phillies won a replay challenge in the first inning. Freddy Galvis hit a ball to the first baseman Rosario, who appeared to step on first base for the force out before throwing to second. Replay showed Rosario never tagged first base, putting runners on first and second with no outs. After replay officials overturned the call, they returned to the headset for a rules check. Phillies manager Ryne Sandberg was on the field trying to get an explanation for the second visit, but there was no challenge by the Rockies.
Sandberg challenged a play at the plate in the eighth inning when Nolan Arenado evaded the tag of Ruiz after Carlos Gonzalez's single to right. The call stood.
WHAT'S NEXT
Phillies: Phillies right-hander Aaron Harang is 4-3 with a 2.03 ERA in eight starts this season. He has been a steal on a one-year, $5 million contract. That contract could look pretty attractive to contending teams as the July 31 Trade Deadline gets closer.
Rockies: Rockies right-hander Chad Bettis will make his second start since replacing struggling southpaw Tyler Matzek in the rotation on May 14. Bettis spent all of last season in the Majors as a reliever and will be making just his fourth career start at Coors Field.
Watch every out-of-market regular season game live on MLB.TV.
Thomas Harding and Todd Zolecki are reporter for MLB.com. This story was not subject to the approval of Major League Baseball or its clubs.