Bryant finds big-city living to his liking
Cubs rookie resides in downtown Chicago during season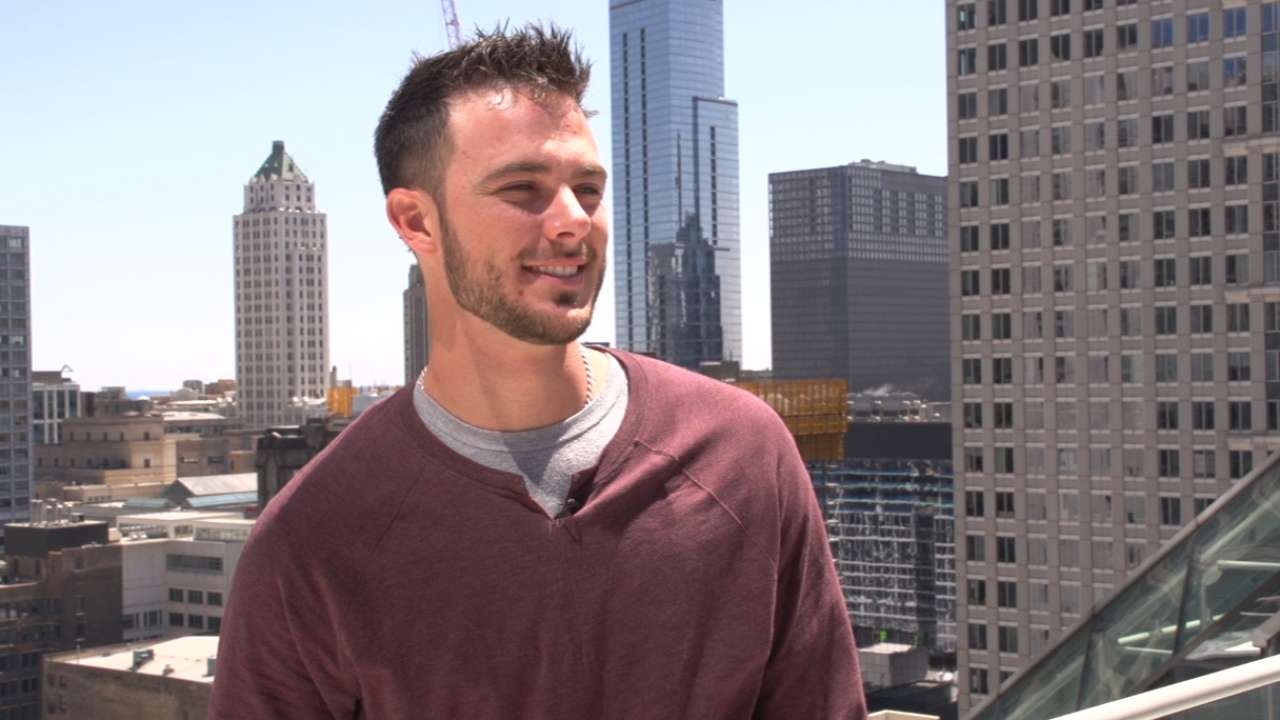 If you think Kris Bryant likes Wrigley Field, then you should see his other friendly confines.
The Cubs' rookie third baseman resides in a lofty place high above Wacker Drive and the Chicago River in downtown Chicago, and when Bryant is home, he can seemingly see forever. Bryant gazes through floor-to-ceiling windows at the Willis Tower, Trump Tower and Lake Michigan, taking in the sweeping cityscape views. There is even a rooftop oasis fitting for a Cub, a place to grill, lounge in private cabanas and hang out with friends.
"This is definitely downtown living, which I'd never experienced before, but I'm liking so far," Bryant said on a perfect day in his luxury apartment. "I'm glad I chose to stay down here -- especially on a day like this. Summer days here, I hear, are pretty good. Coming out here and relaxing and taking it all in and seeing all these buildings, it's a pretty cool place to live."
Watch the new Coldwell Banker Home Field Advantage video, and you can see how cool it is from Bryant's perspective during homestands like the last one, when he hit three home runs. It is a soaring style, like those blasts toward the bleachers.
The Cubs start a six-game trip on Tuesday to play the Padres and D-backs -- Bryant's chance to visit his alma mater at the University of San Diego and see any friends and family who come down from his hometown of Las Vegas. Then the team flies back on Sunday night for the next homestand, and Bryant will head downtown and up the elevator to his new "safe zone."
"For me, home is ... a way to get away from the outside world and just relax and watch TV and eat some good food and just hang out with friends and family," Bryant said. "It's definitely a time that I treasure and something that I look forward to each day.
"When I signed, I got a little taste of Chicago. I had never been here before that. It's kind of hard to prepare for. It's a lot bigger city than I'd been to. I've seen all the food places. There's a steakhouse on every corner down here. Just being close to the food, and just getting the experience of living downtown, I've never really got to experience that before."
What a scene as Bryant sits on a sofa in a corner of his apartment: Looking through glass at iconic skyscrapers everywhere around him, and looking through glass on the coffee table in front of him to gaze at another treasured item. This one is a dirty game-used base from that unforgettable April 17, when he was called up for his debut against San Diego.
"I don't know what base this is, but it's a base from my Major League debut," Bryant said. "It's just a cool memento, I think, to have and to keep and to cherish. It's a memory I'll have forever. Right now it's on my table here, and I get to see it every day."
Other memorabilia on display in the apartment includes two side-by-side baseballs that he struck for the first two homers of his Major League career. The one on the left was from the May 9 game at Milwaukee, his first career blast. The other was off Jacob deGrom of the Mets, the first official ball hit into the refurbished bleachers at Wrigley. The fan who gave that ball back to the club can watch this video and see its ultimate resting place.
"Definitely a special one for me," Bryant said, "just hitting the first one at home, getting the first two out of the way and continuing on with my career."
It continues on with warm welcomes every day from neighbors around Chicago.
"The people are awesome," Bryant said. "You love walking the streets down here. It seems like everybody down here is a Cubs fan. I'm walking around downtown and seeing Cubs hats everywhere, Cubs sweatshirts, and I'm like, 'Well, I don't know if they're going to know who I am or not,' but if they do, it's always been good luck and welcome -- it's been really fun for me.
"I think it's the best place to play. Just having Cubs fans out there behind you, cheering you on each and every at-bat, it's pretty special. Just to hear how supportive they are of us and what we do, it really makes it easy on us to go out there and play hard for them."
Mark Newman is enterprise editor of MLB.com. Read and join other baseball fans on his MLB.com community blog. This story was not subject to the approval of Major League Baseball or its clubs.