MLB.com Columnist
Fred Zinkie
Best of Fantasy411 Twitter chat with Zinkie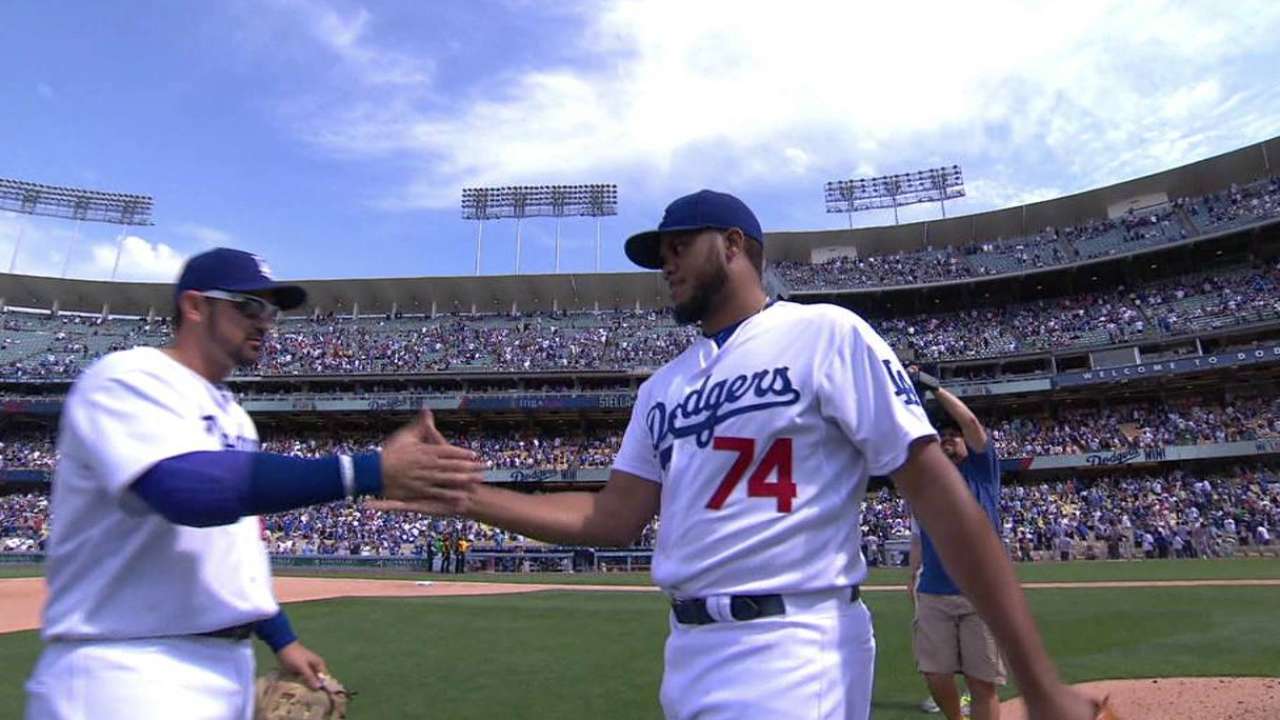 MLB.com fantasy guru Fred Zinkie fielded questions from fans during a live Twitter chat at @Fantasy411 on Monday. Check out the chat transcript below and check out the @Fantasy411 Twitter handle and MLB.com's fantasy home. Questions and answers have been edited for clarity.
Q: @FantasyBB15 An owner in my league is dangling Kenley Jansen for outfield help. Always leery dealing hitting for relief pitching -- is Steven Souza Jr. or Marcell Ozuna too much to offer?
A: It likely isn't enough. Jansen is a top-five closer. He is a great trade target.
Q: @adamjtyler Who do I pick up off free agency for the week? Mike Moustakas or Chase Headley?
A: I'm in the minority, but I'll go with Headley. Better matchups.
Q: @birdmanta333 Stephen Strasburg is off to a slow start. Would you ride it out or try and get what you can for him?
A: Fair to trade him for a top-15 starter, but nothing less. He has top-5 potential.
Q: @Labedoyere1 What are the Dodgers' plans for Hector Olivera? I think I picked him up a bit early. Nobody is talking about him at all.
A: The Dodgers are so deep. Will be hard for him to help in mixed leagues this year.
Q: @GSmith51172 Did Ian Kinsler forget how to hit a home run?
A: Unlikely. He seems to be streaky. Good time to buy low.
Q: @GeMunichkeit Drop Mike Leake, Carlos Martinez or Carlos Rodon? Have to make room for someone off the DL.
A: Martinez. Have to give Rodon a few more starts.
Q: @FishyG3 Received this trade offer: getting Matt Cain and Christian Yelich for Jake Marisnick and Brad Boxberger. I have Jake McGee for security.
A: Make the deal. Yelich should improve soon and Marisnick's value may not hold.
Q: @jtmartens28 What to do with Yordano Ventura and Jordan Zimmermann? Trade? Currently on bench.
A: Stick with Zimmermann, who should be fine. Keep Ventura on the bench for now.
Q: @Ynal_Alouri I dropped Brandon Moss and picked up Luis Valbuena because I needed power on my team. I also picked up Trevor Bauer from the Indians. Thoughts on both?
A: You have to be wary of Valbuena and Bauer, because they can each hurt a lot in one category.
Q: @AustinTarbox Jon Lester Collin McHugh and Todd Frazier for Andrew McCutchen and Andrew Miller -- who wins?
A: McCutchen side, even with his initial 2015 struggles.
Q: @TheEricMally What to do with Rusney Castillo? I have been stashing him all year, and I'm getting impatient!
A: You have to wait. At least until the end of the month. So much potential if he gets a regular role in Boston.
Q: @sportsweather I am worried about Corey Dickerson. Was offered Josh Reddick or Ryan Braun for him. Should I take deal for either?
A: Your concerns are legitimate. Take the deal and take Braun.
Q: @y2jg1 Shin-Soo Choo is available as a free agent but I would have to drop either Joc Pederson or Mookie Betts? Would you add Choo?
A: Choo should be owned, but can't drop one of those young studs for him.
Q: @Goatronica Is Jake Odorizzi a "sell-high" guy?
A: Yes, in the sense that there will be some regression. But he's going to be valuable all season.
Q: @Knance55 What do I do with Doug Fister? I have no DL spots available.
A: Depends on bench size. It's fine to cut him in a shallow league. Low K-rate limits his upside.
Q: @kristinzuccaro Is Kendrys Morales' performance this year legit?
A: He can produce 20-25 homers, and hit .270-.280.
Q: @ArenaFanFball Lance McCullers or Nate Karns?
A: Karns, who is showing some interesting potential in recent starts.
Q: @Jack_NUTELLA_ Keep Rodon or go for another prospect like McCullers? Also stash Masahiro Tanaka, Patrick Corbin or Matt Moore?
A: Stick with Rodon for now. And stash Tanaka.
Q: @JayyDixon What are your thoughts on Maikel Franco? Is he legit?
A: He should be added in 12-team leagues. At least to the bench for now. His home park should help him.
Q: @DRand4 Do you expect Carlos Gonzalez to rebound? Someone in my league is trying to get rid of him.
A: Yes, to a degree. But don't trade for him unless the discount is very large.
Q: @ToXiCxJoKeRx 12-team dynasty league, and I need to put one of these three in my utility spot. Gonzalez, Choo or Yasmani Grandal?
A: CarGo for this week, because of all the home games vs. RHP. Likely Choo after that.
Fred Zinkie is the lead fantasy baseball writer for MLB.com. Follow him on Twitter at @FredZinkieMLB.
This story was not subject to the approval of Major League Baseball or its clubs.