Marlins excited by Jennings' passion, knowledge
Team reacts to managerial change following Redmond's dismissal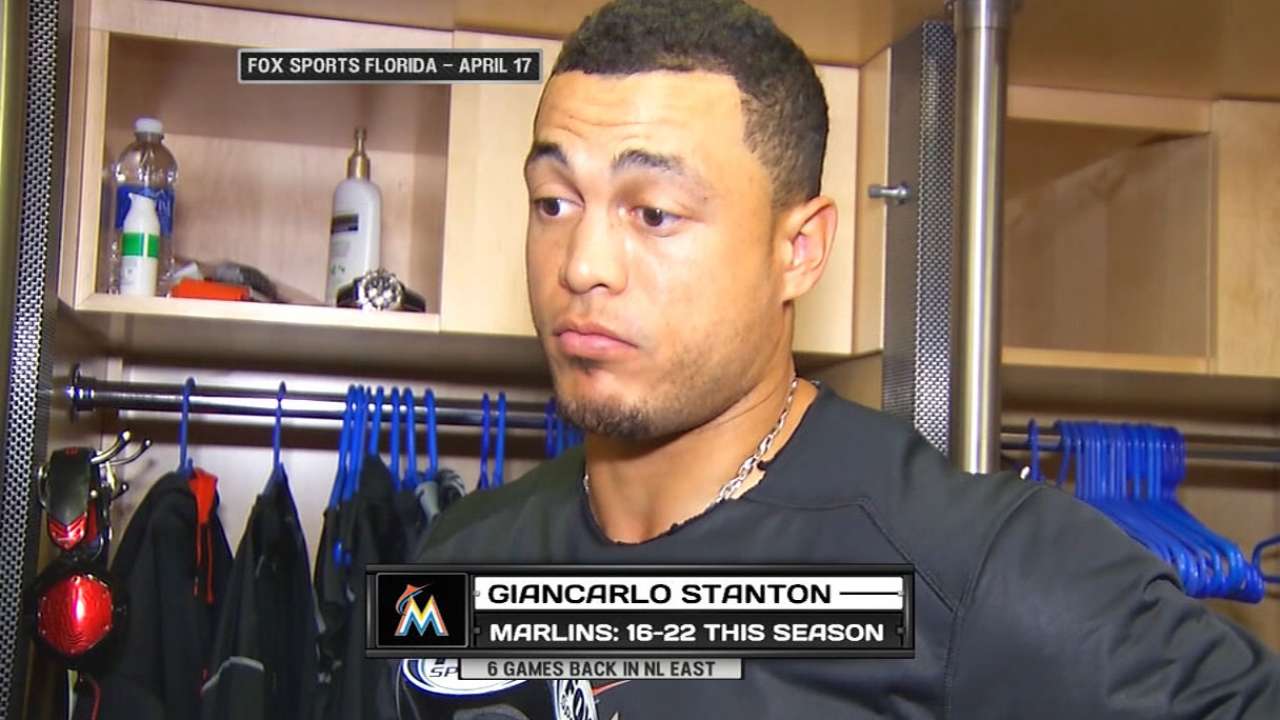 MIAMI -- When Marlins star outfielder Giancarlo Stanton heard that his general manager, Dan Jennings, would be his new manager beginning on Monday, the right-handed slugger could only react like everybody else.
"The first thought in anyone's mind is 'What's going on here?'" Stanton said. "So, it's only natural for the players to have that, too. At the same time, you have to realize what's positive about this and 'How are we going to overcome this?' and not just look at it in a negative way because that's kind of what the season has been based around."
Miami put itself in this position with a 16-22 start to the season. In turn, the Marlins front office dismissed Mike Redmond from the managerial position after Sunday's 6-0 loss to Atlanta and named Jennings, the club's general manager since 2013, as the new skipper.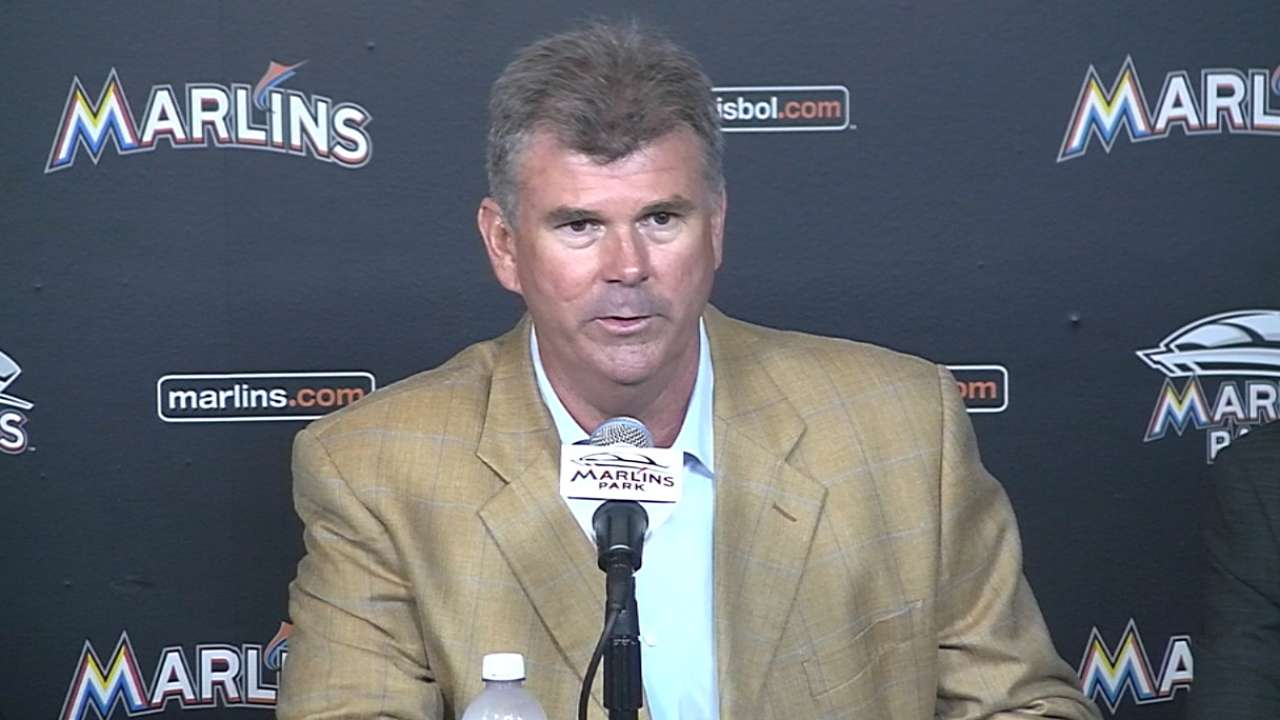 Thing is, Jennings, 54, has never coached at any level of professional baseball in his 31 years in the business.
"That's the initial knee-jerk reaction from everybody," Stanton said. "You've got to understand that he's close to baseball, and close to understanding the outlook of the game with what inside changes that we need to be able to turn this around."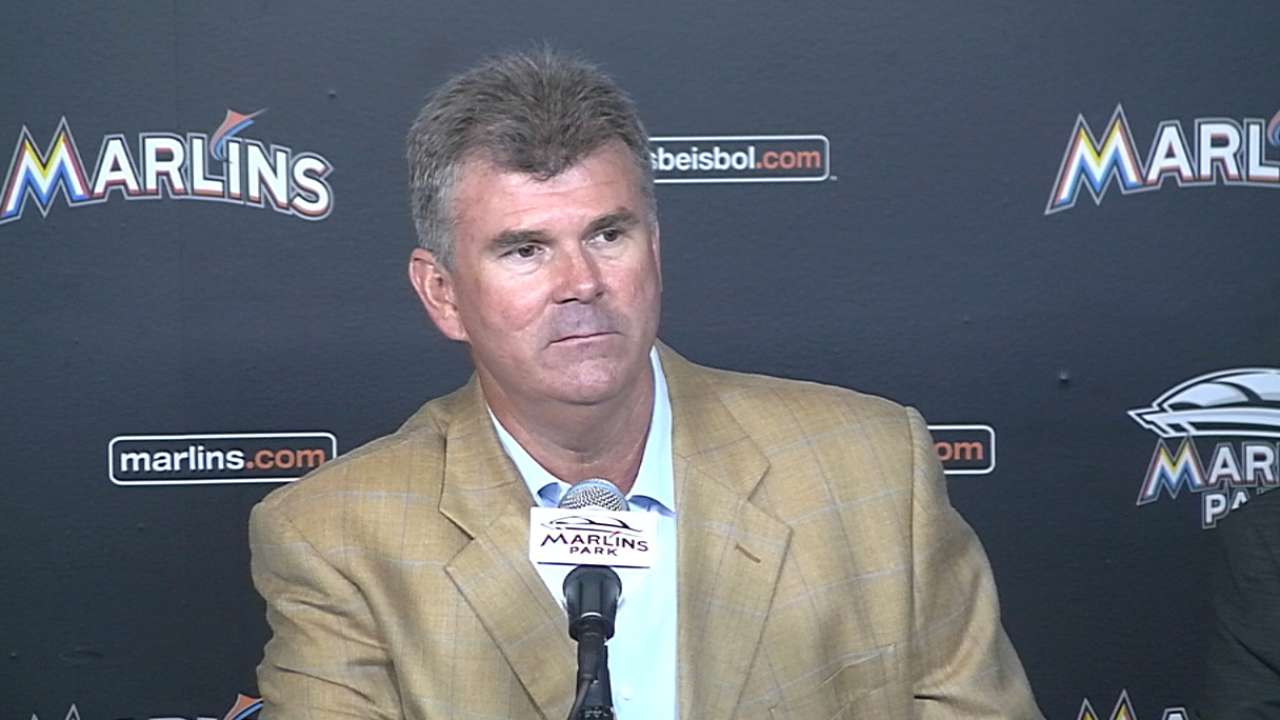 Right-handed pitcher Tom Koehler isn't doubting Jennings' qualifications, either.
"There's no questioning about how much he knows about the game of baseball," Koehler said. "He's got great leadership skills, and obviously he's showed that in his front office positions, so we'll see how that translates onto the field."
Jennings, who last coached a high school team in the 1980s, is known for his outgoing personality and charisma. Stanton said that dimension should benefit the struggling Marlins.
"He's an Alabama guy from the south," he said. "He's got some fire in him and the character for it. But you have to play it out. You can't just flip a coin and everything's going to work."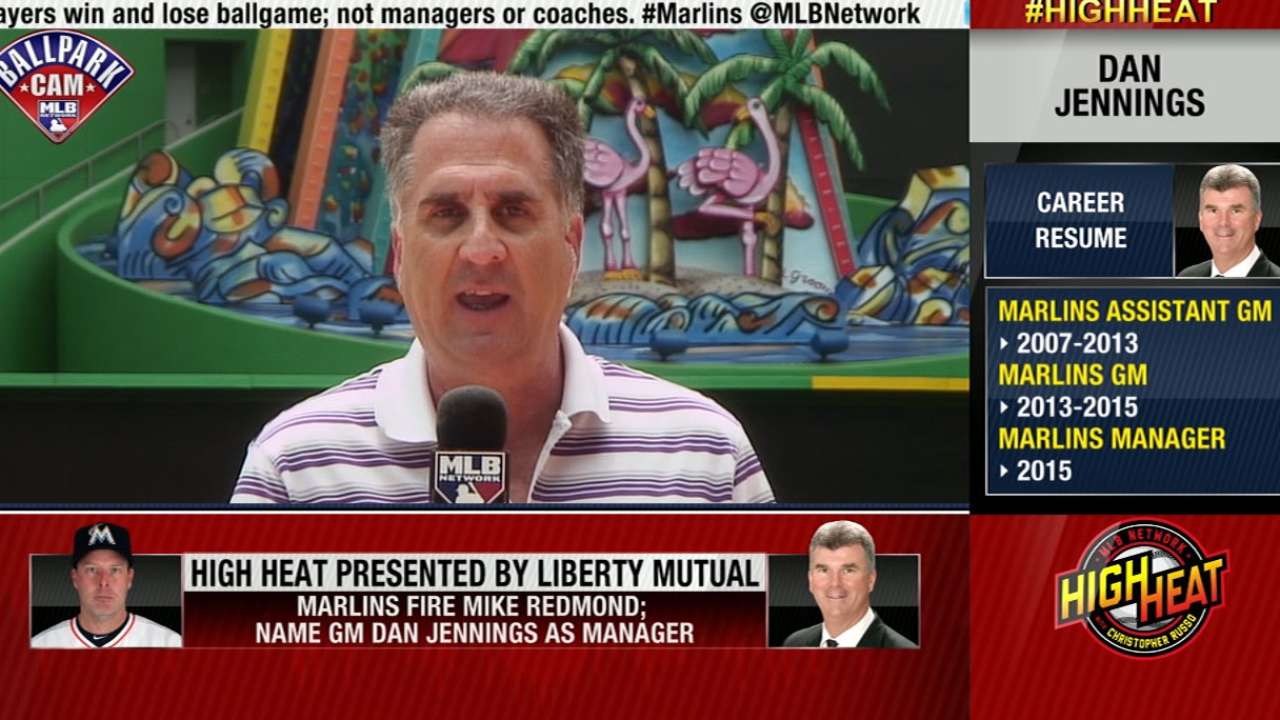 After Monday morning's introductory press conference, Jennings addressed the entire team for the first time in his new position.
"In the team meeting we just had, he pretty much proved himself that he's fully committed to this team and getting us going again," reliever Steve Cishek said. "We just want to put everything that's going on behind us and worry about winning games.
"We know he's going to come in here and motivate us like crazy because he's a great speaker."
All things considered, Kohler suggested that Jennings may be less stressed in his new role inside the dugout.
"I don't think he's going to be exactly feeling the pressure on it," Kohler said. "[General managerial] decisions are decisions that are affecting guys' contracts like where they're going and where they're playing, so if anything, it might be a relief because now it's just a game. He's just got to decide if someone has to run fast or bunt."
Steve Wilaj is an associate reporter for MLB.com. This story was not subject to the approval of Major League Baseball or its clubs.