MLB.com Columnist
Bernie Pleskoff
Versatile Spangenberg contributes in different ways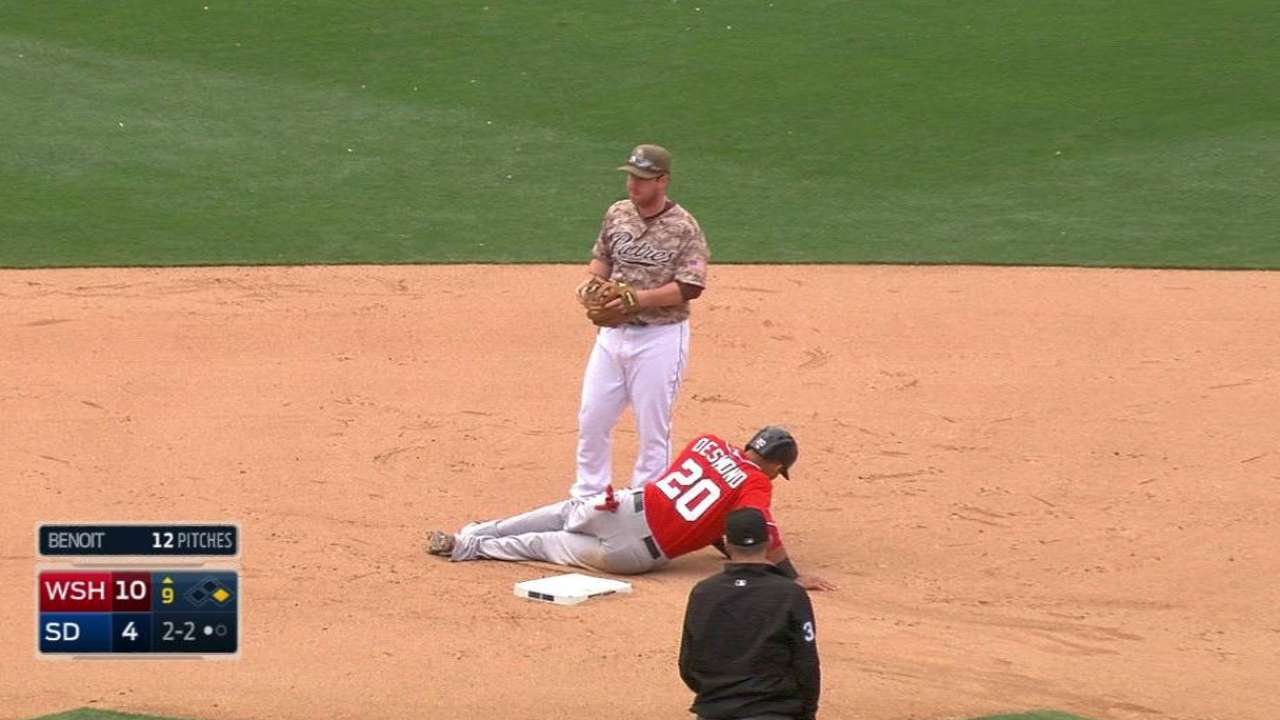 A complete and well-balanced baseball team is as good as the sum of its parts. It takes the entire roster to contribute to playing winning baseball. Cory Spangenberg is the type of player that strengthens and completes a solid big league roster.
Following his graduation from Abington Heights High School in Clarks Summit, Pennsylvania, where he led his club to a state baseball championship, Spangenberg went to Virginia Military Academy. He was named the 2010 Big South Conference Freshman of the Year. Seeking a greater concentration on his baseball life, he left VMI and transferred to Indian River Community College in Fort Pierce, Florida. It proved to be an outstanding decision for his ultimate career path.
Instead of accepting a scholarship to the University of Miami as had originally been planned, Spangenberg became a first-round selection of the San Diego Padres. The left-handed hitting, right-handed throwing second baseman was the 10th overall pick in the 2011 First Year Player Draft.
Spangenberg was No. 7 on the Padres Top 30 Prospect list until recently when he graduated from the list after eclipsing the eligibility guidelines.
Spangenberg has extremely good speed that has translated to 104 stolen bases in 144 attempts in parts of four Minor League seasons, and a brief 14-game stint in the 2014 Dominican Winter League. Speed is his best tool.
Spangenberg has always been able to hit for a good batting average, compiling a Minor League average of .296 in parts of four seasons. His best-full year of play was last season at Double-A San Antonio where he hit .331 in 304 plate appearances. In 2011, his first year of professional baseball, he hit .384 in 25 games and 121 plate appearances for Eugene in Class A Short Season. That earned him a stop at Class A Fort Wayne to finish his season hitting .286 in 209 additional plate appearances.
Spangenberg missed development time in both 2012 and 2014 with concussions. But he has recovered fully and is now playing a utility role for the parent Padres. It is his second opportunity with the big league club, as he made his debut last Sept., 1 against the Arizona Diamondbacks.
I first scouted Spangenberg in the 2012 Arizona Fall League when he played for the Peoria Javelinas. Just two seasons into his career, he played in the premier winter development league and hit a sparkling .345. He played errorless baseball. He returned to the league in 2014 and led the Javelinas with a .308 batting average with two homers and 7 RBIs. He also stole seven bases in eight attempts.
A very good athlete, Spangenberg is 6-feet, 195 pounds. Using a short swing helps him slap the ball over the infield or hit the gaps for extra bases, he doesn't generate much bat speed and the end result is a lack of home run power.
To his credit, Spangenberg hasn't changed his approach or lengthened his swing to hit the ball over the fence. He knows his strength is getting on base and ultimately scoring runs. He uses the entire field from foul pole to foul pole, taking pitches where they are thrown.
Last year, Spangenberg played second base, third base, center field and left field in the Padres system. His versatility allows the club to spot him wherever he is needed on the field. For me, his skills project best as a second baseman. He has a good first step and he gets to most balls hit his way without difficulty. His arm strength is average at best, making second base a very good location for his defensive strengths. He does, however, have enough arm strength to play third base if needed.
Spangenberg is more a useful component on the roster than an impact player. He likely won't change a game with a three-run homer. Given an opportunity to play at the big league level this year, he can show the Padres how his speed and his line drive hitting ability benefit the club. He can come off the bench as a pinch hitter, defensive replacement or as a pinch runner capable of stealing a base at a crucial time in the game.
Bernie Pleskoff has served as a professional scout for the Houston Astros and Seattle Mariners. Follow @BerniePleskoff on Twitter. This story was not subject to the approval of Major League Baseball or its clubs.