MLB.com Columnist
Bernie Pleskoff
Consistent Swihart still has plenty of upside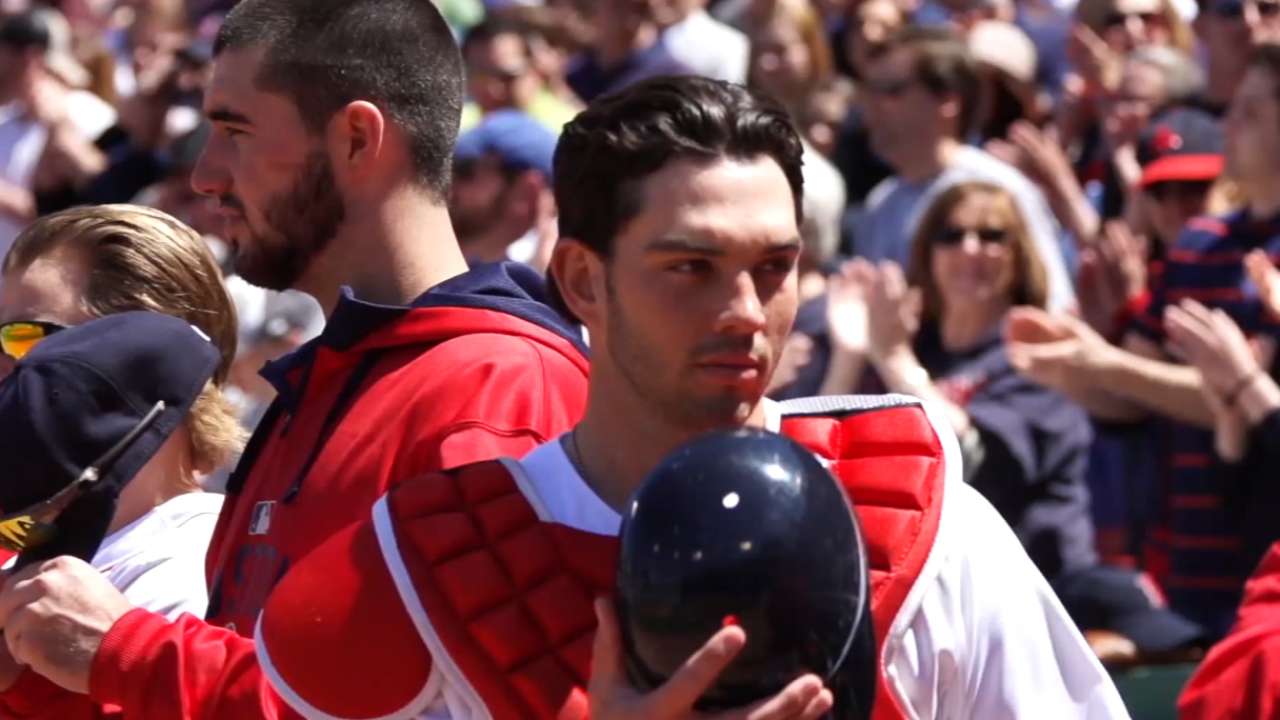 Boston Red Sox catcher Blake Swihart has shown his hitting ability since his days at V. Sue Cleveland High School in Rio Rancho, N.M. The switch-hitter batted a sizzling .602 with 17 doubles, five triples and five home runs in his 28-game senior season. Swihart's long list of accolades and honors earned a baseball scholarship commitment to the University of Texas at Austin.
The Red Sox selected Swihart with the 26th pick in the first round of the 2011 First-Year Player Draft. Instead of going to college, he signed a professional baseball contract and headed for Boston's Gulf Coast Rookie League team. Swihart went hitless in six plate appearances in two games.
The following year, Swihart played exclusively at Class A Greenville, where he hit .262 with 17 doubles, four triples, seven home runs and 53 RBIs. The hitting stroke and power were beginning to surface.
The year after that, Swihart showed his talent once again, but at a higher level of play. At Class A Advanced Salem, he hit .298 with 112 hits in 103 games, including 29 doubles. Swihart also threw out 43 percent of runners trying to steal. His Minor League career average is 39 percent.
Swihart has completed parts of five seasons in the Red Sox's development system. He has a healthy composite batting average of .287 in 1,331 trips to the plate.
Swihart is such a good prospect that he has been ranked No. 2 among Boston's Top 30 Prospects. He is behind only recently acquired Cuban infielder Yoan Moncado. Swihart is the top-ranked catching prospect. He is ranked the No. 19 player among MLB.com Top 100 Prospects. There is considerable excitement about Swihart's upside and future.
The 6-foot-1, 205-pound Swihart converted from being exclusively a right-handed hitter to switch-hitting in high school. He has a line-drive swing and will likely hit for a high batting average against quality pitching. Swihart's barrel-of-the-bat contact and consistent swing mechanics from both sides of the plate form the basics of his offensive approach. He recognizes pitches early and has enough selectivity to swing at his pitches -- not the pitcher's pitch.
An excellent athlete with a very mature approach, Swihart is a gap hitter with future double-digit home run potential. As his overall offensive game progresses, Fenway Park may not be able to hold his line-drive shots. Having just turned 23 in early April, it is possible Swihart will gain additional weight and upper body strength. The Green Monster in left field may get quite a dose of his hard-hit darts.
Even though Swihart may be a bit stronger from the right side of the plate, in his career to date, he has been able to hit both right-handed and left-handed pitching extremely well. There have not been any hitting problems or issues in any of the parts of five professional seasons. His eye-hand coordination is very good and that helps his approach, regardless of the throwing hand of the pitcher.
Not quite a completely finished prospect but almost ready, there are times Swihart gets a bit anxious at the plate and chases pitches out of the strike zone. Additional repetition and seeing more pitches will help him adjust.
While he isn't considered a fast runner, once he gets comfortable on the big league club, Swihart may be able to steal some bases by deploying his athletic ability, baseball instincts and knowledge of pitcher's tendencies.
Defensively, Swihart has improved his catching mechanics as well as his ability to call a good game and become a good shepherd to his pitchers. He has good arm strength, quick feet resulting in good shifts, a quick release of the ball and good carry on his throws.
Without a doubt, Swihart projects to become an everyday No. 1 catcher. Injuries have caused the Red Sox to lose both Christian Vazquez and Ryan Hanigan, their top two catchers coming into the season. Now Swihart has been promoted to help out behind the plate at the big league level. He'll be up to the task, and upside to his game remains.
Bernie Pleskoff has served as a professional scout for the Houston Astros and Seattle Mariners. Follow @BerniePleskoff on Twitter. This story was not subject to the approval of Major League Baseball or its clubs.