Miller establishing himself as elite pitcher
Righty 'taking ownership' of career, working hard each day to improve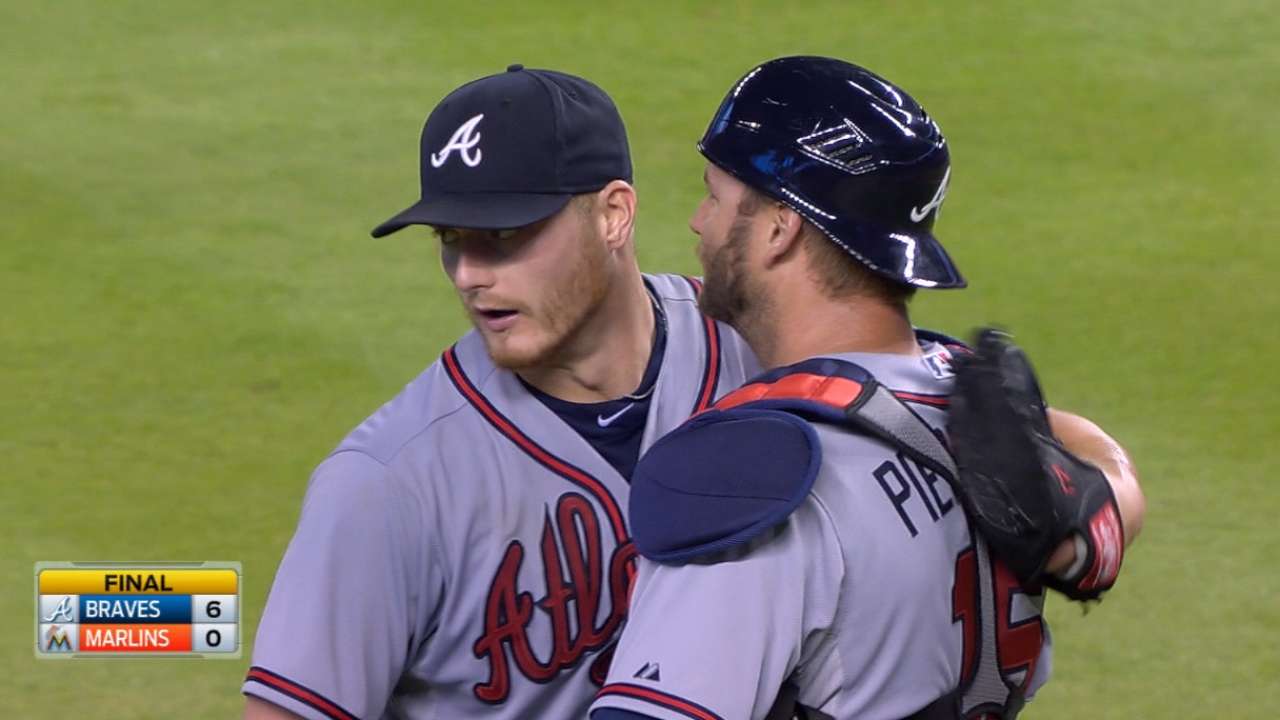 ATLANTA -- As Shelby Miller came within one out of completing a no-hitter on Sunday afternoon at Marlins Park, Braves president of baseball operations John Hart and assistant general manager John Coppolella peered overhead from their private box and gained even more reason to believe they had indeed got exactly what they wanted in exchange for Jason Heyward.
When Atlanta acquired Miller and talented pitching prospect Tyrell Jenkins in the November deal that sent Heyward and reliever Jordan Walden to St. Louis, it viewed Miller as an extremely talented young pitcher with a high upside who might need a little more time to realize his potential to firmly establish himself as one of baseball's elite pitchers.
"We loved Shelby and we didn't blink," Hart said. "We just went with it. The deal probably came together in 48 to 72 hours. We just felt it was the right deal for us. There was interest from other clubs [in Heyward], but this was the one we really liked because we liked Shelby. We valued Shelby and felt there was still upside."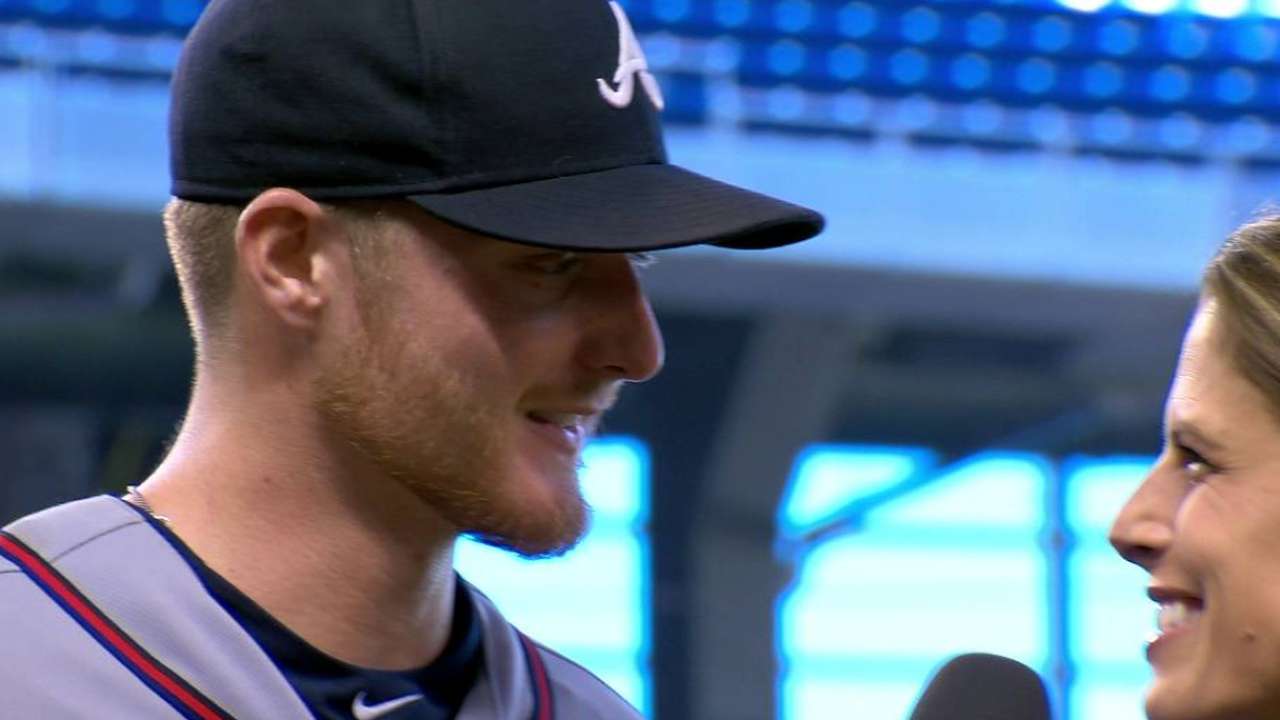 Like any other 24-year-old pitcher, Miller certainly has room to improve over the remainder of his career. But it would be quite difficult for him to be any better than he has been while producing a pair of shutouts and a Major League-best 1.33 ERA through the first eight starts of this season.
After his historical bid ended with Marlins first baseman Justin Bour's two-out ninth-inning single on Sunday, Miller completed his two-hit shutout and then said he hoped to have future opportunities to pitch a no-hitter. As he has surrendered hits in just six of his past 25 innings, the dominant hurler has at least created some reason to believe he might not have to wait long to realize his wish.
"He's made a lot of adjustments and it's been a lot of fun to watch," Hart said. "The one thing that I like is this guy is prepared and he's taking ownership in his career. He's in the video room and the weight room. He's paying attention and he's experimenting. This is a pretty special young man on top of what he has been able to do for us on the mound."
When the trade was made, it was immediately attractive to the Braves from the standpoint that they had gained at least four years of control of Miller in exchange for one last year with Heyward -- a homegrown outfielder who was going to be seeking much more than Atlanta was willing to offer when he hits the free-agent market after this season.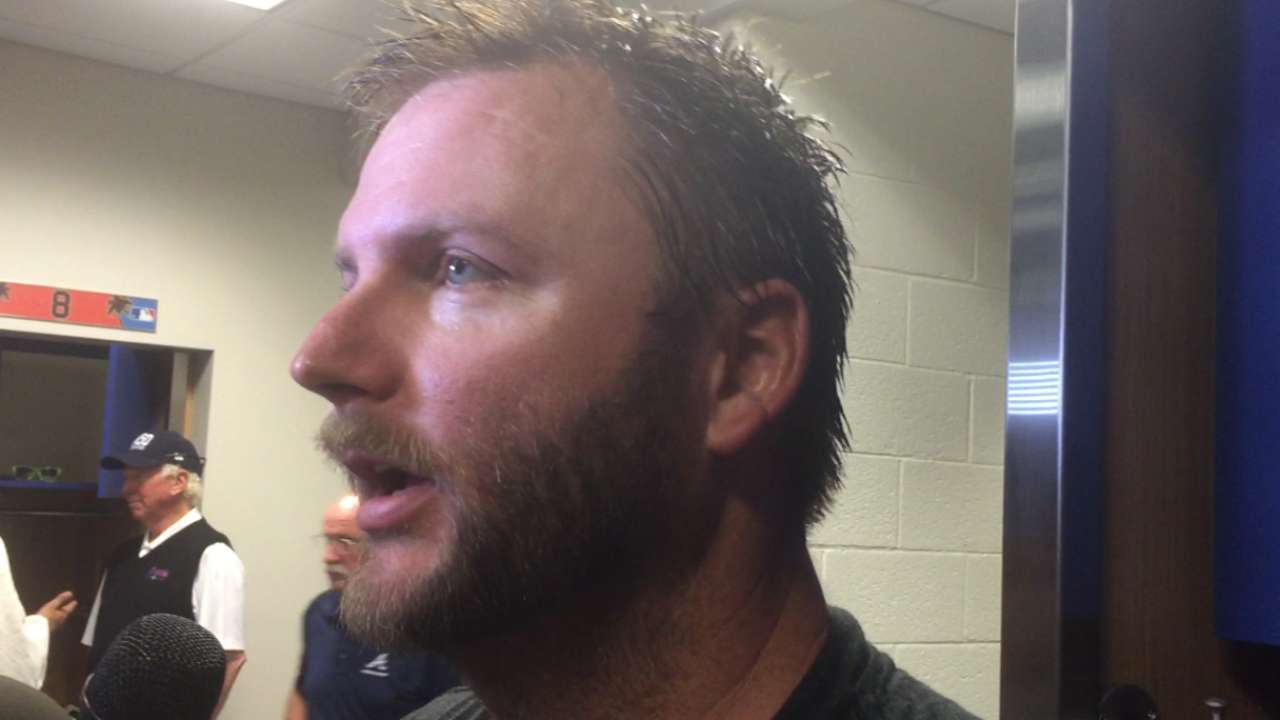 At the same time, the Braves knew they had potentially gained something special in the form of Miller, a former first-round selection whose powerful right arm has drawn the attention of baseball executives and scouts dating back to his high school days in Texas.
Though Miller's power -- which was seen when he used a trio of 97-mph fastballs to notch a three-pitch strikeout of Giancarlo Stanton on Sunday -- provides a sexy aspect to his arsenal, he spent most of his first two years at the Major League level routinely realizing why Adam Wainwright and many of his other Cardinals teammates were imploring him that he needed to have more than just a four-seam fastball and a curveball in his arsenal.
Miller's ascension from thrower began on Aug. 23, when he finally found enough comfort to add a two-seam sinking fastball to his arsenal. In the 15 starts that have followed, he has produced a Major League-best 1.66 ERA (minimum 10 starts). During the 15 starts that had immediately preceded this stretch, he had fashioned a 5.11 ERA.
According to Fangraphs, Miller utilized his four-seam fastball on 61.6 percent of the pitches he threw last year. With two-seam sinker and a cut fastball now a much more prominent part of his arsenal, this year's fastball-type breakdown is much more diverse: 34.2 percent (four-seamer), 33.1 percent (two-seamer) and 19.1 percent (cutter).
"It's like he has multiple fastballs," Hart said. "He has that power sinker and the big four-seamer. He's also got the cutter and the breaking ball. He's got it going on. He's got some weapons and he's developed those weapons."
Mark Bowman is a reporter for MLB.com. This story was not subject to the approval of Major League Baseball or its clubs.