Parallels link McCovey, Pence through years
Both Giants had early season affected by broken arm and homered shortly after return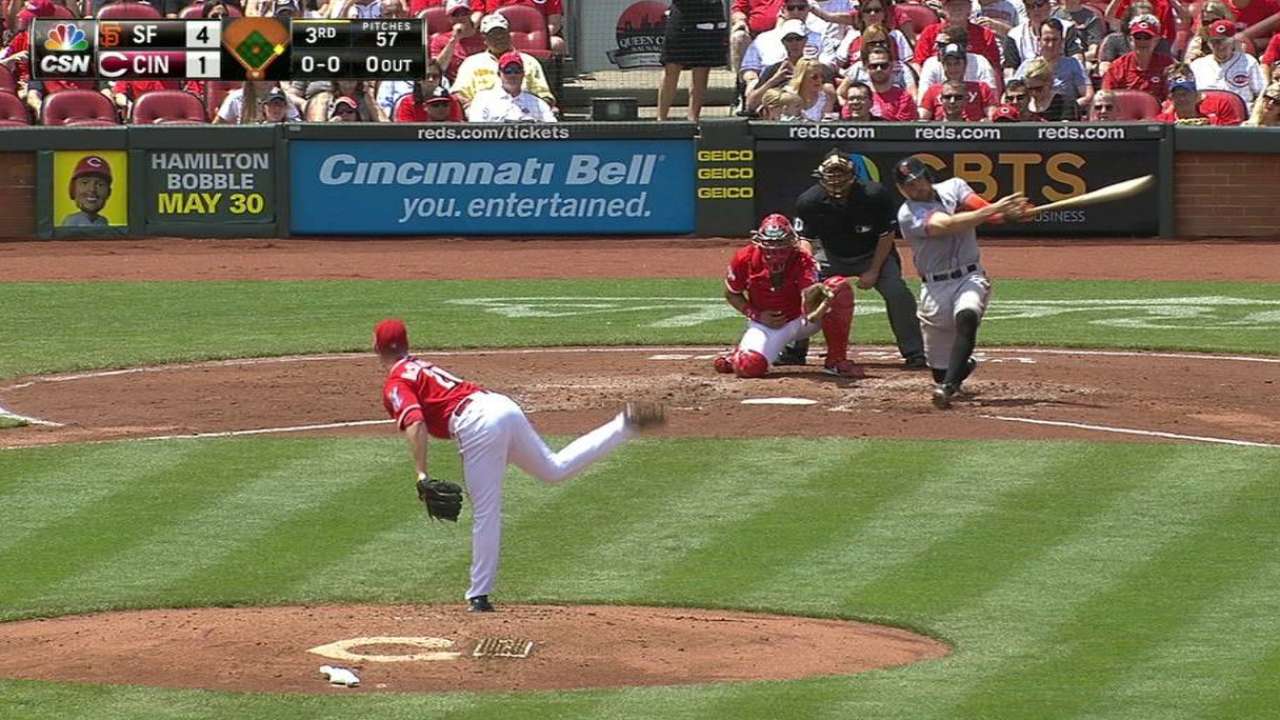 SAN FRANCISCO -- A Giants middle-of-the-order hitter misses much of the early season with a broken arm. The club's offense struggles without him. He rejoins the lineup and almost immediately asserts himself by clobbering a home run.
Such are the parallels between Willie McCovey and Hunter Pence. McCovey broke his right arm on April 18, 1972, in a collision with San Diego's John Jeter; Pence fractured his left forearm when Cubs farmhand Corey Black hit him with a pitch in a March 5 exhibition.
Slumping miserably after winning the National League West the previous year, those 1972 Giants owned a 17-31 record and occupied last place in the division when McCovey homered in his first game back from a 44-game absence. Pence homered on Sunday in his sixth plate appearance of the season for the reigning World Series champions, who are 20-18 and 4 1/2 games behind the Los Angeles Dodgers. The archrivals begin a three-game showdown at AT&T Park on Tuesday.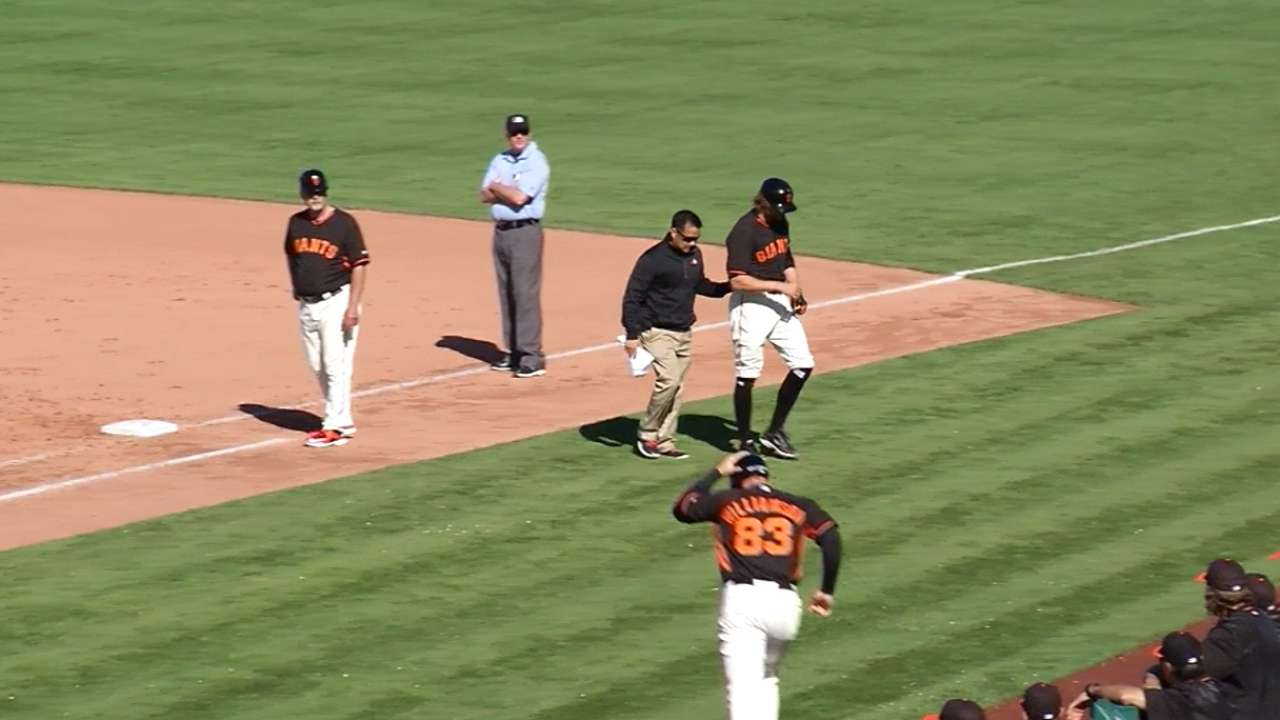 McCovey knows what he'd do if he were Pence: He'd strap a hard plastic guard onto his front arm during plate appearances to protect it from wayward pitches. Pence, who returned to San Francisco's lineup on Saturday in Cincinnati after missing the first 36 games, does not seem to want a large encumbrance, though he wrapped a pad around his lower forearm in his first two games.
McCovey related that he recently asked Pence -- who was honored with the 2013 Willie Mac Award -- whether he'd consider wearing a full-fledged arm guard.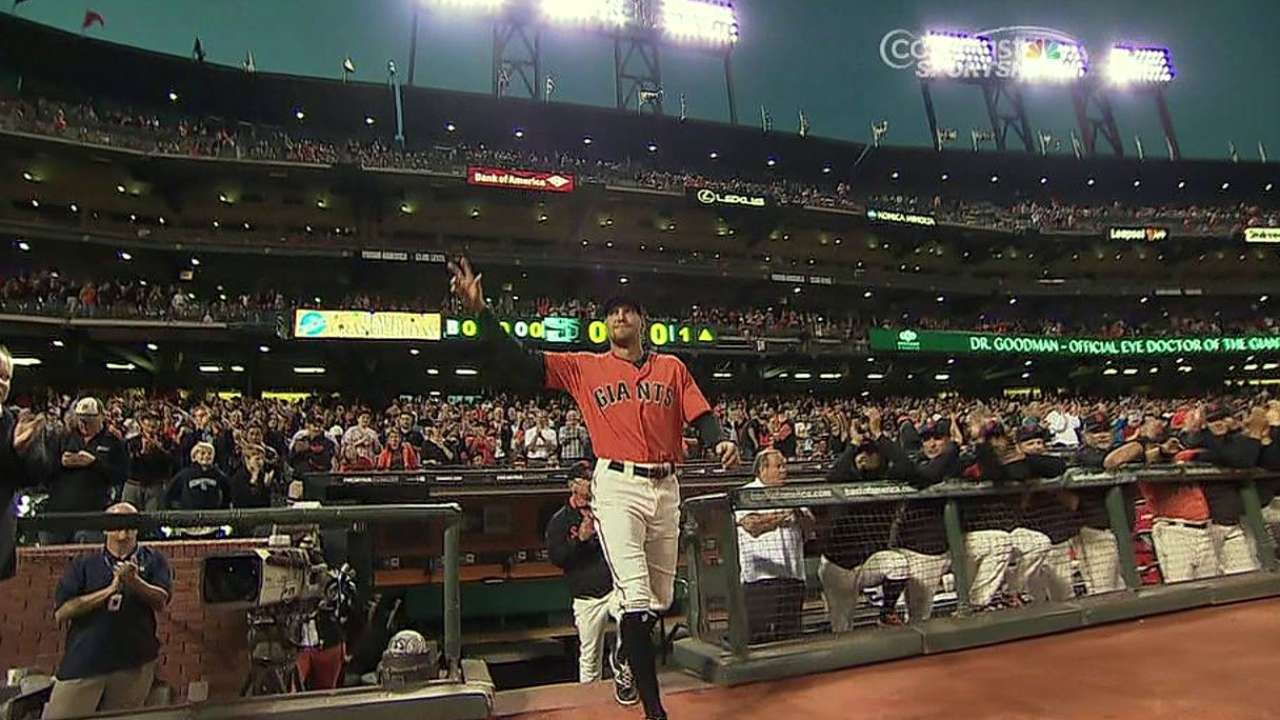 "He said, 'No, no, no,' " said McCovey, the Hall of Fame first baseman who remains a Giants senior advisor. "I said, 'You're crazy.' If they would have been available for me, I think I would have worn one."
McCovey emphasized, "I didn't try to convince him. I just asked him the question."
McCovey observed that Pence's hitting style makes him vulnerable to being struck by pitches.
"He dives into the ball," said McCovey, who was hit only 69 times in 9,692 career plate appearances. "These guys nowadays don't know how to get out of the way. You're supposed to turn away from the ball. I see a lot of guys get hit because they're going into the pitch instead of turning away from it."
Bad luck, not faulty technique, caused McCovey's broken arm. Striving to beat out the back end of a possible double play, Jeter ran into McCovey, who was reaching for an off-line throw from second baseman Tito Fuentes. The injury spoiled a promising start for McCovey, who homered on Opening Day and was 4-for-12 when he was sidelined.
Expected to miss two months, McCovey needed barely more than six weeks to heal -- though a foot-long steel rod had to be inserted into his arm to stabilize it.
"From my elbow all the way down to my wrist," recalled McCovey, who played all season with the implant until it was removed in late October. "After a while, you get used to it."
Leaving for road trips, however, reminded him of the foreign object.
"It set off the metal detectors at the airport," he said.
It also reflected McCovey's stoicism, which he displayed while playing without complaint for 22 Major League seasons despite frequent knee trouble.
McCovey further enhanced his legend in his first game back after being cleared to play. Unlike Pence or other contemporary performers, McCovey didn't have the opportunity to sharpen his swing during a Minor League injury rehabilitation assignment. So it was with a touch of wonder that McCovey celebrated his comeback by belting a two-run, sixth-inning homer off Pittsburgh's Steve Blass in a 4-3 Giants defeat.
"That was a big thrill," McCovey recalled.
Broadcaster Lon Simmons captured the drama with typical gusto: "A man with a broken arm has just hit a home run! Nice to have you back, Stretch!"
The excitement ebbed as the Giants finished 69-86 in a strike-shortened season. Will this year's Giants endure similar futility despite Pence's recovery?
"Let's hope not," McCovey said.
Chris Haft is a reporter for MLB.com. Read his blog, Haft-Baked Ideas, follow him on Twitter at @sfgiantsbeat and listen to his podcast. This story was not subject to the approval of Major League Baseball or its clubs.