Gomez returns from plunking with homer, winning hit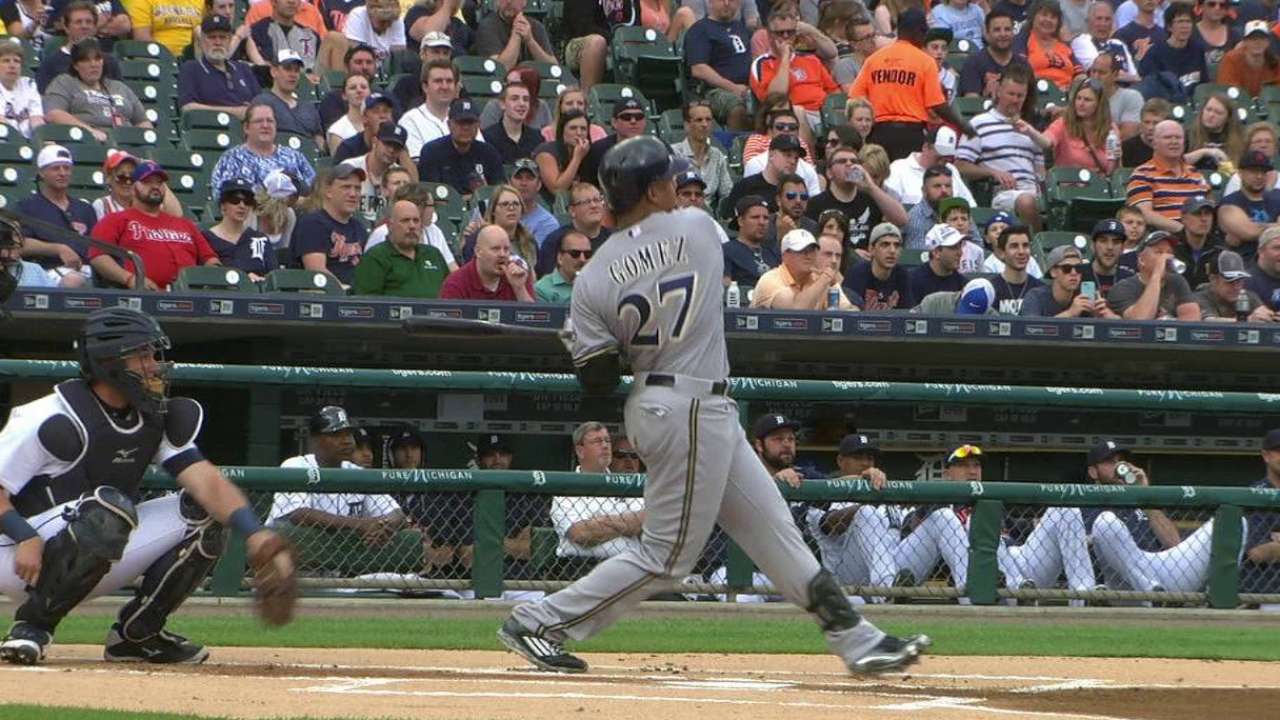 DETROIT -- Smacked in the head by a 97-mph fastball one day, returning to the starting lineup to hit a leadoff home run and a game-winning single the next day.
That was the scenario for Brewers center fielder Carlos Gomez, who remained free of concussion symptoms on Monday and was inserted into the leadoff spot, as usual, against the Tigers. He smacked the game's third pitch into the left-field seats for his eighth career leadoff home run, and six innings later he delivered the RBI single that sent the Brewers to a 3-2 win in the opener of an Interleague series at Comerica Park.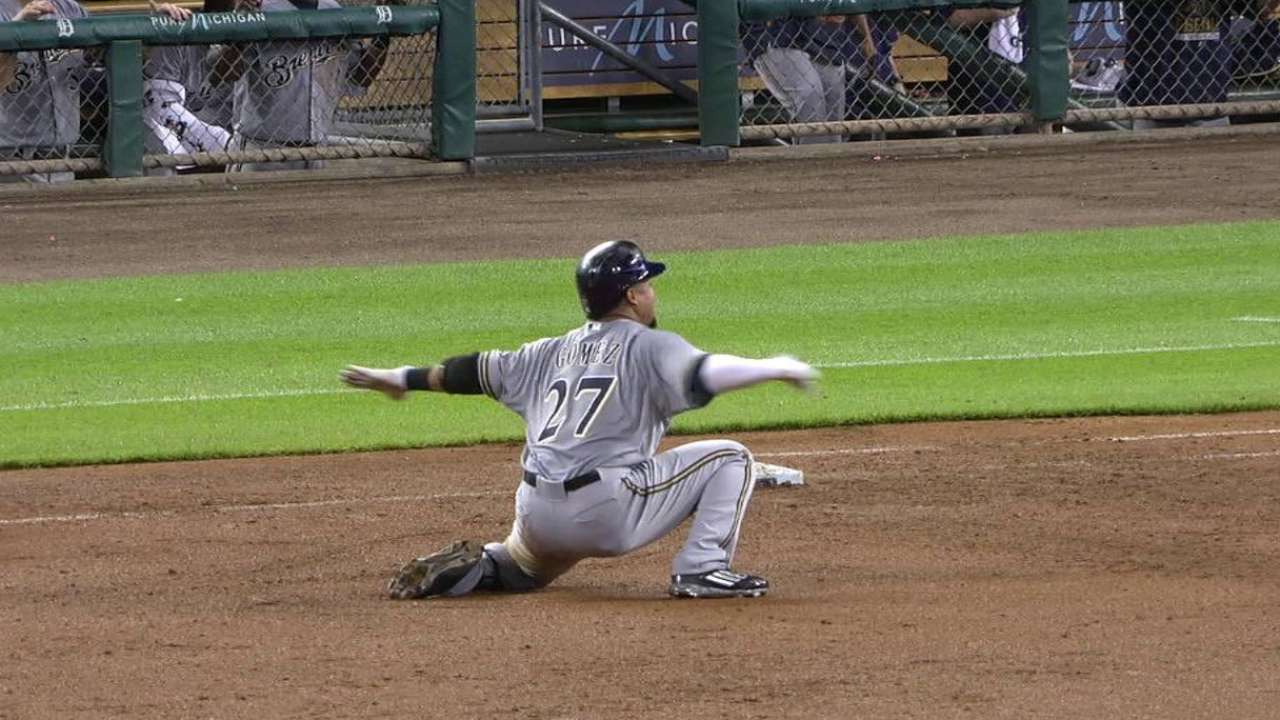 "It's not about me, it's about we lost two games in a row and came here in Detroit to face a good team. To get a 'W' is big," Gomez said.
Gomez was one day removed from being hit on the left side of his helmet by a fastball from Mets rookie Noah Syndergaard -- a scary moment in Milwaukee's 5-1 loss at Citi Field. But Gomez passed a concussion test after leaving the game, then passed another test Monday afternoon by riding the stationary bike to see how he responded to an elevated heart rate.
"I took him out [Sunday] more because you're shook up when that happens," manager Craig Counsell said. "But as long as the doctor clears everything and he felt fine and he wanted to play [Monday], he was good."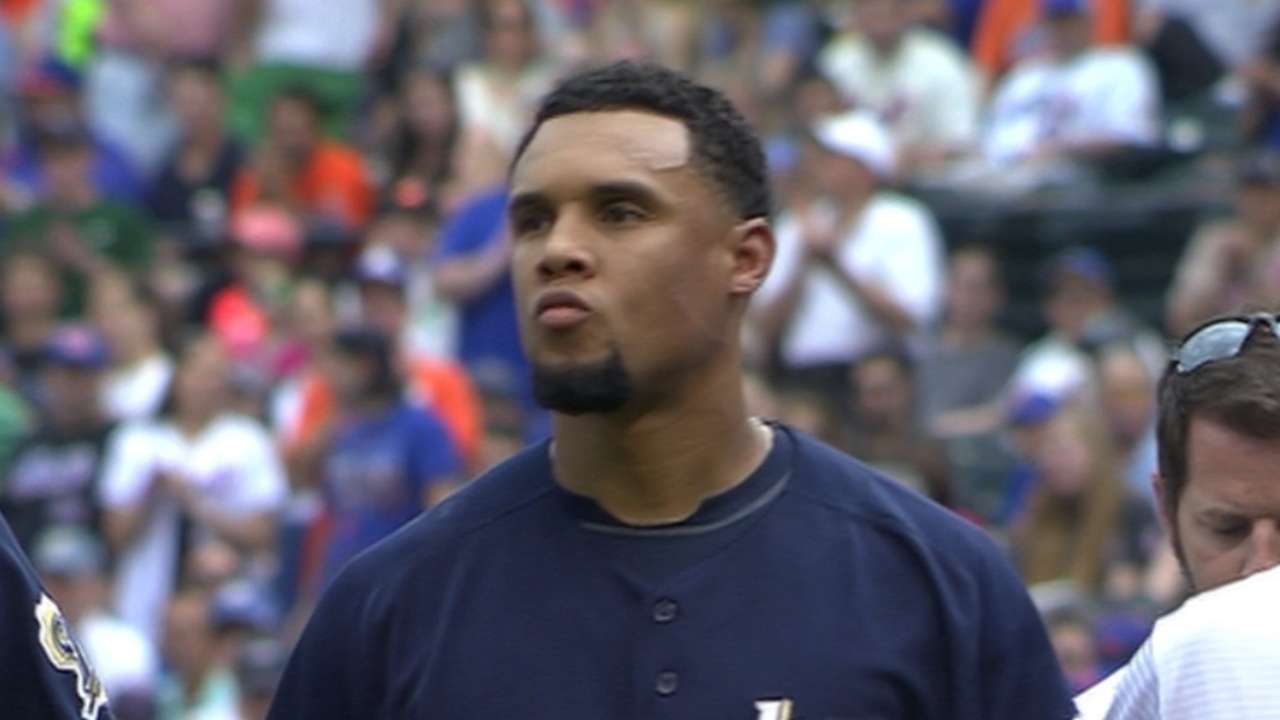 Asked whether he felt lucky, Gomez said, "Of course. One inch down can be really dangerous, scary. I'm lucky it hit the ear flap. … The helmet we use now is the heavy-duty one. The league says you have to use that. If it's the one we had in the past, I'd probably have a concussion."
When Syndergaard took to Twitter after the game to wish Gomez well. Gomez responded, then took the additional step of texting friend Juan Lagares, the Mets' center fielder, to ask for Syndergaard's mobile phone number.
@Noahsyndergaard Thx for the concern bro, it's part of the game. Thank God I'm ok. Keep up the good work, ur going to be a great pitcher!

- Carlos Gomez (@C_Gomez27) May 18, 2015
On Monday afternoon, the two exchanged text messages.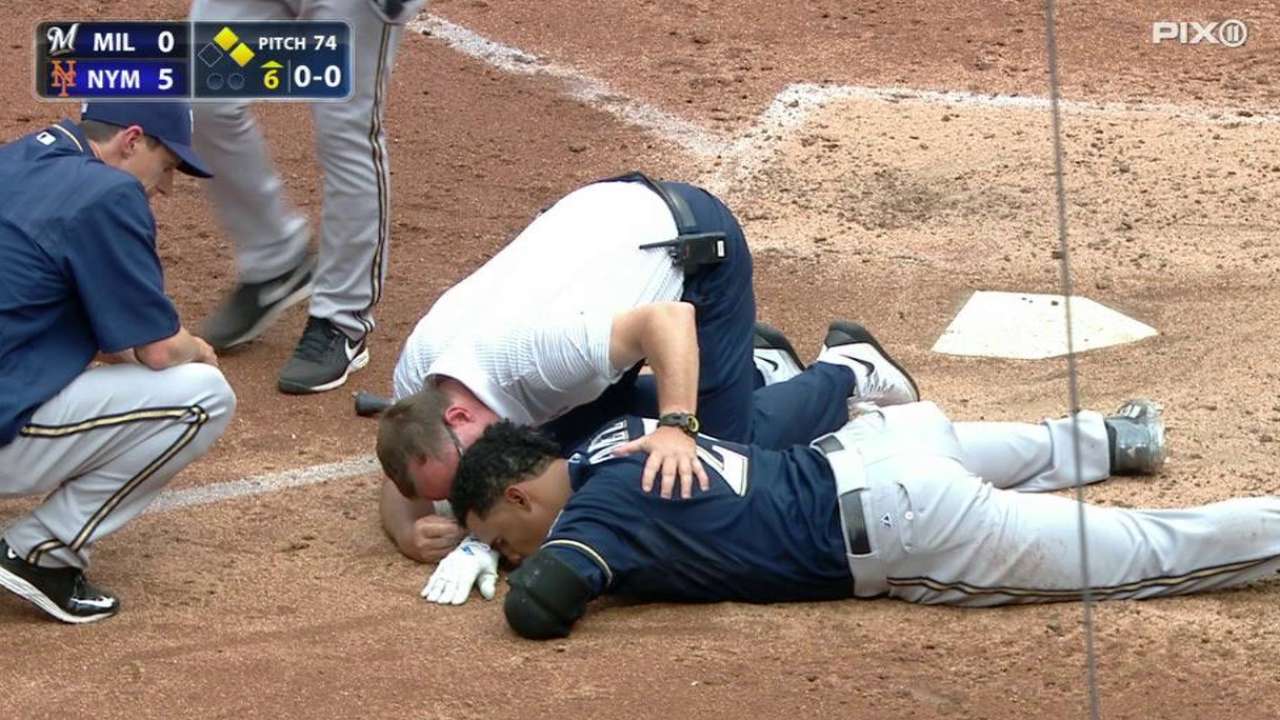 "I wanted to make sure it doesn't affect his career," Gomez said. "Most of the time when you throw hard and hit somebody, scary like that, it gets in your head. You start get a little bit scared to throw inside.
"I talked to him today and I said, 'I made sure to talk to you because I see you [were] really scared in the tough moment. You have a long career and I don't want this to get in your head.' He sent me a message and I texted him back. I said, 'No worries. It's part of the game. Don't be afraid to throw inside. You're going to have a long career, a beautiful career. Just continue doing what you are doing. Don't put this in your head that I'm scared to throw inside.'"
Adam McCalvy is a reporter for MLB.com. Follow him on Twitter @AdamMcCalvy, like him on Facebook and listen to his podcast. This story was not subject to the approval of Major League Baseball or its clubs.