Go-Town? Gomez lifts Crew in Detroit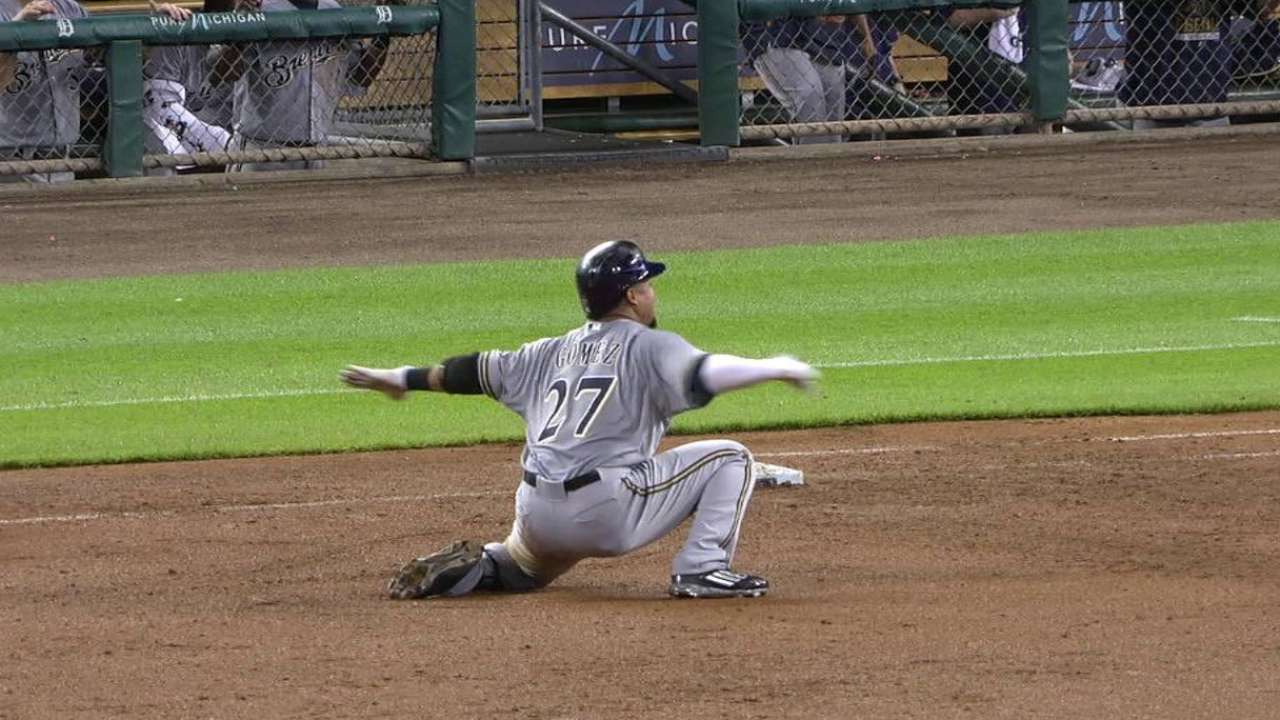 DETROIT -- Like the mid-evening thunderstorms that rumbled through Michigan on Monday evening, the Brewers rolled into town and cooled off a Tigers offense that had seemingly heated up in St. Louis. Mike Fiers and the Milwaukee bullpen held down Detroit long enough for Carlos Gomez to strike with a go-ahead RBI single in the seventh for a 3-2 win at Comerica Park.
"We've said, 'What kind of team do we want to be?'" said Brewers manager Craig Counsell, who celebrated his two-week anniversary on the job. "When you see a game like tonight and you feel like we can be that team."
Fiers and Tigers left-hander Kyle Lobstein dueled for much of the game -- Milwaukee getting solo homers from Gomez and Aramis Ramirez, Detroit manufacturing runs with ground balls and stolen bases. Lobstein recovered from the long balls to retire seven in a row until Elian Herrera's leadoff single set up the deciding run.
"They kind of stole two runs from us early with some great baserunning, quite honestly," Counsell said.
A rare missed chance at a double play from Tigers second baseman Ian Kinsler and shortstop Jose Iglesias kept Luis Sardinas on base. Sardinas advanced on Martin Maldonado's two-out ground-ball single (snapping an 0-for-19 slump since his walk-off hit on Mother's Day), and Tigers manager Brad Ausmus let Lobstein get a fourth turn against Gomez, who sent a grounder through the middle to put the Brewers on top, 3-2.
MOMENTS THAT MATTERED
All good for Go-Go: Gomez said he was fine after being struck in the head by a 97-mph fastball on Sunday afternoon against the Mets, and a battery of concussion tests concluded the same. If there was any lingering doubt, Gomez erased it when he lifted the game's third pitch to the left-field seats for his eighth career leadoff home run. It was his fourth homer of the season. More >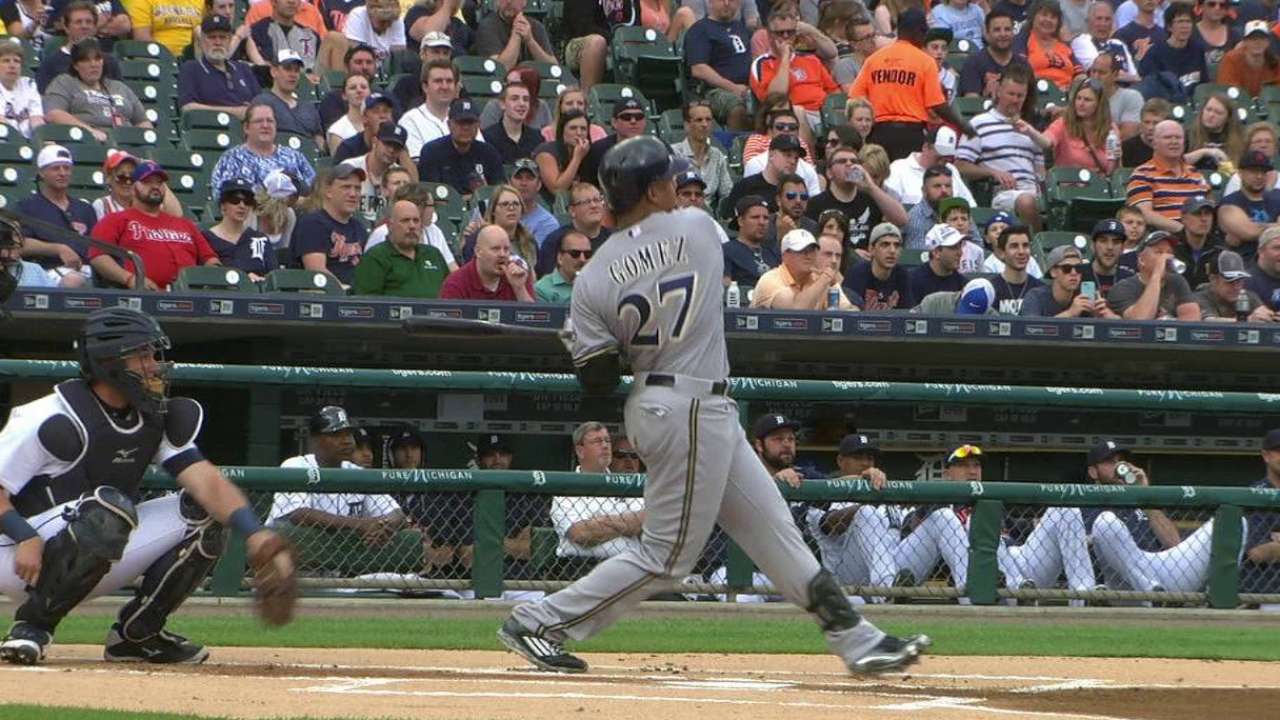 Mc-Can lay down a bunt: The Tigers used ground-ball hits and stolen bases to put together their first two runs, but no hit was as daring as James McCann's two-out bunt single to score Rajai Davis from third base. The rookie catcher executed a perfect chopper toward third that left no chance for a play at first.
"We've talked about it as far as checking out that third baseman down the line," said McCann, who got a suggestion from third-base coach Dave Clark. "If he's going to play back and give it to me, then I might as well take it."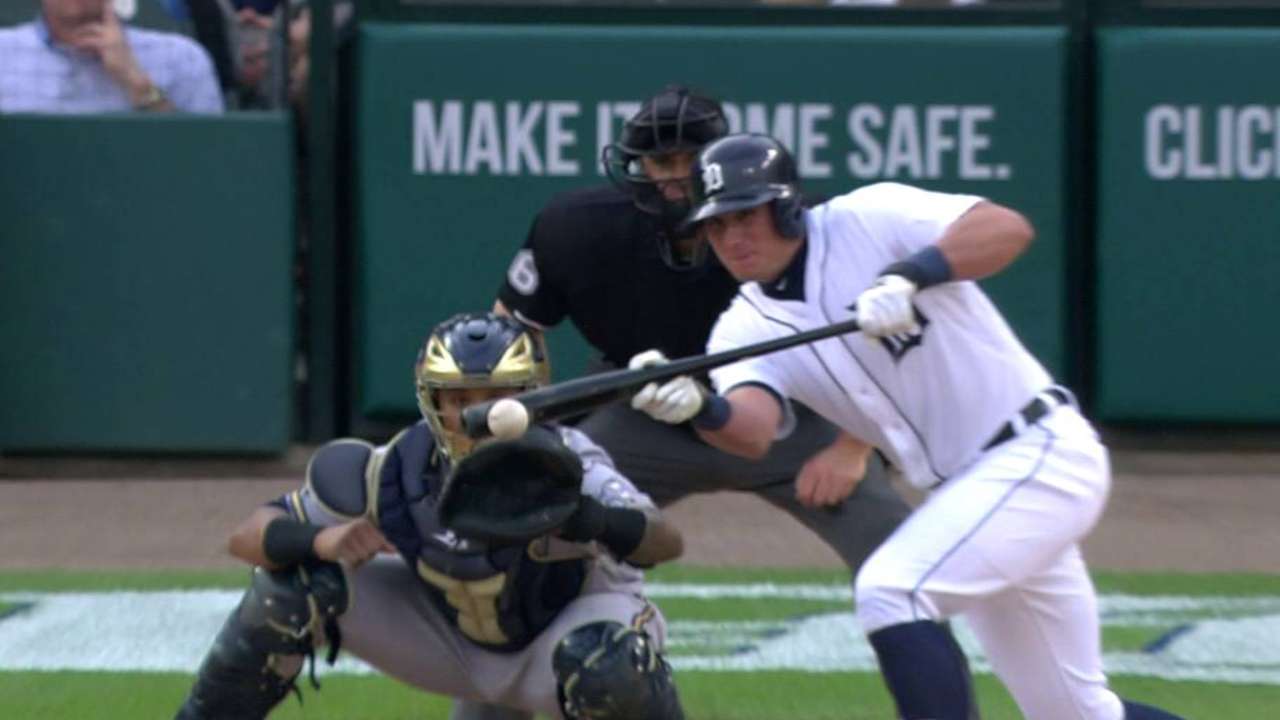 Sweet relief: Brewers relievers Jeremy Jeffress and Jonathan Broxton combined to strand Tigers runners in scoring position from the sixth through the eighth innings -- Jeffress continuing his run of success and Broxton reversing what Counsell has called a slump. All three innings ended with strikeouts, including when Broxton touched 98 mph to overpower J.D. Martinez with the potential tying run at third base in the eighth. More >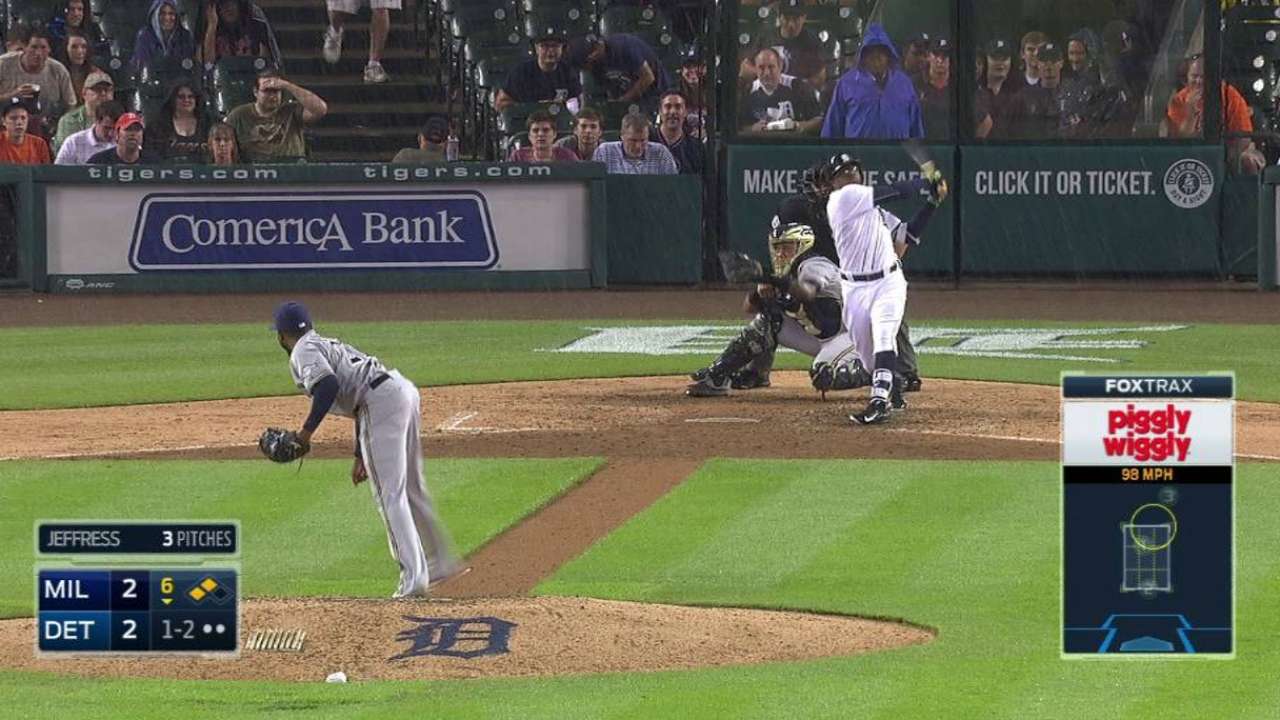 Gose gets to it: Milwaukee's go-ahead rally in the seventh inning could've broken the game open if not for Tigers center fielder Anthony Gose, whose diving grab robbed Khris Davis of an RBI single and kept Ryan Braun from stepping to the plate with another runner in scoring position.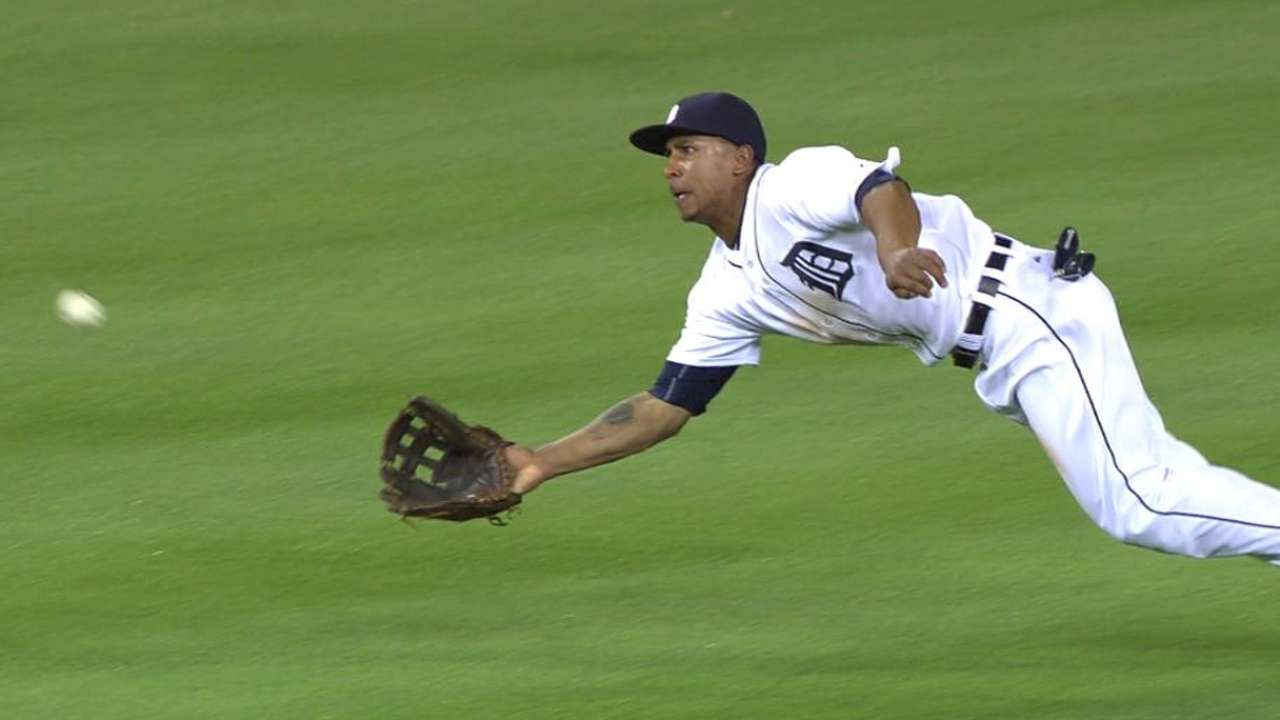 UPON FURTHER REVIEW
The Tigers hoped to save an out from a crippling double-play grounder from Victor Martinez with two on and nobody out in the eighth, leading to a Brad Ausmus challenge. Though replay angles seemed to show Martinez's foot hitting the bag as first baseman Adam Lind gathered the throw, a two-minute, 48-second review proved inconclusive. The double play was allowed to stand, leaving a runner on third with two outs before Broxton struck out J.D. Martinez. Making matters worse for the Tigers, Victor Martinez appeared to tweak his surgically repaired left knee when he lunged and planted on the bag. The DH didn't bat again, so his prognosis wasn't immediately made known. More >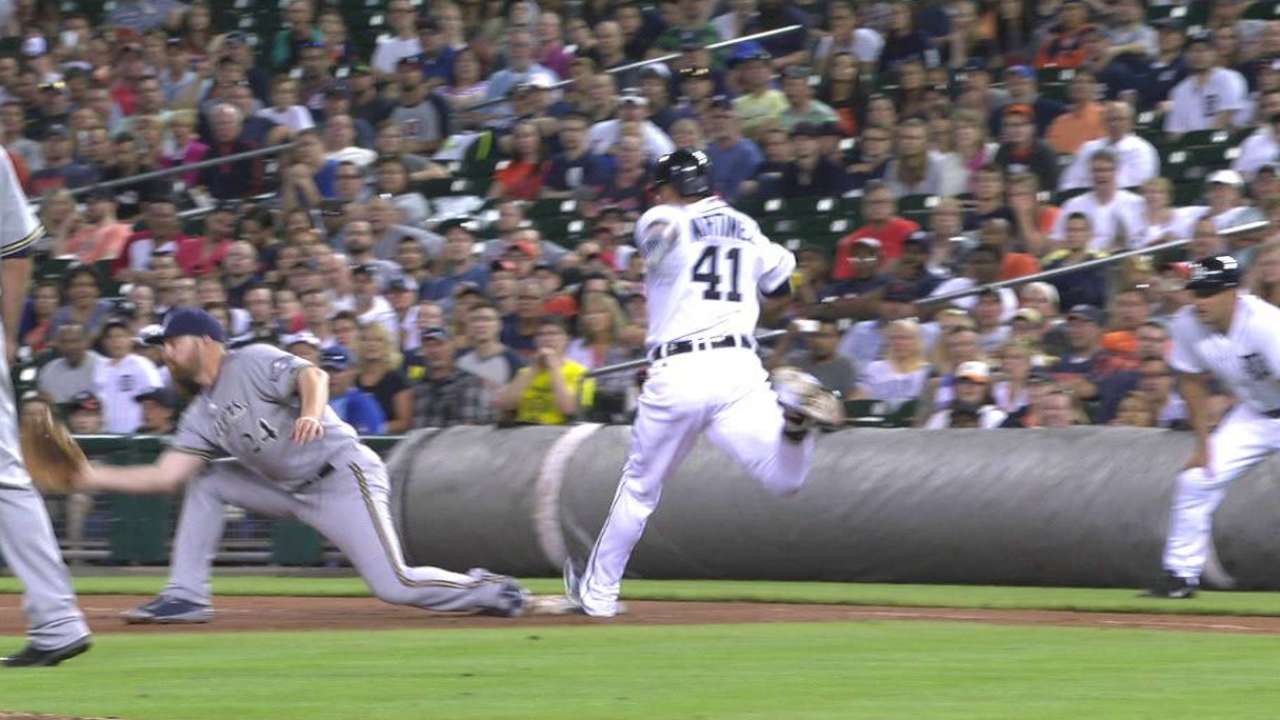 QUOTABLE
"To see Fiers throw the ball like that today, and see the bullpen come really strong, this is what we're supposed to do. Personally, I feel really good. But generally, it's about the 'W.'" -- Gomez
"From the looks of things, I think we're going to have to at least talk about other options. But we'll do that privately." -- Ausmus, on the status of Victor Martinez, who went 0-for-4 in his return after three days out of the lineup
WHAT'S NEXT
Brewers: Since winning his 2015 debut, second-year Brewers starter Jimmy Nelson is 0-4 with a 5.05 ERA in six starts. He'll try to end his losing streak when Milwaukee and Detroit meet for the middle game of their Interleague series on Tuesday night.
Tigers: Anibal Sanchez renews acquaintances with his former National League rivals for the first time since heading to Detroit in 2012. He tossed eight innings of one-run ball with nine strikeouts last Thursday against the Twins.
Watch every out-of-market regular-season game live on MLB.TV.
Jason Beck and Adam McCalvy are reporters for MLB.com. This story was not subject to the approval of Major League Baseball or its clubs.