Inbox: Will Yankees stick with Drew at second?
Beat reporter Bryan Hoch answers New York fans' questions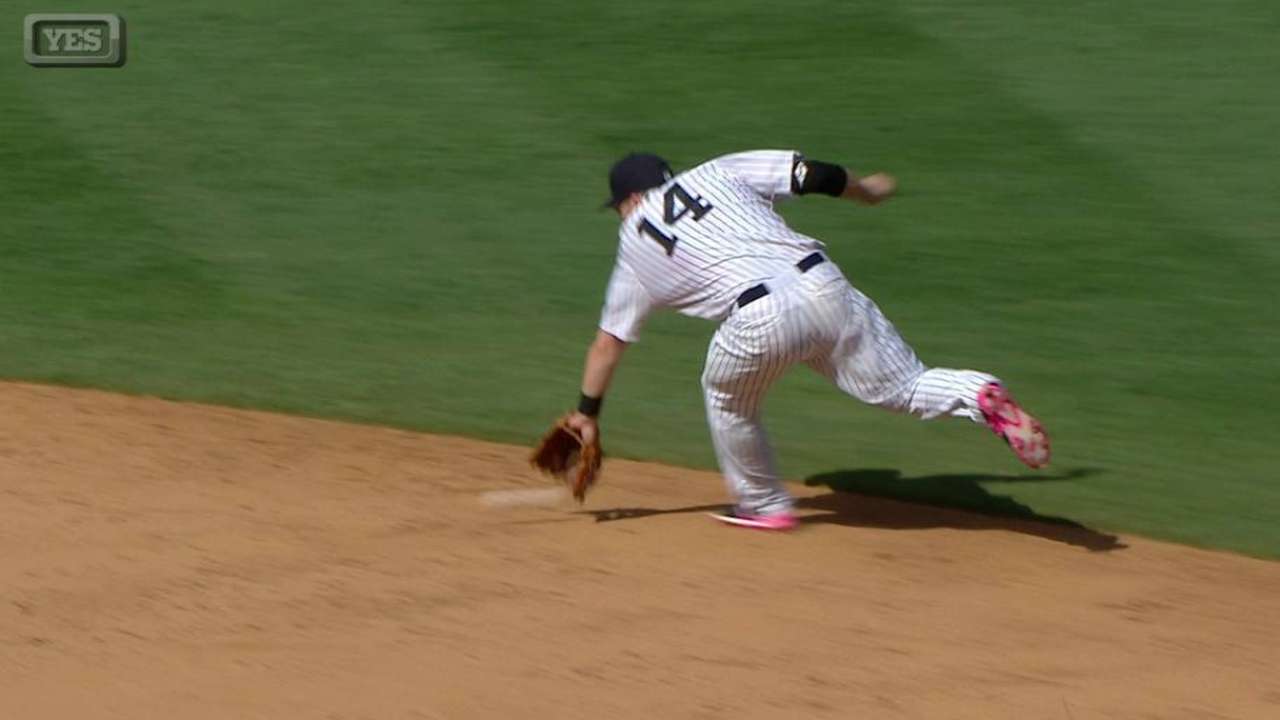 WASHINGTON -- The Yankees have just completed a marathon stretch of 30 games in 31 days, posting 19 victories over that span. As they regroup in the nation's capital, it is a good time to once again dig into the Inbox and see what fans are talking about.
When do the Yankees sacrifice defense in Stephen Drew for offense in Rob Refsnyder? And if Drew moves to a utility role, who goes?
-- Aaron D., Norfolk, Va.
After a sluggish start to his season at Triple-A Scranton/Wilkes-Barre, Refsnyder is making this a valid question again by swinging a hot bat -- two homers on Sunday -- and playing decent defense at second base. The example I keep pointing to is that last year, the Yankees knew that Brian Roberts was not their ideal second baseman, yet they still carried him into late July.
At $5 million for 2015, Drew's price tag would not prohibit them from making a move if circumstances dictated it. Manager Joe Girardi believes the at-bats are better than the results, but Drew is certainly not guaranteed to finish the year on the roster if he can't crack the Mendoza Line.
In theory, the Yanks could use Drew as a backup at second base, shortstop and third base, while starting Refsnyder or another player at second base. In that scenario, Jose Pirela would be my pick to go back to the Minors.
• Submit a question for the Inbox
How is Masahiro Tanaka's rehab going?
-- Sergio M., Chowchilla, Calif.
So far, so good. Tanaka threw another bullpen session on Monday at Nationals Park, his third since being placed on the disabled list, and all indications are that he will make his first Minor League rehab start on Thursday. The Yankees aren't saying if he will need more than one, but that would make sense just from a stamina and distance standpoint.
Girardi said in Kansas City that Tanaka has passed every test "with flying colors," and so early to mid-June seems to be a realistic date that is still in play. Meanwhile, he has been happy to see the Yanks winning without him.
"The starters and ... even the guys in the bullpen also, I think they're doing a fabulous job," Tanaka said through an interpreter. "My plan is, what I want to do is get back in there as soon as I can and contribute for the team."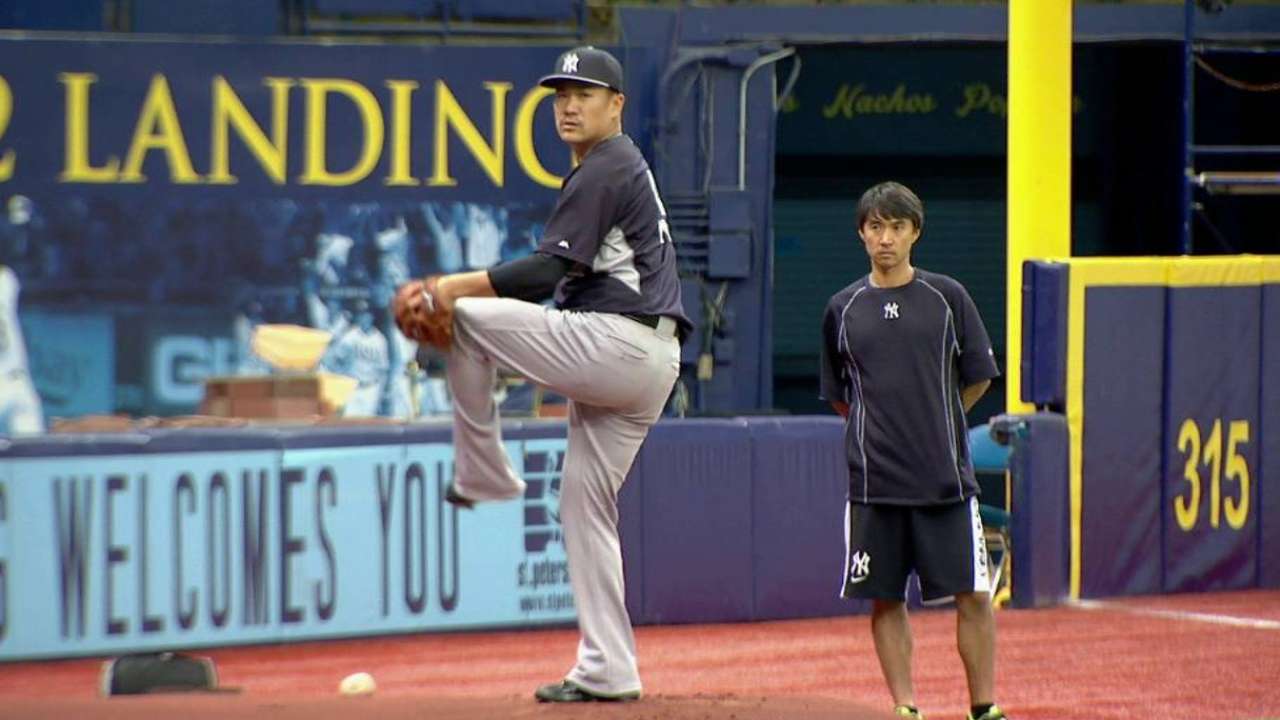 If Troy Tulowitzki demands a trade from the Rockies, can the Yankees prepare a package around Gary Sanchez, since they are locked at catcher with Brian McCann and John Ryan Murphy?
-- Mauricio M., Lancaster, Pa.
It was inevitable that the latest round of Tulowitzki rumors and speculation would involve the Yankees in some way, even though there has been no substantial link between the clubs. As long as Tulowitzki is considered to be available (and as long as the Yanks wait for Didi Gregorius to distinguish himself at shortstop), that line of thinking will be alive.
No conversation about Tulowitzki is complete without mentioning both New York teams, but let's focus on the Yankees. In theory, they could take on a lot of the six years and $118 million remaining on his contract, but where I see the biggest wrinkle is that the Rockies will seek a massive return to deal their most recognizable player -- albeit one with a sizable injury history at age 30.
Sanchez could be a chip in that deal, but it's no state secret that the Yanks don't have a place for him at the big league level. Pitching is at the top of Colorado's priority list, and so Luis Severino (on the DL, but it's just a blister) might have to be included there too. If I were the Rockies, I'd also be very excited about the idea of what Aaron Judge could do in Coors Field.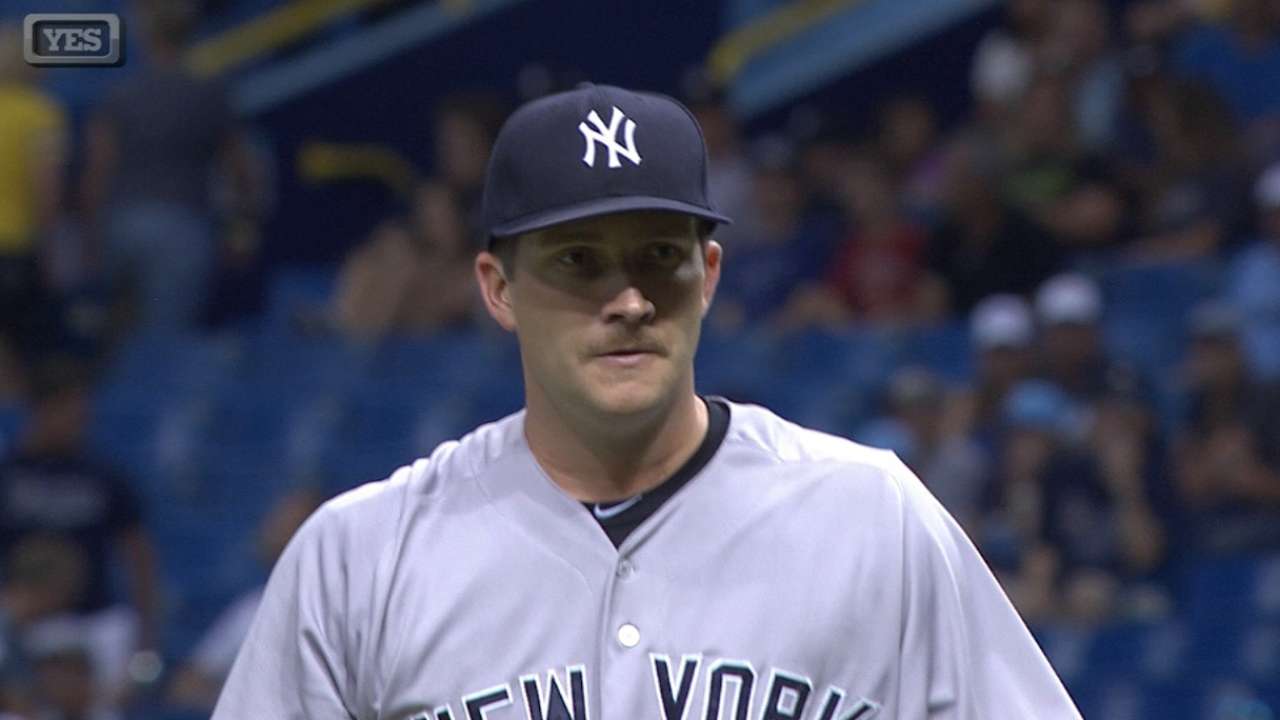 Has Adam Warren done enough to stay in the rotation with the return of Tanaka, Ivan Nova and Chris Capuano?
-- Meryl, Iselin, N.J.
Girardi has hesitated to talk about what he will do when all three of those pitchers are back, noting that those sorts of things usually seem to take care of themselves, as they did last week with Chase Whitley's injury. It had to be encouraging that Warren offered length last time out against the Rays, logging the first quality start of his career, but he appears to be the odd man out if things continue as they are.
It's not as though they are going to bounce Michael Pineda, Nathan Eovaldi or CC Sabathia from the rotation, and they signed Capuano as a starter, though he could also work out of the bullpen if and when the other arms come back. Warren said last week that he is trying not to think about who is coming back, and he will continue helping the team as a starter as long as he's in that role.
Bryan Hoch is a reporter for MLB.com. Follow him on Twitter @bryanhoch, on Facebook and read his MLBlog, Bombers Beat. This story was not subject to the approval of Major League Baseball or its clubs.