Price seeking consistency from rotation
Lorenzen, Iglesias could get more starts if things don't turn around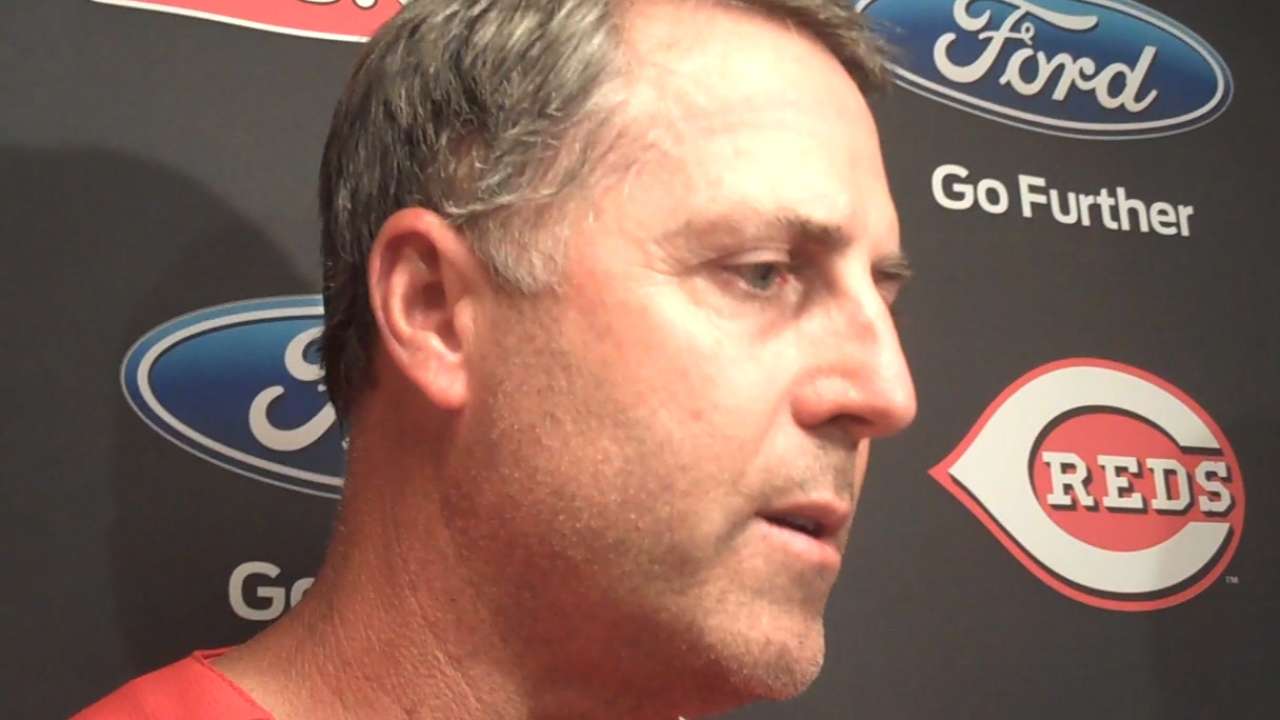 CINCINNATI -- It was certainly a bad weekend for a Reds rotation that was pummeled for three straight losses in the four-game series vs. the Giants. Monday's off-day was certainly welcomed as much as the knowledge ace Johnny Cueto is pitching Tuesday against the Royals.
For the 18-20 Reds to stay in contention, and by extension to keep the soon-to-be free agent Cueto from being Trade Deadline chum, other Cincinnati starters need to prevent stretches like the past three games. If not, both rookies Michael Lorenzen and Raisel Iglesias could get more starts.
With two off-days this week and the desire not to give too much rest to all of his starters, manager Bryan Price went to a four-man rotation this time around. The Reds don't need a fifth starter again until May 26.
"We're going to be looking for situations like this in which to rest those guys and not overload their innings," Price said of Lorenzen and Iglesias. "That being said, you don't want to fall out of this thing and go into a free fall without getting the best you have available to you. I think if we're going to be competitive, we're going to have to get the best we can out of our pitching staff, and who those 12 guys are, there are still some question marks.
"That's speaking the obvious, that's not trying to make anyone nervous. We haven't had the consistency out of our pitching when we broke camp. And we're asking a lot out of the young guys to keep us in this race."
Lorenzen, who replaced the injured Homer Bailey, had a 2.81 ERA in three starts. He logged only 120 2/3 innings last season in Double-A. Iglesias had eight innings of one-run work vs. Atlanta on Wednesday, but he is part of the bullpen for the time being. He didn't pitch at all last season after his defection from Cuba.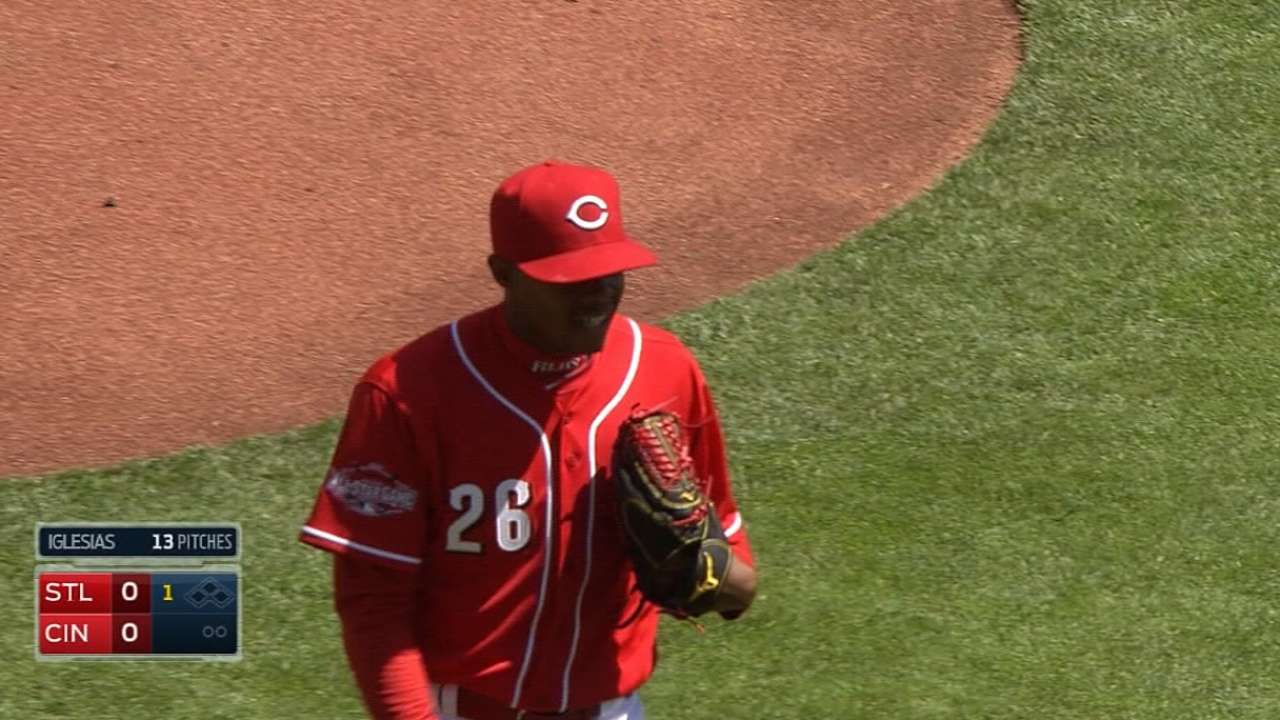 In the three losses to the Giants, 21 of 30 runs came against Mike Leake, Jason Marquis and rookie Anthony DeSclafani. They lasted a combined 11 innings with a 17.18 ERA and forced the bullpen to pick up 16 innings.
"We ran guys out there on fumes. That's the importance of good starting pitching, the guys that typically come in behind you are fresh and rested," Price said. "Our good fortune is we haven't seen a lot of that out of the rotation three games in a row -- five innings or less. ... I hope not to see it again or else we'll have a bullpen that's on fumes. I anticipate a lot better pitching from the rotation."
Overall, the rotation is ranked ninth in the National League with a 3.96 ERA. For Leake, Saturday's five innings and season-high nine earned runs allowed was a hiccup in an otherwise strong season. He came into the 10-2 loss with just one earned run allowed over 22 innings. But DeSclafani and Marquis have struggled.
The 36-year-old Marquis, who made the team after a decent Spring Training, is 3-3 with a 6.63 ERA in his seven starts with nine home runs allowed, including five in his last two starts. In his back-to-back losses, he's also given up 11 earned runs and 17 hits.
In his last five starts, the 24-year-old DeSclafani is 0-4 with a 6.38 ERA, including 17 walks over 24 innings.
"It's not going my way now, but I've got to keep working at it and trying to make adjustments and try to catch a rhythm in the next few starts," DeSclafani said.
Mark Sheldon is a reporter for MLB.com. Read his blog, Mark My Word, follow him on Twitter @m_sheldon and Facebook and listen to his podcast. This story was not subject to the approval of Major League Baseball or its clubs.