Front office adjusts to accommodate Jennings
Hill, Samson will share Marlins' GM duties, with input from rest of staff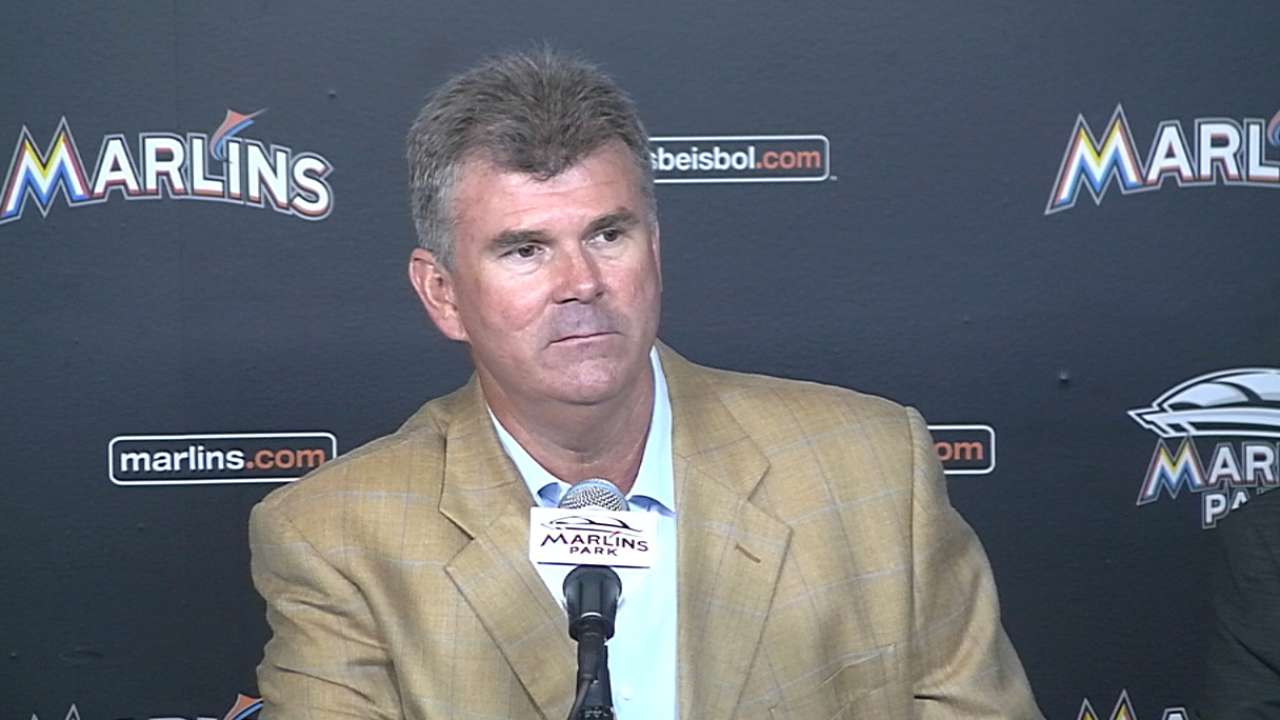 MIAMI -- With Dan Jennings moving on Monday from general manager to serve as the Marlins' manager, Miami's front office will obviously change its operations, although only to an extent.
Instead of replacing Jennings with a new GM, president of baseball operations Michael Hill said during Monday morning's news conference that day-to-day front-office duties will now be handled by himself and team president David Samson, with input from the entire front-office staff.
However, Jennings, who has been the GM since 2013, will still have a key role in those decisions.
"His responsibilities will be on the field, but at the same time, he will continue to be as active as he's always been in how we've put this team together," Samson said. "It will just be even better for our franchise that he'll have the unique ability of what's happening from more and more different vantage points."
Still, the man who's replacing Mike Redmond -- dismissed from the Marlins' managerial position after Sunday's 6-0 loss to Atlanta -- knows where he must now direct most of his attention.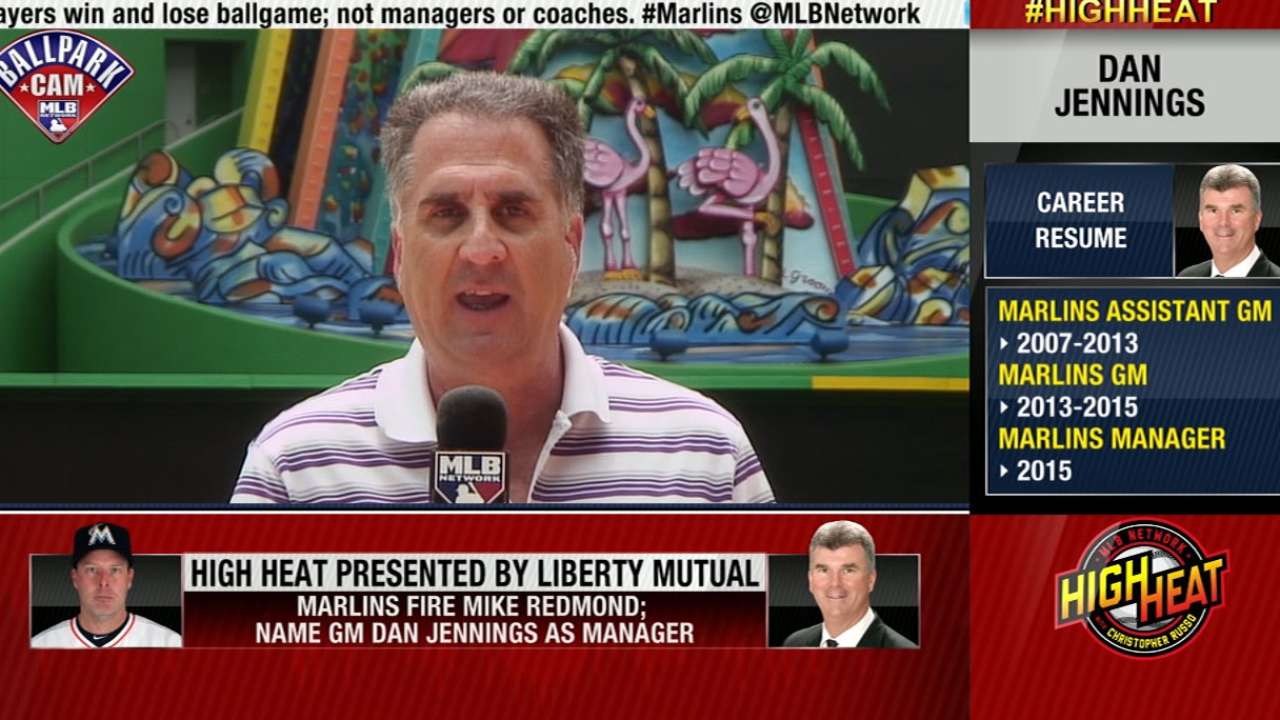 "My primary focus now, other than being included in calls involving trades or player moves from Double-A and Triple-A, will strictly be inside that clubhouse and putting a game plan together that helps the Miami Marlins win nightly," Jennings said.
Hill named Jennings the Marlins' manager "for the remainder of the season."
"As we do with everything, we'll re-evaluate at the end of the season," Hill said. "But our expectation is this will go on as long as it's going to go."
In an interview on MLB Network Radio, Samson discussed having to let Redmond go. He said the blame fell with the entire organization, but that something needed to change.
"It [stinks] to know that you had a hand in someone losing their job, and all of us had a hand in it," Samson said. "I had a hand in it, our starting team had a hand in it, the bullpen, the 25th man, the 28th man, the Triple-A manager. In other words, everybody had a hand in it, and that's tough.
"When the top sales guy loses his job because his people couldn't sell enough radio advertising, you'd feel a little responsible that you didn't pound the pavement, or knock on another door, or make an extra phone call. Everyone felt badly."
The move leaves the door open for Jennings to eventually return to his general manager spot, although for the time being, Hill and Samson have everything mapped out.
"We will handle the day-to-day GM responsibilities," Hill said said. "We have a very talented group, and we've grown our front-office staff. ... We felt [moving Jennings to manager] was most important, because we all live and die by what happens 162 days and nights over the course of the season, and we wanted to put that energy and message into the dugout to get us where we wanted to go."
Jennings and the entire front-office staff begin their new duties on Monday as Miami opens a four-game set with Arizona.
"From a communications standpoint, nothing will change," Hill said.
Steve Wilaj is an associate reporter for MLB.com. This story was not subject to the approval of Major League Baseball or its clubs.