MLB.com Columnist
Mike Bauman
Managerial move brings questions of credibility
Jennings said his existing relationships with Marlins players should ease transition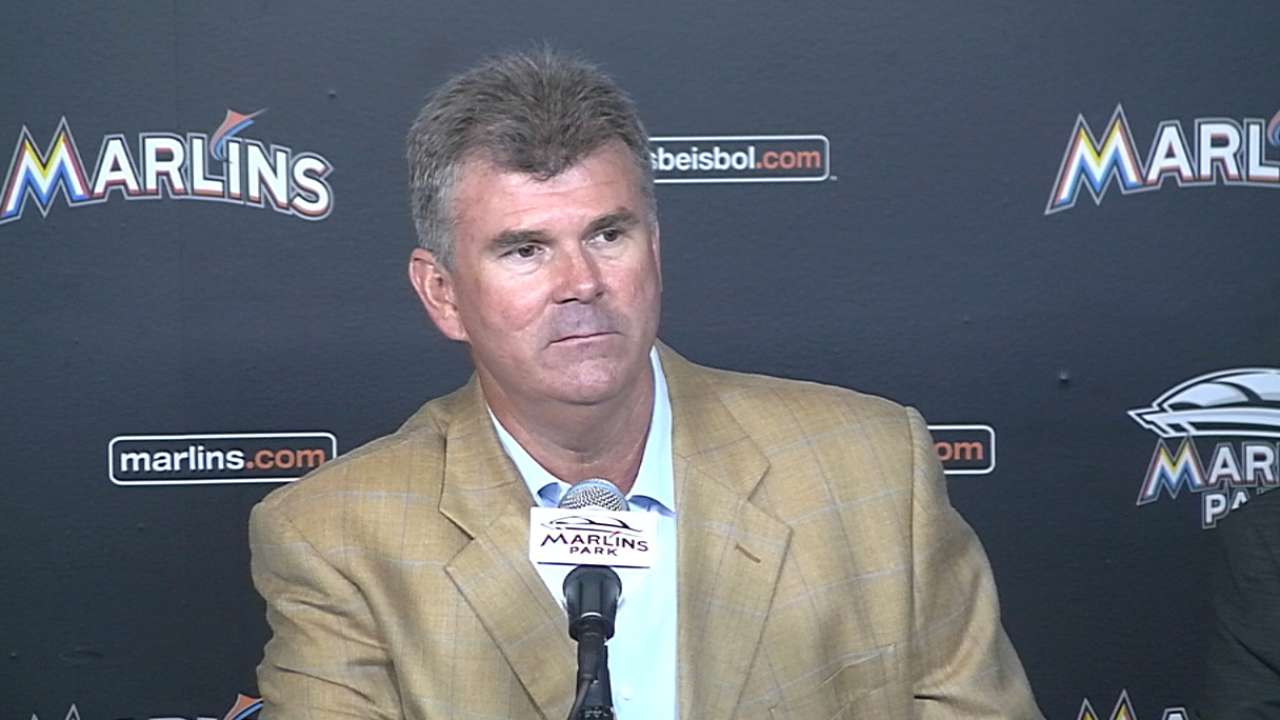 One of the unseen but most critical factors of being a successful Major League manager is establishing credibility with the 25 players on the active roster.
Can you get that credibility as a first-time manager by moving in from the front office? This is the question that faces the Marlins, who have made general manager Dan Jennings their new skipper.
It is easy to point to other first-time managers who have had success, but there are no real parallels in the contemporary game.
Mike Matheny has been effective with the Cardinals, but he had worked in the organization and had built-in credibility as a widely respected former player. Paul Molitor is having initial success managing the Twins, but he had also worked in Minnesota's organization, and as a Hall of Famer, he brings the ultimate personal credential to this job.
Miami was 16-22 on Sunday when it fired manager Mike Redmond. The Marlins had a dismal start, rebounded from that to get back to .500, then lost 10 of their past 14 games. On balance, they are underachieving, but it is mid-May and they are just six games behind the first-place Mets in the National League East.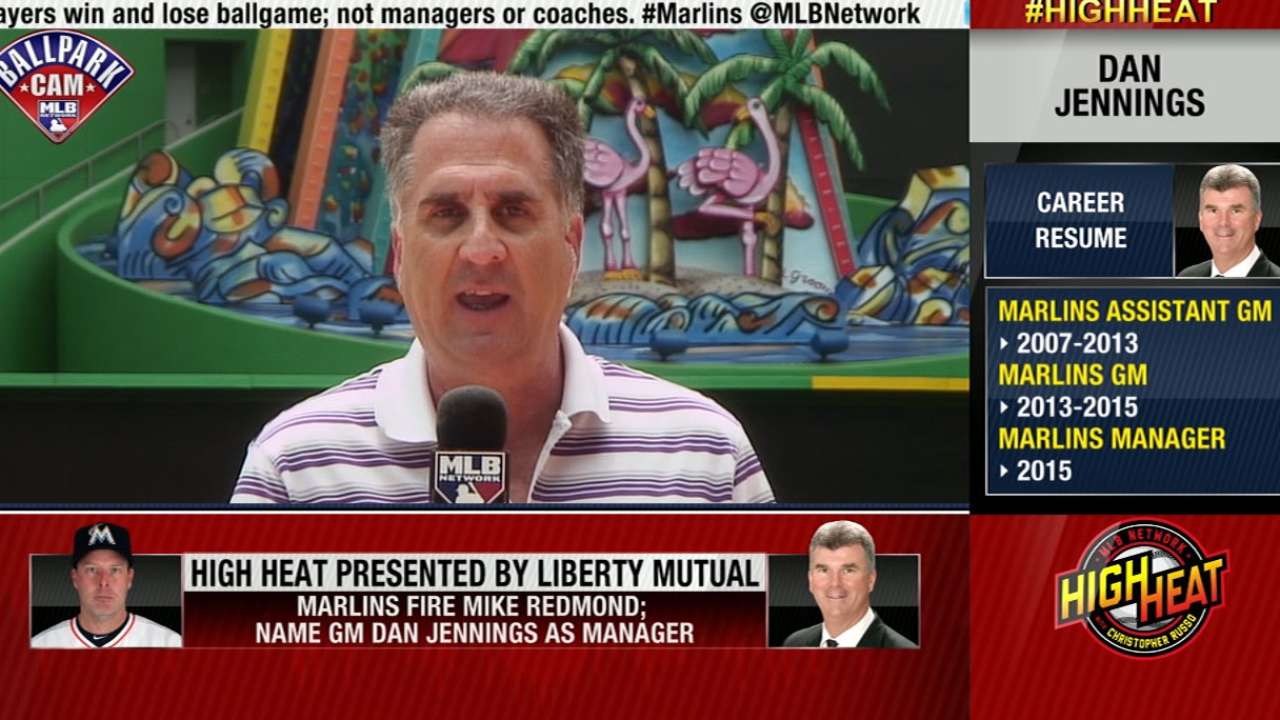 Expectations soared for the club following an offseason makeover. Miami signed Giancarlo Stanton, its incomparable slugger, to a record-setting contract. And it brought in established players, such as third baseman Martin Prado, second baseman Dee Gordon and first baseman Michael Morse, along with veteran starter Dan Haren. Along with foundation of young, developing talent, this gives the Marlins the look of a team that can compete for a postseason berth.
And Jennings will become a better manager as soon as ace Jose Fernandez returns to the rotation following Tommy John surgery. The importance of Fernandez cannot be overstated. The timetable for his return remains mid-June to mid-July.
So Miami is not kidding itself about the potential of its club. Can Jennings, coming in from the front office, transform that potential into actual production?
The Marlins obviously believe that. At the news conference Monday that announced Jennings' move to manager, president of baseball operations Michael Hill and team president David Samson were also on hand. There was acknowledgement that Jennings as manager was an unusual move, but there was also the contention that he was the ideal man for the job.
Jennings has been with the organization for 13 years, coming on board as vice president of player personnel. He also served as assistant general manager, then became general manager before the 2014 season.
Jennings acknowledged "an element of surprise" in his selection as manager, which could qualify as understatement.
"It is out of the box," Jennings said. "I have always considered myself, now 31 years in the game, as a baseball man. ... This is definitely a different avenue to arrive in this chair."
The question about relating to the players naturally arose. Jennings noted that he had already established relationships with Miami's players.
"That, for me, was the biggest obstacle or issue that I shared with [Marlins owner] Jeffrey [Loria], David and Michael," Jennings said. "I have tremendous respect and very good relationships with quite a few of our players. I believe in the mindset that you give respect to get respect.
"The one thing I'm certain of, managers do not win games in this league, but you can certainly lose them. But you have to have the respect of your men and you have to put them first. This game is about the players. I've been fortunate enough and lucky enough to have been taught that at an early stage, and [I] try to make that the common denominator of all the thoughts and decisions that I make."
Hill also emphasized Jennings' knowledge of the organization and the personnel.
"If we didn't feel like we had the right person with the right skill sets who could motivate and spark this club, we wouldn't have made the change," Hill said. "I've known D.J. over 20 years in the game. As we looked at what we needed to get this club going, we wanted a leader. We wanted a motivator. We wanted someone knowledgeable in the game.
"And there is no better person that I can think of than the man next to me [Jennings]. We wanted someone who knew our players, and there was no one better than D.J. ... We wanted someone with an intimate knowledge of our club and how we tick."
This all makes sense, in an out-of-the-box sort of way. But what remains to be seen is how the Marlins' players will respond to Jennings as their manager. That is the central question. This is one outcome that cannot be safely predicted, because this managerial choice is, to put it very mildly, unusual.
Mike Bauman is a national columnist for MLB.com. This story was not subject to the approval of Major League Baseball or its clubs.