Calhoun taking over cleanup spot to boost offense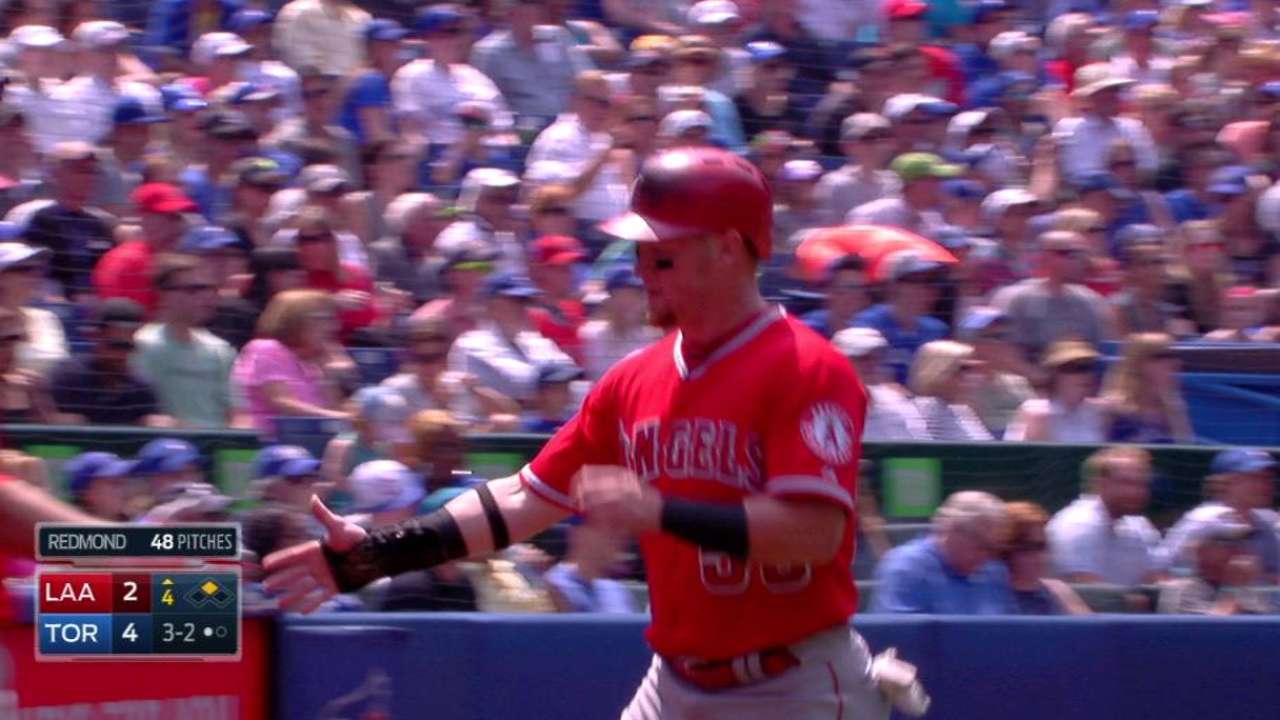 TORONTO -- For a little more than a year, Angels manager Mike Scioscia has enjoyed the luxury of receiving uncommon power from a traditionally powerless spot in his batting order. His lineup was deep enough and productive enough to keep Kole Calhoun in the leadoff spot, with the Angels leading the Majors in runs and receiving power from almost every position.
But those days are seemingly over.
The Angels' current offense -- 29th in the Majors in runs per game and 30th in OPS through the first six weeks of 2015 -- can no longer sustain keeping Calhoun's power left-handed bat at the top. Scioscia moved the outfielder back into the cleanup spot on Monday, prior to the opener of a four-game series against the Blue Jays, and this time it seems like a long-term move.
"We're going to ride this out," said Scioscia, who watched his club come back from a four-run deficit before ultimately falling, 10-6, on Monday.
"It's something I'm comfortable with," Calhoun said of hitting in the middle of the lineup, something he did for most of his Minor League career. "I'm not going to put too much pressure on myself, obviously. Just go out, still play. Nothing is etched in stone, so we'll see what happens."
Calhoun went 1-for-5 with a double and a run in the cleanup spot, which moved Erick Aybar into the leadoff spot, a lineup configuration Scioscia used for what he hoped was a short-term fix from April 30-May 4. Aybar doesn't walk a lot -- he ranked 184th among qualified players in plate appearances per walk from 2009-14 -- but Scioscia believes he can succeed batting in front of Mike Trout and Albert Pujols, which would seemingly lead to getting more pitches to hit.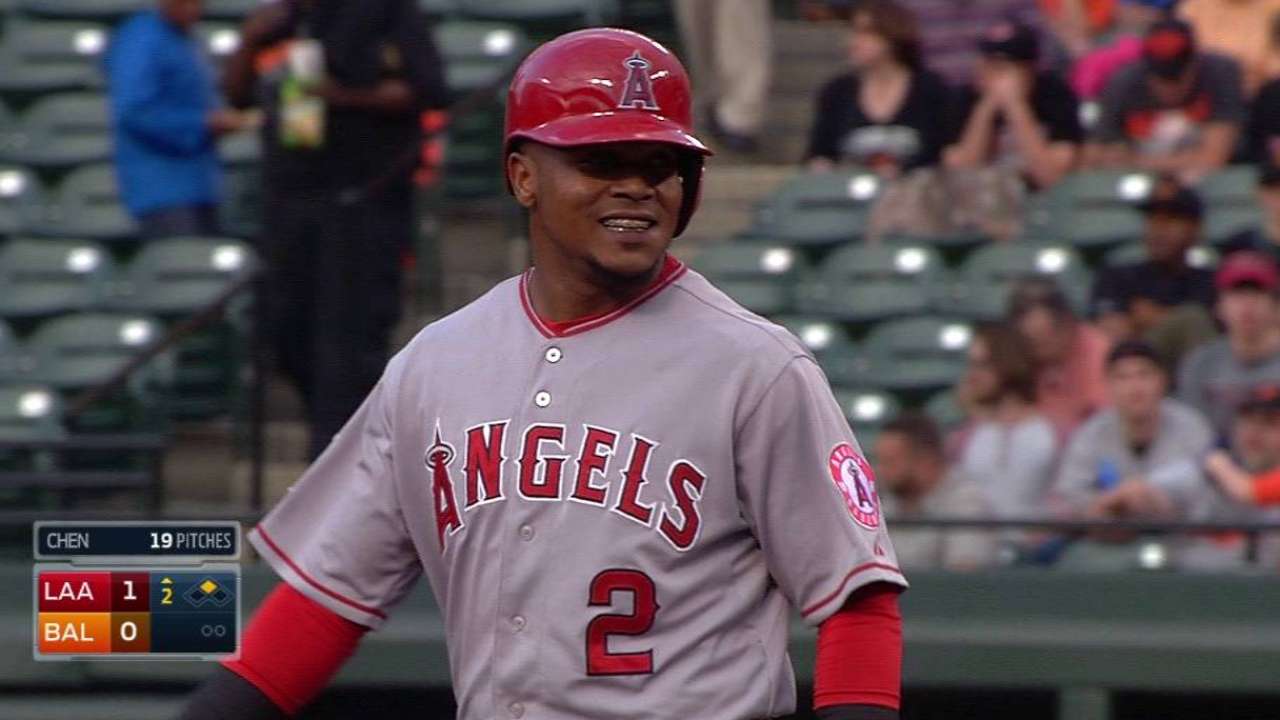 "What Erick doesn't bring in patience, working counts, he brings in just athleticism and still gets on base at a rate which hopefully will set the table for Mike and Albert moving forward," Scioscia said. "And also, we have Johnny Giavotella pushed back to ninth, to try to connect him with Mike. Hopefully there will be some table-setting there that's happening, and we'll get to the big guys in our lineup. "
The Angels have already been shut out three times, equaling their total from all of last season, and had scored three runs or fewer in 21 of their previous 37 games entering Monday. The left-handed-hitting Matt Joyce continues to struggle, with a .143/.180/.219 slash line through his first 32 games, and the Angels' lineup has several right-handed hitters who have historically struggled against right-handed pitching.
That's why they need Calhoun in the middle of the order, to protect Pujols and maximize his opportunities with runners in scoring position.
Calhoun entered the series at Rogers Centre with a .327 batting average, three homers and 17 RBIs in his last 29 games. Last year, his .801 OPS from the leadoff spot was significantly higher than the Major League average of .715. It was an advantage that set the Angels' lineup apart. So Scioscia tried for as long as he could to keep Calhoun at that leadoff spot, going so far as to bat Aybar cleanup on Saturday and Sunday.
But it's a luxury the Angels can no longer afford.
"As much as we really like Kole in the leadoff spot, and in front of Mike, I think what we're presented with right now just makes the most sense to go with it this way," Scioscia said. "Guys have had a lot of time to get into their game and aren't there yet, so we need to start to take a little pressure off our pitching staff."
Alden Gonzalez is a reporter for MLB.com. Read his blog, Gonzo and "The Show", follow him on Twitter @Alden_Gonzalez and listen to his podcast. This story was not subject to the approval of Major League Baseball or its clubs.