As Moustakas evolves, a shift in impressions
Royals third baseman's commitment to driving ball to opposite field has paid off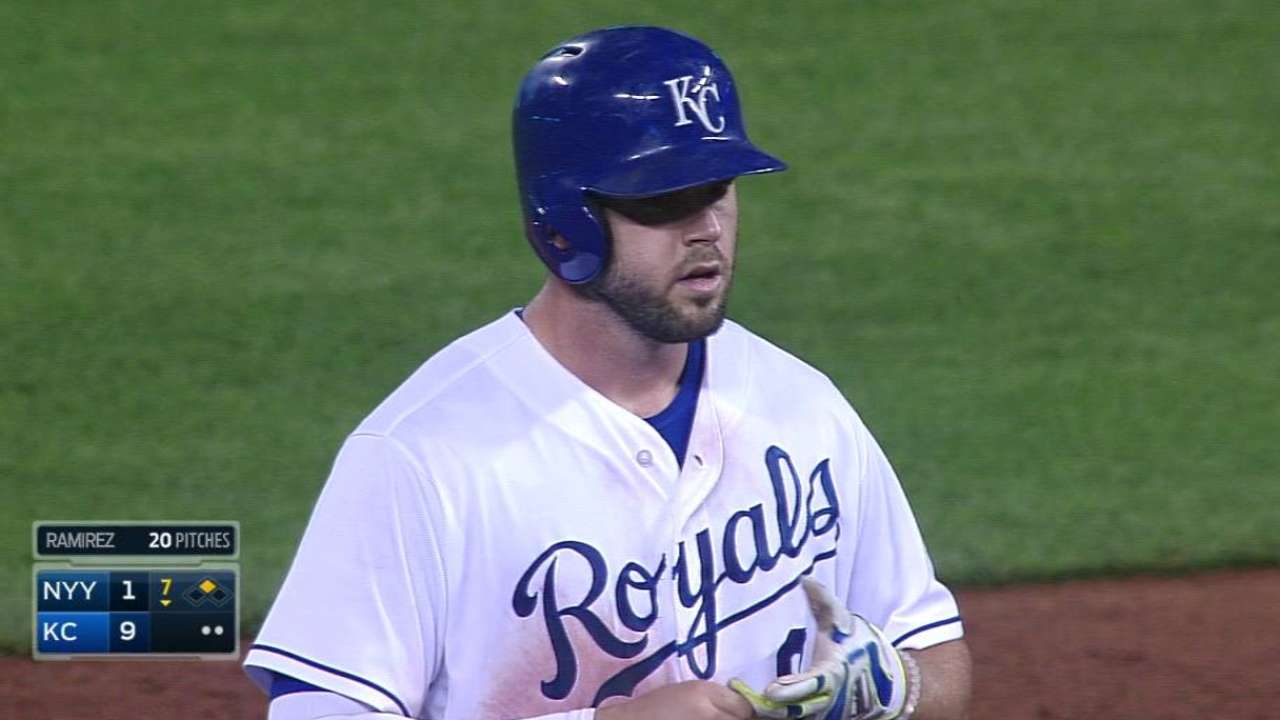 KANSAS CITY -- The past few springs, Royals third baseman Mike Moustakas used to hate looking at the scoreboard when he came to the plate.
There in giant numbers read his average -- .174, .165, .182, whatever it happened to be on a particular day. But Moustakas forced himself to look at it.
"I felt I needed to remind myself how bad it was," Moustakas said.
Moustakas doesn't have to force himself to look anymore. These days, it's a pleasure.
"Oh yeah, whether it's .315 or .330 or whatever," he said. "It's a nice feeling looking up there."
This, of course, is the new Moustakas. All-around complete hitter. Shift killer.
Much has been made of Moustakas' dedication in Spring Training to learning to drive the ball to the opposite field to beat the shift. He has done that, producing 13 of his 45 hits the opposite way, including a home run to left-center field at Kauffman Stadium.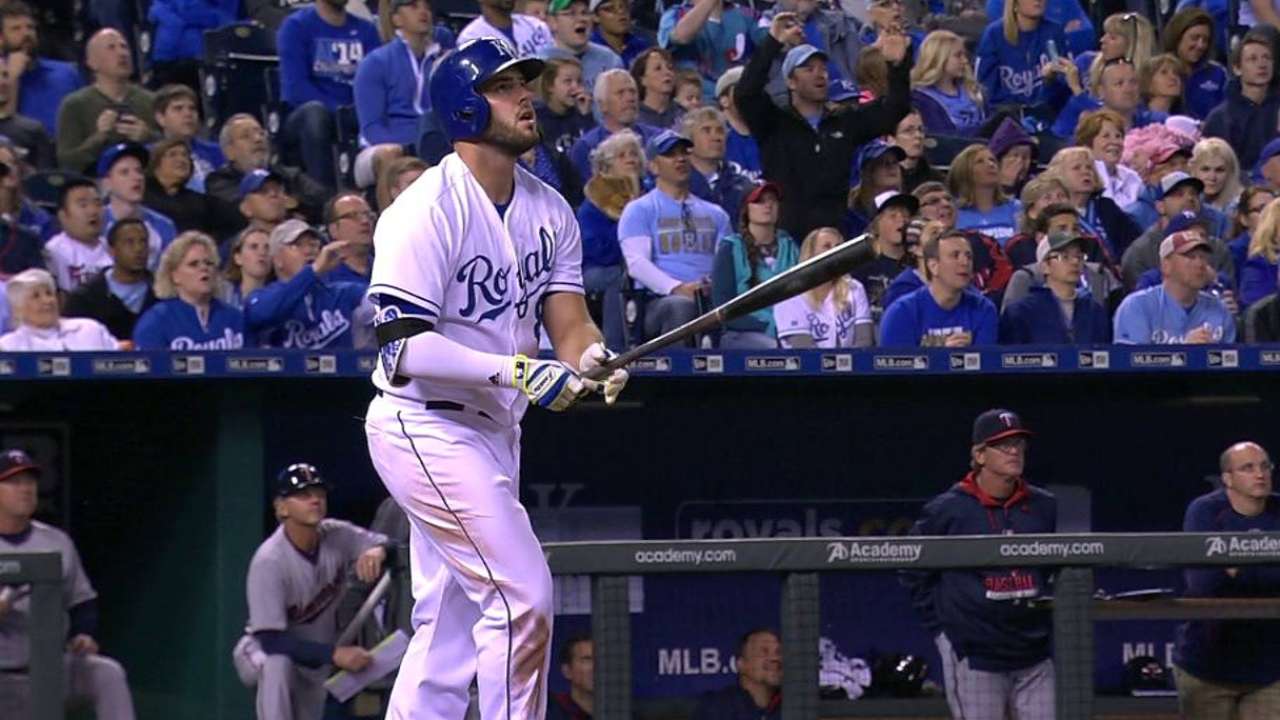 Some teams still shift against Moustakas, though not every shift looks the same. Teams have infielders seemingly scattered everywhere when he comes up.
"I feel like I'm a quarterback looking over the defense when I come up," Moustakas said, smiling. "I have to have an idea what looks good and where the holes are."
Last season, it didn't matter where the holes were. Moustakas somewhat stubbornly tried to slam balls through the shift. The results weren't pretty -- a career-low .212 average.
Now, Moustakas tries to shoot balls through vacant spots. And he is taking walks. That is why Moustakas is hitting .319, with a healthy .378 on-base percentage.
The new Moustakas has forced everyone to re-evaluate his ceiling. Scouts originally viewed him as a player who would peak at about .250, with possibly 20-25 homers.
But the new Moustakas could be a .300 hitter.
"I think so," Moustakas said. "I only hit .300 once in the Minors, so this is pretty exciting. Maybe I won't be a 25-homer guy, but I'll have a better average and I'll get on base more, and that helps the team win."
It's that team-first attitude that really gets manager Ned Yost pumped up. Moustakas' new approach is the main reason Yost shifted Moustakas to the No. 2 spot in the order.
"That was a big part of it," Yost said. "We felt like he was ready to take the game to the next level. We knew he could play the game within the game. We felt if we could put him in position to be playing the game within the game -- playing in the No. 2 spot -- he would benefit and we would benefit. He gets up to the plate now and he understands the situation, and what can he do to improve the situation."
Jeffrey Flanagan is a reporter for MLB.com. Follow him on Twitter at @FlannyMLB. This story was not subject to the approval of Major League Baseball or its clubs.