DeShields all about staying in the moment
Outfielder possesses stellar speed, disciplined approach at plate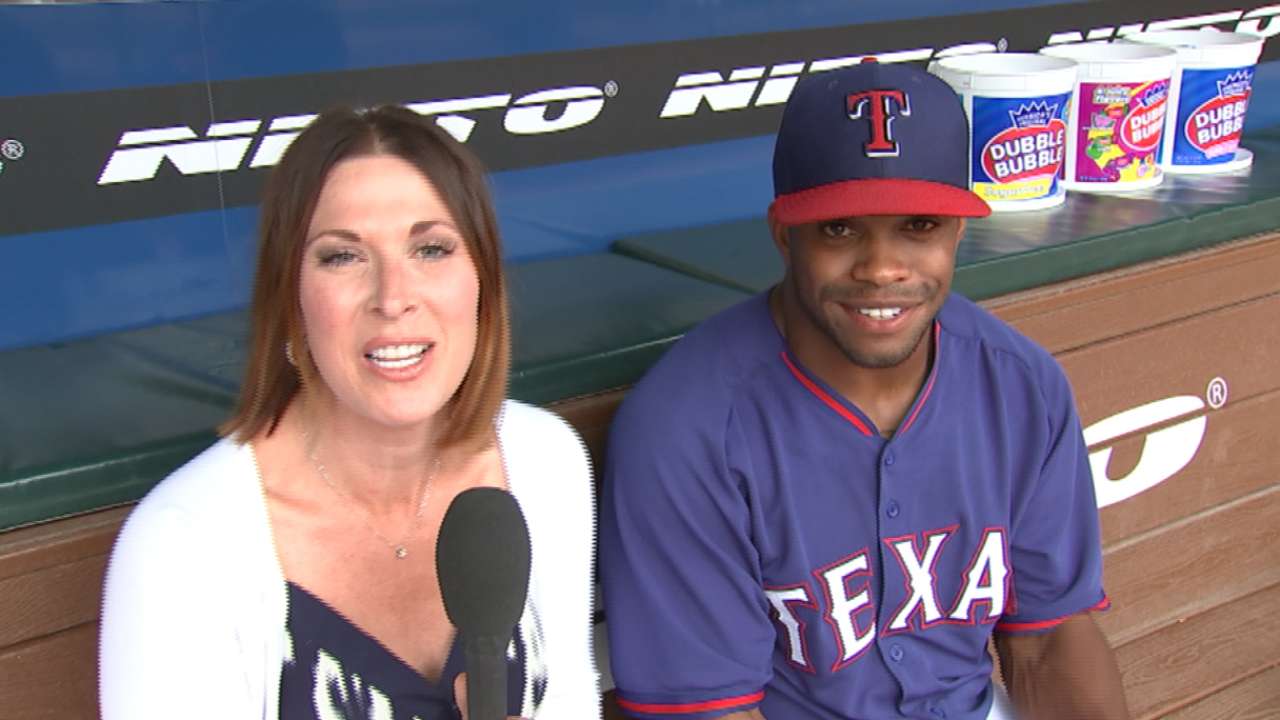 ARLINGTON -- Delino DeShields has been called a second baseman and an outfielder, a future star and a Rule 5 Draft pick, destined to become better than his father and not good enough to make a Major League roster.
DeShields, though, has learned to transcend the labels of the past, and as a part of a Rangers lineup in flux, there's no telling what his future holds. He says he's all about staying in the moment.
The only thing that's clear right now: DeShields is quickly becoming arguably the most exciting player in Arlington.
"Steals bases, hits triples, hits balls in the gap, he can play good defense, he can do it all," first baseman Prince Fielder said.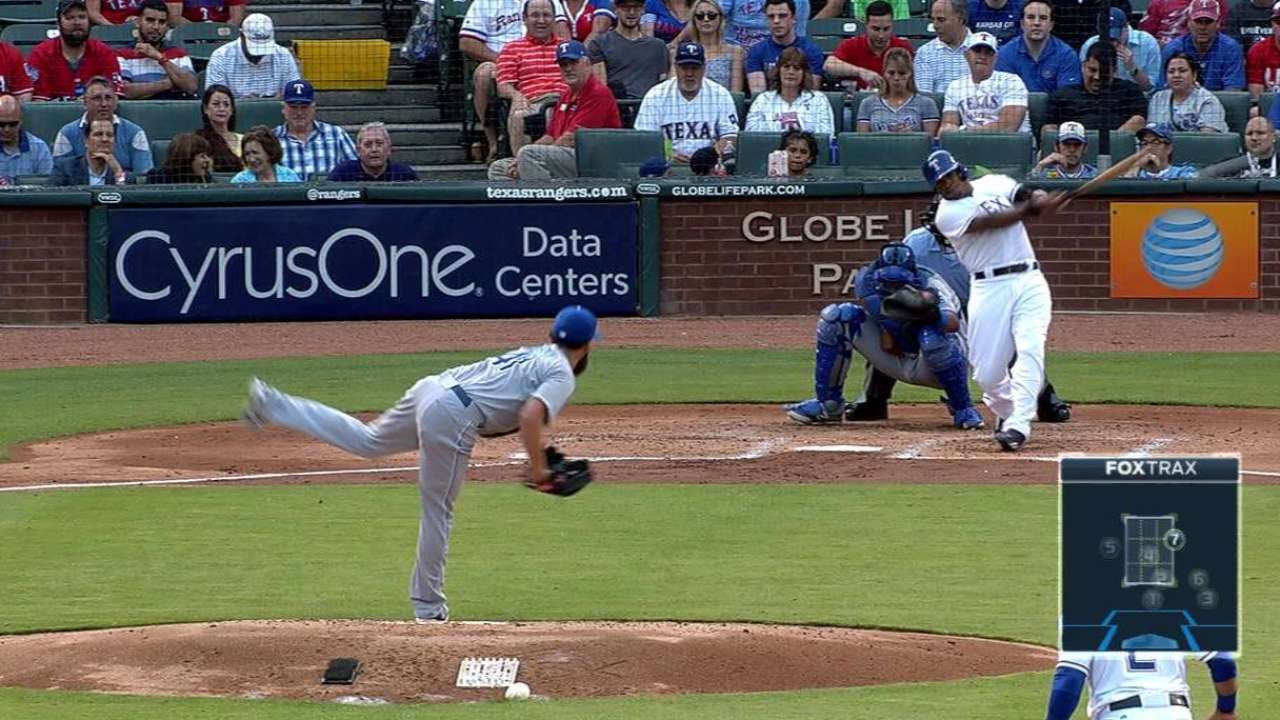 For DeShields, ranked No. 18 on Texas' Top 30 Prospects list, just having his name on the Rangers' lineup card is fulfilling. He was the No. 8 overall pick in the 2010 First-Year Player Draft by the Astros, but his road to the Majors wasn't so smooth.
DeShields (he's technically not a "Jr.") is the son of Delino DeShields, a 13-year Major Leaguer and now manager of the Reds' Triple-A Louisville Bats. The 23-year-old DeShields came out of high school possessing the same speed and flair as his father. But as the son of a well-known player, expectations can be as much of a curse as pedigree is a blessing.
DeShields hit only .220 in his first full season in the Minors.
"People were like, 'Ah, he shouldn't have been drafted in the first round, you'll never be as good as your dad,' that type stuff," DeShields said.
DeShields came back the next season to steal 101 bases in the Minors, and he was named the Astros' Minor League Player of the Year. Still, he faced criticism when his effort level came into question.
Two years later, the Astros chose not to protect their once-prized prospect in December's Rule 5 Draft -- a Winter Meetings staple designed to keep teams from overstocking young players.
"It's a business," DeShields said. "You have to have a lot of faith in yourself and not get discouraged when somebody loses faith in you. When the Astros didn't protect, me, I was like, 'OK, well, another door is going to open.'"
In the no-man's land that is the Rule 5 Draft, a name like DeShields sticks out. Texas took a chance on him, with general manager Jon Daniels saying DeShields is everything you want in a Rule 5 Draft pick -- he could be useful right away, and he could be even more useful in the future.
Rule 5 Draft picks are required to stay on the team's active Major League roster for an entire season. If the player does not remain on the Major League roster, he is offered back to the team from which he was selected for $25,000. If his original team declines, the receiving team may waive the player.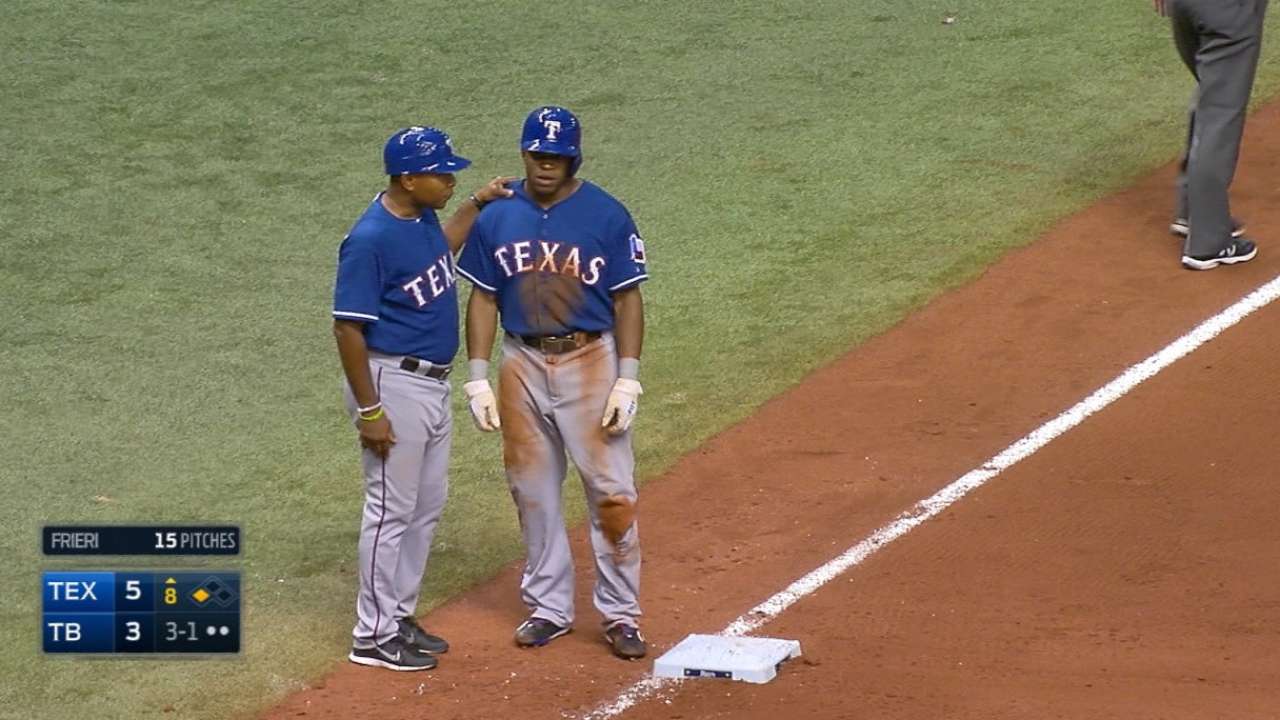 A few months later, DeShields in batting second and starting in the outfield for the Rangers. Beyond the speed, his biggest asset has been a disciplined approach at the plate. DeShields has a .477 on-base percentage in May, and he's also hitting .283 this season, with 10 steals in 11 attempts.
"I used the term the other day, 'We're watching him grow up in front of our eyes,'" manager Jeff Banister said. "And we really are."
DeShields said his early years spent around a big league clubhouse helped his transition to the Majors. Fielder, son of former slugger Cecil Fielder, says that's a sound theory.
"Anytime you have the same childhood as anyone, you kind of connect as far as not too many kids can be around big leaguers ever," Fielder said. "To get it as a kid, it benefited us once we got here, because it's not overwhelming. It's something we grew up with."
DeShields' work over the past few weeks is invoking memories of his father. And though their styles are similar, DeShields is establishing his own identity by embracing his roots.
"Kids like that, him and Prince, they want to fight so hard to carve out their own identity instead of just accepting who you are," DeShields' father said in a phone interview. "You can't escape the fact that you're the son of Cecil Fielder or Delino DeShields. I think that he's embracing that more now rather than trying to show everybody that he's his own person, and honestly, I think it's helped him.
"I believe that he's got a chance to be better than me. I know he does. But he reminds me of a Tim Raines in terms of style of play. … And as he starts to mature, you'll start to see some more power, too."
Although father and son are different, they remain connected in more than name. They talk at least every other day, and DeShields says he's constantly texting his son and checking box scores to keep up with his performance.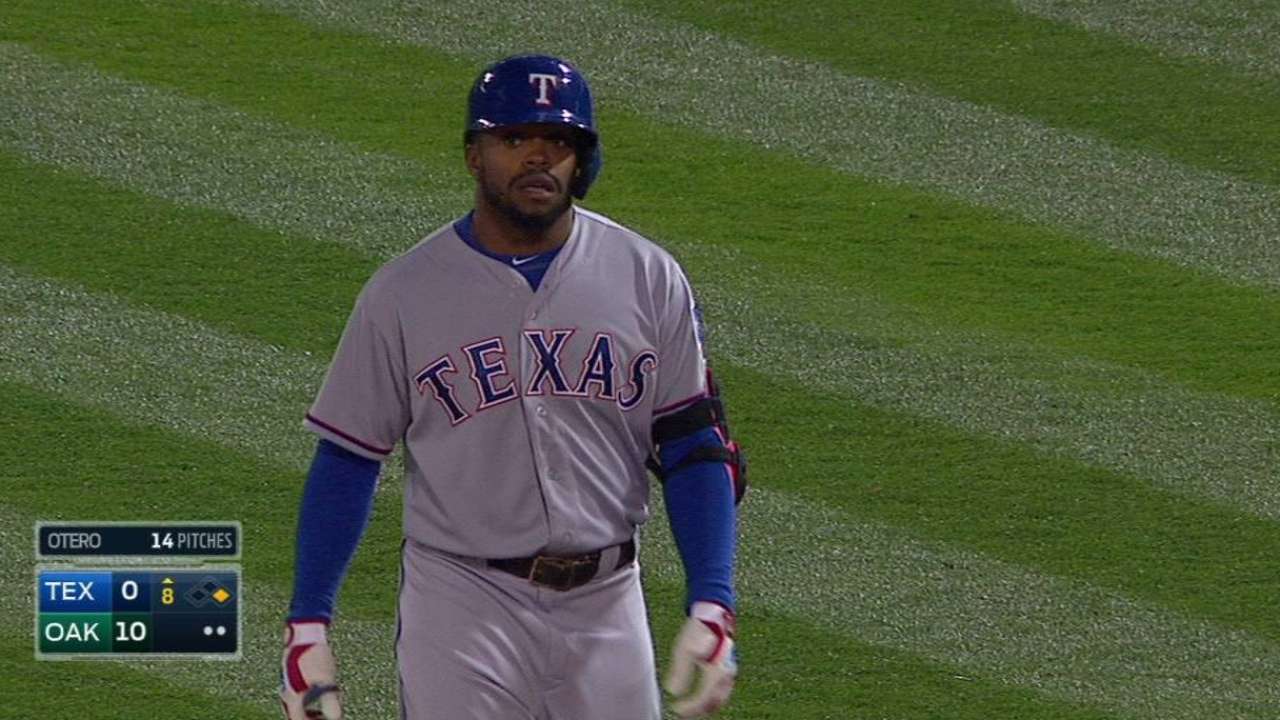 After DeShields got his first big league hit April 8, his father demanded he get the ball. The elder DeShields said it hasn't arrived yet, but he already has a space cleared for it. It's going right next to the ball from his first hit.
"To me, that just sums everything up that we've all been through," said DeShields, who posted a .268 average split between stints with the Expos, Dodgers, Orioles, Cubs and Cardinals. "It's been a lot of work, a lot of ups and downs. That ball was for daddy."
If DeShields can keep up his play, there might be more memorabilia coming soon.
"I think it's really important just to keep a positive mindset, because you never know," DeShields said. "I came to an organization, nobody really knew that much about me, I opened some eyes and now I'm in the big leagues."
Cody Stavenhagen is an associate reporter for MLB.com. This story was not subject to the approval of Major League Baseball or its clubs.