Teammates eager to have Hamilton's bat back
Hoping to revive career at home with Rangers, outfielder could return this week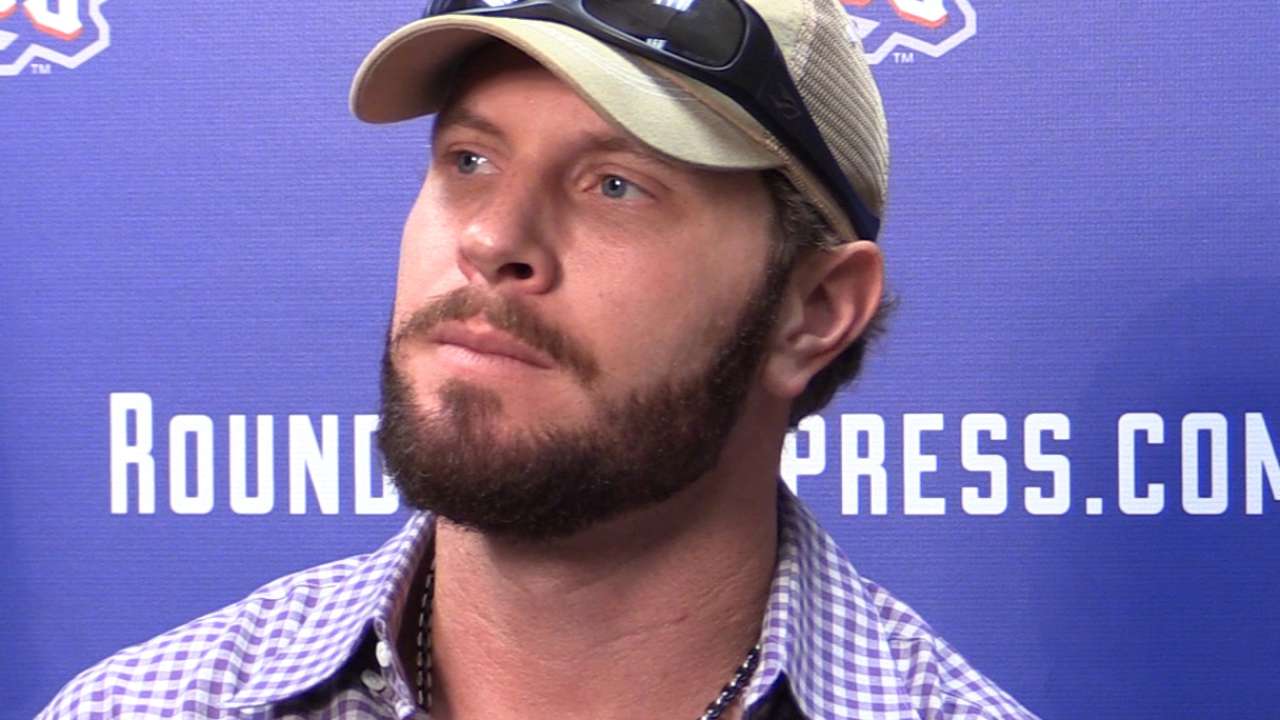 ARLINGTON -- At some point in the next week or so, the Rangers are going to bring Josh Hamilton to the Major Leagues. It could be Friday in New York or Monday in Cleveland.
It is almost a foregone conclusion that Hamilton will be in the lineup for Texas' next home game on May 28 against the Red Sox. The Rangers are awaiting that moment and the potential lift to their offense.
"It definitely won't hurt," designated hitter Prince Fielder said. "It's Josh Hamilton. It definitely won't hurt."
Hamilton, who was off on Monday, has played in eight games in the Minor Leagues, six at Triple-A Round Rock and two at Double-A Frisco. He is 9-for-28 (.321) with three doubles, no home runs and three RBIs, and he is scheduled to play for Frisco on Tuesday and Wednesday and then be re-evaluated.
"If we can get him back up here doing his thing, it can only help us," first baseman Mitch Moreland said. "It's one of those things where we've got 25 guys in this clubhouse, and every one of them is going to go out and give it all they've got. He'll be a great piece for it."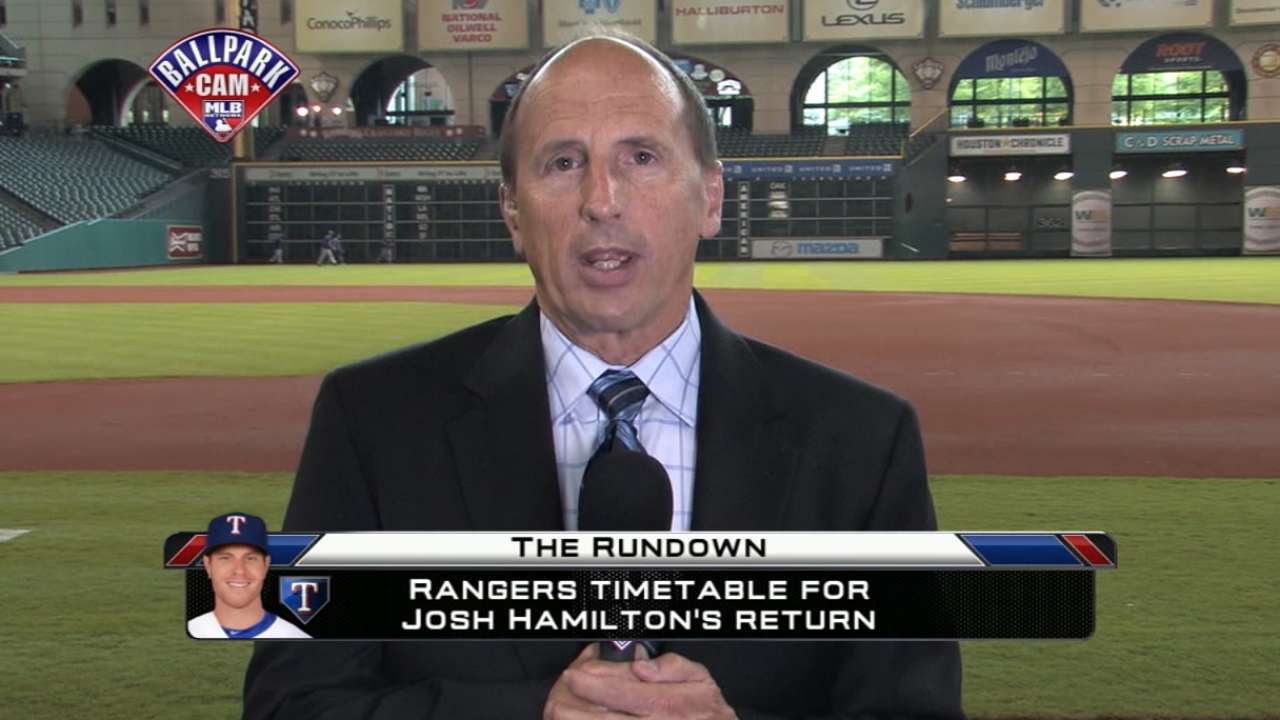 The obvious questions remain. Foremost is if Hamilton can stay on the field and stay away from drugs and alcohol. An offseason relapse is one reason why the Angels were motivated to trade him to Texas on April 27, while picking up a substantial portion of the money still owed to Hamilton over the next three years.
Shayne Kelley will be Hamilton's accountability partner, a role he filled in 2012. Roy Silver, who ran a Christian-based baseball academy in Clearwater, Fla., and was instrumental in Hamilton beginning his recovery from addiction in 2006, is employed as a special assistant by the Rangers and is available to help.
There is also the unknown of how productive Hamilton can be as a baseball player. He turns 34 on Thursday, and his performance over the past two seasons is not what the Angels expected. He played 240 games for Halos in 2013-14 and hit .255 with a .316 on-base percentage and a .426 slugging percentage. In five years with Texas, he hit .305 with a .363 on-base percentage and a .549 slugging percentage before leaving as a free agent.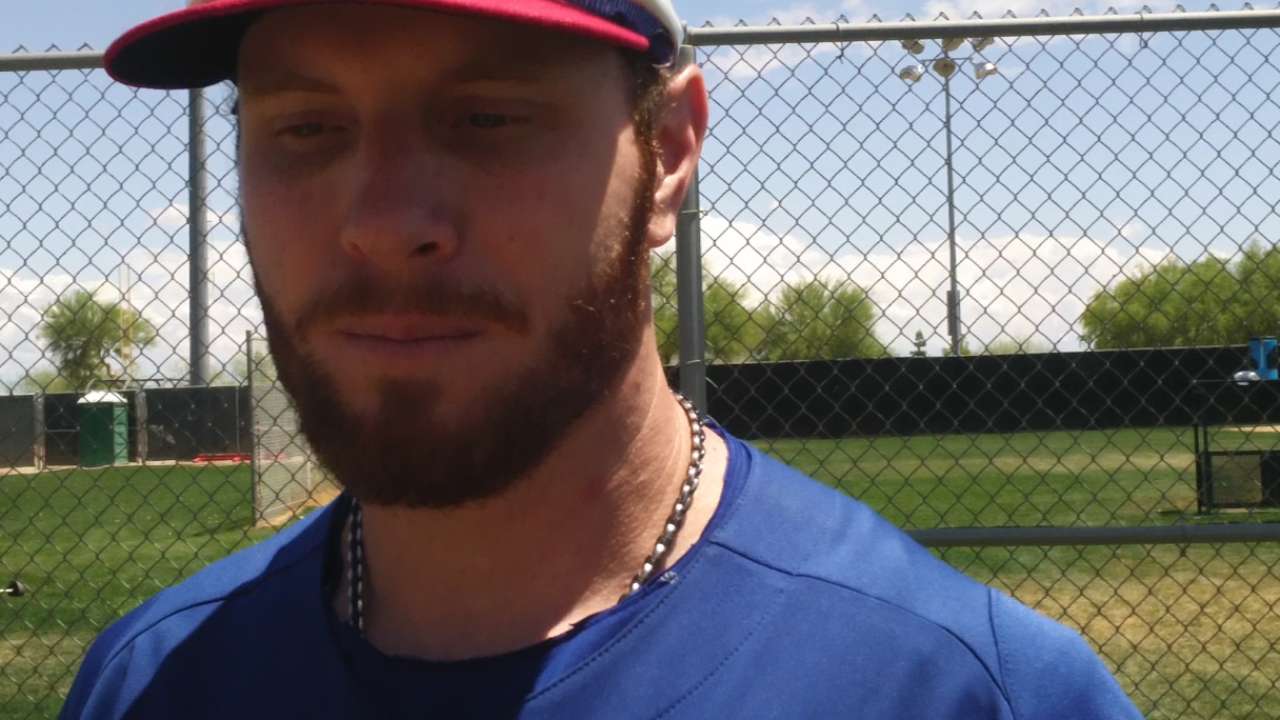 A return to Hamilton's former level may seem a reach, but it would not be unprecedented. In fact, there are multiple reasons to compare Hamilton to Dave Parker.
While with the Pirates, Parker was one of the best players in the game, a 6-foot-4 left-handed-hitting outfielder with power and speed. He won three Gold Glove Awards in right field with his tremendous throwing arm. Parker won two batting titles in 1977-78, won the National League Most Valuable Player Award in '78 and led the Bucs to their last World Series title in '79.
Parker's career tailed off in his final three years with the Pirates in 1981-83. He had bad knees and was involved in the cocaine scandal that enveloped the Bucs' franchise in those years. Parker was booed in Pittsburgh because of a hefty contract, and his relationship with the club soured.
Parker was from Cincinnati and had played for Courter Tech High School. He was 33 when he left Pittsburgh as a free agent, and he went home. Parker signed with the Reds and revived his career.
In 1984, Parker hit .294 with 16 home runs and 94 RBIs. The following season, at that age that Hamilton will turn on Thursday, he hit .312 with a career-high 34 home runs and 125 RBIs, finishing second in the NL MVP Award voting. After that, Parker had six more productive seasons, although his knees forced him to spend the final four years in the American League as a designated hitter. But in doing so, he played in two more World Series with the Athletics in 1988-89.
Not all stories turn out as well. The Rangers hope Hamilton will be one of them.
T.R. Sullivan is a reporter for MLB.com. Read his blog, Postcards from Elysian Fields, follow him on Twitter @Sullivan_Ranger and listen to his podcast. This story was not subject to the approval of Major League Baseball or its clubs.