Jennings hire follows trend but is uncommon move
Though he's latest to take helm from front office, it's rare for GM to step in as manager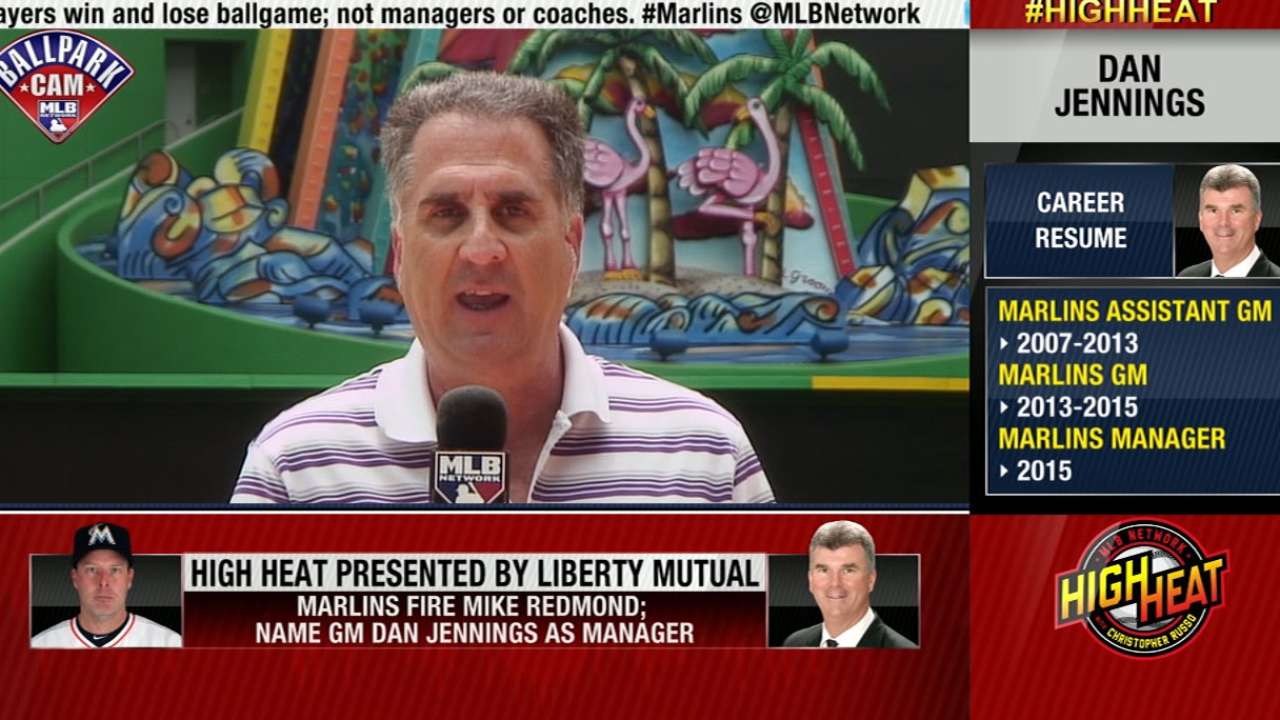 Taking over as manager of the Marlins without any previous managerial experience does not make Dan Jennings all that unusual. In fact, there are plenty of other Major League skippers who were in a similar position when they were hired for their current job, such as Mike Matheny, Robin Ventura and Brad Ausmus.
No, what makes Jennings stand out from the crowd is not only that never played professionally, he's moved to the dugout from the general manger's office.
The new Marlins skipper -- Jennings was introduced Monday after Mike Redmond was dismissed Sunday afternoon -- has risen through the ranks as a scout, vice president of player personnel, assistant general manager and finally GM, but his playing career essentially ended at Southern Mississippi in 1984 (he went undrafted and never played in a professional game).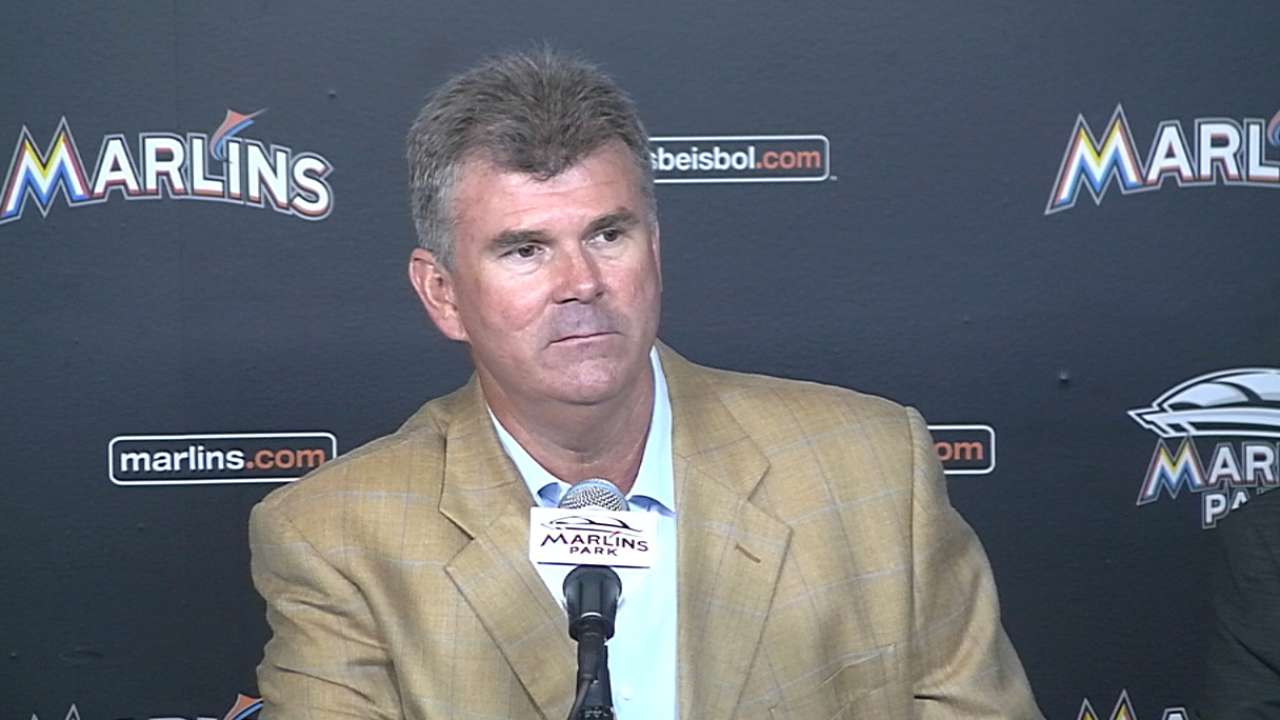 Even with playing experience, the trend of hiring Major League skippers without managerial backgrounds has become more commonplace over the years, with a number of managers taking the reins and succeeding. Here's a look at some other managers who made the jump from the front office to the manager's office:
Craig Counsell, Brewers (2015)
A front-office-to-dugout hiring happened just weeks ago, when Ron Roenicke was relieved of his duties in Milwaukee and Counsell was tapped to be the next Brewers manager. Counsell, a two-time World Series champion over a 16-year career, was serving as a special assistant to general manager Doug Melvin. Since his hiring, Milwaukee has gone 6-7, but it remains in last place in the National League Central.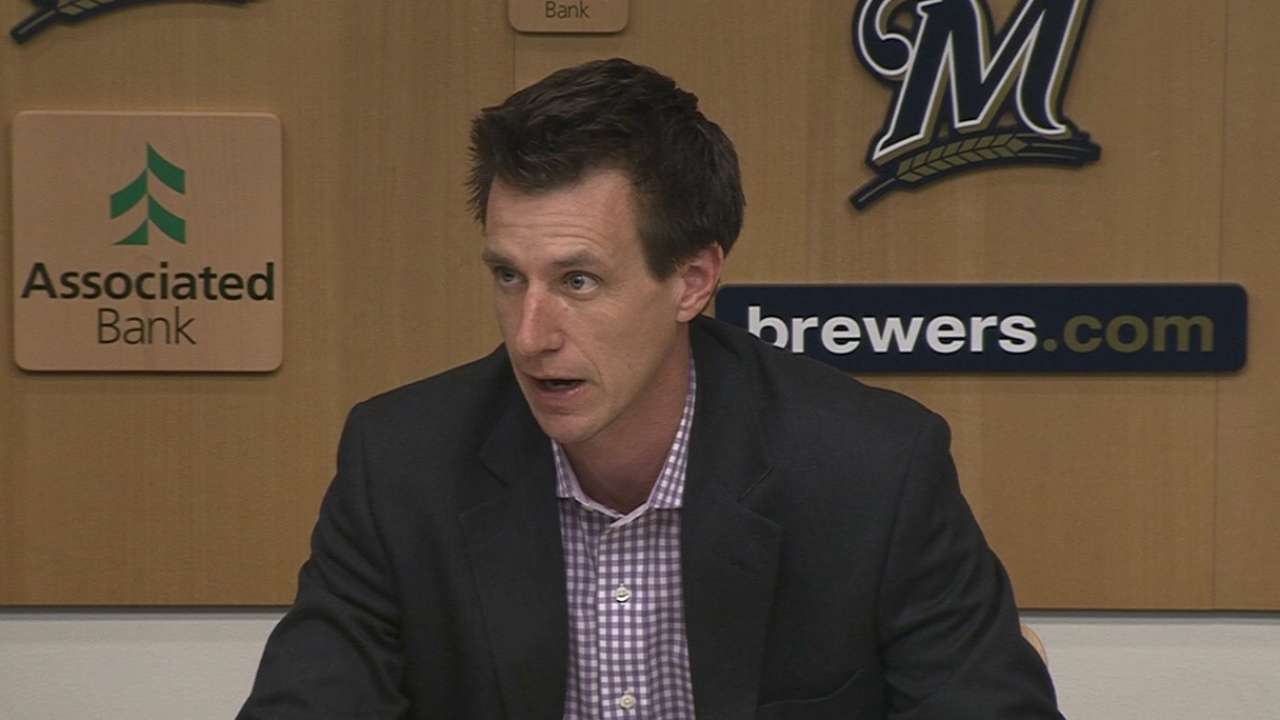 A.J. Hinch, D-backs (2009)
Hinch is known now as the manager of the first-place Astros, but he got his first Major League experience as the D-backs' manager from May 8, 2009 to July 1, 2010. After playing for four teams from 1998-04, Hinch moved from Arizona director of player development to manager, and he went 89-123 in parts of two seasons. In his second go-around, he's helped usher in a new era in Houston.
Matheny, Cardinals (2012)
Matheny helped start this recent surge of moving from the front office to the dugout, and he's had arguably the most success. After a 13-year career that saw him win four NL Gold Glove Awards and a brief stint as special assistant to the GM in St. Louis, Matheny was hired in '12 -- fresh off a Cardinals World Series title -- and he has compiled a 300-223 record over three-plus seasons. St. Louis is back in first place again this season.
Ausmus, Tigers (2014)
Like Matheny, Ausmus parlayed an 18-year catching career into a Major League managerial gig after a brief stint as special assistant to the GM with the Padres. In his first season, he helped the Tigers to another American League Central crown, and he has them competing for another title this year, with a 113-87 record over his first two seasons, through Monday.
Bobby Cox, Braves (1990)
Cox can be considered the gold standard for this context, as he made the move from the Braves' front office back to his familiar role as manager in '90. After four years managing Atlanta from '78-81, and four with Toronto from '82-85, Cox returned as the Braves' manager in '90 after four years as GM and began the stretch that earned him illustrious status and a place in the Hall of Fame. The four-time NL Manager of the Year owns 2,504 wins -- fourth in baseball history.
John Boles, Marlins (1996)
Boles worked under Dave Dombrowski with the Marlins as the expansion team's first vice president for player development before being named interim manager when Rene Lachemann was dismissed in '96. Boles went 40-35 that first season, then returned to manage Florida again from '99-2001 to finish his managerial career with a 205-241 record.
John Hart, Indians (1989)
Hart, best known for his front-office practices, did have a brief managerial stint in '89 when he guided the Indians in 19 games (going 8-11) after serving as a special assignment scout. Like Jennings, Hart never played in the Majors or Minors.
Paul Owens, Phillies (1972)
A longtime member of the Phillies' organization, Owens moved from the director of Philadelphia's farm system to manager in '72 when he replaced Frank Lucchesi. Owens managed 80 games in '72 (33-47), then 239 more from '83-84, helping lead the Phillies to an NL pennant.
Joey Nowak is a reporter for MLB.com. Follow him on Twitter at @joeynowak. This story was not subject to the approval of Major League Baseball or its clubs.