MLB.com Columnist
Tracy Ringolsby
Miller takes control by breaking out with bat
Mariners utility man stays hot, crushing homer in win over Red Sox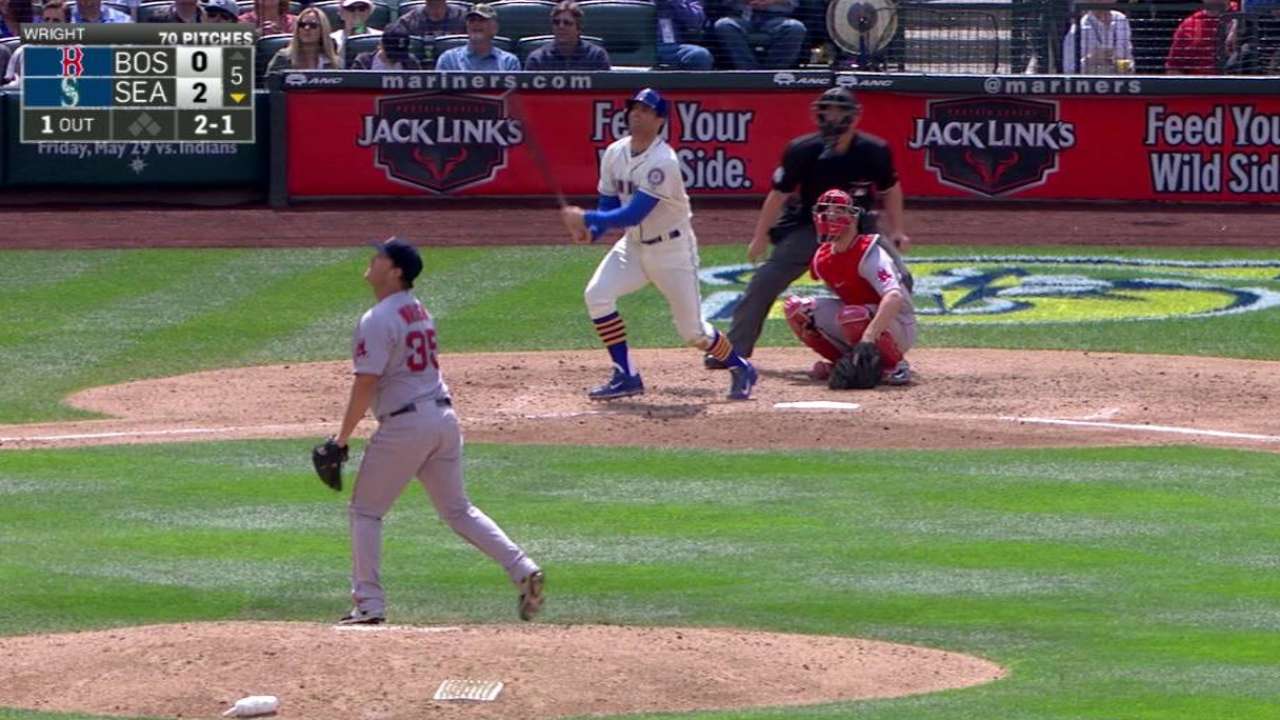 SEATTLE -- Brad Miller gets it. He is in the big leagues, making a good living playing the game he has been fascinated with since his youth, and he's going to enjoy himself.
There's an old saying: "No sense worrying about what you can't control, because if you can't control it, there's no sense worrying about it. And no sense worrying about what you can control, because if you can control it, then control it."
Miller has taken control of his own situation, providing a sudden burst of offense for a Mariners team that entered Sunday ranked 14th out of 15 American League teams in runs per game.
With Seattle calling up Chris Taylor to assume the regular chores at shortstop two weeks ago, Miller has been making it clear that he fully intends to force the Mariners to keep him on the big league roster. And they have taken notice.
On Tuesday, center fielder Austin Jackson is eligible to come off the disabled list, and while manager Lloyd McClendon said Jackson's return to the active roster may not come on that exact date, there is a strong chance that by the end of the three-game series in Baltimore, Jackson will be deemed ready for active duty.
Somebody will have to leave for Jackson to return.
It could be a veteran, like Rickie Weeks, a second baseman by trade who is being asked to learn to play left field, or Willie Bloomquist, who has spent all or parts of 14 seasons in the big leagues and has started at every position except pitcher and catcher.
It could be Dustin Ackley, the second player selected in the 2009 First-Year Player Draft, who has made the transition from second base to the outfield. He, however, has yet to show offensive consistency, but also looms as one of those guys with the abilities that makes a team hesitant to let him become one of those players who got away.
Or it could be Taylor, who has hit .129 since joining Seattle this season. It is hard to think, however, that it could be Miller.
Miller sat out those first three games at the beginning of May in Anaheim, after Taylor arrived, working during pregame sessions on learning the nuances of left field, but he started all nine games on the just-completed 6-3 homestand, and went 9-for-21 in the past six games, including four home runs in the past five.
That is impossible to overlook on a team that ranks near the bottom of the AL on offense. It's a team in which Miller (.264) and Nelson Cruz (.340) are the only members with an average higher than .255. The Mariners' lineup on Sunday featured three players below the Mendoza Line -- Ackley (.189), catcher Mike Zunino (.179) and Weeks (.190).
Robinson Cano is sitting at .253, but has only one home run, and that came a month ago.
"The guys still haven't hit their stride," McClendon said. "We have veteran cubs who have proven they can hit, and when that happens, people are going to be in trouble."
Miller may be ready to lead Seattle on an offensive revival, focusing on what to do when he gets at-bats, rather than worrying about where he has to play in the field. He homered twice off Rick Porcello on Saturday, accounting for the Mariners' offense in a 4-2 loss, and unloaded on a Steven Wright knuckleball to put Seattle up 3-0 on Sunday.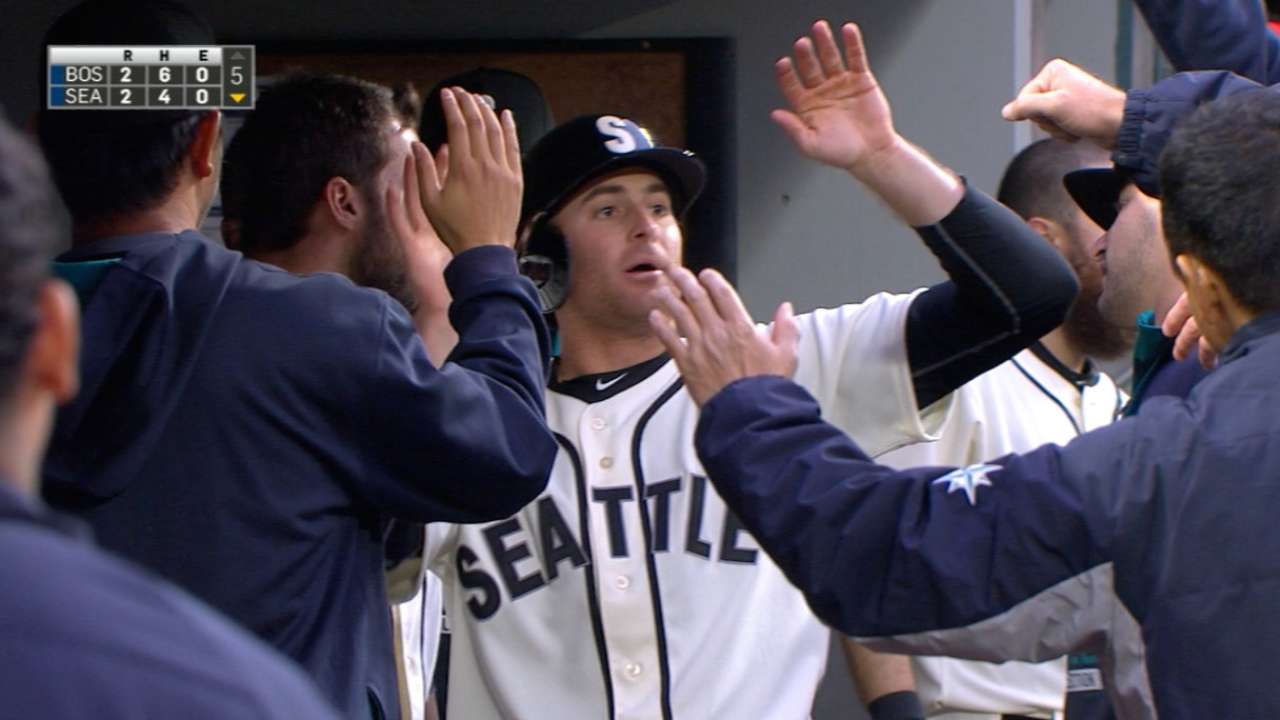 Miller connected off San Diego's James Shields last Wednesday, and later added an RBI double off Padres closer Craig Kimbrel. He has driven in five of the 12 runs the Mariners scored in the past five games.
"The guy is a special player," said McClendon. "He is able to move all over the field because he is an athlete. He hasn't disappointed to this point."
Miller certainly hasn't let his roster uncertainty distract him from getting the job done.
"I'm not trying to read too much into what's happening," Miller said. "If you are going to play baseball, you deal with situations. The way to play every day is to be consistent over the long-term. If you worry about things that are out of your control, it can take away from your performance."
If Seattle wants Miller to play left field, he is ready. He's even played some at second base and third base during his Minor League journey to the big leagues. And he has never been hesitant to DH.
"I consider myself a shortstop," Miller said. "But I'm a baseball player. That's the main thing. It's fun to be out there, anywhere. I'm living the dream."
And right now those are sweet dreams for Miller and the Mariners.
Tracy Ringolsby is a columnist for MLB.com. This story was not subject to the approval of Major League Baseball or its clubs.