MLB.com Columnist
Barry M. Bloom
Strasburg shows flashes of vintage self in homecoming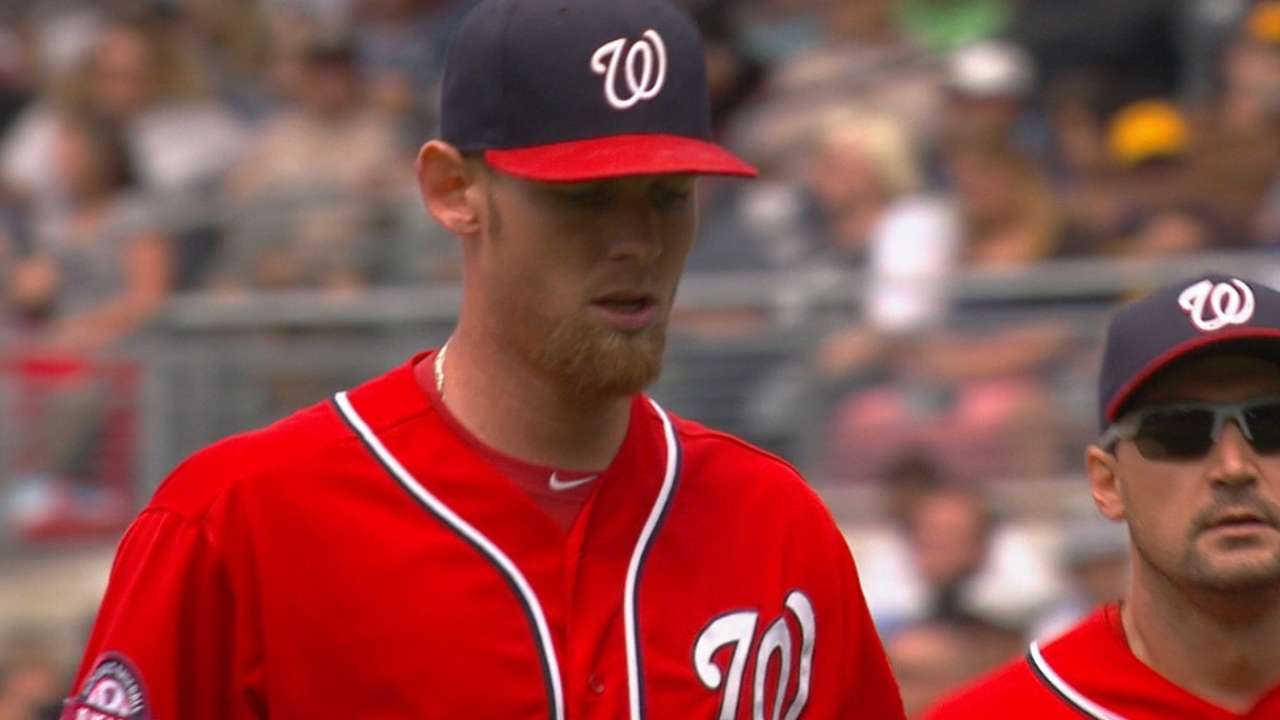 SAN DIEGO -- This was more like the real Stephen Strasburg in his homecoming against the Padres on Sunday at Petco Park. Not the imposter, who has been pitching for the Nationals of late.
Pitching coach Steve McCatty had been trying to instill some confidence in the listing Strasburg since he allowed a career-high eight runs in a loss to the D-backs at Chase Field this past Tuesday night.
"Just go out, trust yourself to relax and pitch the way you're capable of pitching," McCatty told him.
And mostly he did, working into the sixth inning, allowing three runs on five hits, striking out seven and walking one in what turned out to be a 10-5 Nationals win in Strasburg's own backyard.
"I was commanding the fastball a lot better today. I was commanding the curveball a lot better today," said Strasburg, who left a start on May 5 after three innings because of a back issue. "To me, the biggest thing is to stay focused and find the positive in every outing. Hold on to that and keep going in the right direction."
Strasburg grew up in nearby West Hills, pitched at West Hills High School and rose to national prominence under the late Tony Gwynn at San Diego State.
As such, this was the fourth time Strasburg has pitched at Petco, twice as a college player and twice as a pro. He's now 2-0 in this yard, the other Major League win coming here on May 16, 2013.
Pitching at home will never grow old for Strasburg, who rose to local fame starting once a week during his sophomore and junior seasons on what came to be known as Strasburg Fridays in the cozy stadium named after his Hall of Fame coach. He was the Aztecs' closer as a freshman.
Fans began lining up early to buy tickets for those heralded starts, creating a carnival atmosphere that swelled to a crescendo as Strasburg built a 22-7 record, seven saves and 1.59 ERA in his 52 games pitching for Gwynn at State.
Strasburg put an exclamation point on his college career by tossing a no-hitter in his final home game on March 9, 2009. About three months later, the Nationals made him the No. 1 pick in the First-Year Player Draft. He's been trying to live up to massive expectations ever since.
Strasburg said that coming home always makes him think about coach Gwynn, who passed away almost a year ago on June 16 at the age of 54 from the complications of salivary gland cancer.
"Not as much here as I do when I visit San Diego State," Strasburg said. "Qualcomm Stadium [where Gwynn played his entire 20-year career] brings back more of those memories. But they wouldn't have been able to build this stadium without him. Much like San Diego State, too. I mean, the ball field is named after him."
Strasburg said he had a group of 10 friends and family members in the stands on Sunday, including his father, his mother-in-law, father-in-law and an aunt. His mother had to stay home. She is the caregiver for his infirm and aging grandmother.
Strasburg also had fond hopes beforehand that local fans would come out again to see him pitch. They did in droves as his appearance drew a crowd of 37,032, more than 10 times the capacity of the 3,000-seat stadium he once played in on what's known as Montezuma Mesa.
"Yeah, no kidding," he said. "But hey, it was fun. I'm just glad it didn't rain. I can pitch through rain, but not in San Diego."
All that was the backdrop for Strasburg beginning to overcome his early-season woes. He had thrown 91 pitches when Nationals manager Matt Williams went to the mound to get him after the Padres opened the sixth with a couple of hits.
But his 31-pitch first inning was nearly his undoing. He opened by striking out Cory Spangenberg, who waved at a breaking pitch that dropped low out of the zone. Abraham Almonte whiffed on the same pitch. This time, though, it bounced in front of catcher Jose Lobaton, bounced to the backstop and Almonte was safe at first on the wild pitch.
Almonte ultimately scored on Matt Kemp's infield hit. And when Justin Upton walked, putting runners on first and second with one out, Strasburg was at the breaking point once again. But this time he pitched out of it without further incident.
Upton hit one of his two homers on the day off Strasburg, with two out in the third inning. Then again, Strasburg needed only nine pitches to retire the side in order in the fifth. Williams had planned to let the right-hander work through the sixth, until Kemp doubled and Upton singled to open the inning.
At that point, the Nationals led, 7-2, and Williams felt it was the right time to get Strasburg out of the game. Still, the manager was satisfied with the improvement from Strasburg's previous disastrous outing. He improved his record to 3-4, but his ERA is still a lofty 5.98, nearly twice as high as his lifetime mark of 3.18.
Even baby steps are a good thing.
"I thought he was better," Williams said. "He got into trouble there in the sixth inning and, of course, in the first. But in that first inning I was happy to see him pitch out of it. He was more aggressive today and used his fastball, which was a good sign. He settled down after the trouble early. It was much better than the last time out, for sure, and something to build on."
Barry M. Bloom is a national reporter for MLB.com and writes an MLBlog, Boomskie on Baseball. Follow @boomskie on Twitter. This story was not subject to the approval of Major League Baseball or its clubs.