Paxton keeps rolling in latest scoreless start
Left-hander shuts out Boston's potent lineup for eight innings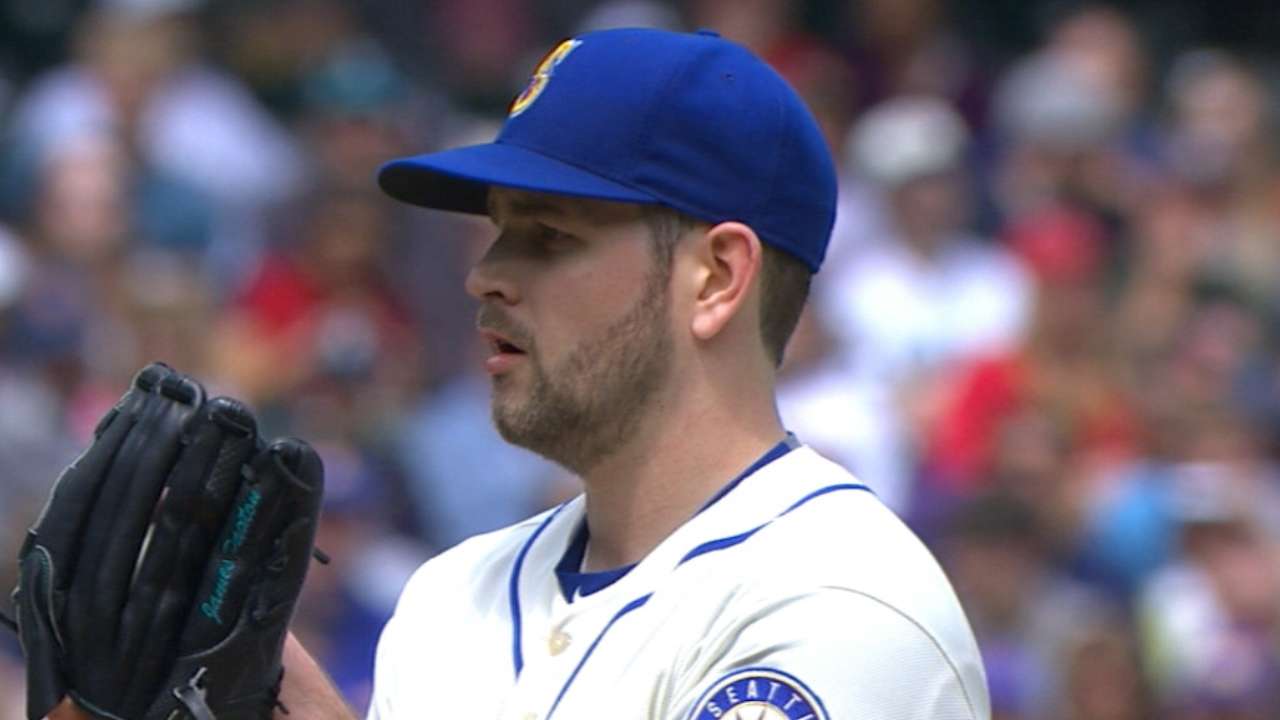 SEATTLE -- There was a time this season when James Paxton was lugging an ugly 8.40 ERA after three starts, still searching for his first win and looking little like the dominant young lefty expected to help the Mariners make a run at the postseason.
But those days seemed far behind the 6-foot-4 southpaw on Sunday as he fired eight scoreless innings in a 5-0 victory over the Red Sox, extending his scoreless string to 20 innings and dropping that once-hefty ERA to a manageable 3.59.
This was the guy manager Lloyd McClendon expected when he opened the season with Paxton penciled between Felix Hernandez and Hisashi Iwakuma as his No. 2 starter.
"He's pretty good, eh?" McClendon said with a grin following Paxton's five-hit performance. "I don't think there's really been a big change. It's just been a matter of finding his groove. He was behind with the injury in Spring Training and he's finally starting to catch up. He's been fun to watch."
Since April 25, Paxton is 2-1 with a 1.38 ERA, holding opposing batters to a .200 average and lifting his team's hopes. Along with young right-hander Taijuan Walker's improvement, the Mariners' rotation is elevating itself back among the better starting fives in the American League with a 5-2 record and 2.33 ERA over the last 12 games.
McClendon said both youngsters have gotten back to their strengths.
"They're power pitchers," he said. "These are guys that throw 94-98. It has nothing to do with mechanics. It has everything to do with commanding that fastball and believing in it. That's a hard pitch to hit. One thing I told them, hitting is real hard. Don't make it easier. Just go right after them."
Paxton is an analytical sort who talks about keeping his body on line and shortening the backside of his delivery to allow himself to stay consistent with his motion, but McClendon doesn't want to dwell on the mechanics of pitching.
"He wants to see me attack and see me repeat and that's what I'm trying to do out there, one pitch at a time," Paxton said. "Just go after guys and make them prove they can hit the fastball. That's what I did today."
And while he notched only two strikeouts, Paxton was overpowering all the same in allowing just one extra-base hit -- a seventh-inning double to Brock Holt -- in a 105-pitch performance.
"He used the bottom of the zone all day and mixed in offspeed when he needed," said catcher Mike Zunino. "He went after guys, he wasn't afraid to throw to contact. He got plenty of ground balls and weak pop flies. He'll have games where he strikes out more, but I'll take these starts where he's this effective every time."
The Canadian hurler agreed that commanding his fastball and pounding the bottom of the strike zone were key.
"That's where I pitch," said Paxton, whose long arms and over-the-top delivery make for a tough day for opposing hitters when he's hitting his spots. "I've got to work that angle, get the ball down in the zone and that creates ground balls for me. And we've got a good infield out there to make those plays. This was definitely the most comfortable I've felt this year. Everything felt pretty good."
Greg Johns is a reporter for MLB.com. Follow him on Twitter @GregJohnsMLB, read his Mariners Musings blog, and listen to his podcast. This story was not subject to the approval of Major League Baseball or its clubs.