Red Sox looking for way to jump-start offense
Boston heads home hoping for offensive turnaround after series finale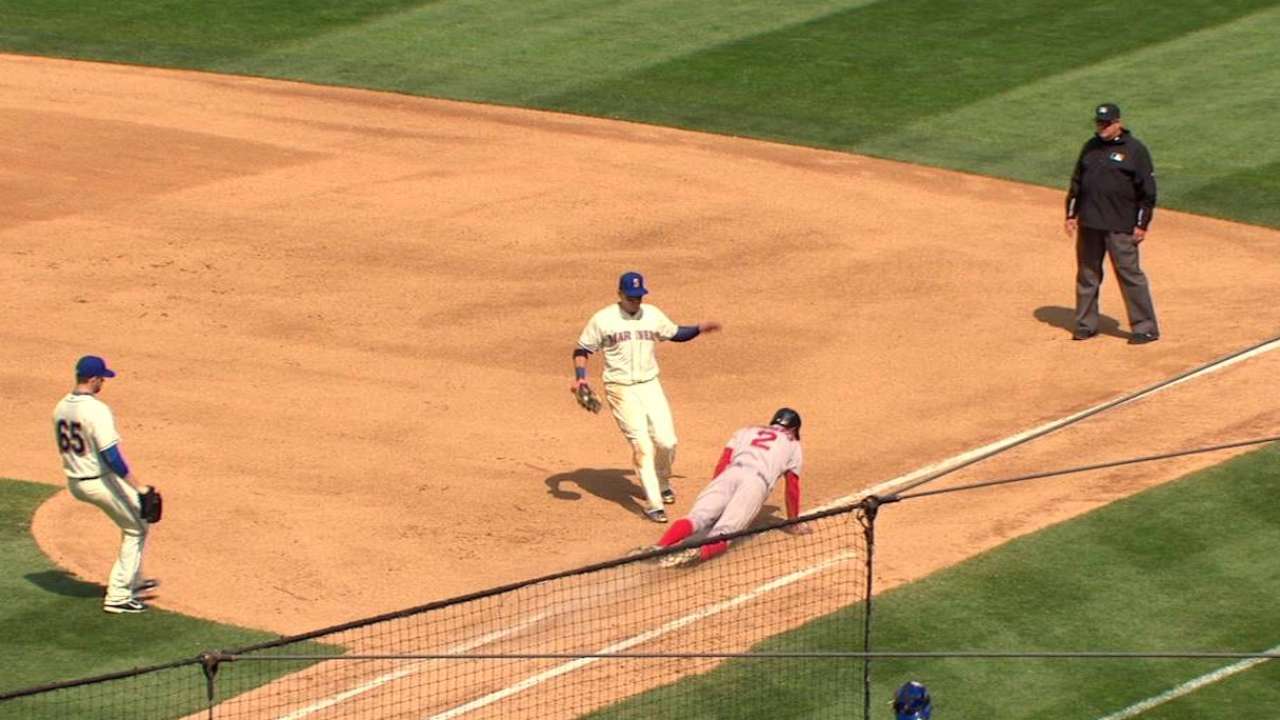 SEATTLE -- When the Red Sox left for the road, they were in a pitching crisis. As they come home, they wonder when the hits will start coming.
Over 10 games -- five of which were wins -- Boston produced an aggregate 23 runs. That's a touch over two per game.
In other words, manager John Farrell's team was fortunate to have a 5-5 trip, and it can thank a rejuvenated pitching staff for that.
The road trip started with Boston being shut out in Toronto and ended with another shutout -- this time in a 5-0 loss to the Mariners.
"We're looking at different combinations," said Farrell. "In this series alone, everybody was on the field. I don't know if we're looking at a complete lineup shakeup. We need guys just to perform as they've done for many years -- nothing more, but perform like they've done over a long track record at the Major League level."
Though leadoff man Mookie Betts has filled up his share of highlight reels, he comes home with a .221 average. Dustin Pedroia has cooled off lately and is down to .269. David Ortiz, still the most feared piece of the lineup, is hitting .236 with five homers.
Hanley Ramirez was lights out earlier in the season but is hitting .216 with no homers or RBIs in his 37 at-bats since returning from a left shoulder sprain. Pablo Sandoval is crushing right-handed pitchers but is 2-for-41 against lefties.
Mike Napoli is down to .162 after an 0-for-4 on Sunday.
"These are our guys," said Farrell. "We believe in them. We trust them. But we've got to get some things going."
Nobody could have predicted an offense with so many proven veterans would struggle like this as a group. The Red Sox will take the field on Tuesday night at Fenway Park with an 18-20 record.
"A little bit [surprising], but we will [hit]," said Pedroia. "You can't get frustrated. We had some good at-bats. We hit the ball hard. We just didn't get any hits. Didn't put it all together that one inning. The guy made a great play on me. If that gets through, it's a hit. Then we've got something going. We just haven't found a way to get that big hit and extend innings, but it's going to come."
"I mean, we haven't had back-to-back games where we just go, and get going," said Ramirez. "The whole lineup. That's what we need. All the way from the top, all the way to the bottom. It is what it is. We haven't done that and we have to start doing it. Our pitching staff is doing pretty good right now and that's baseball. We just have to try to understand ways to stay patient. Keep the things going at the same time -- offense and defense."
Ian Browne is a reporter for MLB.com. This story was not subject to the approval of Major League Baseball or its clubs.