MLB.com Columnist
Mike Bauman
If Marlins pursue experience, 3 names arise
Baker, Gardenhire and Tracy among candidates with successful track records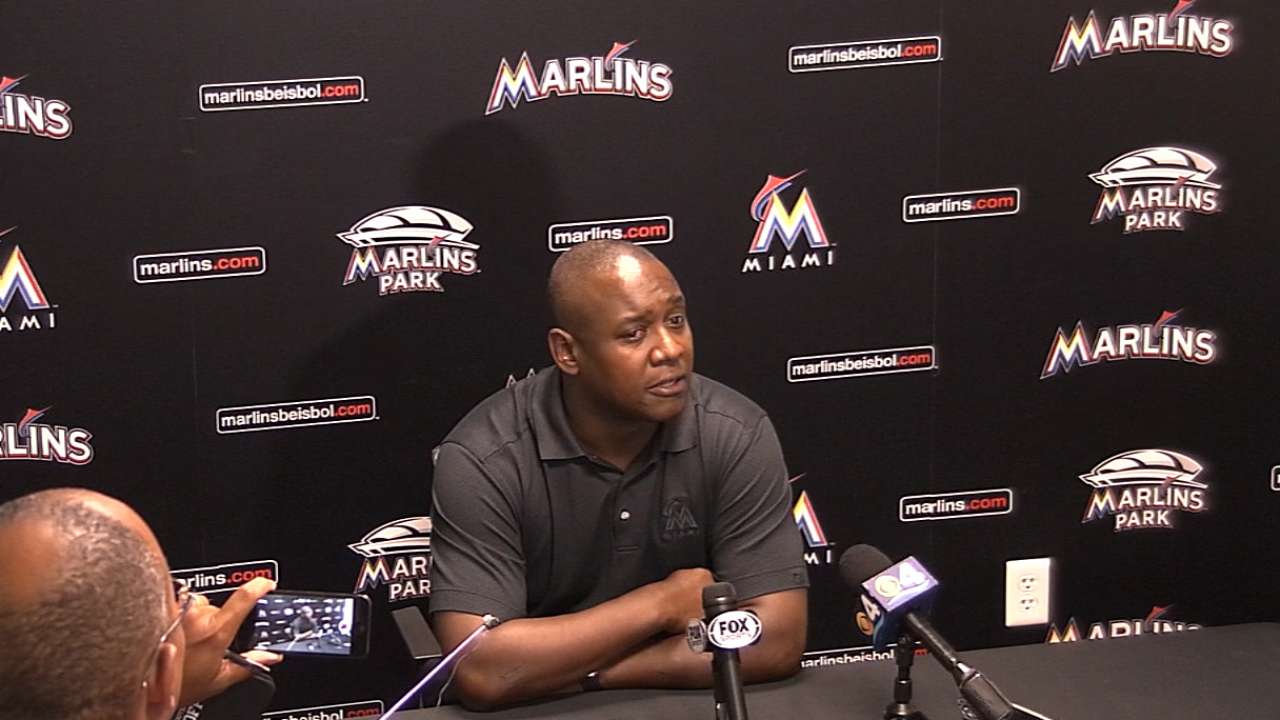 The dismissal of Mike Redmond as manager of the Marlins is unfortunate. The Miami organization, on the other hand, is fortunate that managers with substantial track records are currently available.
Redmond was widely credited in 2014 when a young Marlins team made a 15-game improvement from the previous season. Expectations were obviously raised this season when the Marlins not only signed slugger Giancarlo Stanton to a record-setting contract, but acquired established performers at third base (Martin Prado), second base (Dee Gordon) and first base (Michael Morse) and a solid veteran in the rotation, Dan Haren.
With staff ace Jose Fernandez expected back from Tommy John surgery midseason, all that may have been needed here was a dose of patience. Redmond didn't get that from Marlins ownership. The club started very slowly, bounced back briefly and then recently slumped again. The Marlins were 4-10 over their last 14 games and were swept at home this weekend by the Braves.
The pattern of this ownership has been to cut its losses very quickly. Maybe that tendency could frighten away some managerial candidates. But there are only 30 of these jobs. For all the stress and insecurity, they pay very well.
Three proven managers come to mind immediately as candidates. In alphabetical order:
Dusty Baker. He is a three-time National League Manager of the Year. He has taken seven teams to the postseason, and one, the 2002 San Francisco Giants, to the World Series.
He is adept at relating to a variety of personality types, and he is capable of motivating players through the daily grind of the six-month schedule. He is a man of real substance; thoughtful and incisive.
He is 65, but he has not lost any of his enthusiasm for the game. The Reds dismissed him after the 2013 season, in part because, although three of his Cincinnati teams reached the postseason, none of them advanced beyond the Division Series. Without him in 2014, the Reds did not qualify for the postseason.
Ron Gardenhire. When he had players, he won, with real regularity. In his first nine seasons as manager of the Twins, he won six division titles.
He was highly regarded throughout the game. He won the American League Manager of the Year Award in 2010, and in five other seasons, he was second in the voting. When the Twins had an organizational slump, the quality of the teams declined and Gardenhire was dismissed after the 2014 season. But he remains a manager with an ability to get what there is to get from his roster. And he has a sense of humor that will always be among the league leaders.
Jim Tracy. He is a solid baseball man who has success on his resume. An intelligent, earnest man, and a real competitor, Tracy won a division title with the Dodgers in 2004, then saw the club dismantled around him by the front office.
He took over the Rockies in 2009 when they were 18-28 and led them to a 74-42 record, good for a Wild Card berth for the team and the NL Manager of the Year Award for Tracy. He resigned from the Rockies after the 2012 season with time left on his contract, following philosophical differences with management. He remains a viable managerial candidate, and he has been a finalist for Major League managing jobs.
There is one more manager with a track record of victory that might be on other managerial lists but won't make this one. That would be Ozzie Guillen, AL Manager of the Year in 2005, when he managed the White Sox to a World Series championship.
Guillen managed the Marlins in 2012, but it didn't go well, after he made some comments regarding the surprising longevity of Cuban dictator Fidel Castro's reign. With the Miami area home to a large anti-Castro Cuban population, it was downhill after that. Guillen was out after one season. His return would be beyond unlikely.
Now the Marlins will search again for another manager. Michael Hill, Marlins president of baseball operations, said Sunday that the Marlins remained confident in the talent on this roster, and wanted "a new voice" that could spark improved performance.
Baker, Gardenhire and Tracy could each provide a voice that would merit the full attention of the Marlins players.
Mike Bauman is a national columnist for MLB.com. This story was not subject to the approval of Major League Baseball or its clubs.