MLB.com Columnist
Fred Zinkie
DraftKings picks: Altuve, Braun, Haren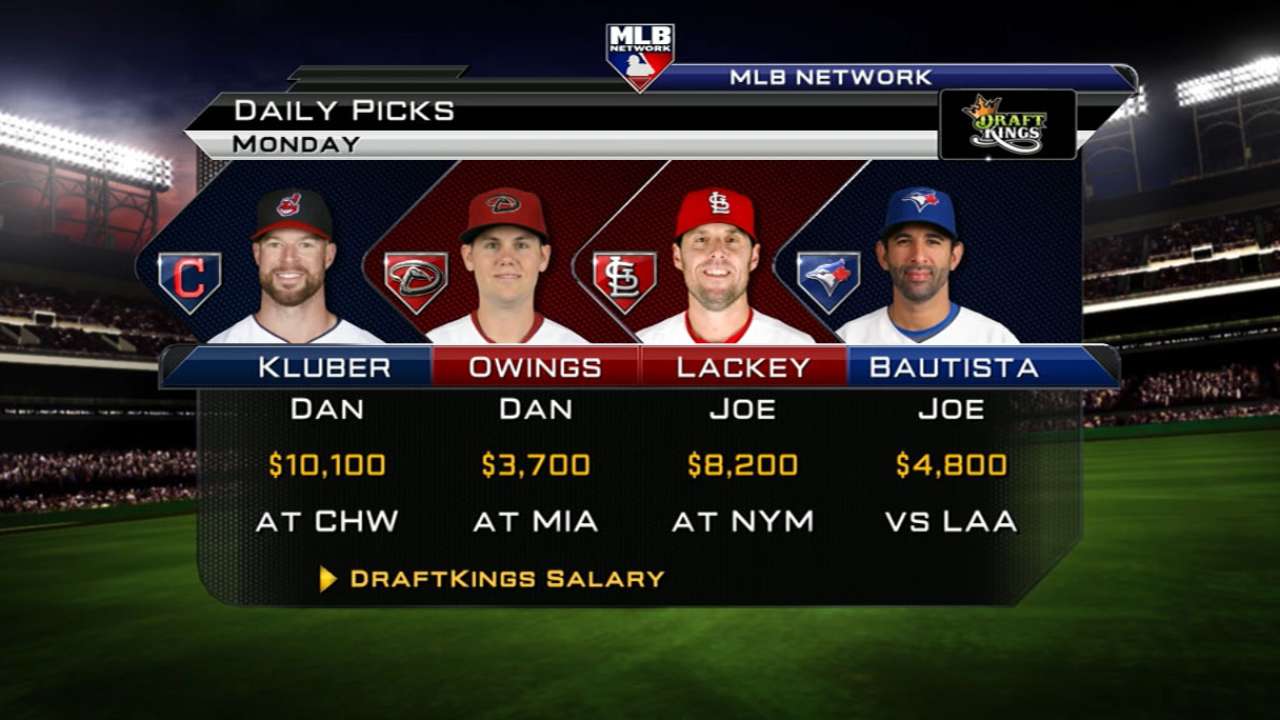 Welcome to DraftKings fantasy baseball, the Official Daily Fantasy Game of Major League Baseball.
The players listed below could provide difference-making stats for DraftKings participants today.
Anthony Gose (Tigers): With a lifetime .710 OPS against right-handers that includes his .932 mark in those matchups this season (.534 career mark vs. lefties), the outfielder could reach base often and score multiple runs out of the leadoff spot against Brewers righty Mike Fiers, who has compiled a 5.00 ERA and a 1.58 WHIP.
Miguel Cabrera (Tigers): The first baseman -- who can also be used at the hot corner in DraftKings contests -- could improve on his impressive career .321/.387/.565 slash line against right-handers in a home matchup with Fiers.
Christian Yelich (Marlins): With a career .778 OPS against right-handers (.660 vs. lefties), the outfielder is a candidate to accumulate base knocks and runs, when he faces D-backs righty Rubby De La Rosa (career 4.37 ERA).
Dee Gordon (Marlins): Gordon has compiled pronounced career splits, with a .717 OPS against right-handers that exceeds his .617 mark vs. lefties. Eligible at second base and shortstop in DraftKings contests, the speedster could accumulate hits and steals against De La Rosa (lifetime 1.41 WHIP).
Jose Altuve (Astros): With a lifetime .355/.397/.491 slash line against left-handers, Altuve has proven to be among the best in baseball in those matchups. He could thrive by accumulating hits, runs or steals against A's southpaw Drew Pomeranz (career 4.27 ERA, 1.37 WHIP).
Evan Gattis (Astros): Because of his .194 batting average in 2015, Gattis could be a reasonably priced catcher option for DraftKings participants when he faces Pomeranz. Behind 12 homers across 202 career at-bats against left-handers, the slugger has recorded an .817 OPS in those matchups (.750 vs. righties).
Chris Carter (Astros): The first baseman with balanced career splits could improve on his lifetime .769 OPS against lefties at the expense of Pomeranz. Carter -- who hit 37 homers last season -- could drive in multiple runs against the lefty hurler, who has posted a 5.40 ERA across his past six outings. And because of his struggles at the dish this season (.158 average), Carter could be an inexpensive boom-or-bust pick.
Ryan Howard (Phillies): Howard is hitting .238 this season, but he has flashed his trademark power by launching seven homers across 122 at-bats. He could drive in multiple runs -- potentially via the long ball -- at homer-happy Coors Field when he brings his lifetime .951 OPS against right-handers (.729 vs. lefties) into a matchup with righty Jordan Lyles.
Nolan Arenado (Rockies): In spite of his tough matchup against Phillies southpaw Cole Hamels, the third baseman could fare well thanks to his ability to hit southpaws (career .889 OPS against them; .736 OPS vs. righties). Arenado will benefit from hitting at his offense-inducing home park, where he has posted a lifetime .850 OPS (.705 on the road).
Ryan Braun (Brewers): Braun will bring a lofty lifetime .335/.400/.627 slash line against left-handers into a matchup with the Tigers' Kyle Lobstein. The outfielder could reach base often against the southpaw, who has compiled a career 1.34 WHIP.
Khris Davis (Brewers): Because he is hitting .250 with three homers and 12 RBIs across 112 at-bats, Davis could be a cost-effective option for DraftKings participants when the faces the lefty Lobstein. The outfielder has produced 13 homers across 197 career at-bats against southpaws, and his inclusion in a DraftKings lineup could free up salary-cap space for stars such as Braun, Altuve and Cabrera.
Lucas Duda (Mets): Duda has long fared best against right-handed pitchers, notching a lifetime .837 OPS in those situations that far exceeds his .647 mark against lefties. With that in mind, the left-handed-hitting slugger could find success at Citi Field vs. Cardinals righty John Lackey, who has done his best work at Busch Stadium since joining St. Louis last July (2.04 ERA at home, 6.39 on the road with the club).
Matt Harvey (Mets): Harvey has reaffirmed his ace status following a lost 2014 campaign by accumulating a 2.31 ERA, a 0.92 WHIP and 47 strikeouts across 46 2/3 innings. The right-hander has fared especially well at his pitcher-friendly home venue, where he owns excellent lifetime marks in ERA (2.08) and opponents' average (.199). He could continue to excel at Citi Field during a matchup against the Cardinals.
Chris Sale (White Sox): The southpaw got back on track on May 12 by striking out 11 batters across eight innings of two-run ball against the Brewers. When he pitches at home against the Indians, Sale could continue to return to the 2014 form that saw him produce a 2.17 ERA and a 0.97 WHIP.
Dan Haren (Marlins): The right-hander owns strong season-to-date stats: a 3.70 ERA and a 1.09 WHIP that resemble his career marks of 3.76 and 1.18, respectively. Having allowed just three runs across three starts at pitcher-friendly Marlins Park this season, Haren could continue to thrive at his home venue against a D-backs lineup with several key hitters who often fare best against lefties.
Corey Kluber (Indians): The right-hander would be hard to omit, as he is coming off an 18-strikeout, scoreless gem against the Cardinals on May 13. The reigning AL Cy Young Award winner entered that outing with a 5.04 ERA, but he clearly seems to be back on track. Kluber will have to duel with a fellow ace in Sale, but he could excel against a White Sox lineup that ranks last in the AL with 125 runs scored.
All statistics are accurate through the completion of Saturday's games.
Fred Zinkie is the lead fantasy baseball writer for MLB.com. Follow him on Twitter at @FredZinkieMLB. This story was not subject to the approval of Major League Baseball or its clubs.